Christmas Bathroom Decorating Ideas
If you're looking for some creative ways to add Christmas cheer, you can't miss these Christmas bathroom decorating ideas!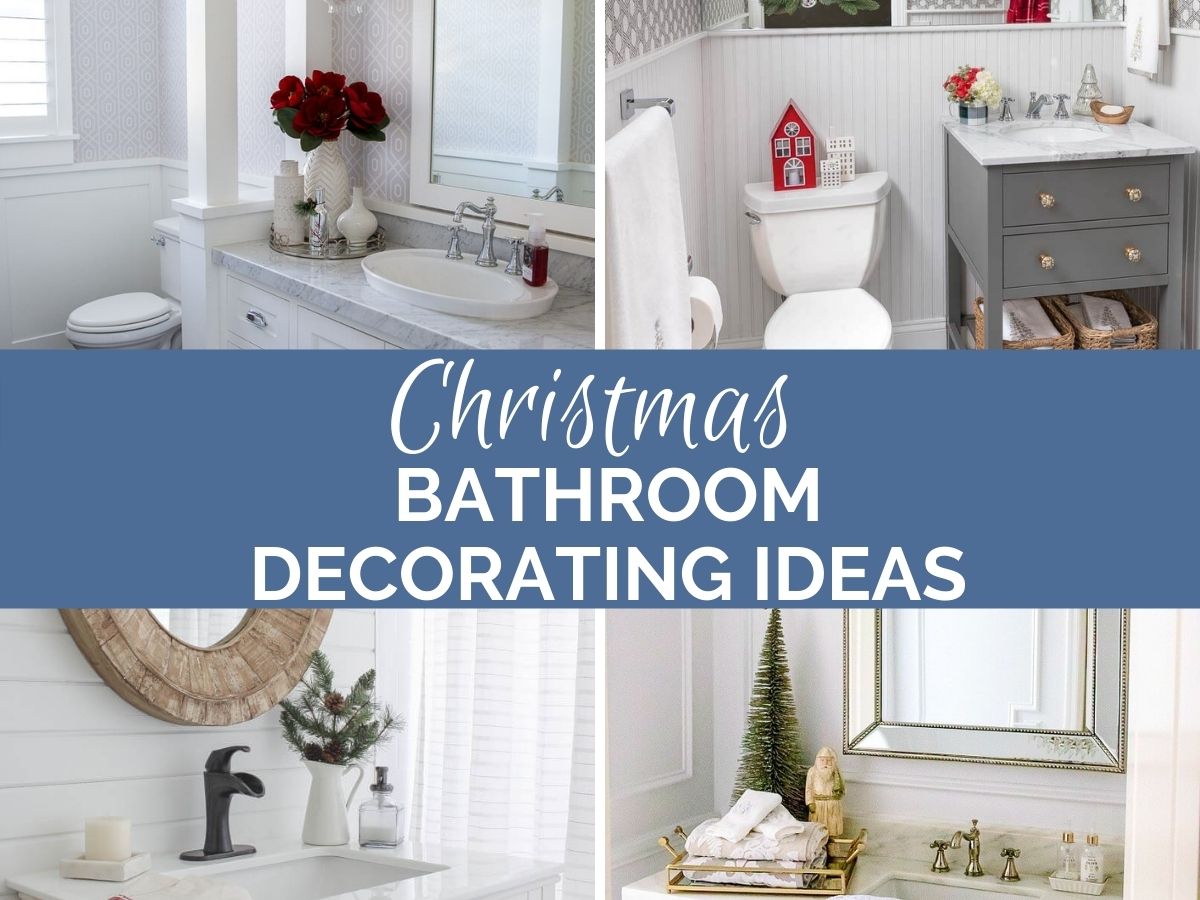 When it comes to decorating your home for the Christmas season, the bathroom is often the forgotten room.
If you're expecting guests for Christmas a little festive cheer can really add to the holiday spirit – no matter the room!
Whether you have five minutes or five dollars to spare, you can decorate your bathroom for Christmas. These fast, cheap & easy Christmas decorating ideas are great for sprucing up your home this holiday season.
Bring In Some Greenery
Tree clippings are a great way to bring some greenery into your bathroom. You can use them as a hanging decoration, add them to your bathroom vanity countertop, or you can stick some in a vase or smaller cup.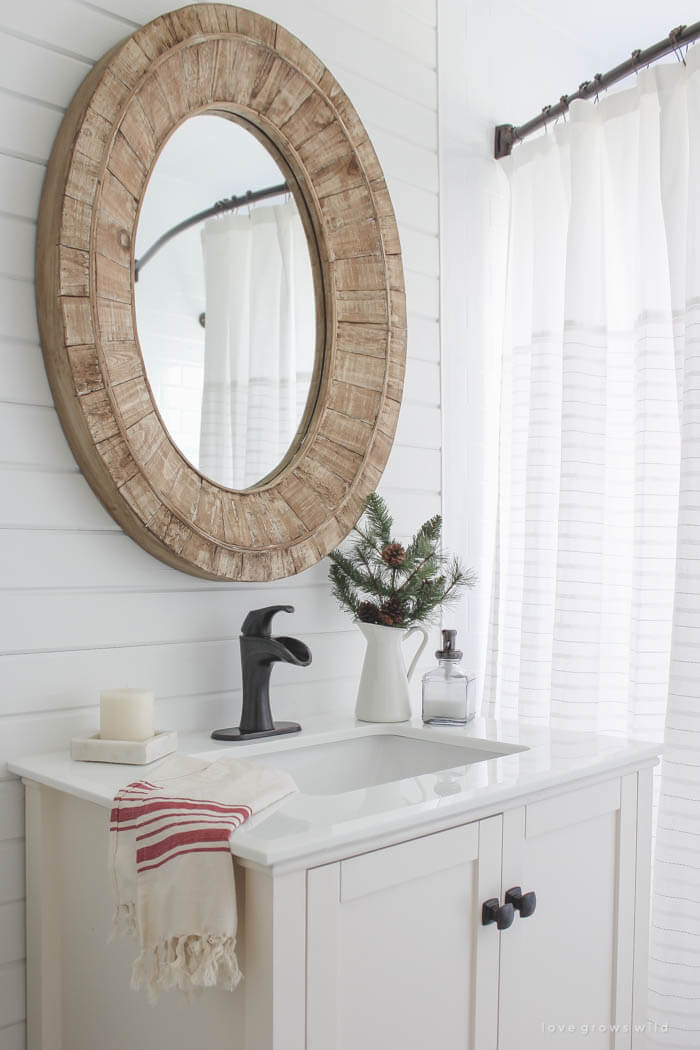 The best part about using tree clippings is, in many instances, they're free. If you live near a local Christmas tree farm, they often have clippings stacked in one place that they get rid of.
If you don't see any stacked up, you could always walk around and find some that have dropped off someone else's tree as well.
You can of course, go the faux route with a beautiful artificial garland draped over the mirror.
Consider the Size of Your Bathroom
If your bathroom is on the smaller side or perhaps is a powder room, make sure you consider the size of the space. You want to be sure that you're not adding more decorations than the space can handle.
A touch of red here and there may be all you need to bring a festive touch to the space.
If you're decorating a powder room, it's best to keep things simple and festive with things like wreaths, a scented candle or even some soap that smells like peppermint or gingerbread.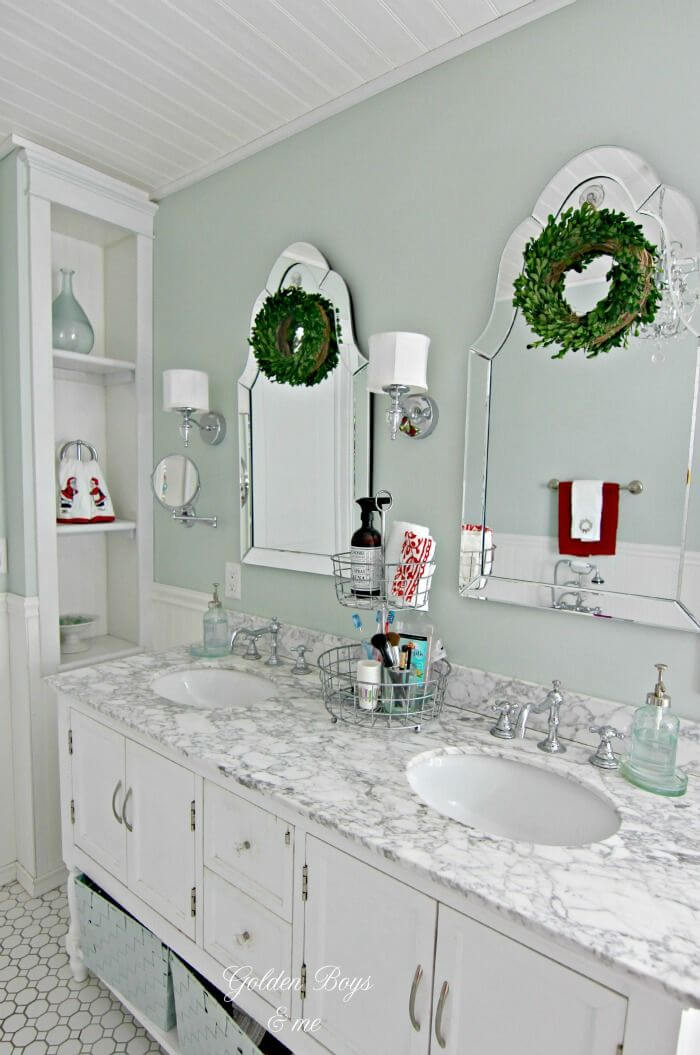 In larger bathrooms, you can use more Christmas decor to get your festive look. You can add a small tree on a stool or a tall pencil tree in the corner of your bathroom.
Additional to the size of your bathroom, also consider the "weight" of your decor. If you have a larger bathroom but it doesn't get a lot of natural light, using heavy fabrics for your shower curtain or hand towels may make things feel dreary instead of cozy.
Instead, stay on the simpler side with just a dash of decor here and there, instead of going all out.
Corral Items on a Tray
To reduce visual clutter, you can put all of your Christmas items on a tray or basket. That way, the tray can move around the space, and everything doesn't end up in one place.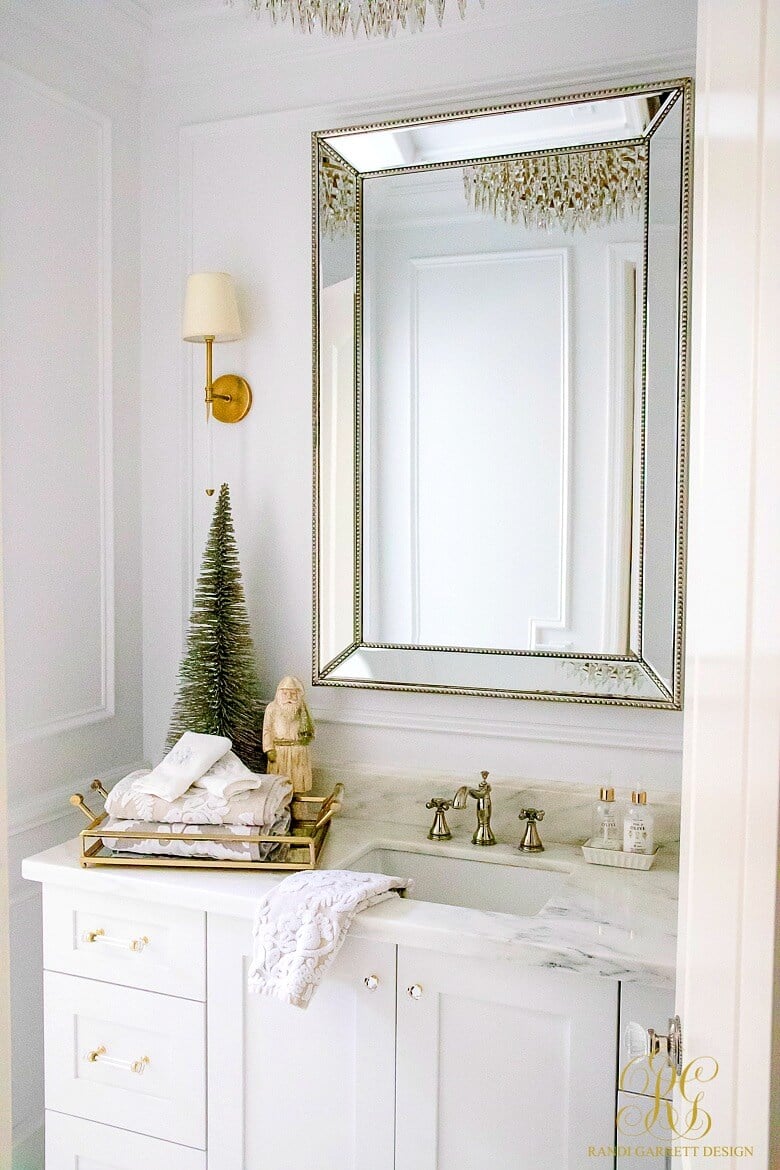 For example, suppose you're putting Christmas decorations in a guest bathroom.
In that case, you can use a tray to corral items on the bathroom countertop that your guest may need, like hand towels, smaller soaps, and lotions.
Stick a tiny tree or a Santa Claus figurine, and your guest toiletries now have turned into an adorable Christmas bathroom decoration.
Keep it Simple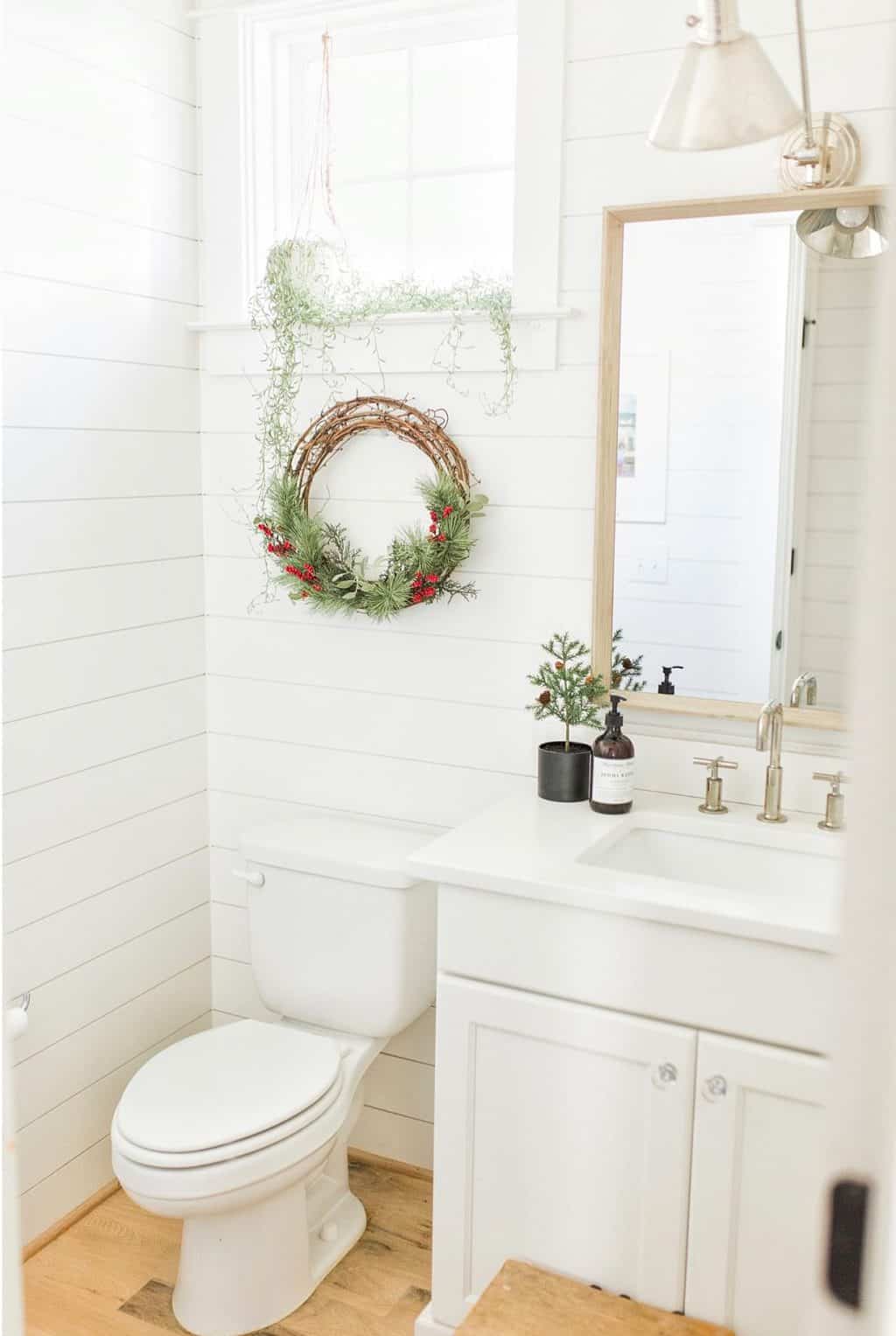 It doesn't take a whole lot to make your bathroom ready for the Christmas holiday.
Change out your current hand towels to solid red ones or ones with a Christmas design or print on them. You could also add a coordinating shower curtain or bath mat if you're decorating a full bath.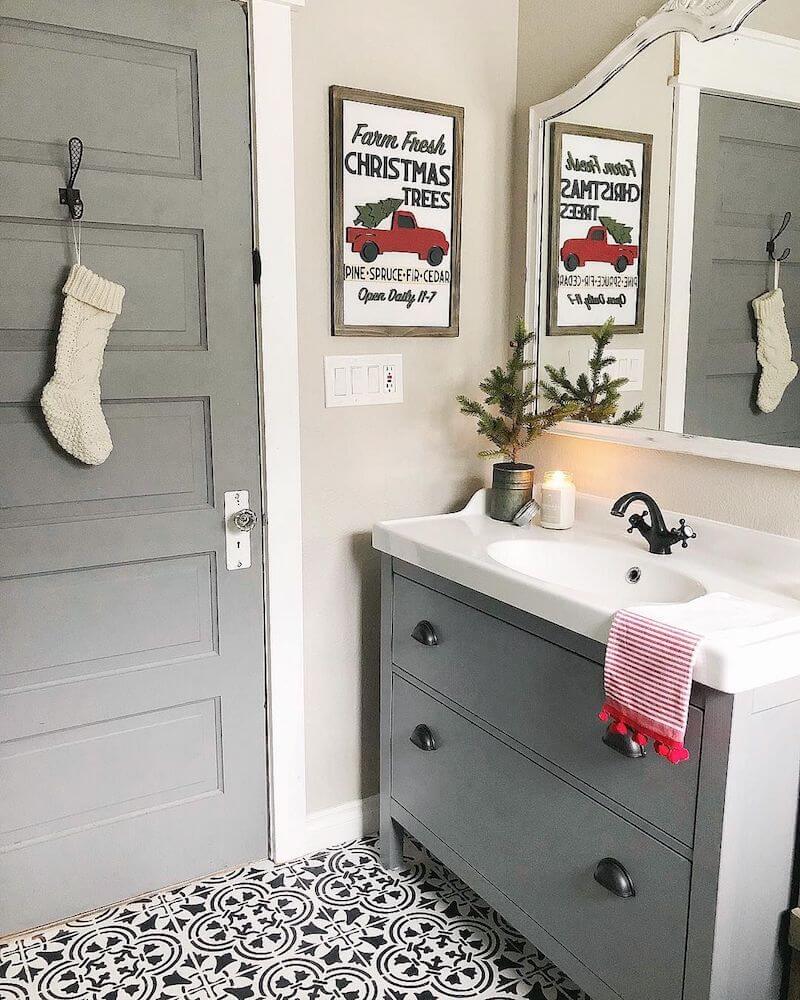 If you have bathroom art hanging up on your wall or above the toilet, switch out the art for a Christmas print or even a quote from a Christmas carol or your favorite holiday movie. It's a super easy way to add a little festive flair.
Think Color Palette Over Christmas Theme
If you're not big on having Christmas patterns or prints everywhere, just bring in the color of the season.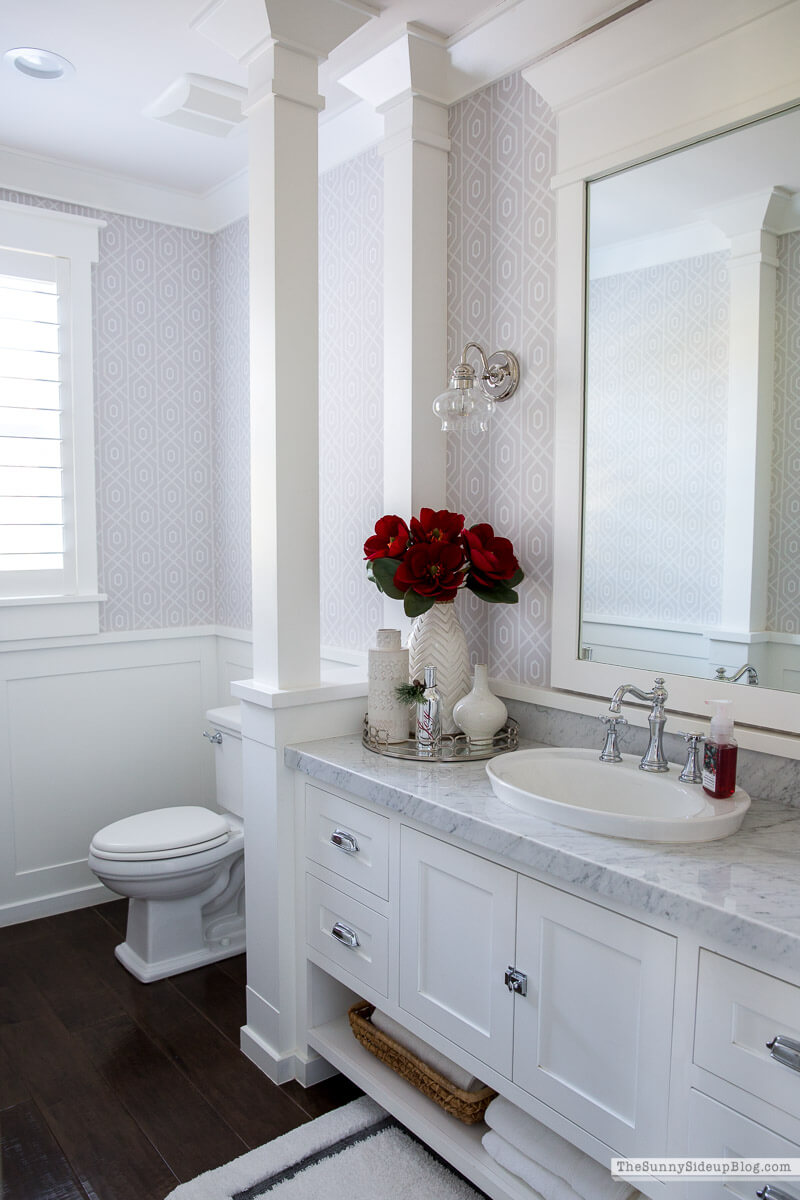 I love the idea of having a simple vase of red flowers and some red hand soap in your bathroom as Christmas "decor".
Coordinate Your Decor With The Rest Of Your House
Even though your bathroom may be closed off to the rest of your house or not in the general "flow" of traffic, you still want to be sure that the decor in your bathroom feels cohesive with the rest of your home.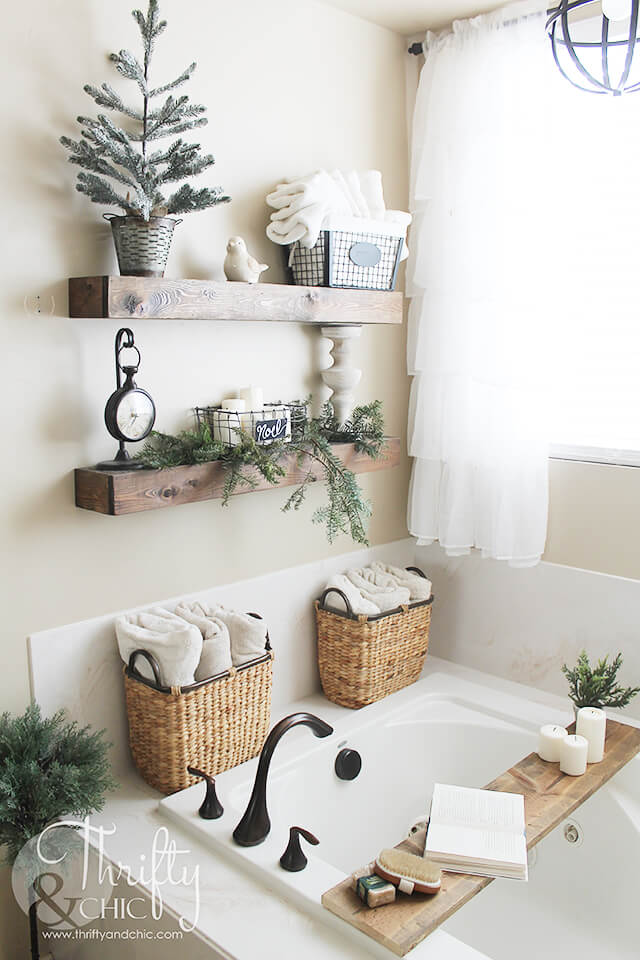 If you have a more rustic style throughout your home, keep your Christmas bathroom decor in the same vein with rustic touches of natural elements.
If you're more of a chic glam style, then have some beautiful, stylish Christmas decor items in your space.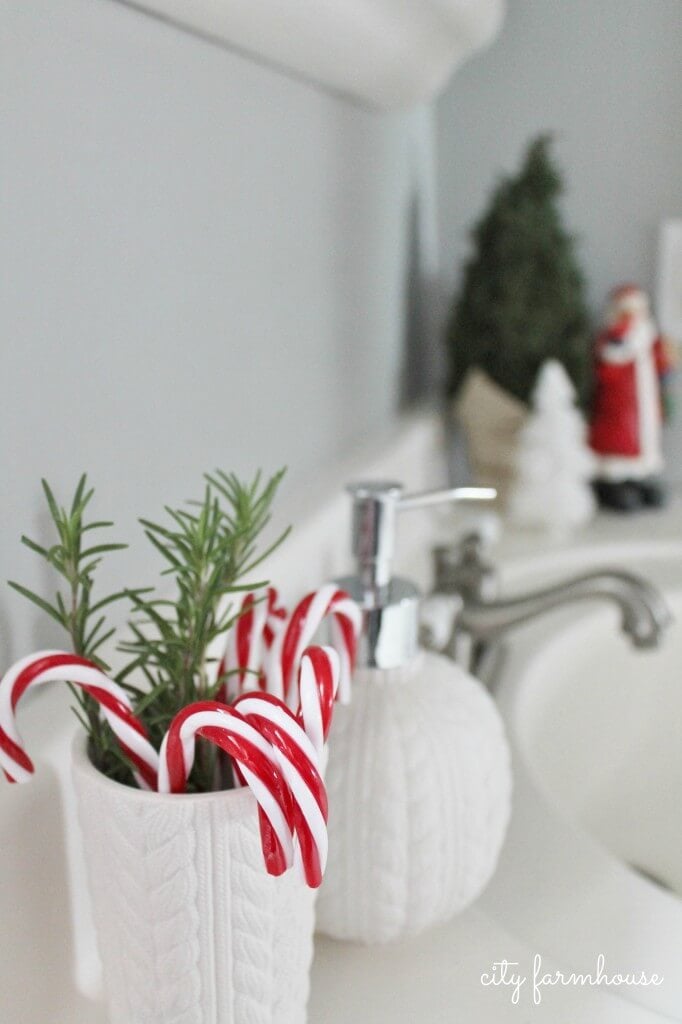 Final Thoughts on Christmas Bathroom Decor
A little goes a long way when it comes to bathroom decorating ideas for the holidays, so don't be afraid to pull out your favorite Christmas decoration – or two!
With these simple tips, you'll find that coordinating your decor with the rest of your house is easy peasy. You can have a festive bathroom to match your Christmas spirit.
Whether or not you have a themed holiday bathroom is entirely up to you! You can use these tips as inspiration on how to bring holiday cheer and that Christmassy feeling right into your own home.
More Christmas Posts