How Make Paneled Doors from Boring Flat Doors
A quick and easy cosmetic facelift turned these old flat doors into beautiful panel doors. This is such an easy makeover that makes cheap hallow doors look expensive!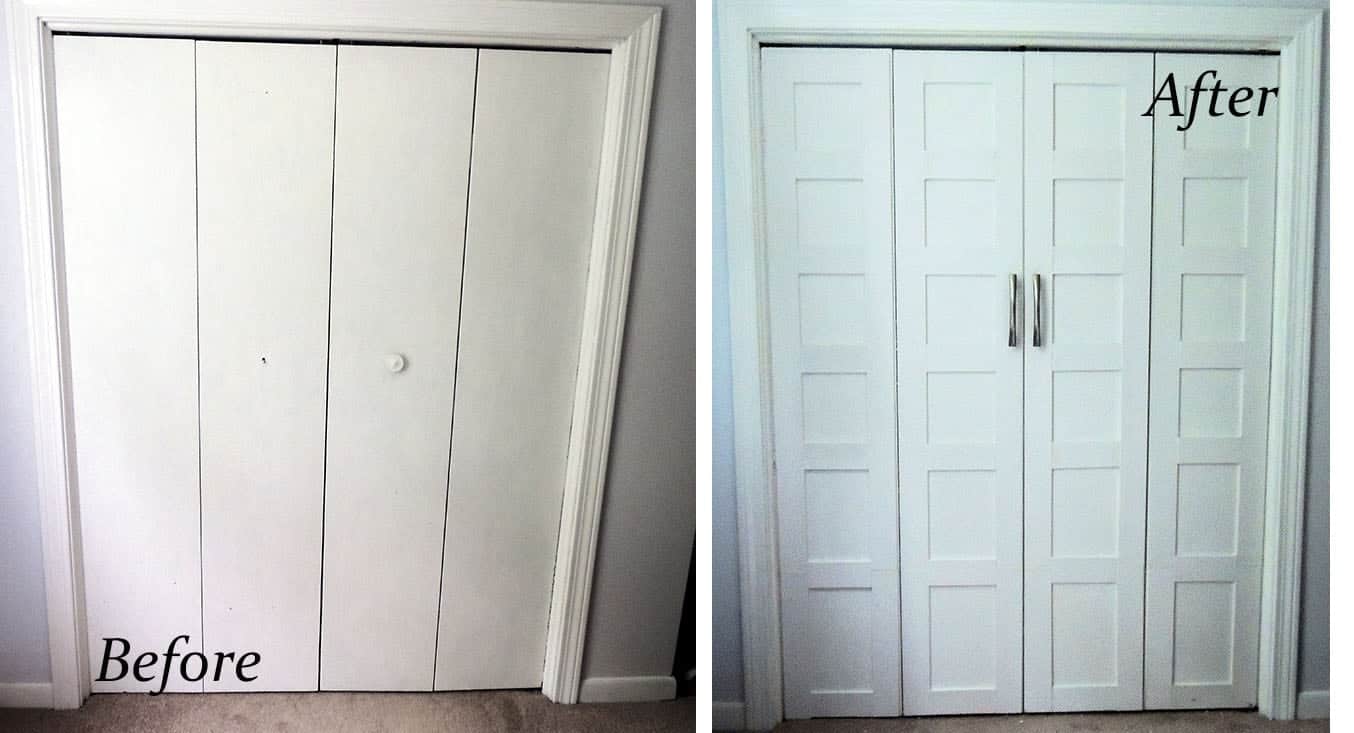 Closet doors don't just hide the occasional wardrobe clutter or Santa's Christmas presents for your kids. They make a statement – elegant, dependable but always practical.
They greet you warmly as you wake up or encourage you as you make a dozen frantic outfit changes before heading out a big event.
I was not happy with my plain flat, hallow closet doors! Originally, I had several quotes to replace them but since they were custom-made (5-ft non standard height), new doors were going to set me back close to $400!
Then, one day, I was strolling around Lowe's (isn't that where we all hang out on the weekends?!). I was looking at trim for a DIY mirror project when I came across some ¼" thick trim. It made me think of several ideas I'd come across on Pinterest.
Without even as much as measurements, I bought 15 pieces of the ¼" trim and took it home. The next five hours flew by as I measured, cut and painted….and finally, stared in amazement at my beautiful 'new' doors, for a fraction of retail price!
Here's how you can make this happen:
What you will need:
¼" wood trim boards
Brad Nails
Handles for door (your choice of style)
Optional – longer screws for installing handles
Measuring tape
Compound miter saw
Wood Glue
Step 1: Measure the door panels
Measure the height of your door panels to get the length of the vertical trim.
To calculate the width of the horizontal trim panels, measure the width of the door panel; then, subtract the total width of both of the vertical trims.
Step 2: Choose the layout of the panels
Decide how many square/rectangle "panels" you want on each door. If you're really detailed, you would do some math here.
I was too lazy and just eyeballed where I wanted them to go.
Step 3: Cut the trim pieces
Cut lengths of the trim to match the measurements of your door with the miter saw.
Step 4: Apply trim pieces to the plain doors
Using wood glue and some brad nails, secure the vertical strips in place.
Then, attach the horizontal pieces with the layout you planned.
Repeat the above steps for all doors.
Step 5: Sand and finish the door panels
Use wood filler or some caulk to fill in any spaces that you may have.
Sand down the caulked areas if necessary. Paint with two coats of primer (I used Benjamin Moore Fresh Start primer). Let dry for 24 hours.
Then, paint.
Don't forget – no matter what you've read or photos you've seen online, it's really important to sample paint colors in your home before committing!
Samplize provides real paint samples that are easy to move around your home, and cheaper than buying a gazillion paint pots! It's the only way I buy paint samples.
Try Samplize For Yourself Here
Step 6: Install new handles
Before we wrap up this plain door makeover, we need to attach some fancy new hardware. You'll most likely need to buy longer screws than what is supplied with the hardware, since they are meant for cabinets. I used these screws:
If you are not good at installing door hardware, make yourself a template using painter's tape. Put the tape on the hardware and punch through the holes with a pencil – instant template!
Drill from the outside of the door to prevent the wood from splintering.
And that's it! Sit back and enjoy your plain door makeover with these updated closet doors!
I'm so glad I didn't spend money to replace these doors – a few hours of work transformed them into doors that look a lot more expensive than simply repurposed old doors!
*UPDATE* If you enjoyed this post, check out how I converted my bedroom closet bi-folds to french doors!