It's kitchen reveal day! I'm so happy with how this entire makeover turned out and I hope you're going to love it, too. It has been a very busy few weeks and I'm very proud of myself for what I managed to accomplish – pregnancy and all!
Before I show you all the pretty "after" photos, let's take a quick trip down memory lane to see what we started with: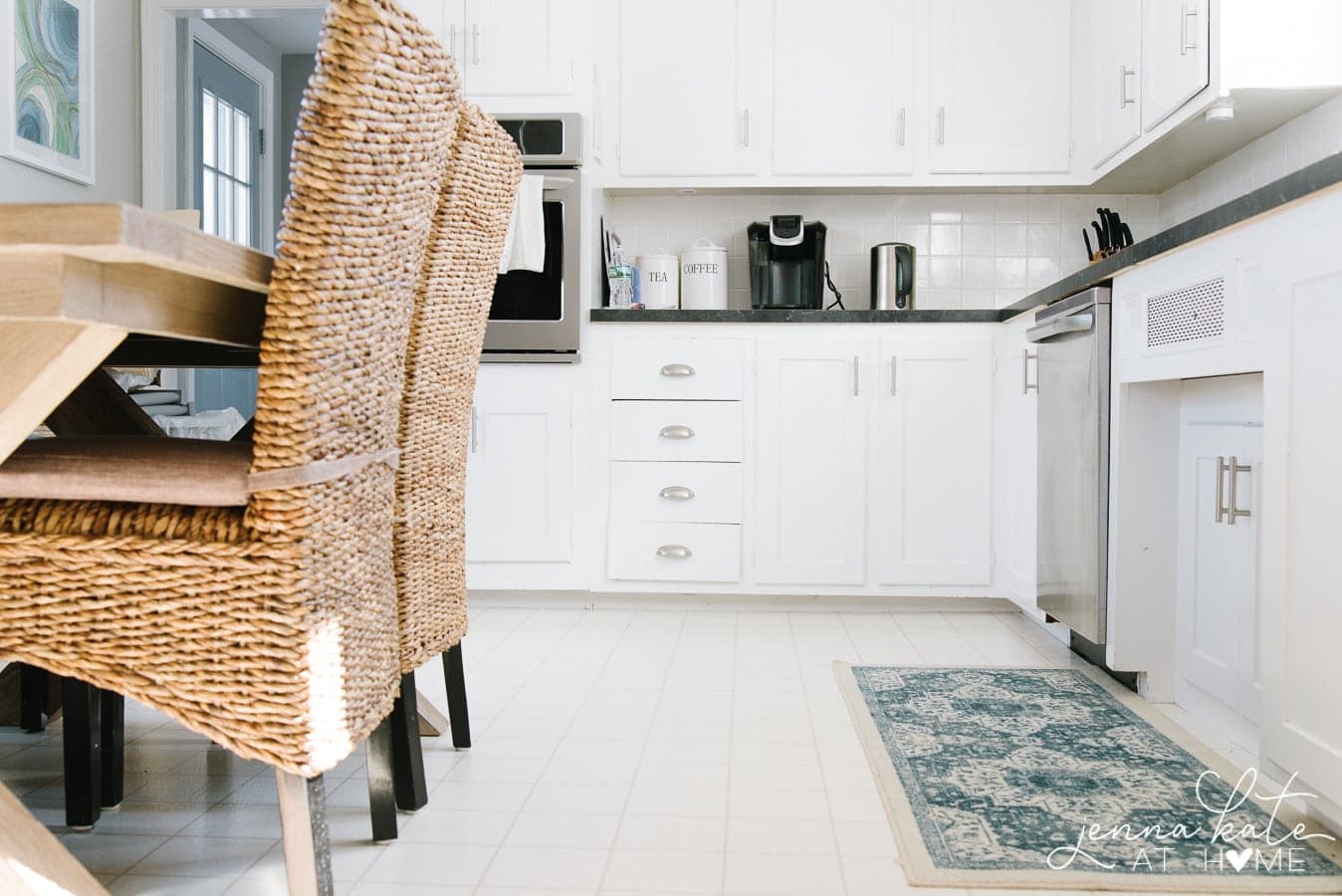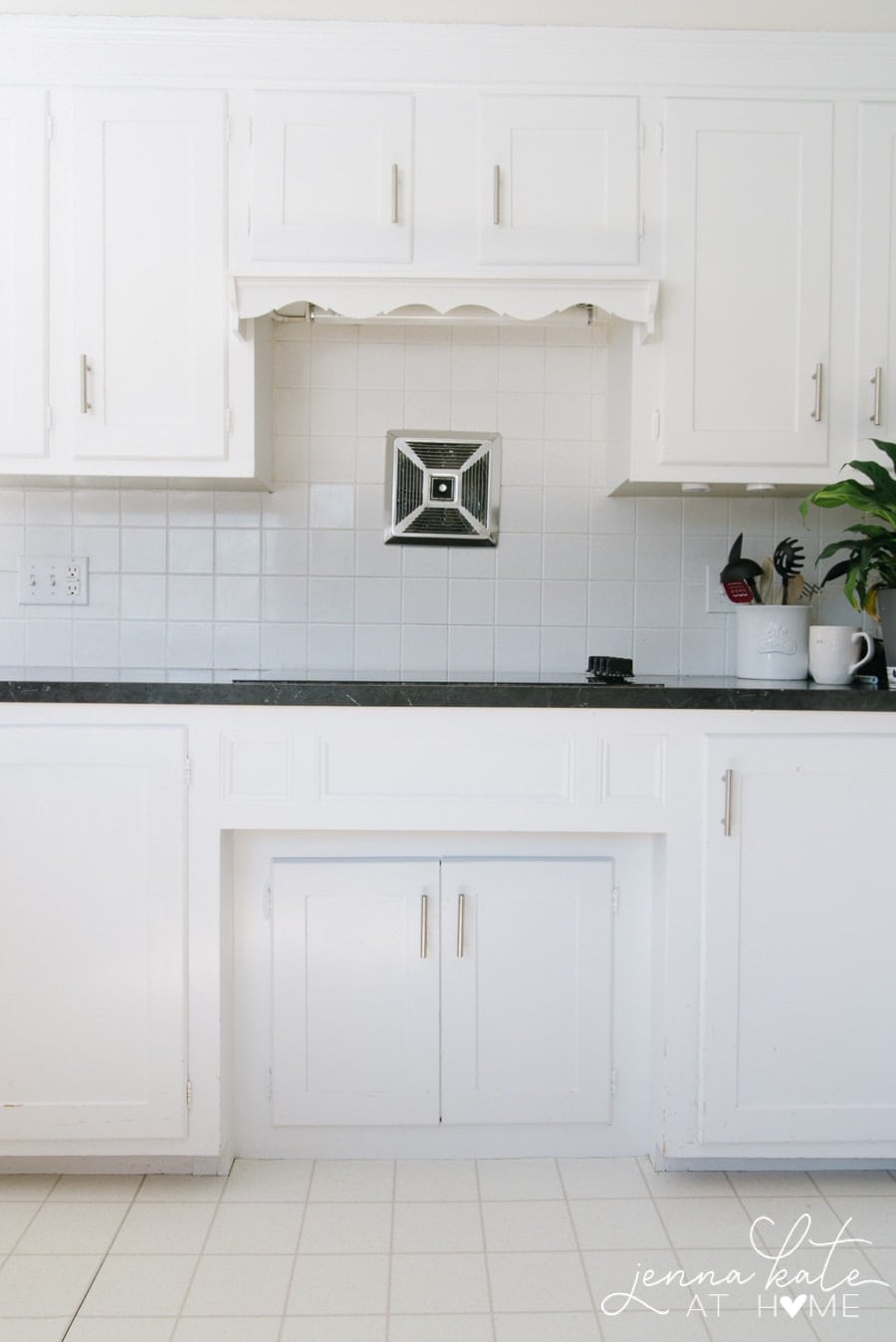 Nasty linoleum floors, old backsplash, rattan chairs (not kid friendly!) and a fan in the wall over our cooktop. Not the most horrific kitchen ever but not exactly magazine-worthy either, right?
In the past 5 weeks, I've:
Ready to see the finished product?
I've got a full video tour for you or you can scroll through all the photos below.
Note: All sources, details, colors, etc. are listed and linked at the bottom of this post
Related: 11 Ways To Upgrade Your Kitchen Without Remodeling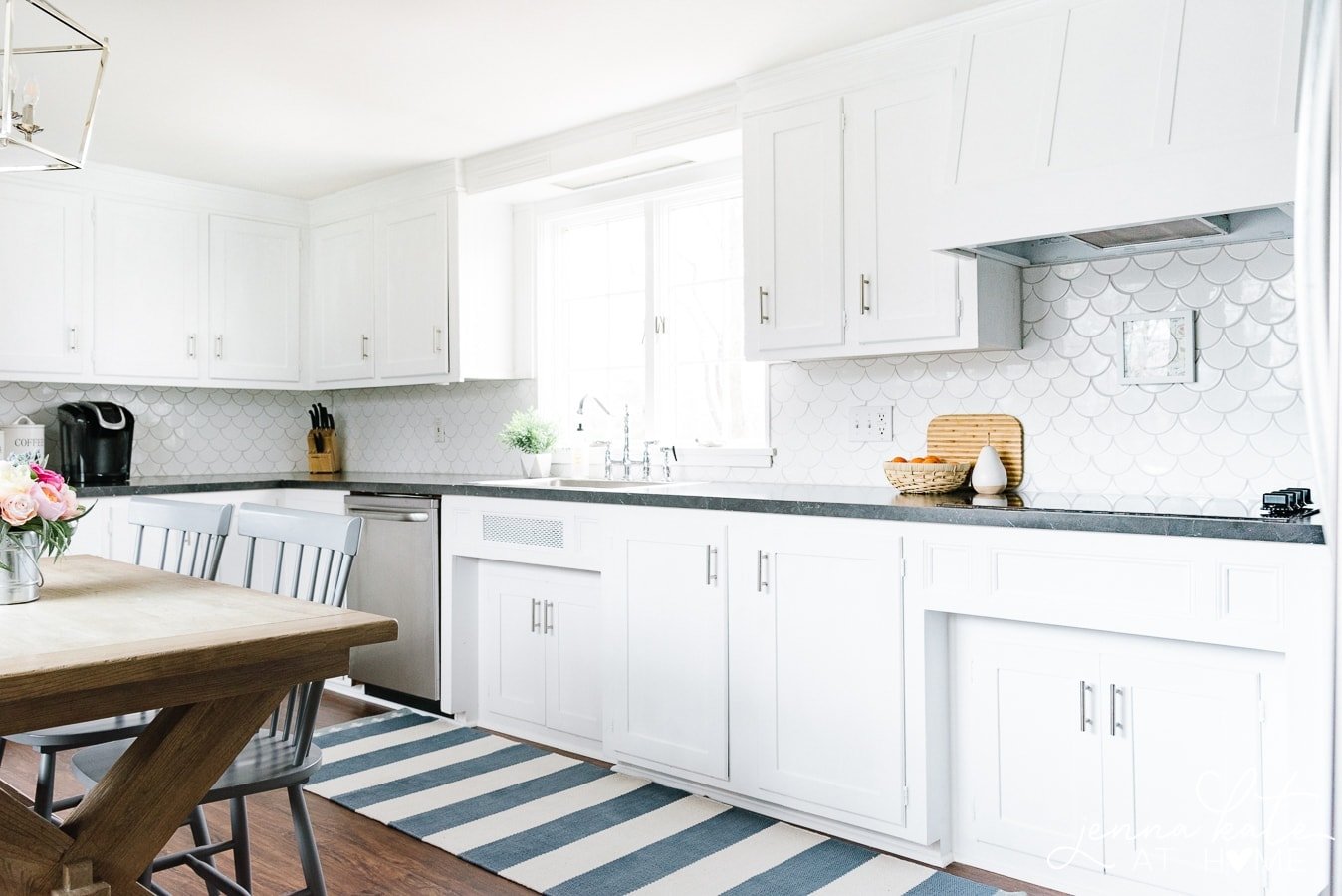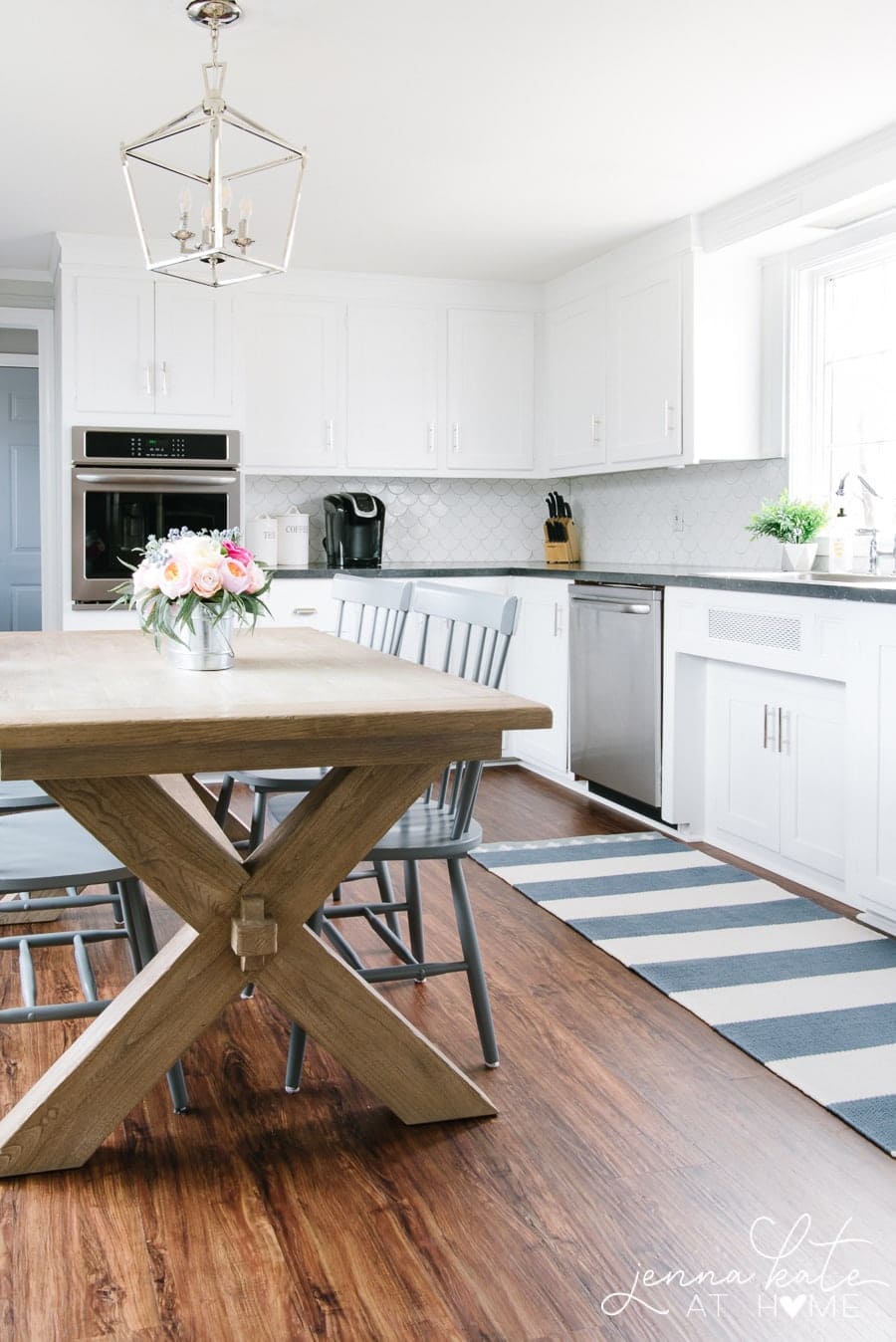 Look how bright those cabinets look! And you guys, the backsplash is literally my favorite thing ever.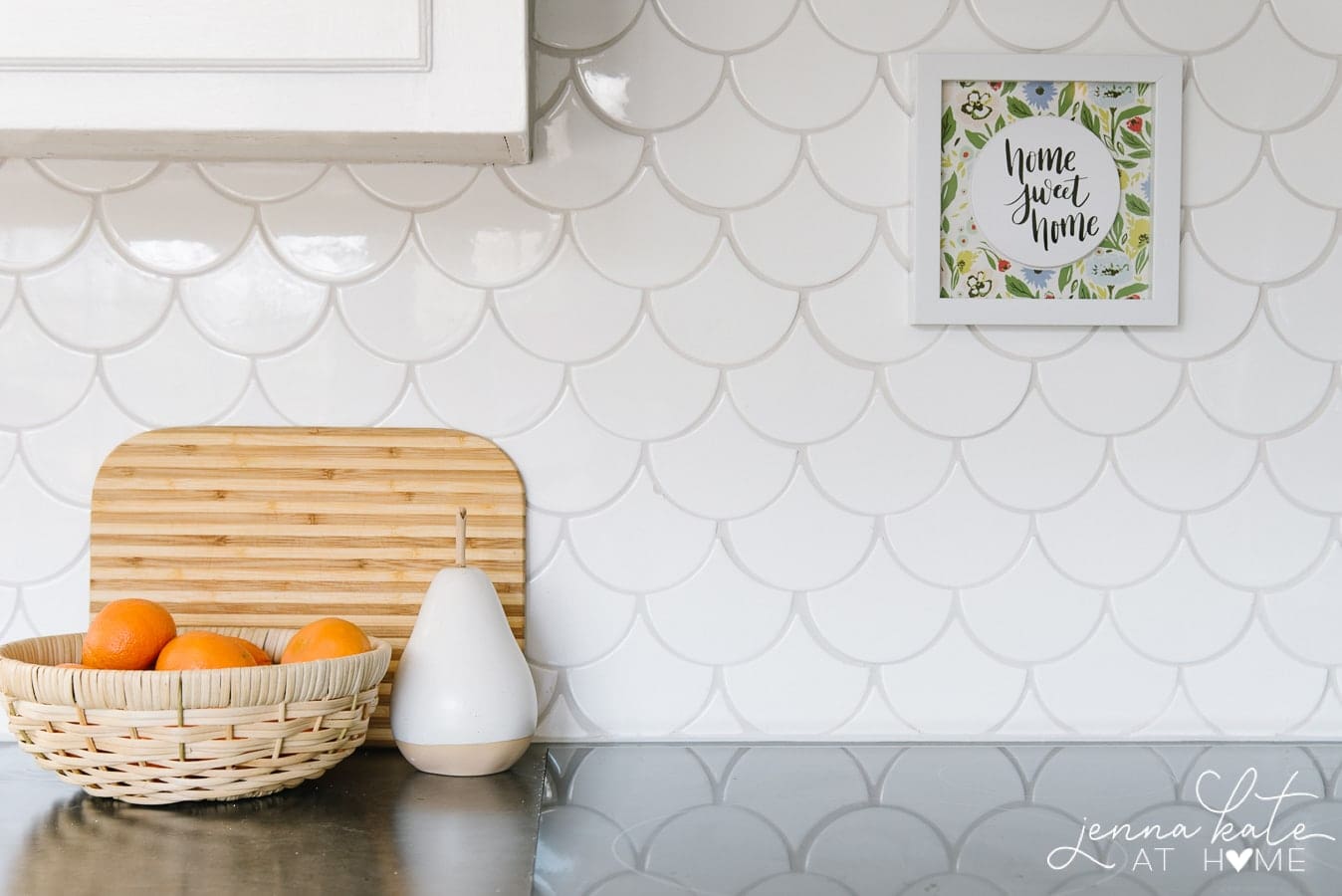 Have you noticed that our kitchen has SO many straight lines? Between how long it is, the shaker style cabinets, the rectangular table, the striped rug and the square edge on the countertops. Not only is the fan tile beautiful but it serves a design purpose – to serve as a contrast between all those lines. It softens the look of everything and helps the kitchen stop feeling overly linear.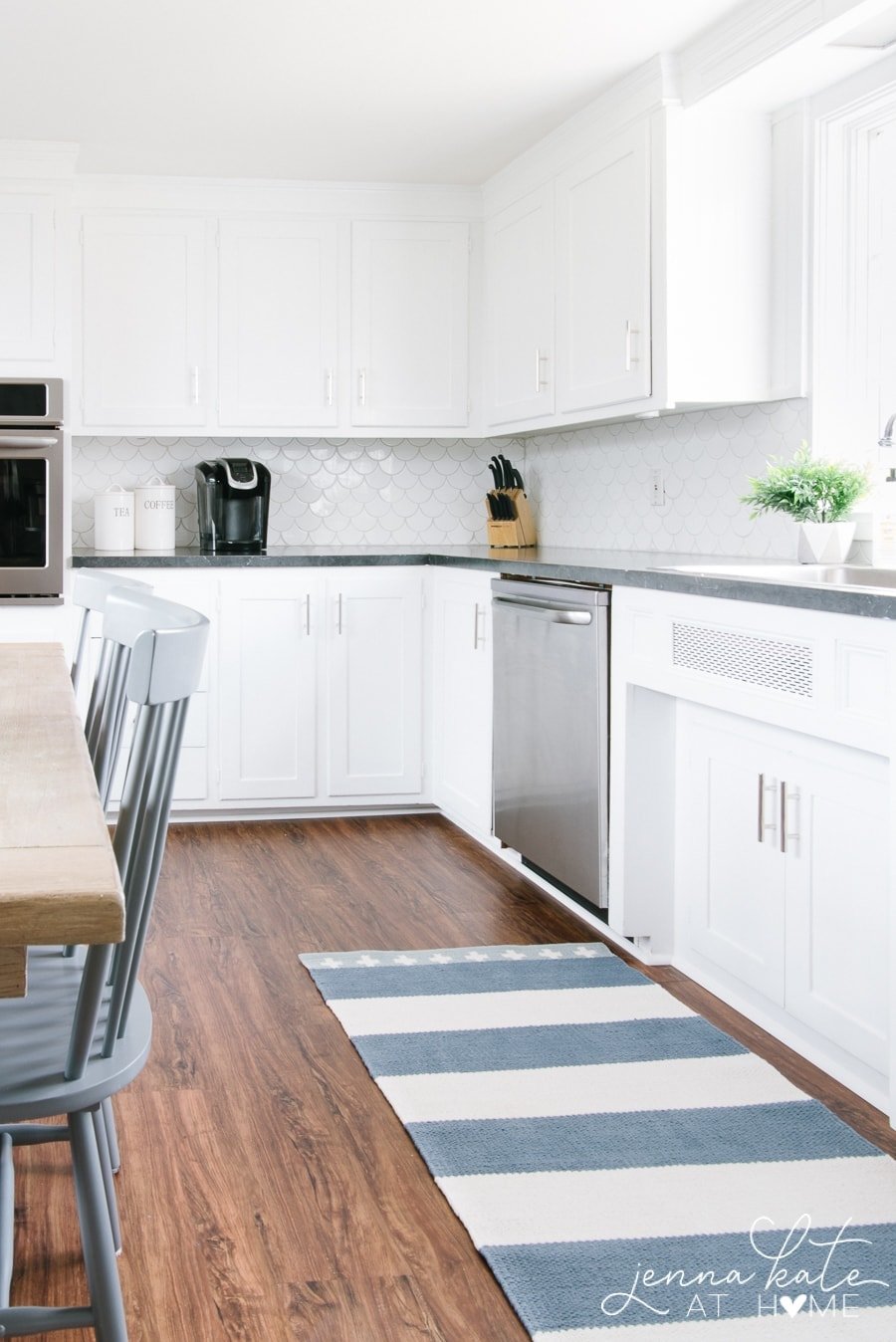 My new floor also helps to make the kitchen feel bigger (not that it ever really felt small!) thanks to the fact that it's run lengthwise. Instead of the squares of the linoleum visually breaking up the floor this flooring draws your eye along the length of the room. Plus, it looks clean (wahay!) and wipes up really easily with just a Swiffer!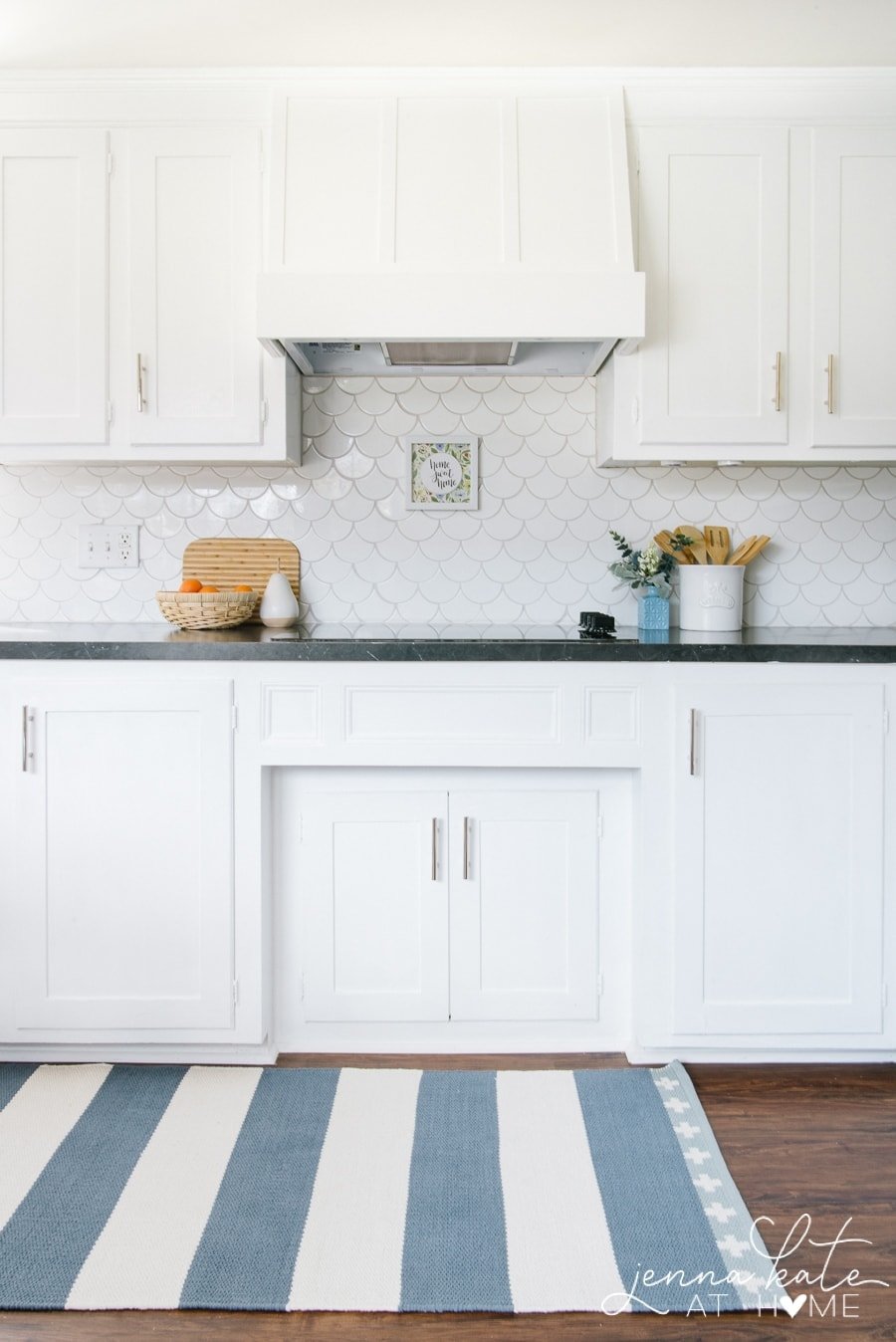 Let's talk about the DIY vent hood. I think this is my favorite DIY project ever next to our fireplace makeover (which also featured Jeffrey Court tile!). For being a quick afternoon project, it has made our somewhat junky cabinets look quite custom.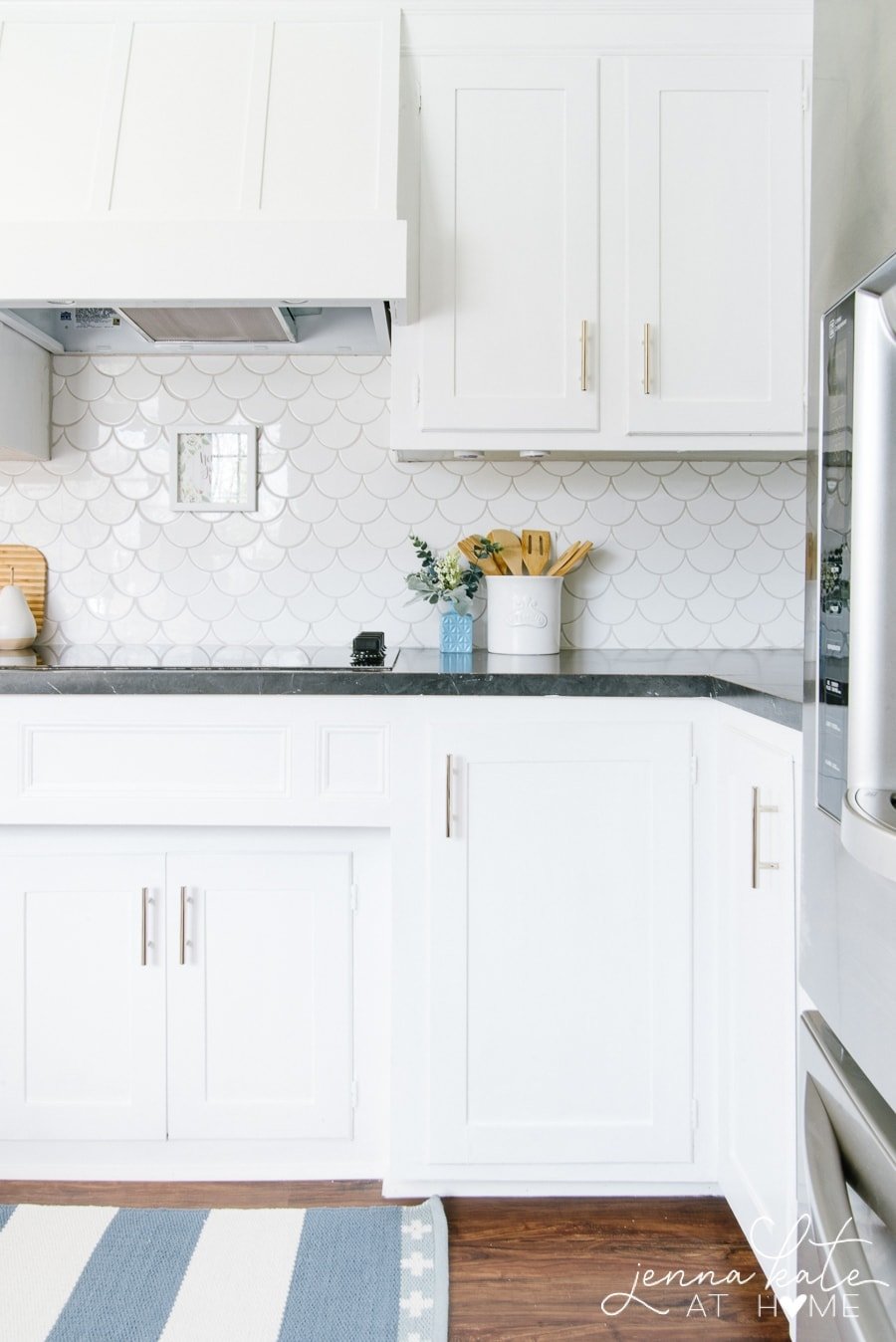 The vent hood is pretty from every angle and gives off such a soft light at night that makes the kitchen feel so warm, cozy….and like the kitchen I've always wanted!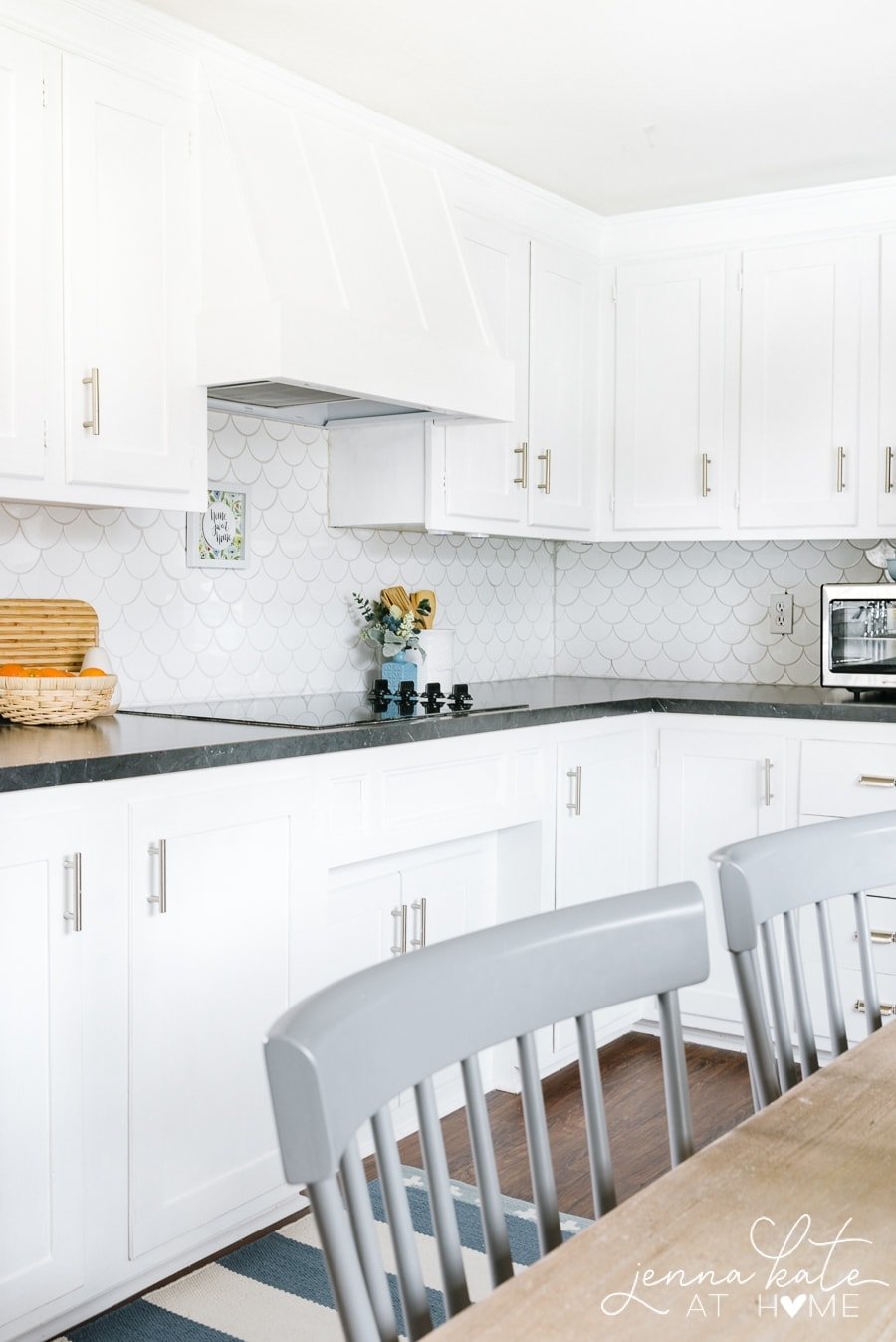 Some of the other details that help finish off the space are the new gray chairs. If you have messy toddlers you'll appreciate me needing new chairs in here. I'm all about keeping my life as simple as possible, and trying to clean rattan chairs was not an easy task. These guys wipe clean with just some paper towel and water. A busy mother's dream! They're also comfortable and I love how the gray ties in with the gray doors in our mudroom.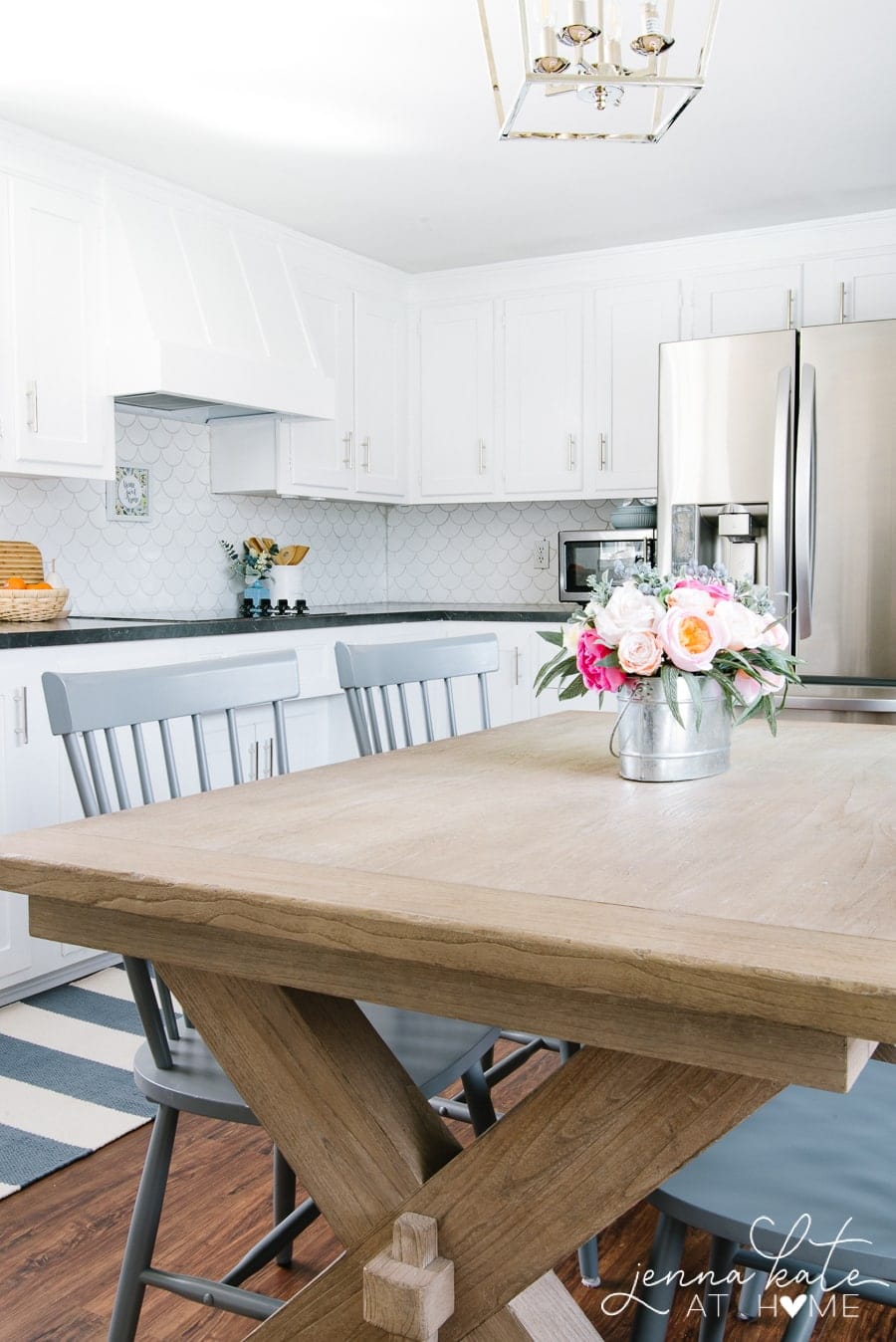 The new cabinet hardware pairs so nicely with the brighter white cabinets. The satin nickel pulls that were previously installed always looked a little dull. By replacing them with polished nickel, they tie in better with the light fixture and add more of that bright, crisp look I'm going for.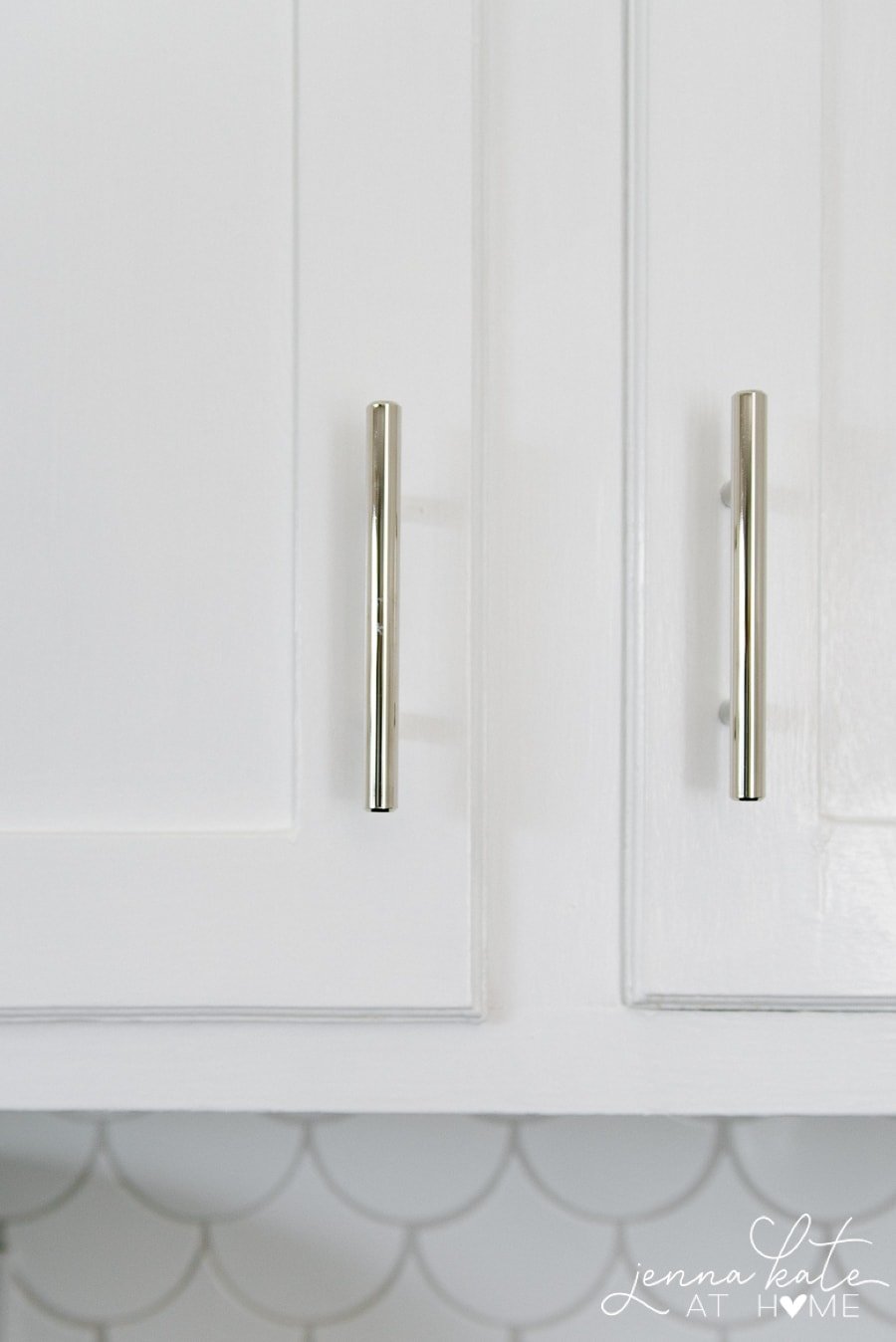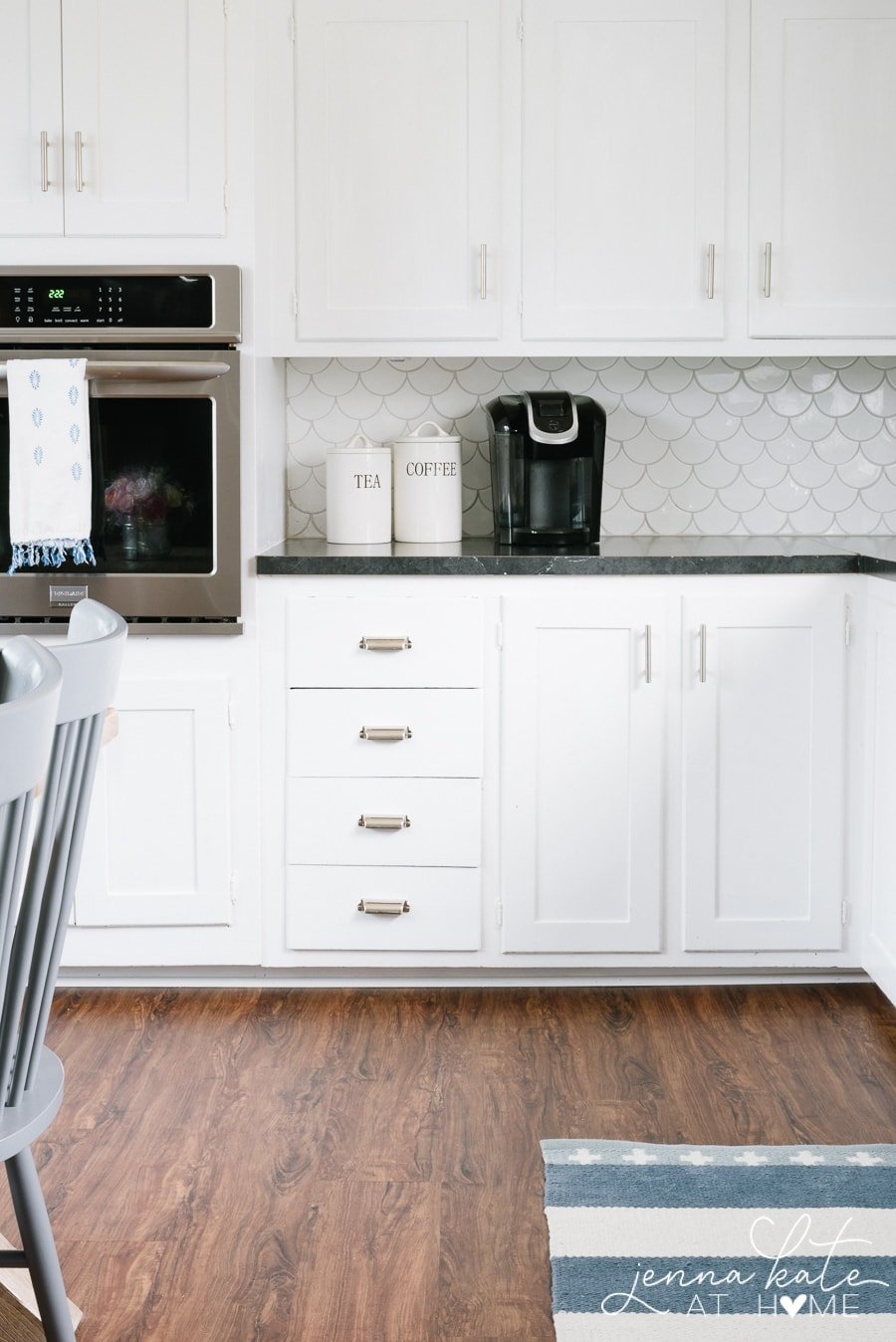 The new runner rug is also a great addition to the space. If you know me, you'll know that I'm a sucker for blue and white stripes. So this rug immediately spoke to me. Every room in my home has some bit of blue and I think it's the perfect finishing touch to the kitchen.
The reclaimed wood shelves were not installed as part of this makeover but I did install them only a couple of months ago.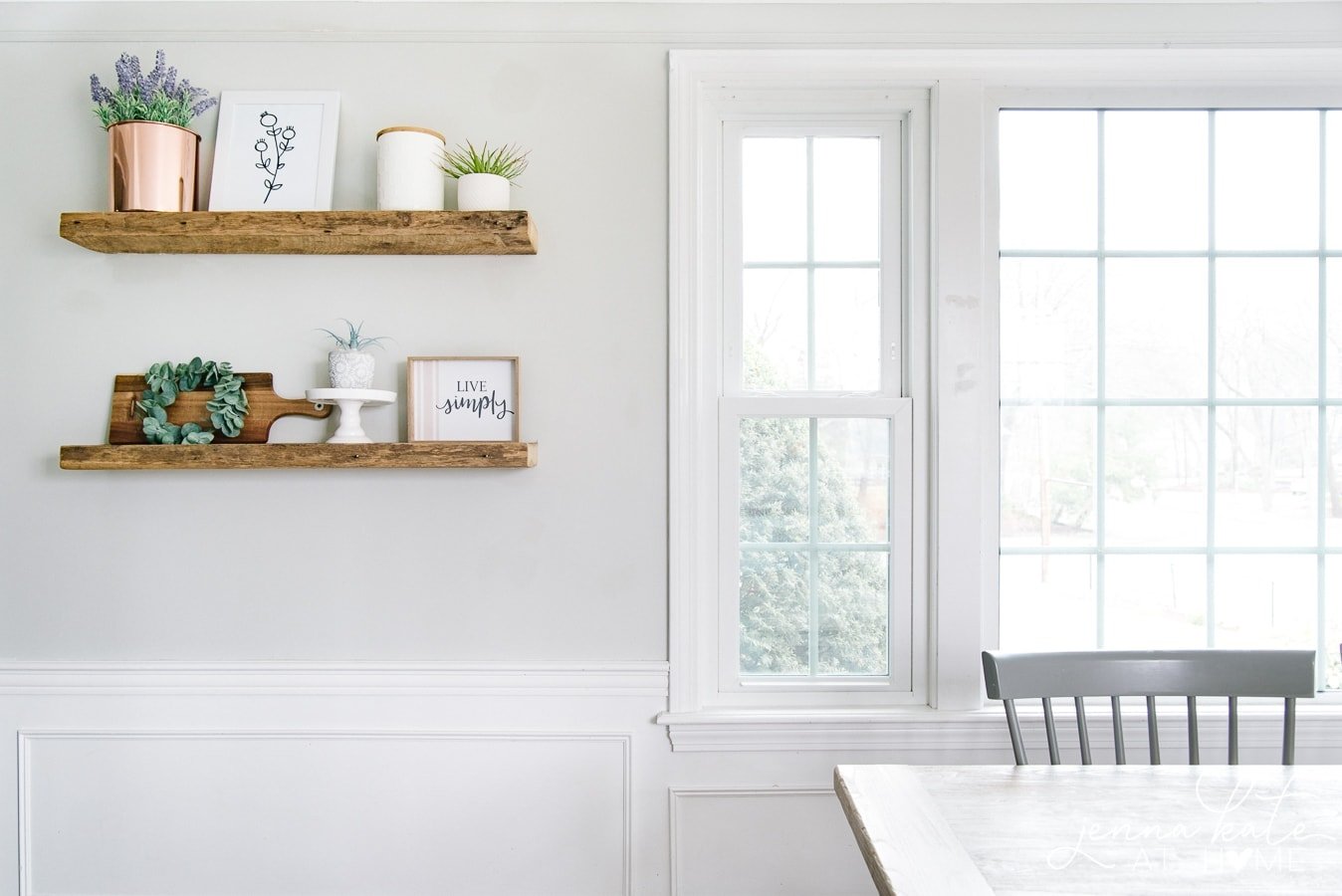 The wood adds warmth to an otherwise cool toned kitchen and I made sure to mirror that warmth in other items on the countertops such as the bamboo utensils and cutting boards.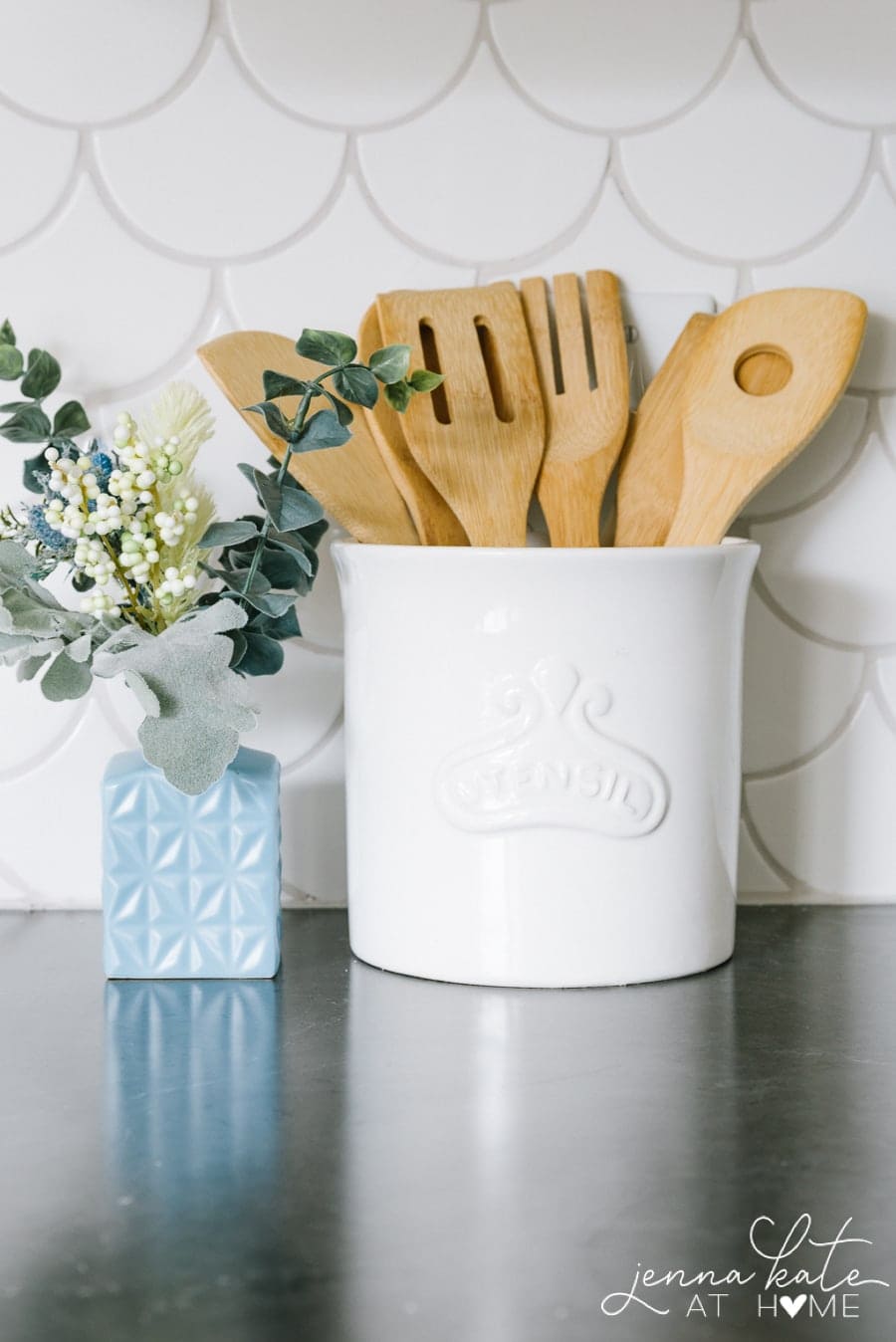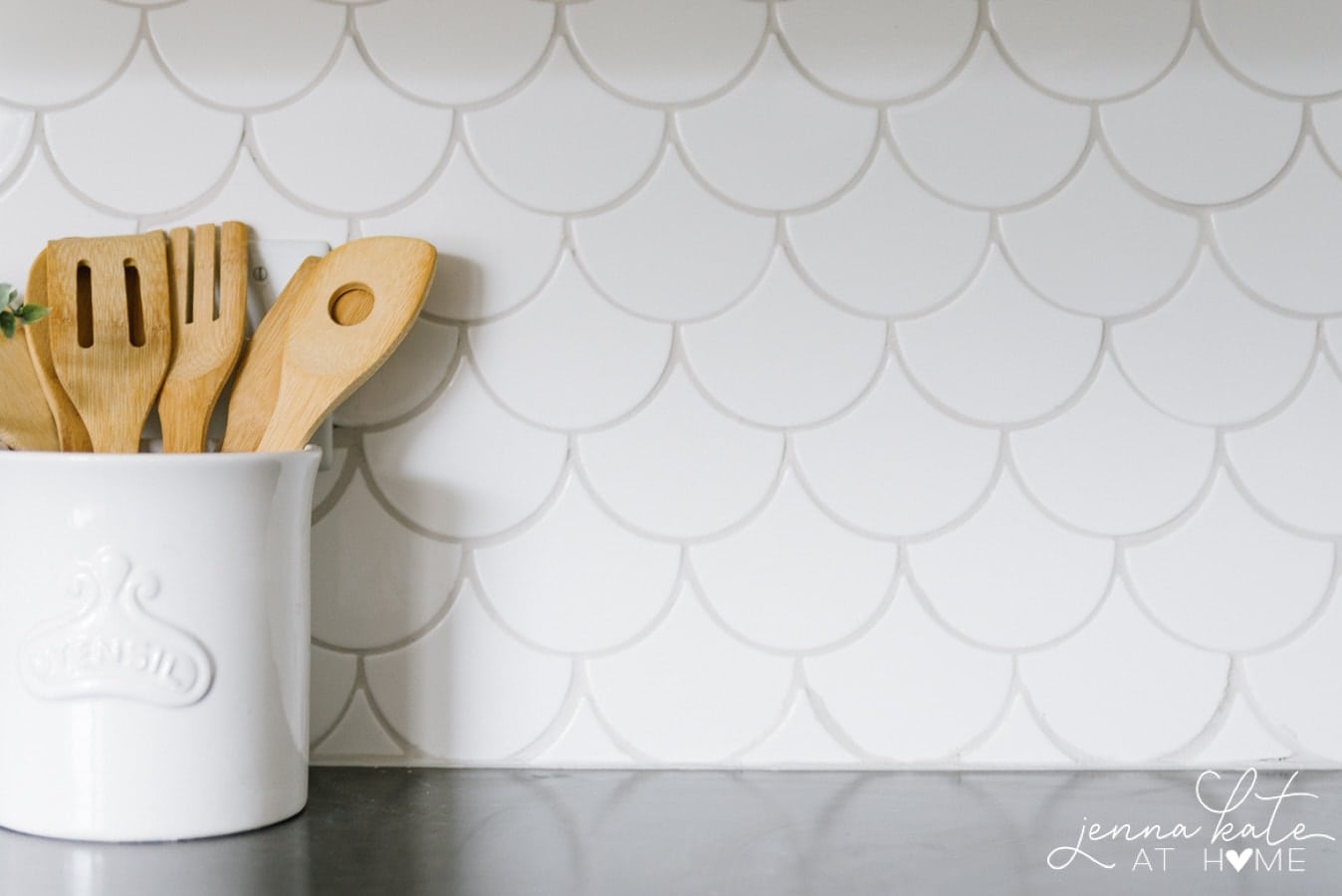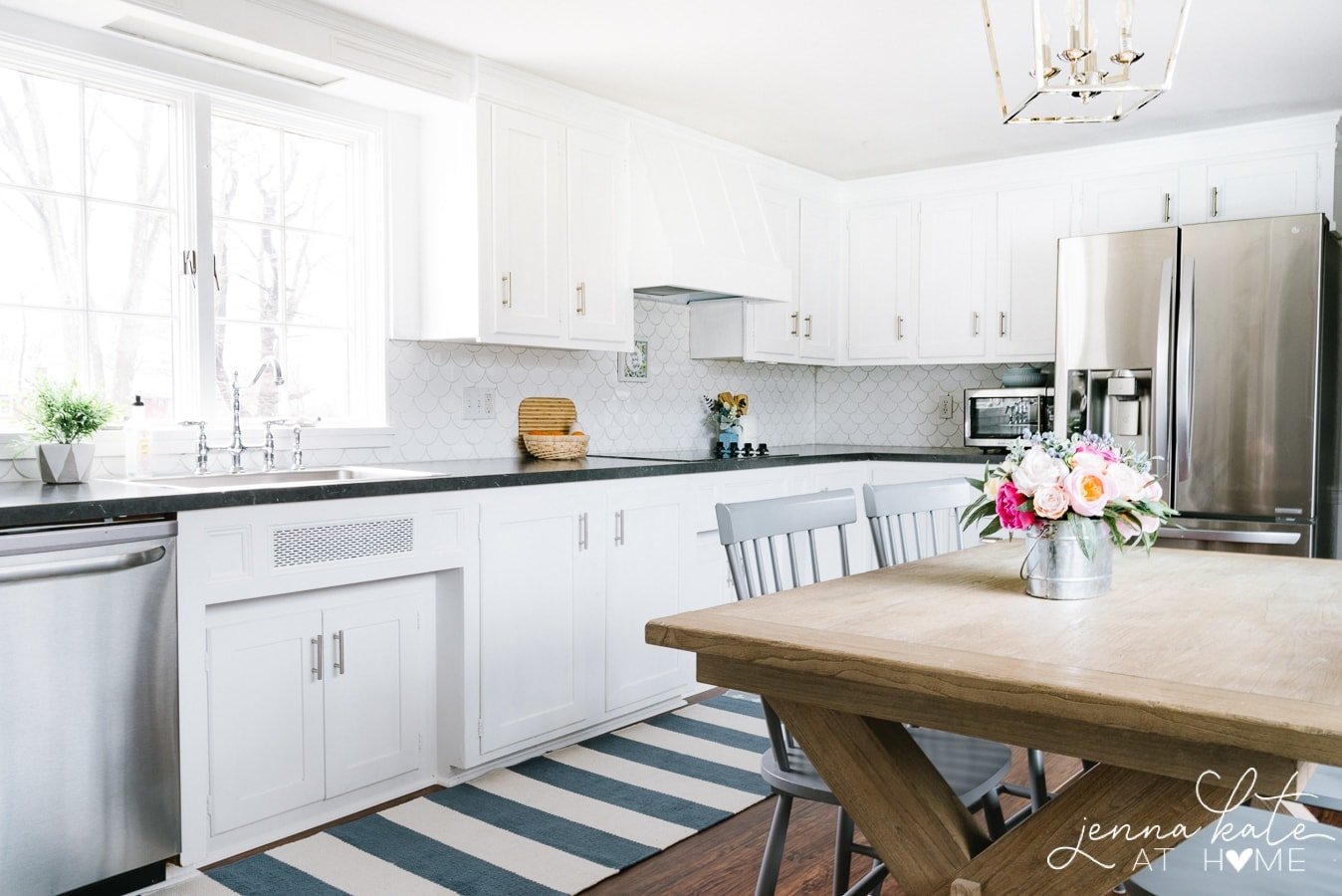 Finally, the pretty faux flower arrangement from Balsam Hill adds some fun spring color to the kitchen table.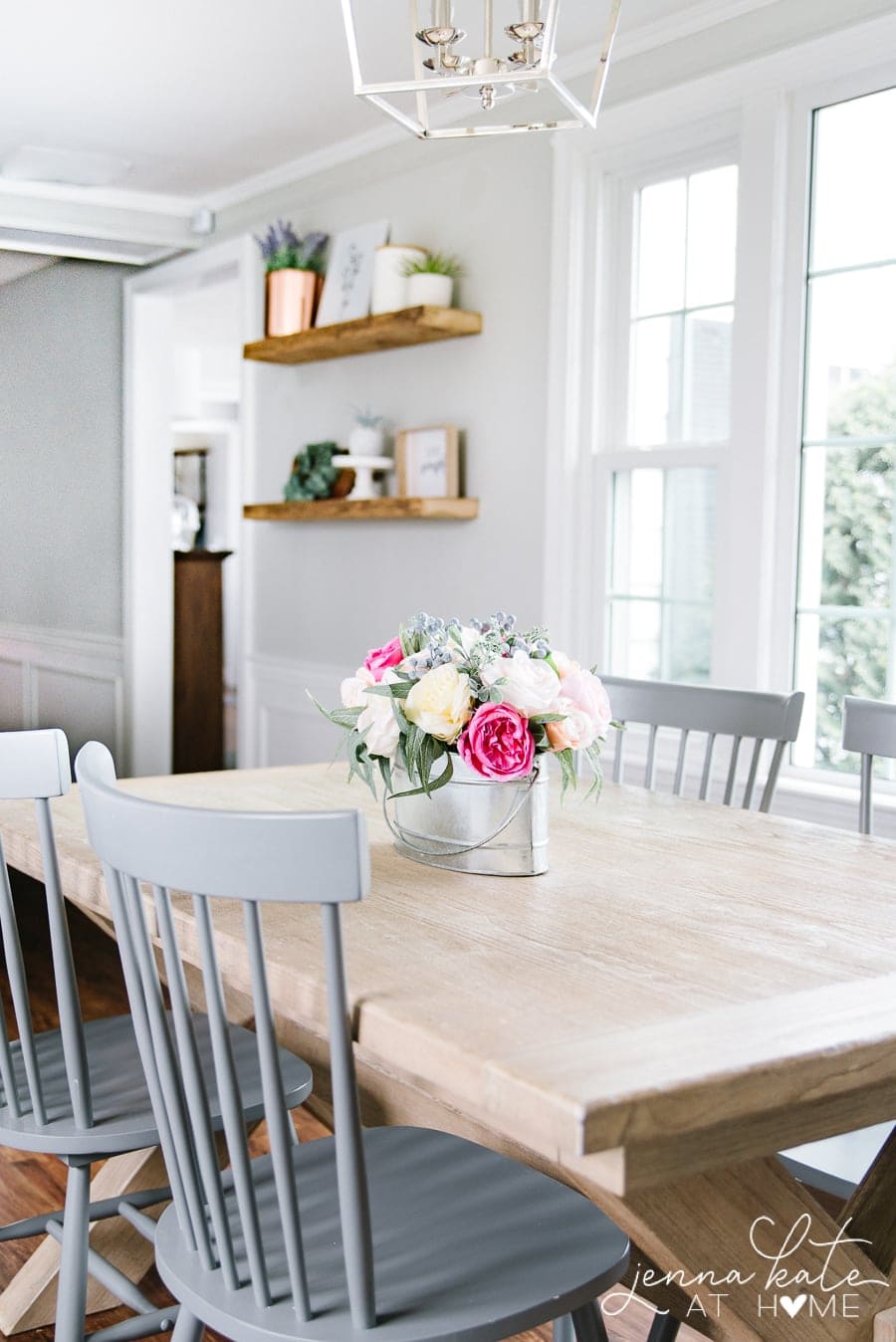 And because I love a good before and after, especially when they are side-by-side, here's a few to really bring home the transformation: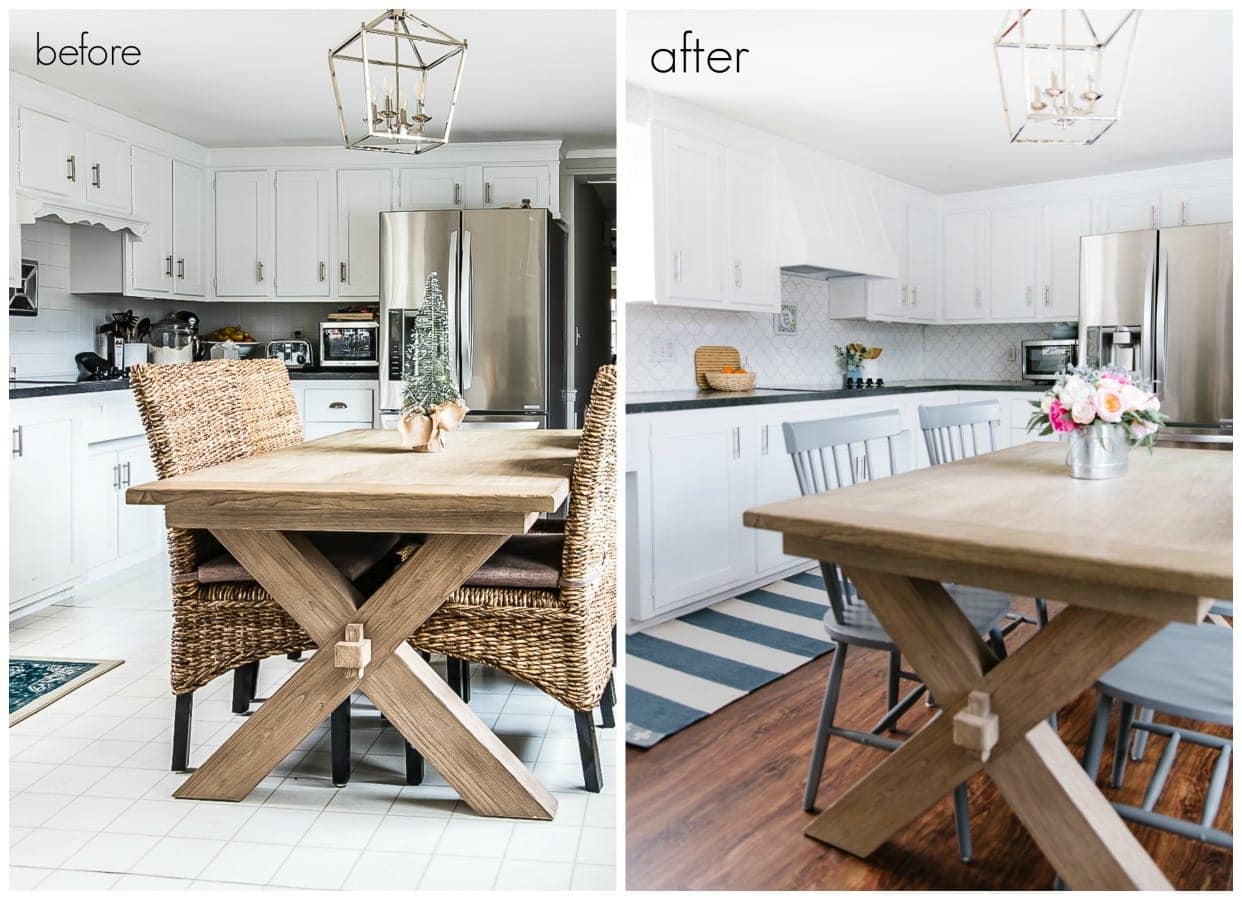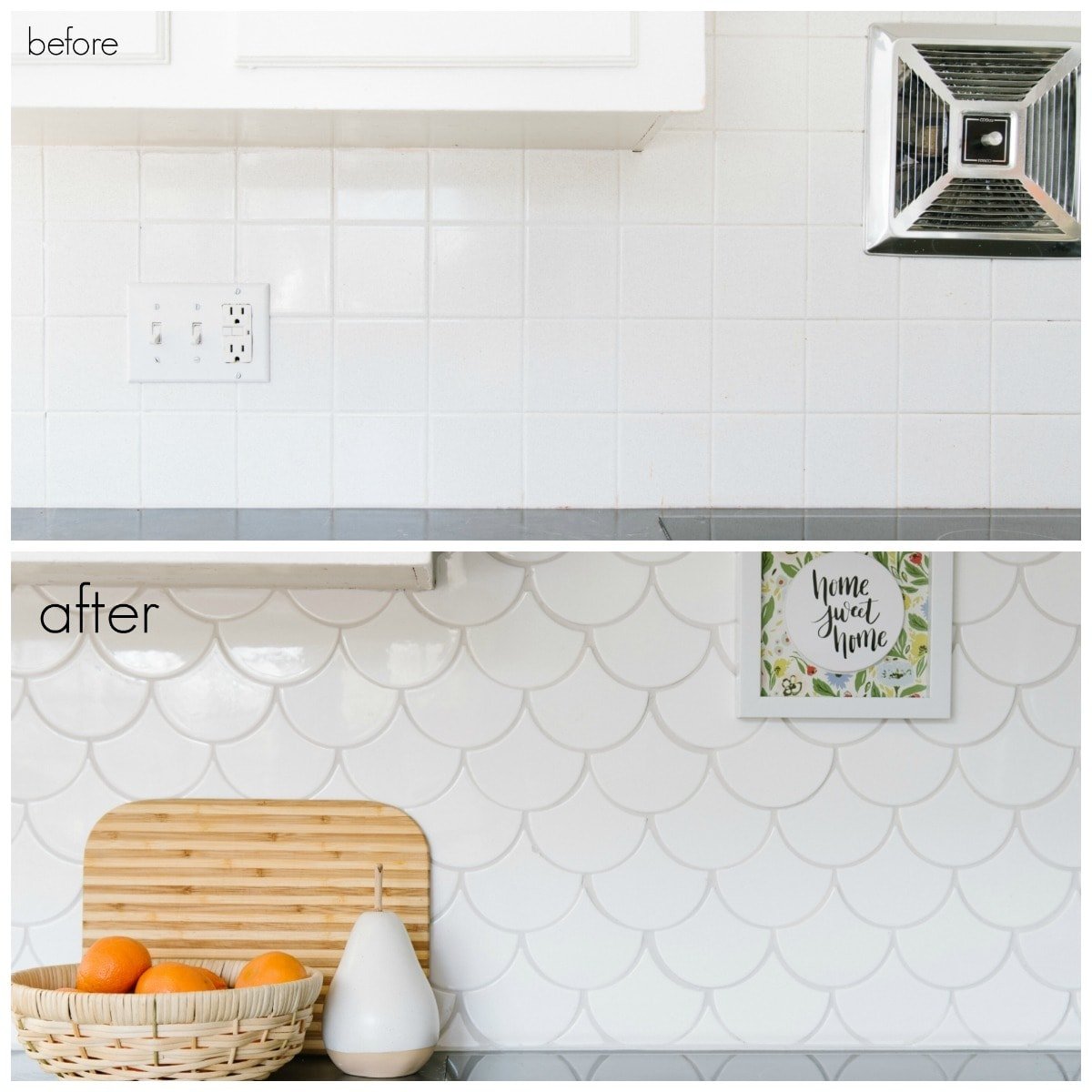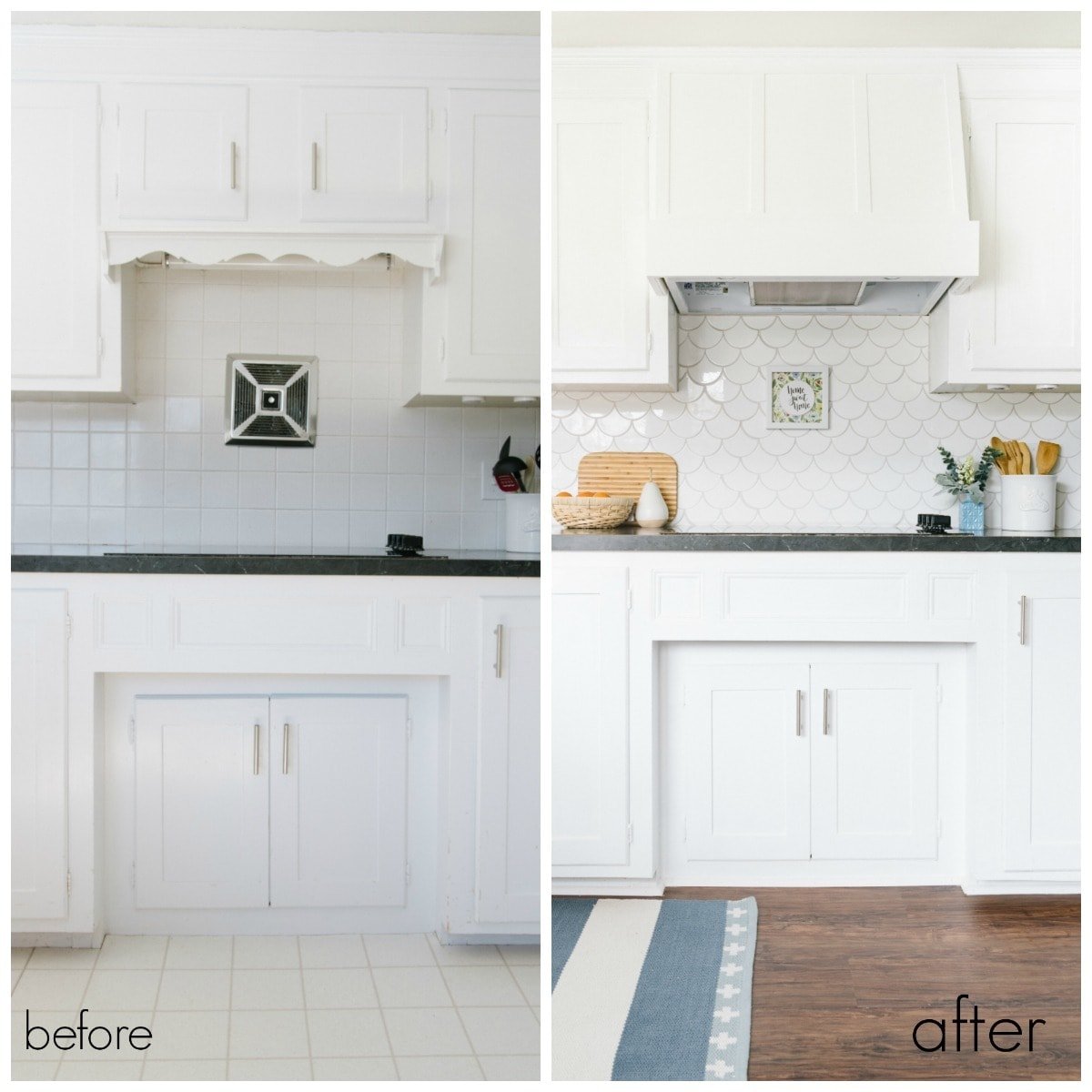 My goodness, it's so satisfying seeing everything side by side like that!
Thank you SO MUCH for following me on this journey over the past few weeks. Whether you're a long-time reader or just discovered me through this challenge, I really appreciate all your love and support.
Through my own hard work, I've transformed my kitchen from something that was completely out of tune with the rest of our house to a beautiful space for us to cook, eat and laugh.
ROOM SOURCES & DETAILS
Paint: Repose Gray by Sherwin Williams (walls), Extra White by Sherwin Williams (cabinets)
Furniture: Chairs // Table // Wall Shelves
Lighting: Pendant Light
Appliances: Ductless Vent
Other: Tile // Floor // Cabinet Pulls // Drawer Pulls
Accessories: Rug Runner // Floral Centerpiece // Woven Basket // Ceramic Pear // Large Blue Bowl // Small Blue Bowl