Easy Christmas Centerpiece Ideas
Add a festive touch to any table in your home this holiday season with these easy centerpiece ideas.
This type of centerpiece – a large bowl filled with various festive items – is my favorite to whip up for the holiday season. It's an easy centerpiece for a Christmas tablescape, to pop on your kitchen island or even your living room coffee table.
I'm going to show you 3 different takes on the same idea, and you can either copy them exactly or just them as inspiration to come up with your own centerpiece using what you already have on hand.
Evergreens & Pinecones
This centerpiece is simply a bunch of faux pine and juniper layered in a bowl with some large pinecones. The addition of fairy lights makes it feel festive, but this centerpiece will work the whole way through the winter.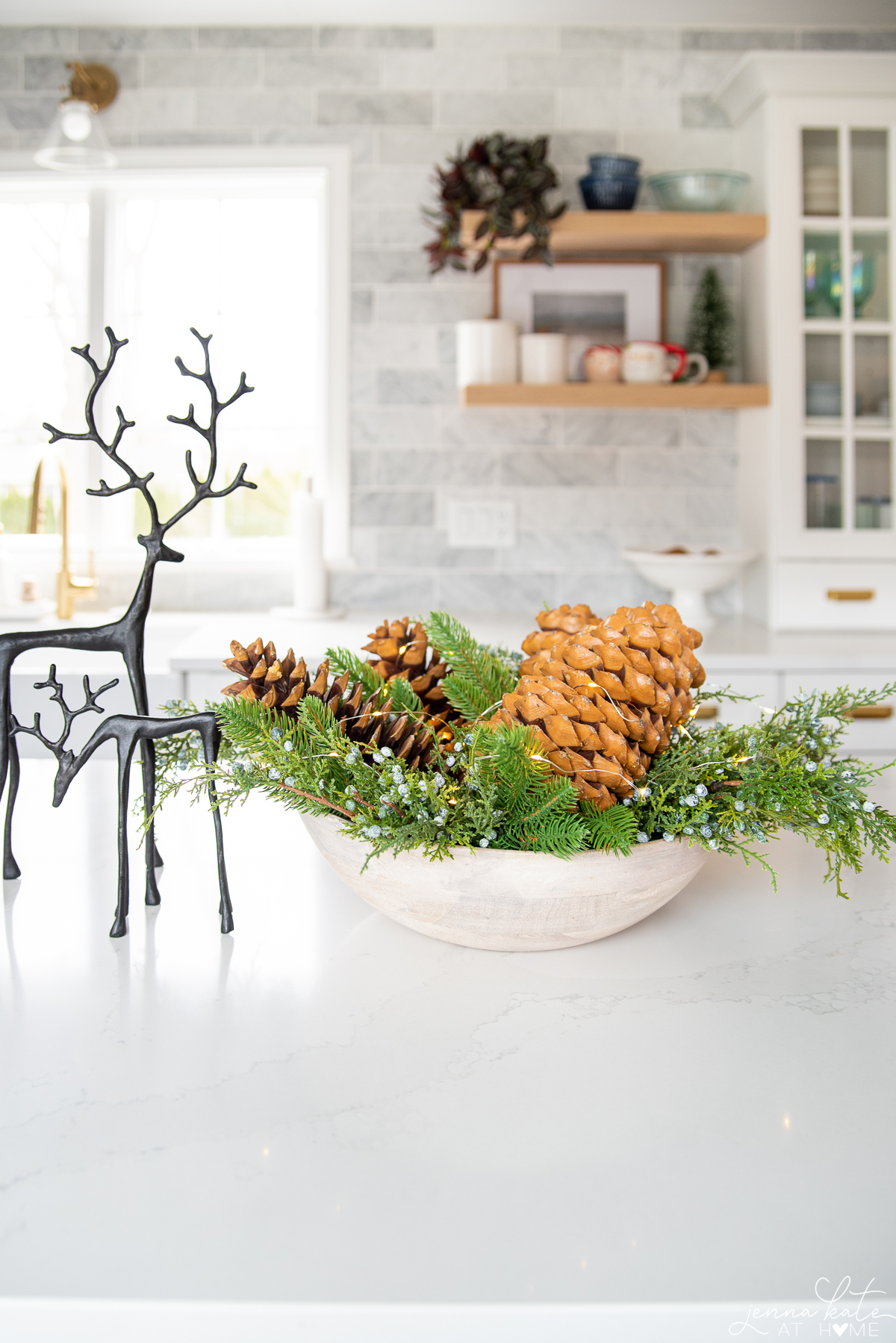 I love this easy arrangement on my kitchen island alongside these pretty bronze sculpted reindeer (similar here), but once Christmas is over, the reindeer will be packed away for another year.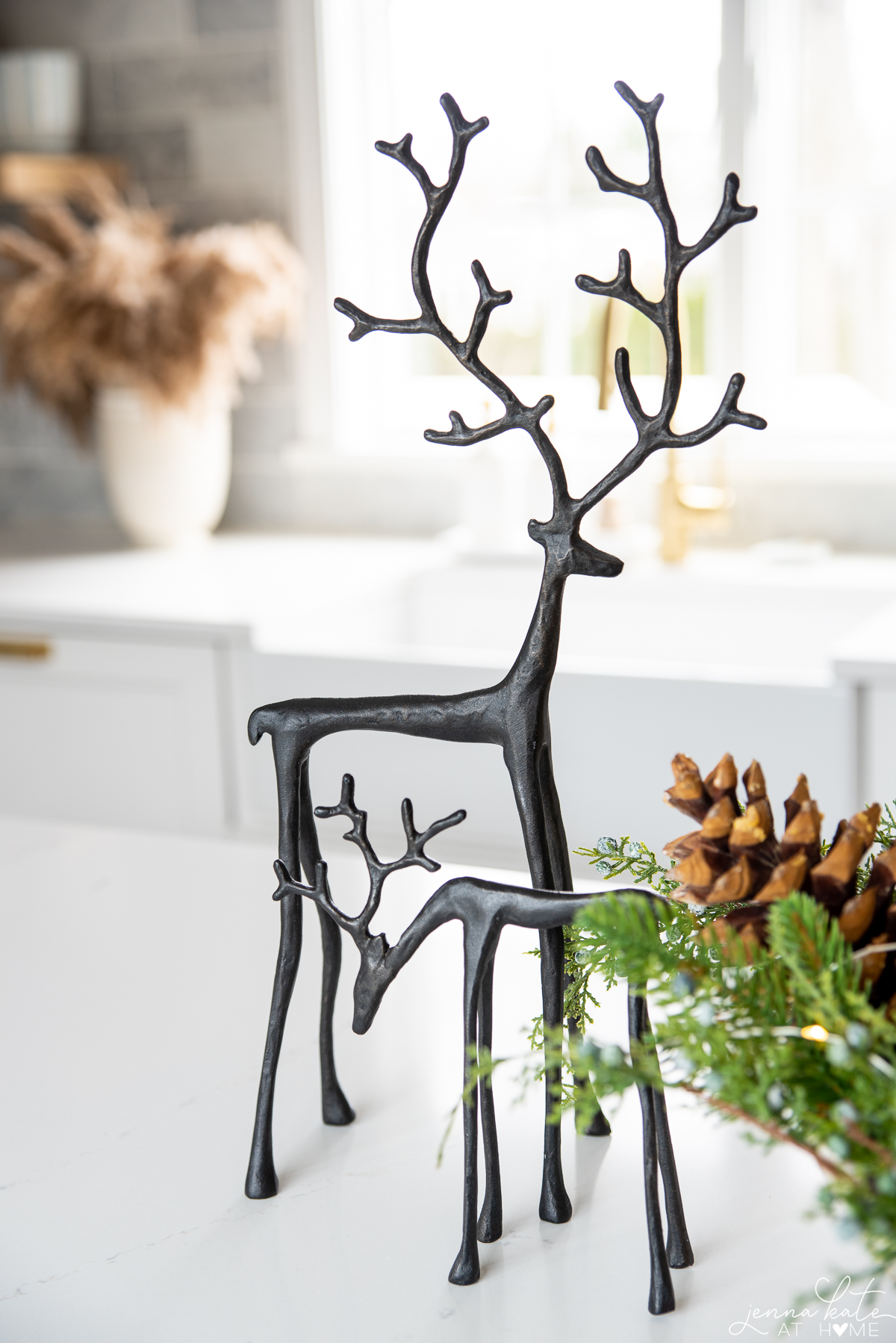 I use the faux juniper stems(if sold out, similar here) all over my house during the winter months. I love the texture and subtle pop of color from the blue berries. Plus, they look incredibly realistic! They are just as nice alone in a vase as they are as part of this centerpiece.
The large pinecones can be found at your local farmstand or garden center. Don't waste your time buying them online, I get mine for $3 a piece in person but they seem to be much more expensive anywhere that I've found them online.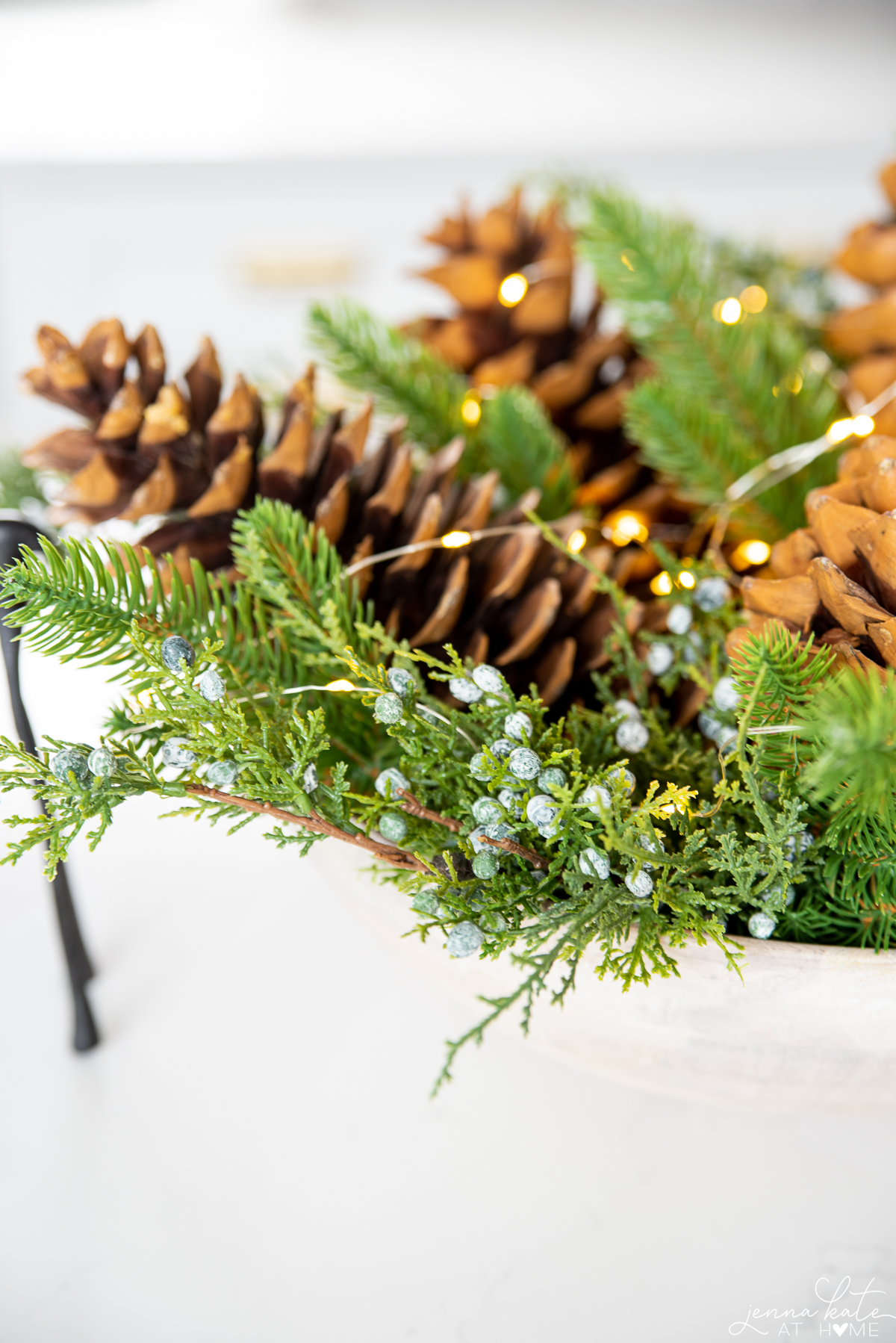 Blue & Gold Ornament Bowl
My favorite bowl sits on this console table all year long, usually with my wooden mango beads. But for Christmas, I switch it up with pretty ornaments, and you guessed it, some more of my favorite faux pine stems.
This year I've got 5 inch blue velvet ornaments and beige ornaments combined with an antiqued gold ornament that brings an elegant look to this console table. I first put some crumpled up tissue paper at the bottom of the bowl, then popped the ornaments on top and filled in the gaps with the pine stems. You could of course add some battery operated fairy lights for a little twinkle!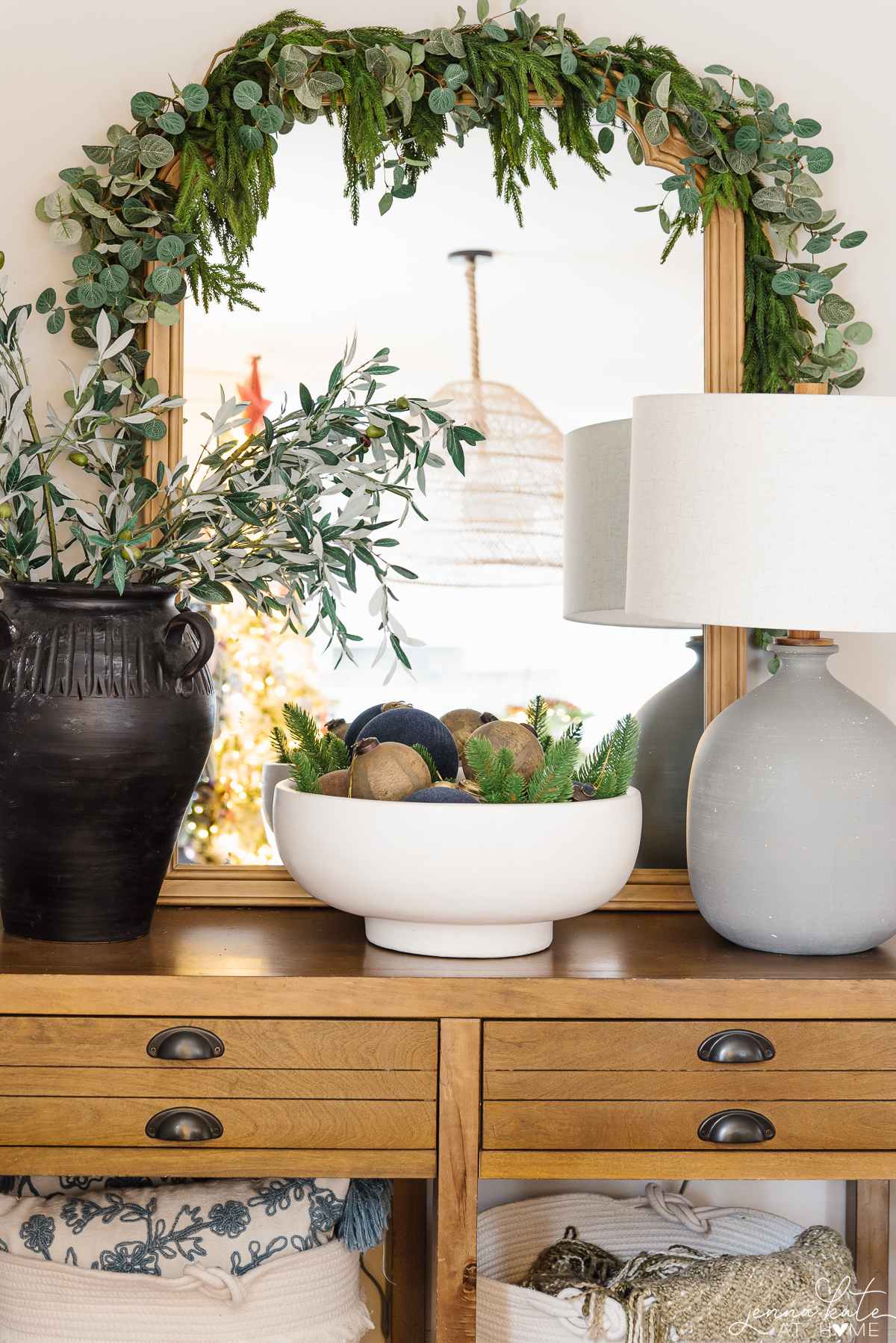 I really like to use a deep, over sized bowl for this sort of arrangement but you could certainly use something smaller, especially if you're planning on using it for a coffee table or accent table display.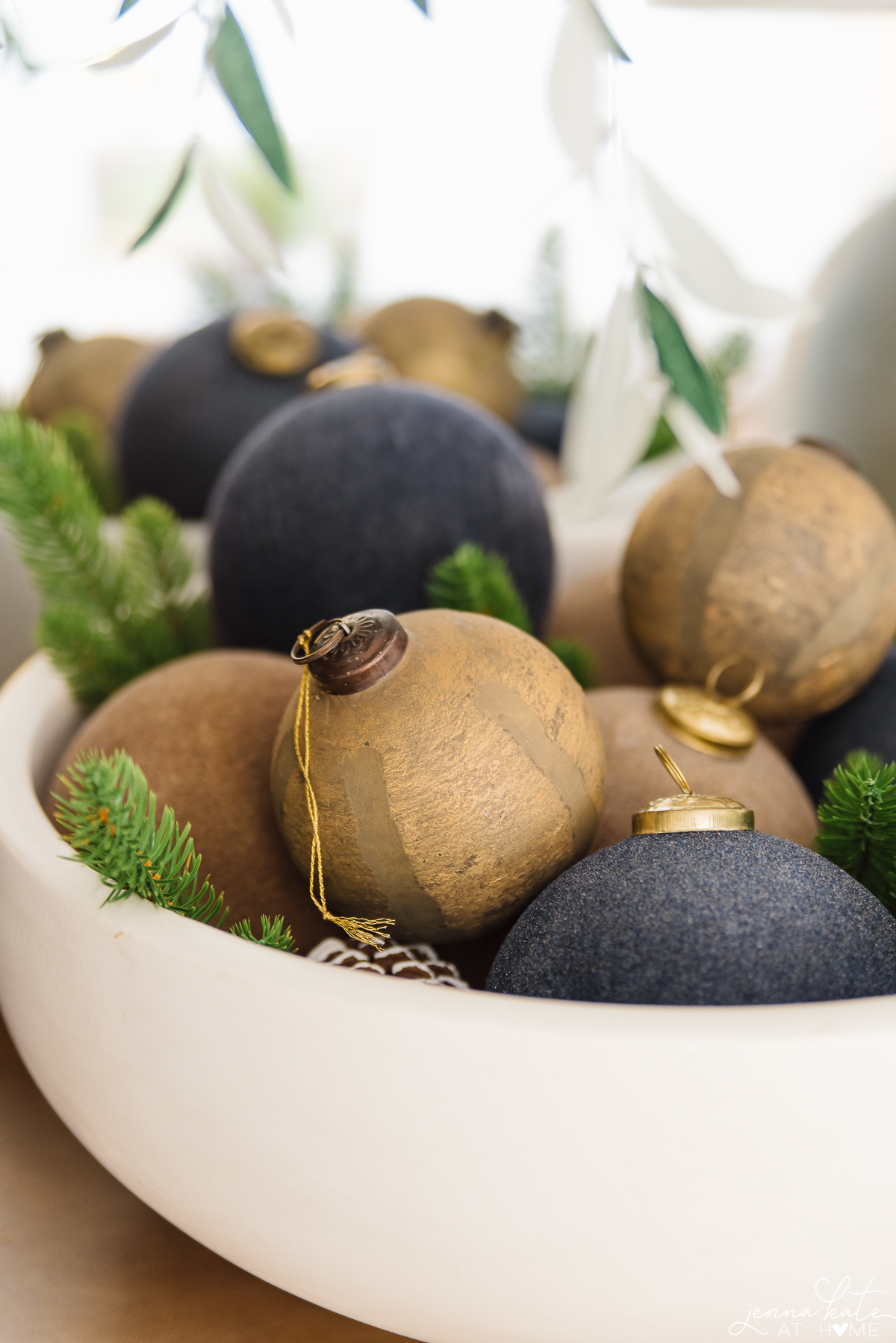 Festive Ornament Bowl
This ornament bowl is similar to the one above, but uses even larger glass ornaments in festive red.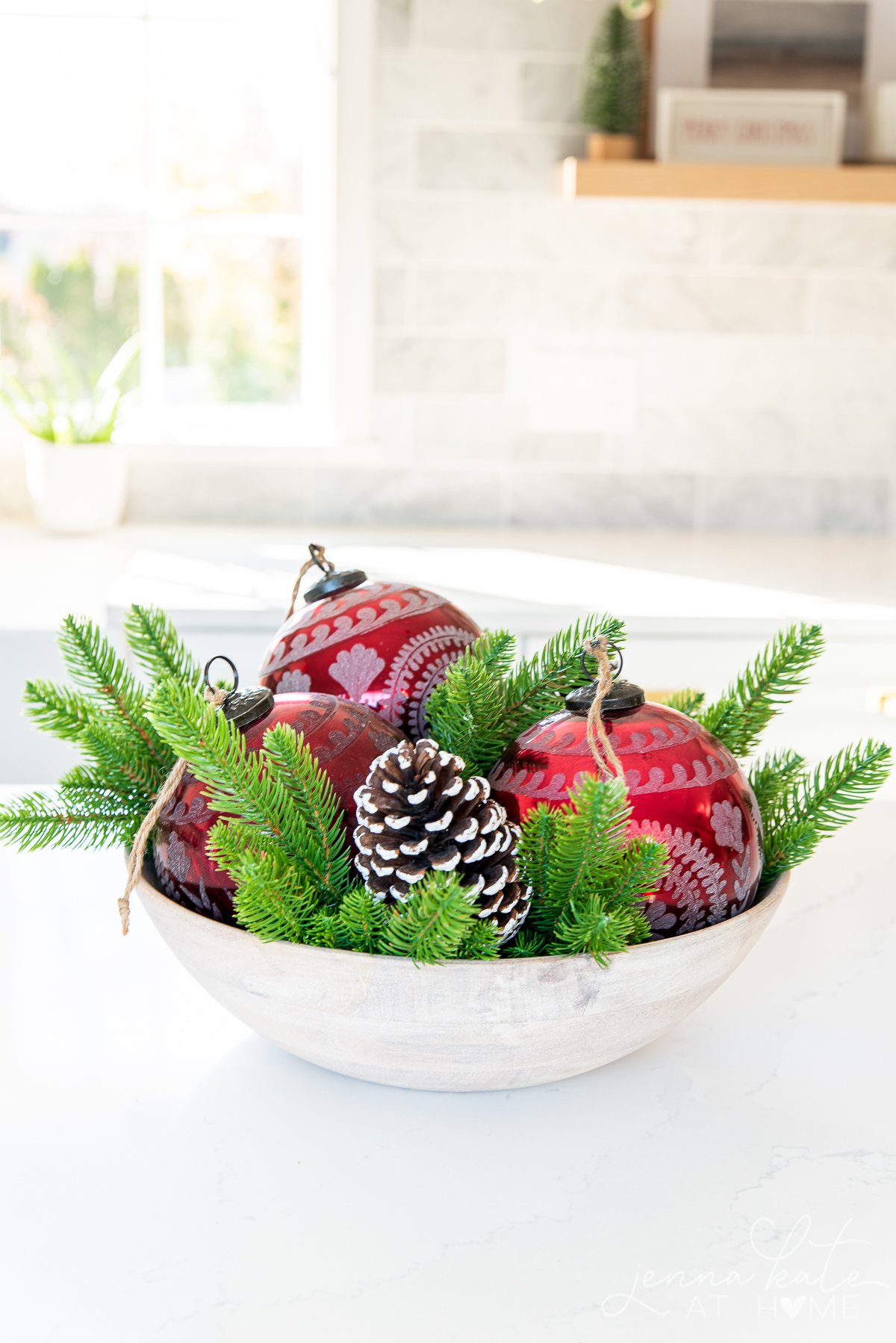 These etched glass ornaments are 6 inches in diameter so you only need 3 to make a statement. They also come in silver, but I really love how to red next to the green pine stems scream Christmas, and really pops against the white washed wood bowl.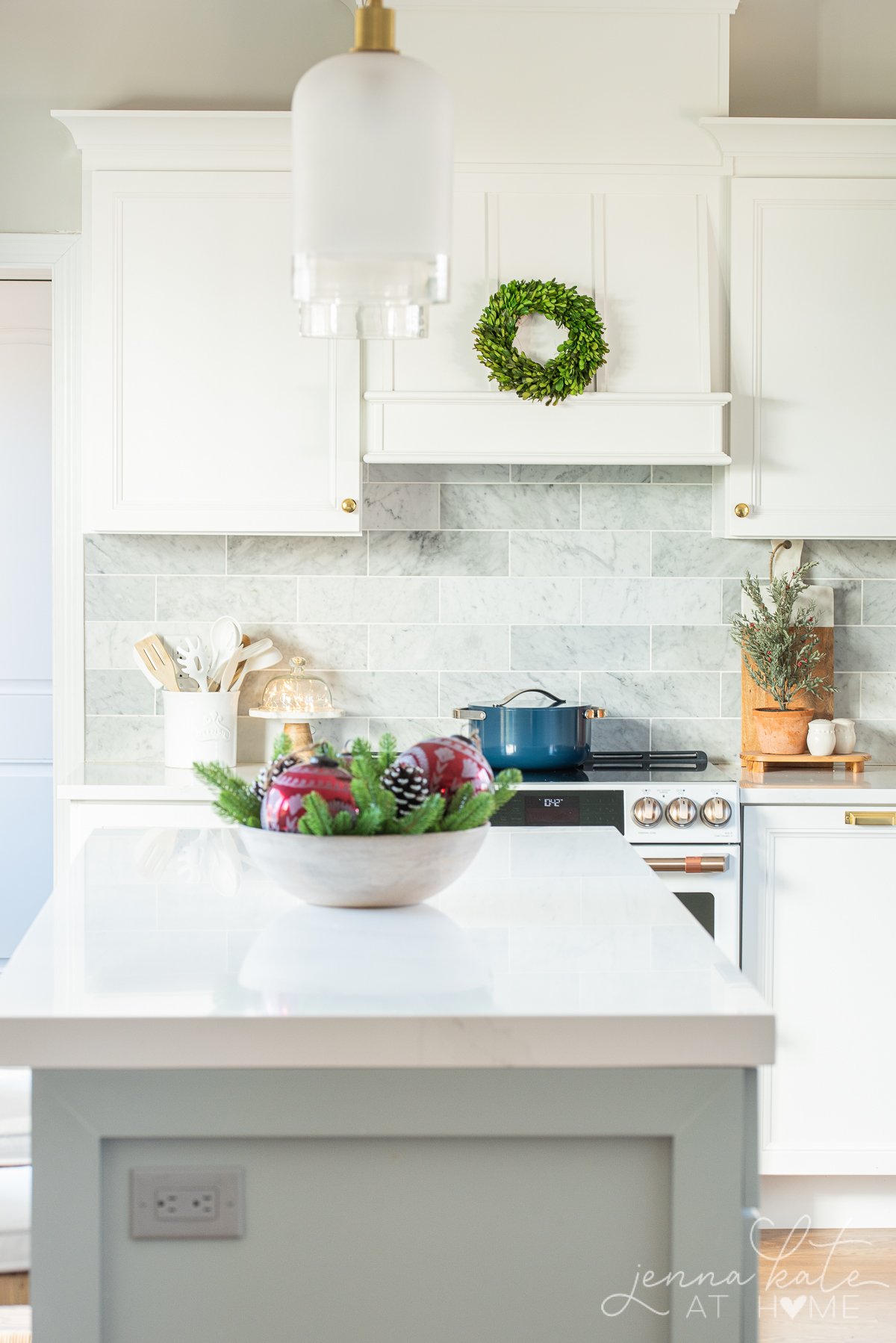 These centerpiece ideas are so easy for anyone to pull together last minute, and they look so pretty! Whether you have one proudly in the middle of your dining table for Christmas dinner, on your kitchen island, tucked into a corner of your living room or adorning your console or coffee table, I think these are a simple holiday centerpiece idea that you'll come back to you after year (I certainly do!).