Benjamin Moore Chantilly Lace
Chantilly Lace by Benjamin Moore (2121-70 and OC-65) is a bright neutral white paint color. This color is perfect for trim, cabinets, walls, and exteriors. We can see why it is one of Benjamin Moore's most popular white paint colors!
When trying to find the right white paint color, the hardest part is that they aren't all 100% pure white, most have subtle undertones.
However, if you are looking for a bright, crisp, white paint color, this will be the perfect fit for you!
What Color is Chantilly Lace?
Benjamin Moore describes Chantilly Lace as "as delicate and refined as the lace it was named after, this crisp, clean white evokes images of pure silk, soft linen and simpler times."
If you are looking for a beautiful, classic, white paint, this just might be the right choice!
It can be confusing since Benjamin Moore has two numbers for Chantilly Lace. Chantilly Lace is both OC-65 and 2121-70. Benjamin Moore includes Chantilly Lace in their Color Preview Collection and the Off-White Collection.
They are the same paint color just a different number.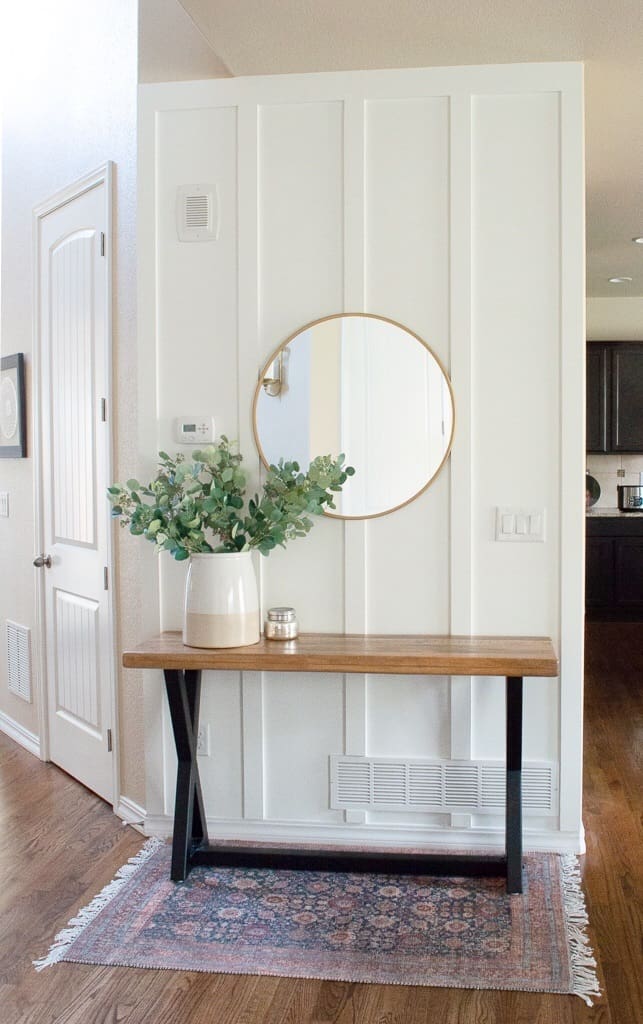 What is The LRV?
Light Reflectance Value (LRV) is an indicator of the amount of light that is reflected by a color when it is illuminated by a light source. A higher value (closer to 100) means that a color will reflect more light back at you and a lower value (closer to 0) means that a color will appear darker, or absorb more light.
Chantilly Lace has an LRV of 92.2, making it Benjamin Moore's brightest white.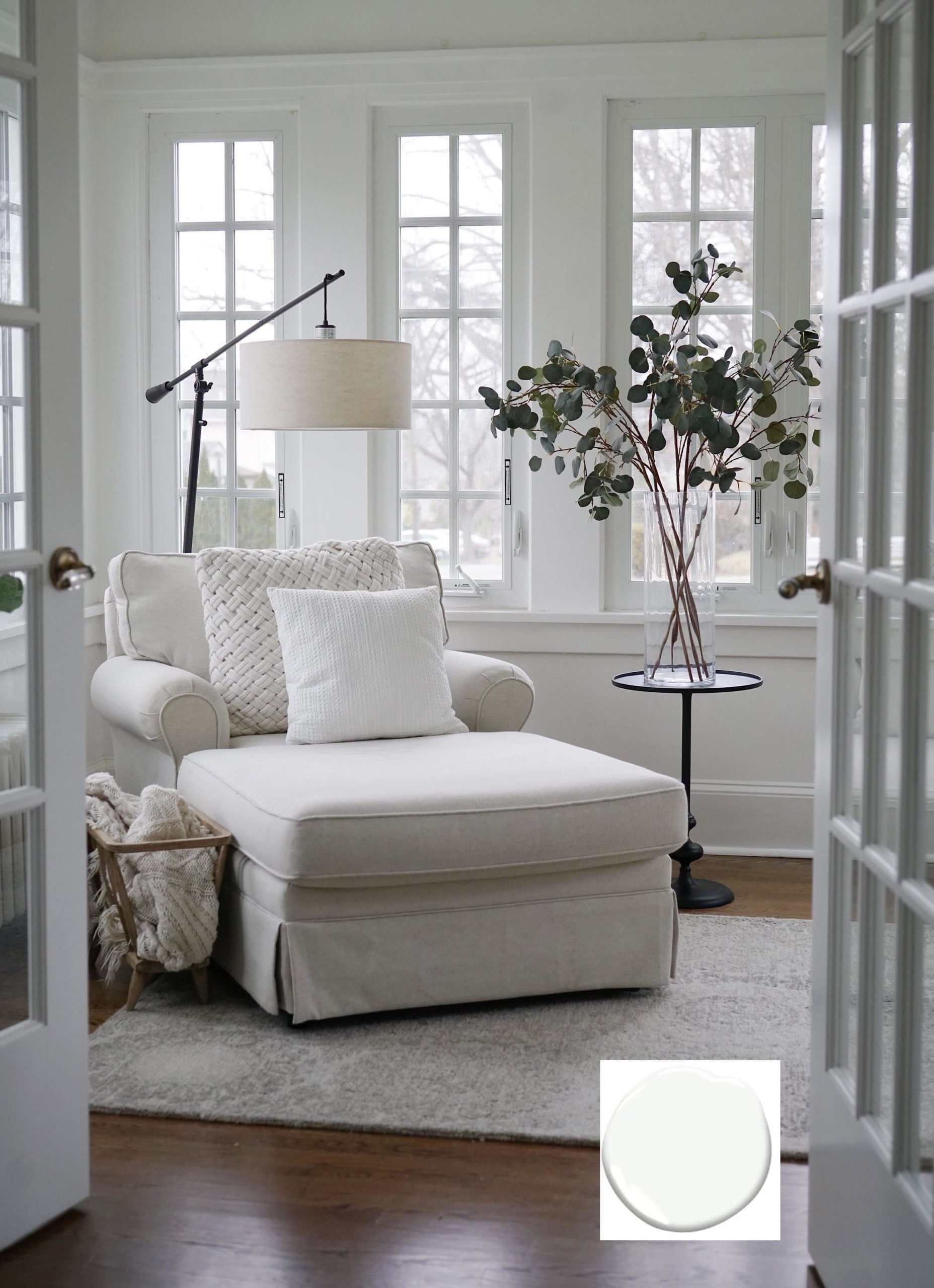 Is it a Warm or Cool Color?
This is a tough one to answer! The undertones are so slight, it doesn't fall far in either category. This color is a clean white, so it is more impacted by its environment than anything else.
It isn't a cool white, since there are no blue or green undertones, but if you have cool north-facing light, it may cast some of that slight gray/blue light back into the room.
On the other hand, if you have warm southern exposure, the subtle warmth will soften it up just a bit, while still maintaining that crisp white look.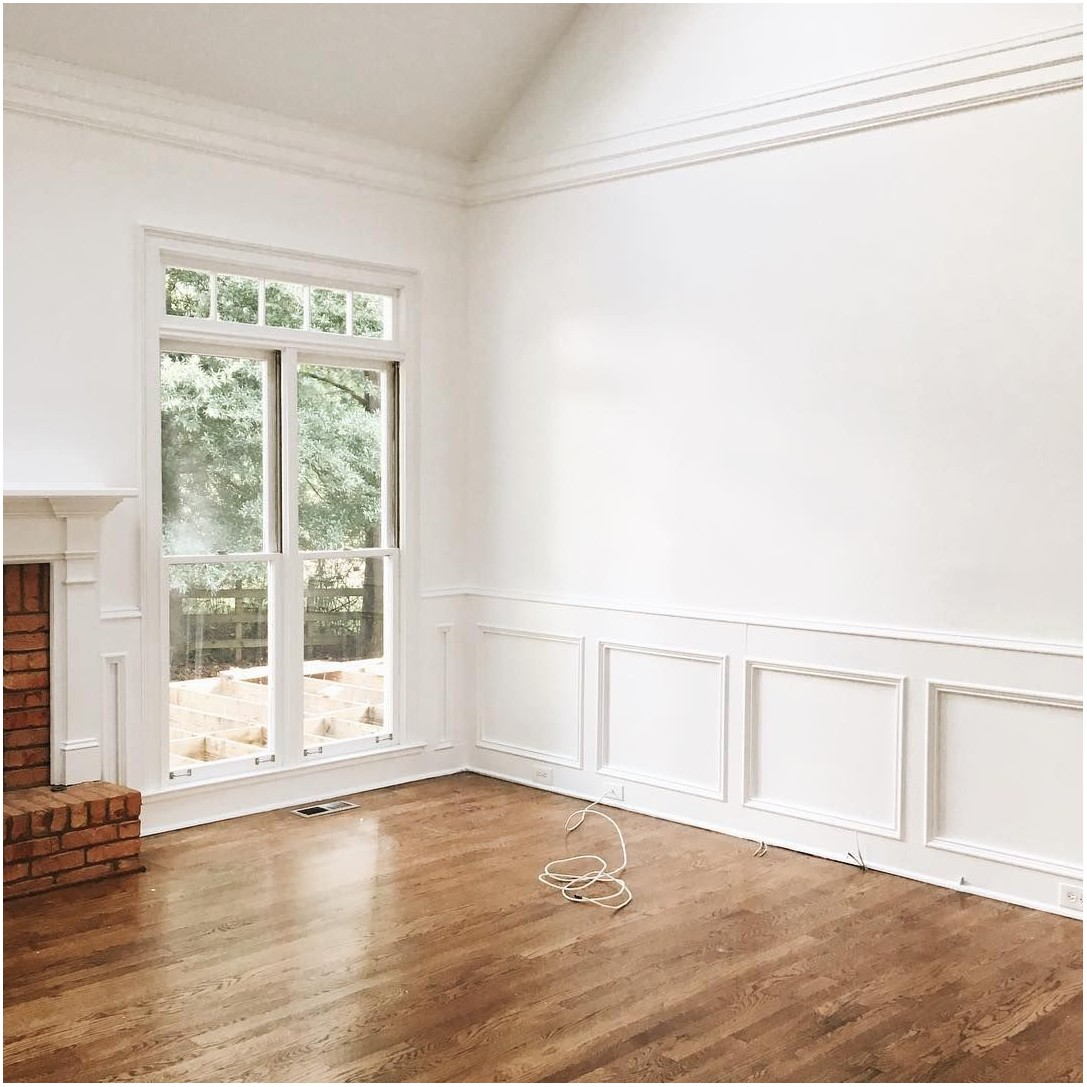 What Are The Undertones?
Chantilly Lace is a really nice crisp white paint color, with minimal undertones.
However, cool northern light can create that slight gray/blue cast that we inherently get with bright whites. Warmer light, along with direct sunlight, will soften it, without bringing out any creamy undertones.
Real Room Examples
I love how crisp and bright white paint makes a room feel. Whether you have a traditional, modern, or even farmhouse-style home, white is a timeless classic paint color choice for your whole house.
Chantilly Lace is the perfect clean white paint color, which pairs nicely with most colors to give your room a fresh look.
You can basically pair it with anything since there are little undertones present, making it one of the best white paint colors. It looks great with blues, greens, oranges, browns, and deep reds.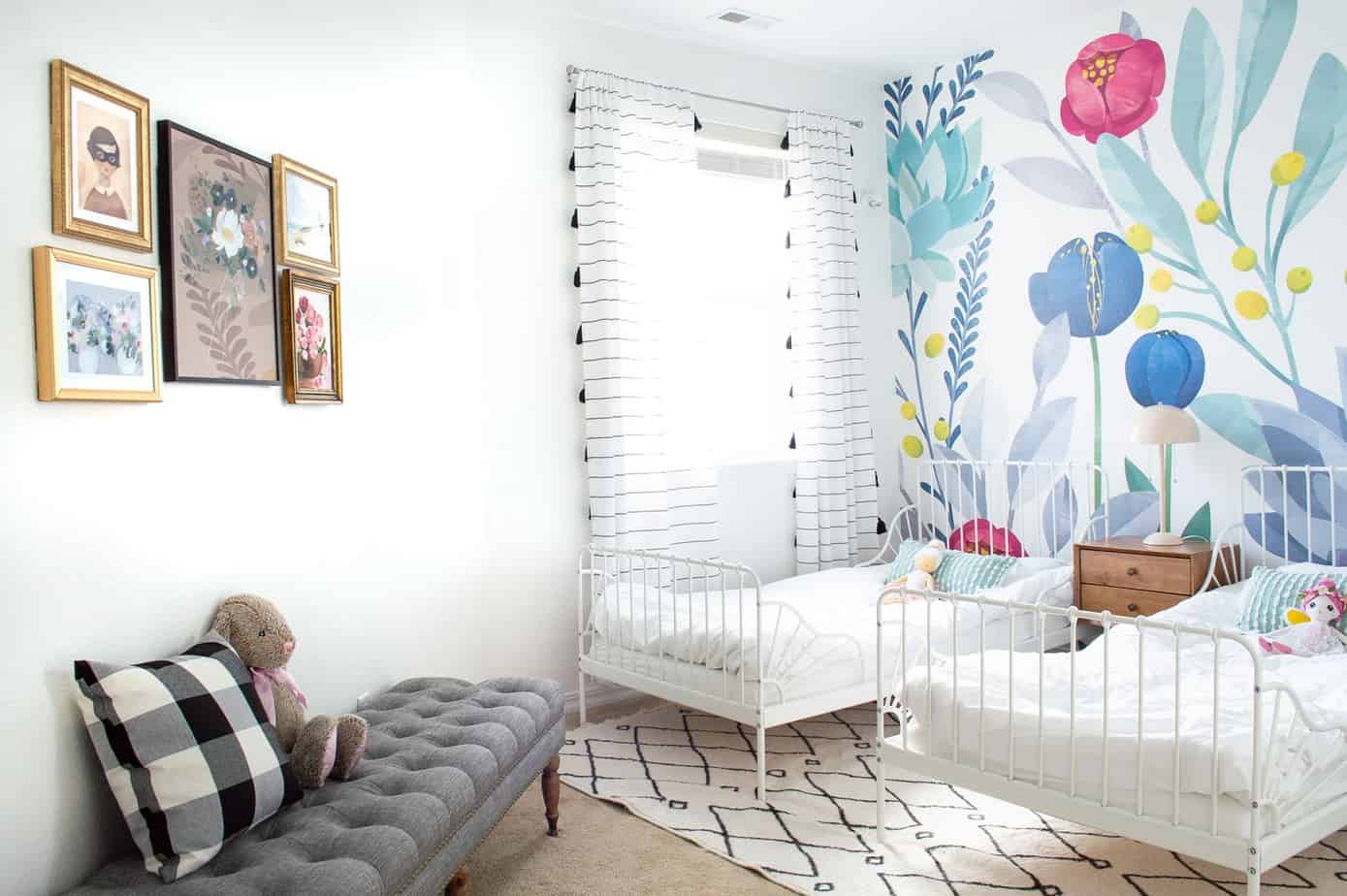 Chantilly Lace on Kitchen Cabinets
It is a great color for cabinets and trim details. The clean white gives off a bright appearance, that isn't too stark.
I love how gold accents in the kitchen below help soften up the bright white for a really beautiful effect, especially with all the natural light shining through.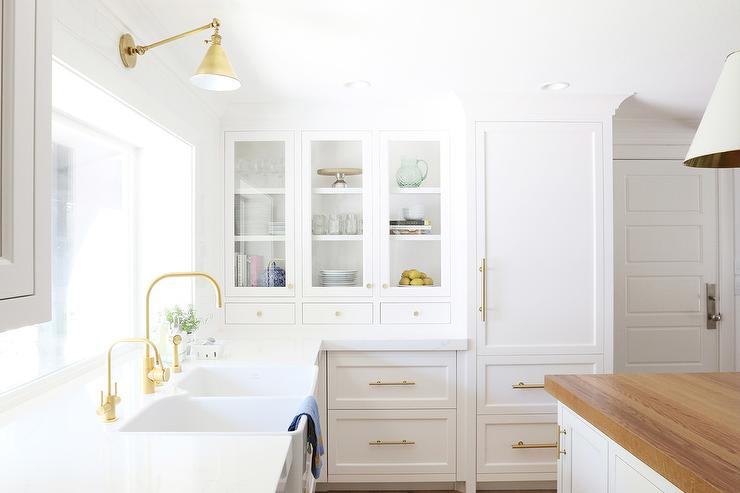 If I'm using this paint color on my walls, what white trim color will look best?
When doing white on white, keep the color the same. So if your walls are painted Chantilly Lace, the trim should be too. The key to making this work, and not look flat and 2 dimensional, is to use 2 different paint sheens.
Choose a flatter sheen for the wall – washable matte or eggshell, and then do satin or semi-gloss on the trim.
The shinier finish on the trim reflects more light back, making the color look lighter. It provides just enough contrast between the walls and the trim and you never have to worry about undertones clashing.
If white on white is too boring for you, consider white walls with a contrasting color on the trim. I love white walls with greige trim – it's modern yet classic looking at the same time.
BM Chantilly Lace vs BM Simply White
Both Chantilly Lace and Simply White are very popular whites when making your paint decision, both for walls and trim.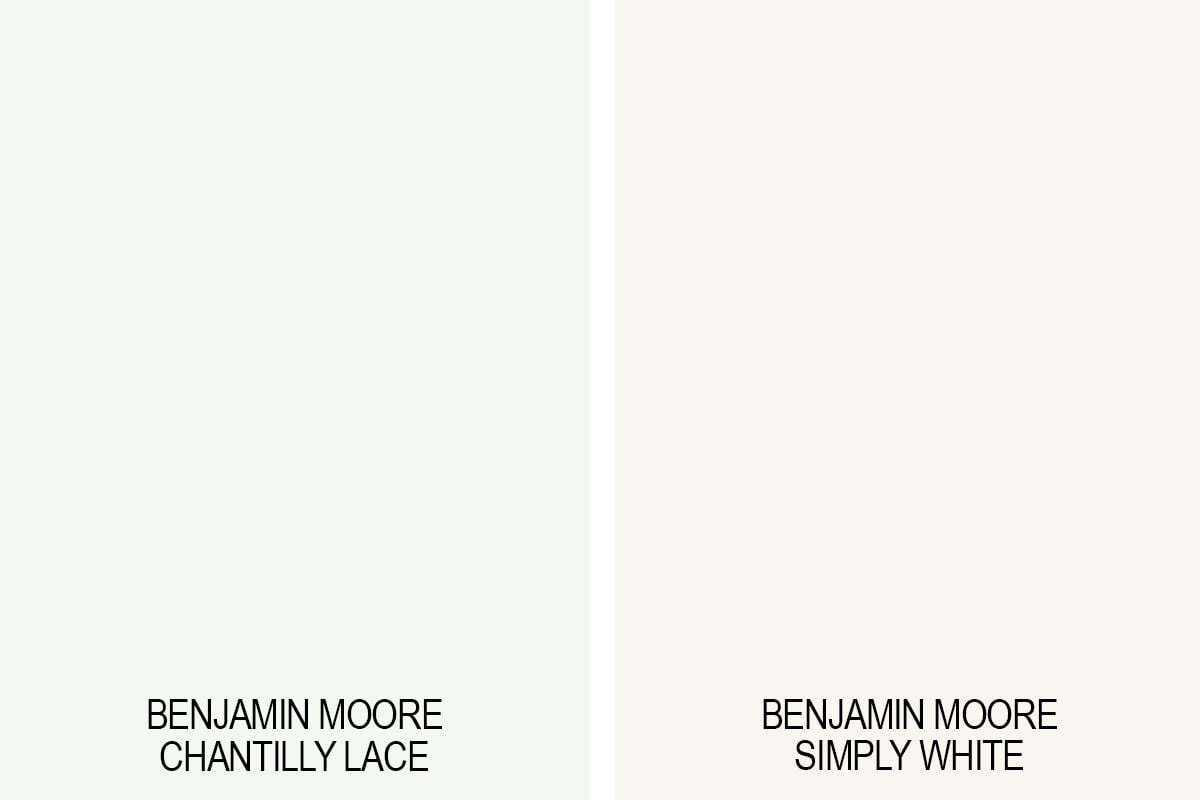 Simply White has an LRV of 91.7, making it fractionally less bright than Chantilly Lace.
However, Simply White has a yellow undertone, which is very apparent in the lower sheens and under incandescent light. Conversely, Chantilly Lace will never look yellow.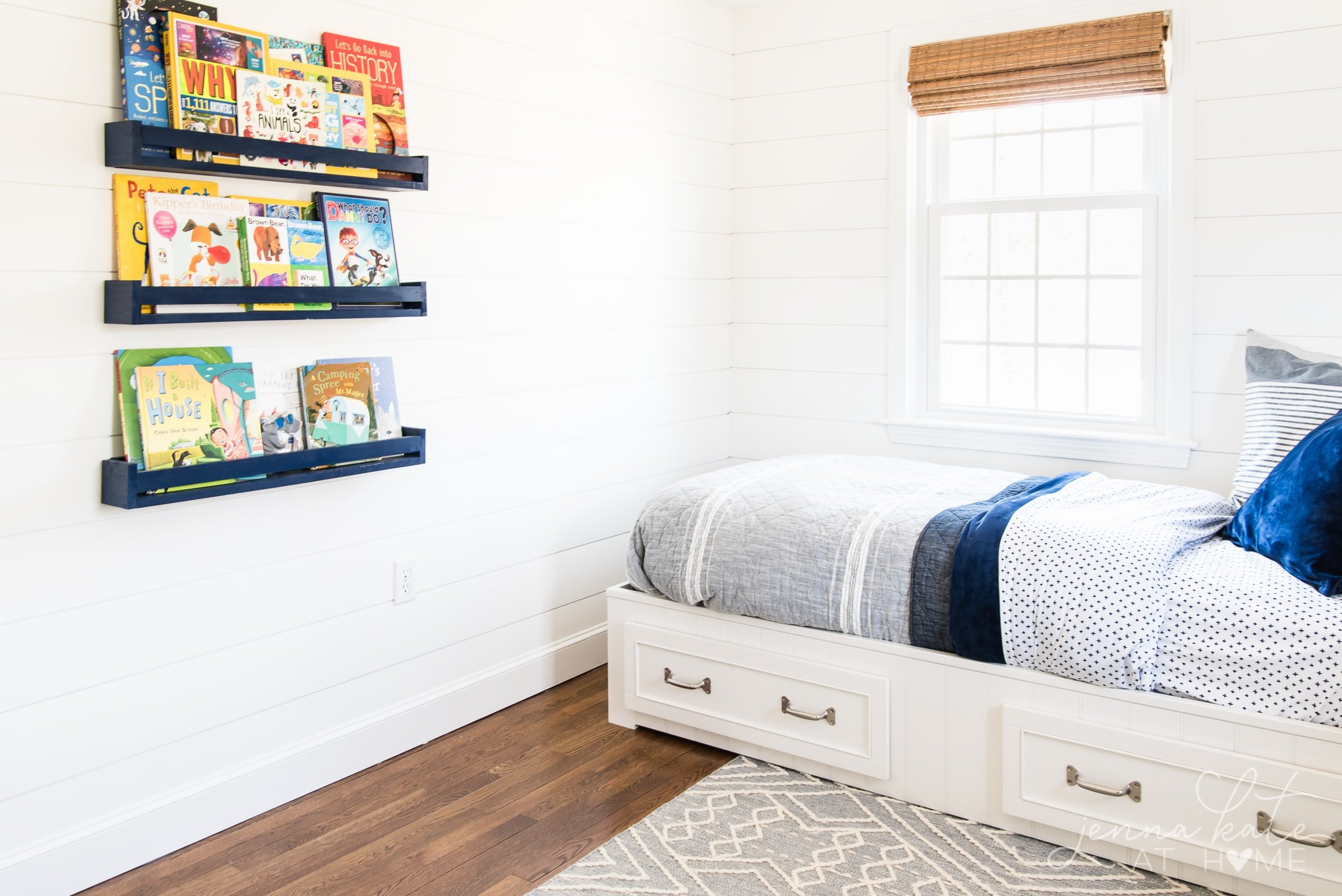 In a well-lit home, Simply White can be a beautiful white, and I know many who love it. But do be aware of that yellow undertone.
BM Chantilly Lace vs Sherwin Williams Extra White
Sherwin Williams Extra White is another very popular shade of bright white paint. With an LRV of almost 86, it's a bit less bright than Chantilly Lace.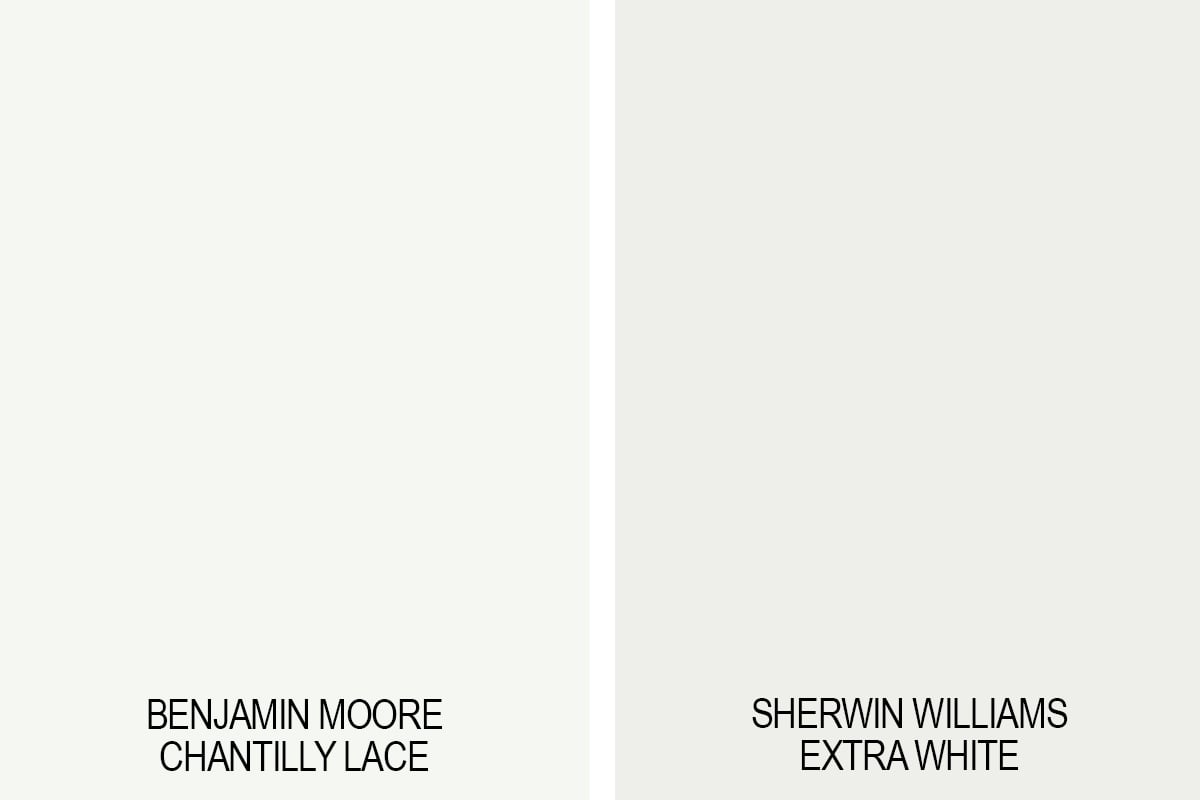 However, in those rooms with cooler, north-facing light, Chantilly Lace is less susceptible to blue undertones than SW Extra White.
Chantilly Lace vs Sherwin Williams High Reflective White
High Reflective White (HRW) is Sherwin Williams' brightest white, however not all paint stores carry it. It's slightly whiter than Chantilly Lace with an LRV of almost 93.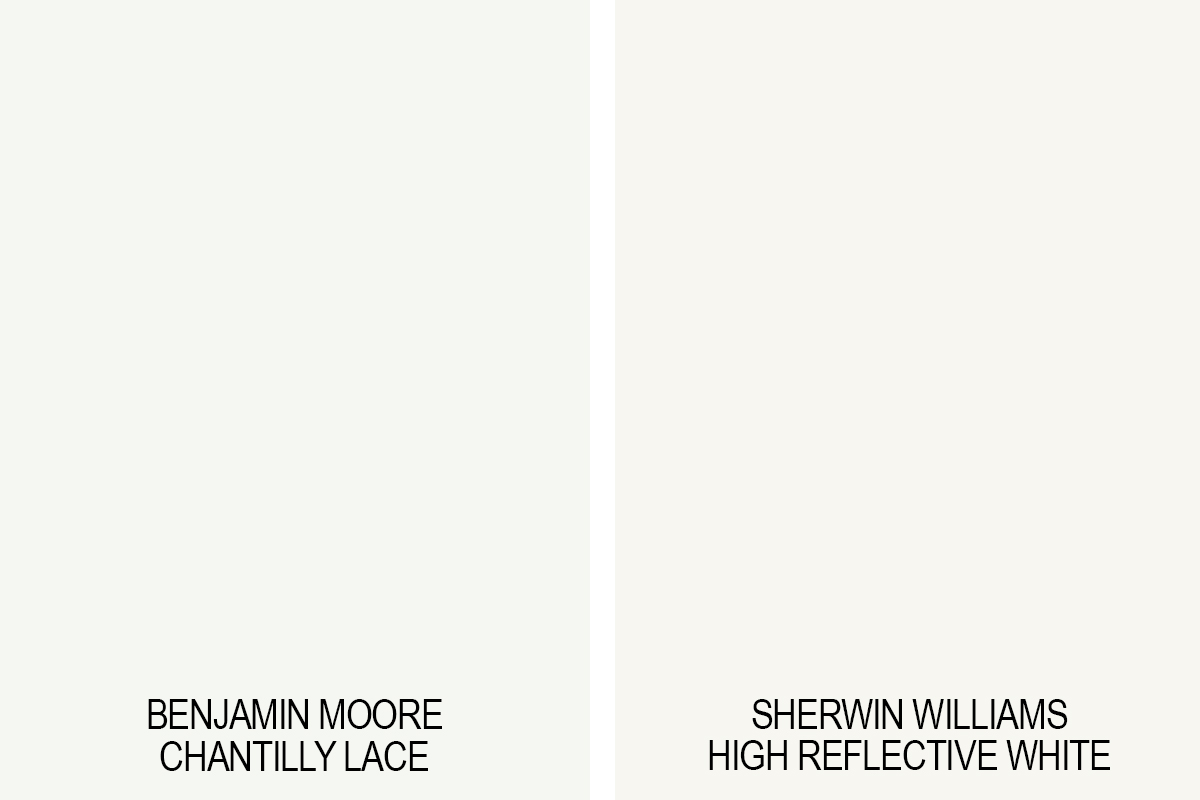 Compared side to side, it definitely does look whiter.
Despite its brightness, HRW has just enough softness to it to stop it from ever feeling cold or blue, but it also doesn't have any yellow undertones. It is just a bit warmer than Chantilly Lace, and a little less inclined to look blue/gray in cooler light.
If you have to pick Sherwin Williams paint because your painter won't use Benjamin Moore products, then this is an excellent choice if you like the look of Chantilly Lace.
Final Thoughts
Chantilly Lace gives you the perfect bright white color, especially for trim, doors, and casings.
If you've been looking for the perfect white paint color that's truly white, crisp, and bright, then you will love Chantilly Lace.
Just remember, if you're using it on walls, that it will be influenced by the environment. If you have a lot of greenery outside your window, it may be impacted by that. If you have bright red furniture in your home, your walls may look a little pink!
Don't Forget…
Don't forget – no matter what you've read or photos you've seen online, it's really important to sample paint colors in your home before committing!
Samplize provides real paint samples that are easy to move around your home, and cheaper than buying a gazillion paint pots! It's the only way I buy paint samples.