Backyard Coastal Style Patio Makeover | Before and After
I know this seems like it has been months in the making (it has!!), but our patio is officially finished and I can share all the pretty details of my coastal style patio makeover with you!
I won't drag this out, but let me quickly refresh your memory of what our backyard looked like this past spring with a before photo below.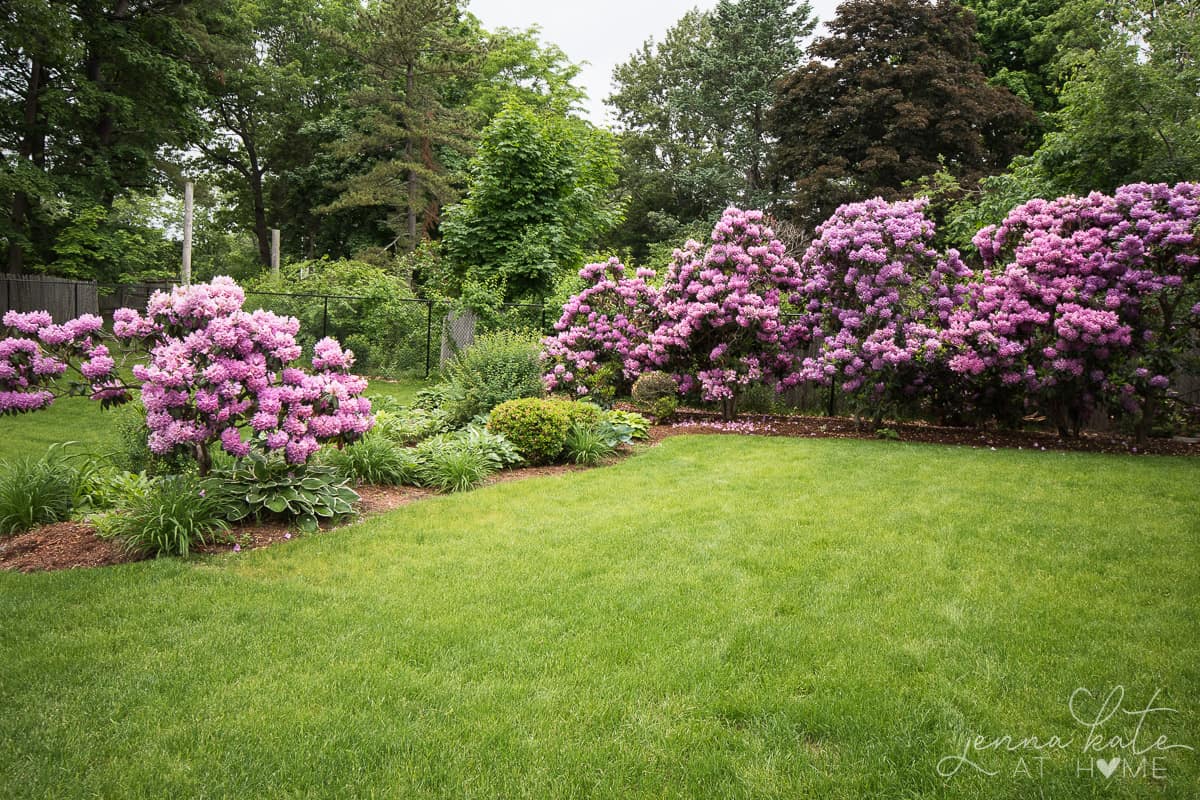 As you can see, our backyard was a lovely, flat section of grass right next to our deck. But we have a huge backyard and we only had a tiny little deck, which seemed disproportionate. We dreamed of having a big, relaxing patio space where we could lounge, eat, entertain, and enjoy the great outdoors. So we had one built! But of course, the patio building is only half the fun. The best part was choosing the right coastal style patio décor to complete the look.
Here's what our coastal style patio and entertainment space looks like now.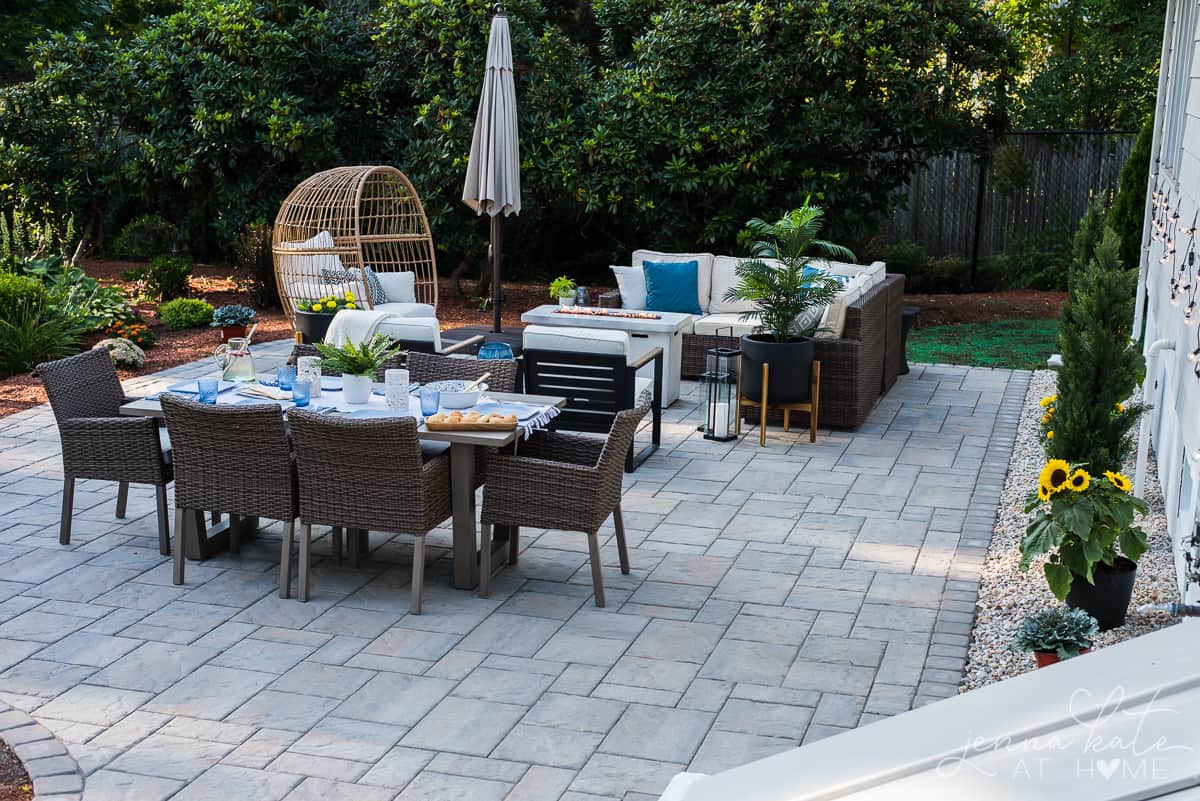 How Do You Do a Patio Makeover?
If you're thinking of doing your own patio makeover, there are a few pieces of advice I can offer. To do a patio makeover, you first need to decide on the areas your patio will encompass. The easiest method is to think about the activities you hope to do in your yard and then create sections. Do you want a dining area, a sun lounging area, or a casual area to just hang out?
Deciding on the exact functions that your patio will serve is an essential planning step. In our case, we wanted a seating area with a fire pit where we could hang out, as well as a space for outdoor dining. Knowing the functions of our patio and backyard were important details to help us decide on the size of the patio we wanted to create.
Your budget will also be a factor, of course. Fortunately, when we embarked on our coastal style patio makeover, we already owned most of the outdoor furniture; it was just scattered throughout other areas of our backyard. If you know you will need to buy furnishings, then that will be an important budgeting consideration, especially when you figure out the cost of the patio installation and whether to DIY or hire out.
RELATED: 13 Beautiful Screened-in Porch Ideas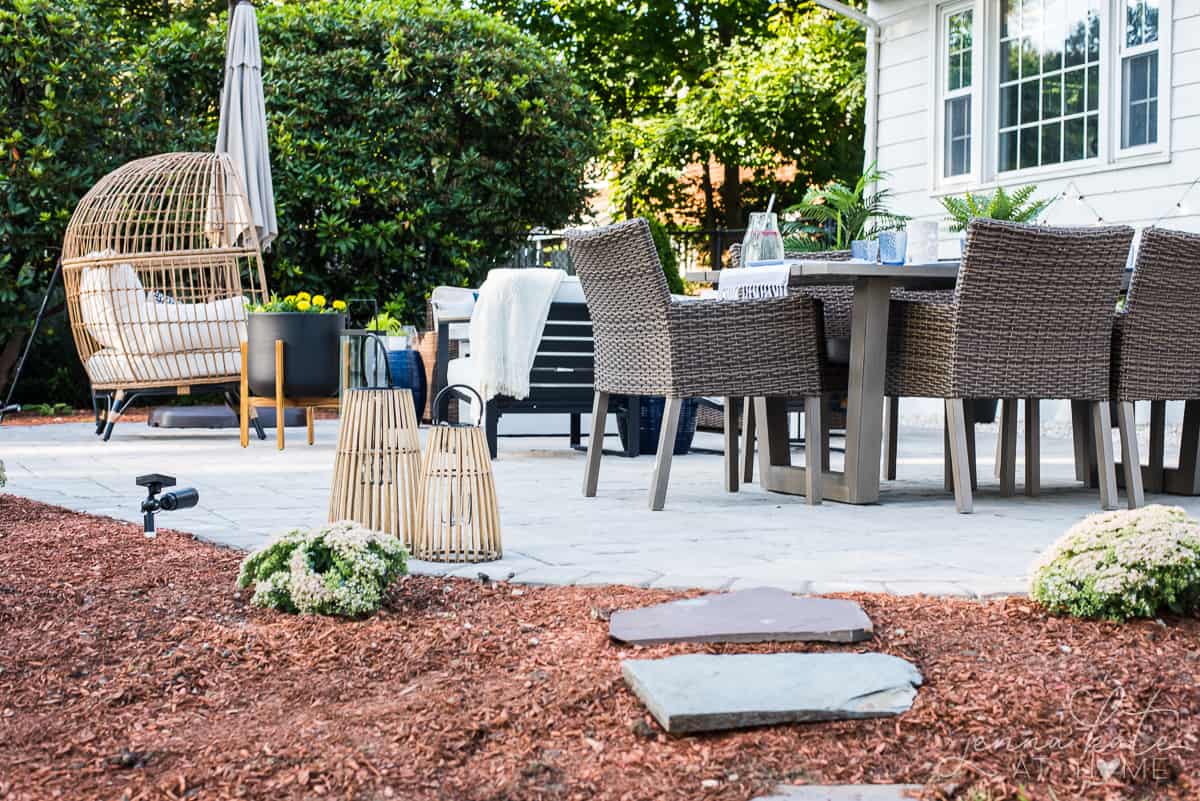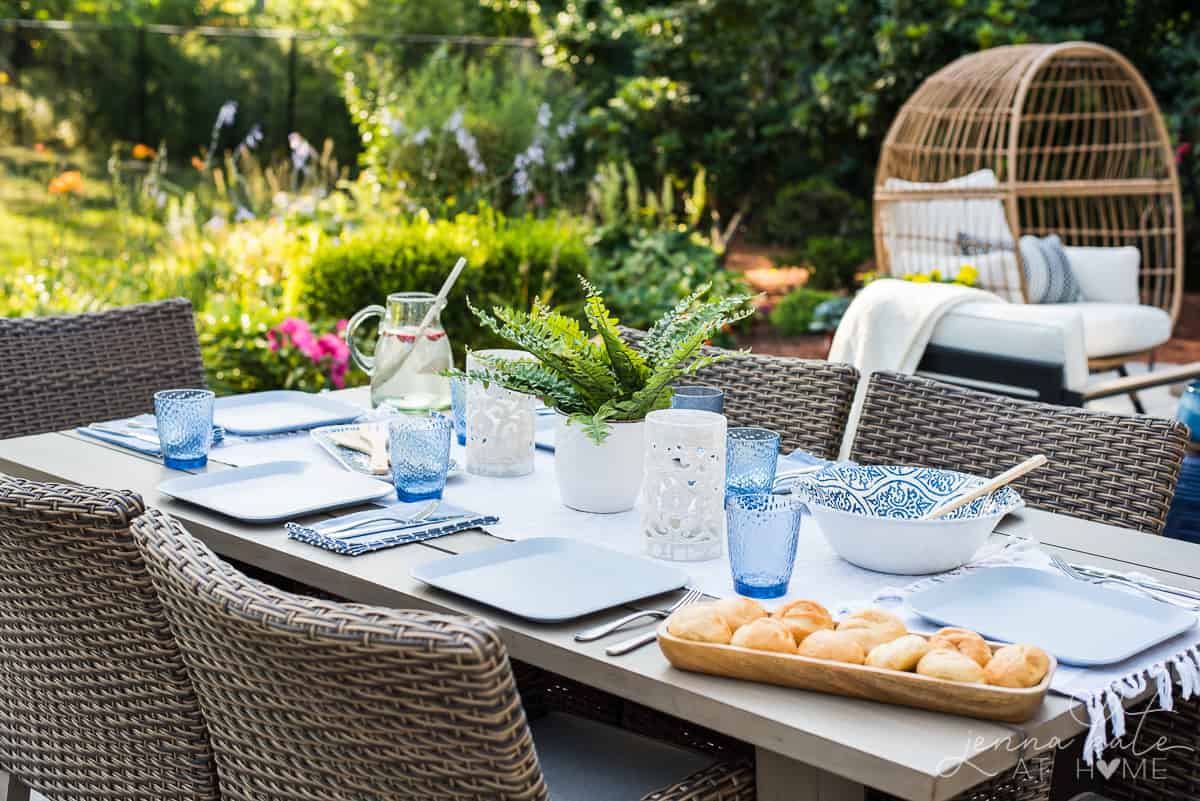 As you can see, we worked in a lot of coastal style decorations and pieces to complete our patio look. I wanted the entire backyard to feel cohesive, even though it was divided into areas for socializing, cooking, dining, and lounging. Keeping the blue accent color throughout the space really helped it all come together.
So, are you ready for the full reveal? Below I've shared lots of images to give you ideas for your very own coastal style patio makeover!
I also have a patio video tour for you! The video walks you through all the details of our backyard patio makeover and really helps you get a feel for the space.
---
Looking For More Room Reveals & Makeovers?
---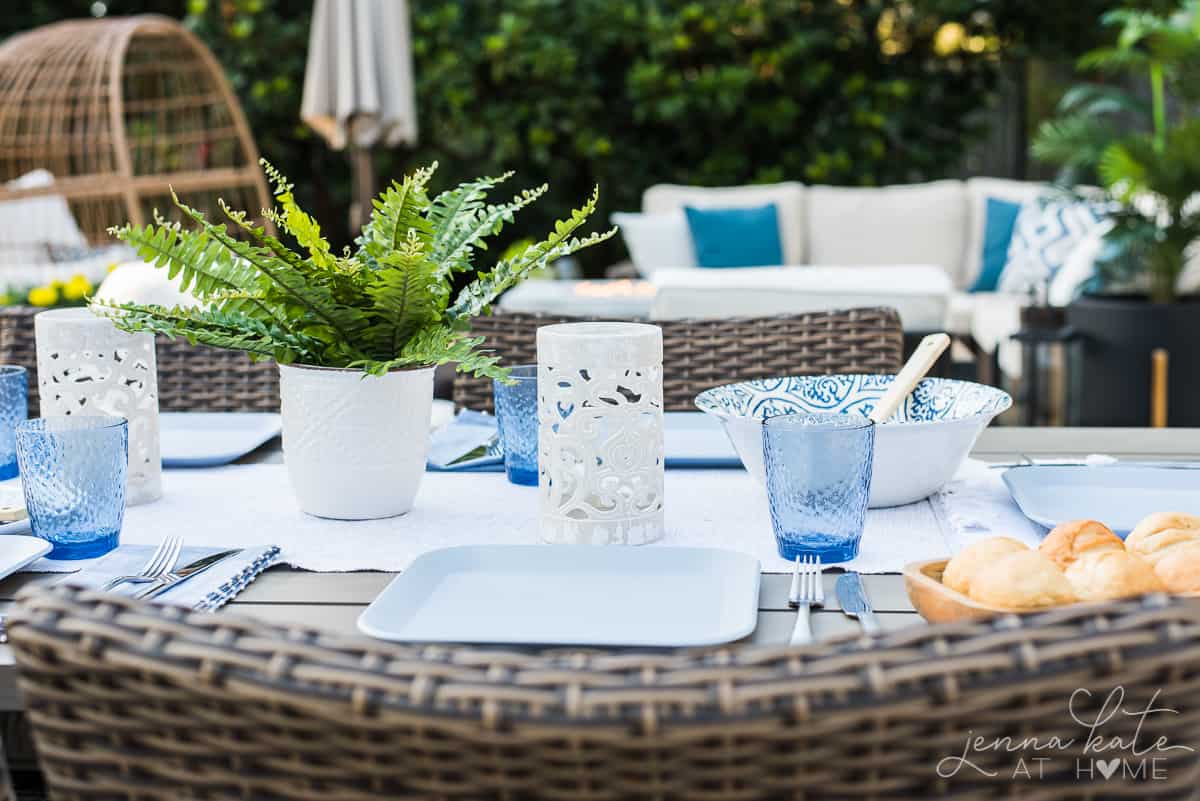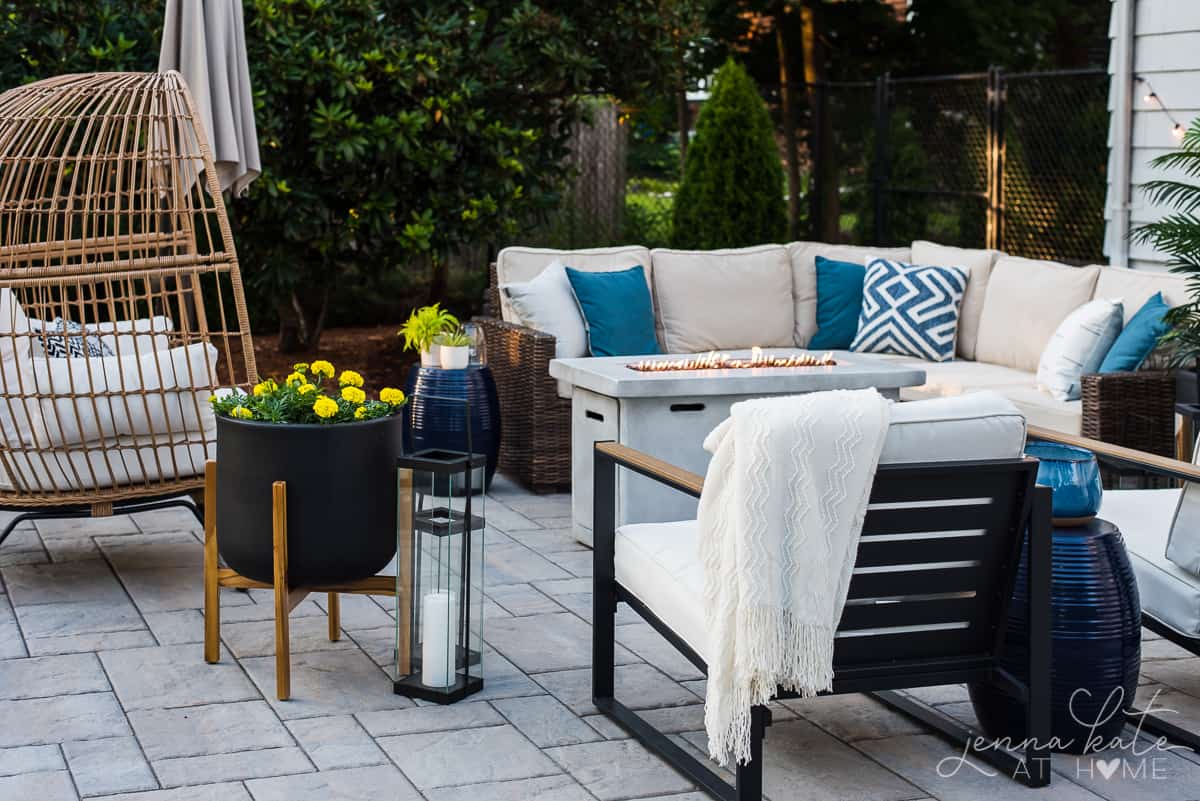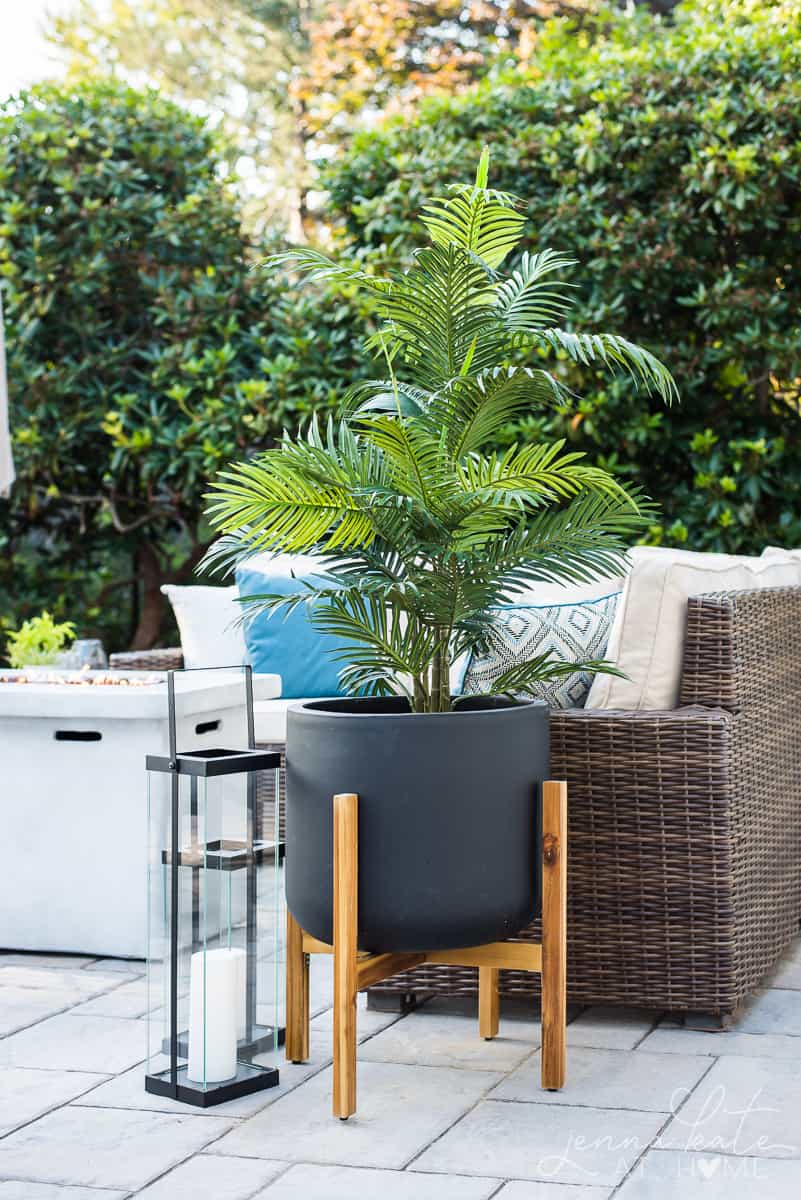 I love the idea of bringing lots of greenery ONTO the patio in pots. I think that the vibrant green keeps the space outdoorsy, but the elevated containers give it a "living room" feel. The plant stands are a delightful modern touch that invokes a mid-century aesthetic but still feels fresh.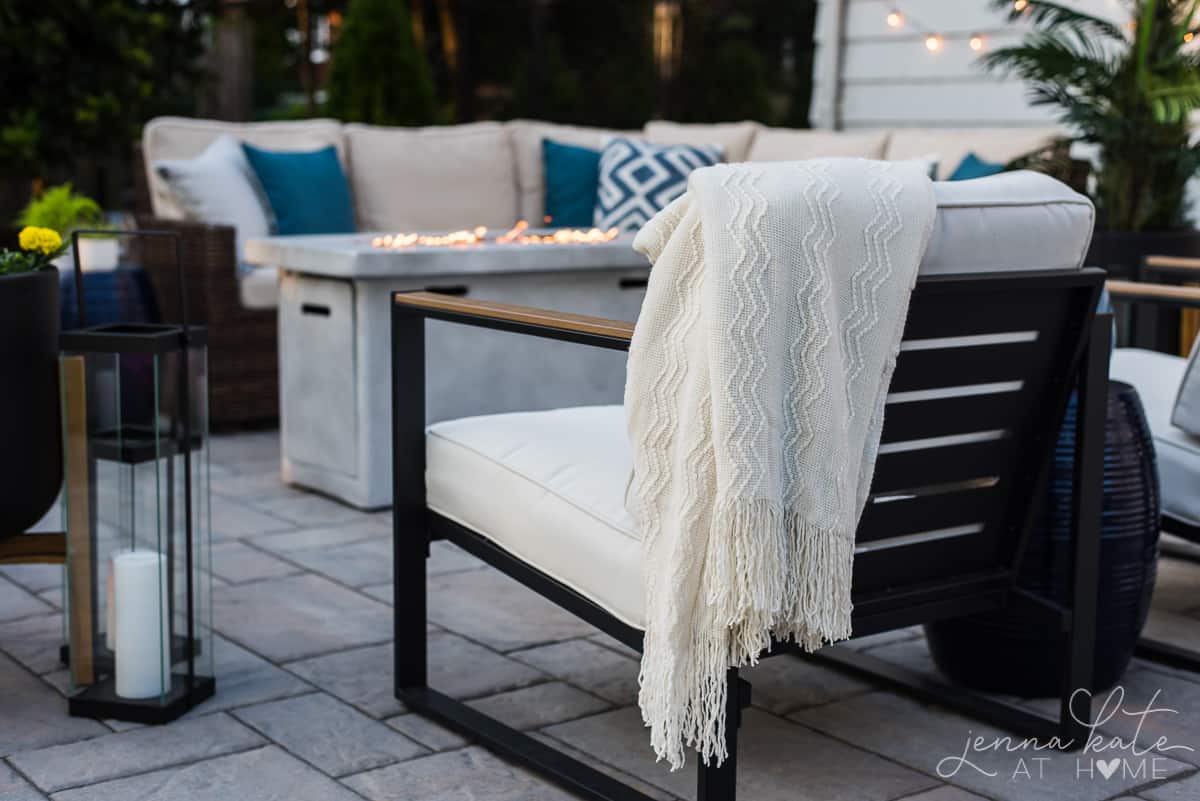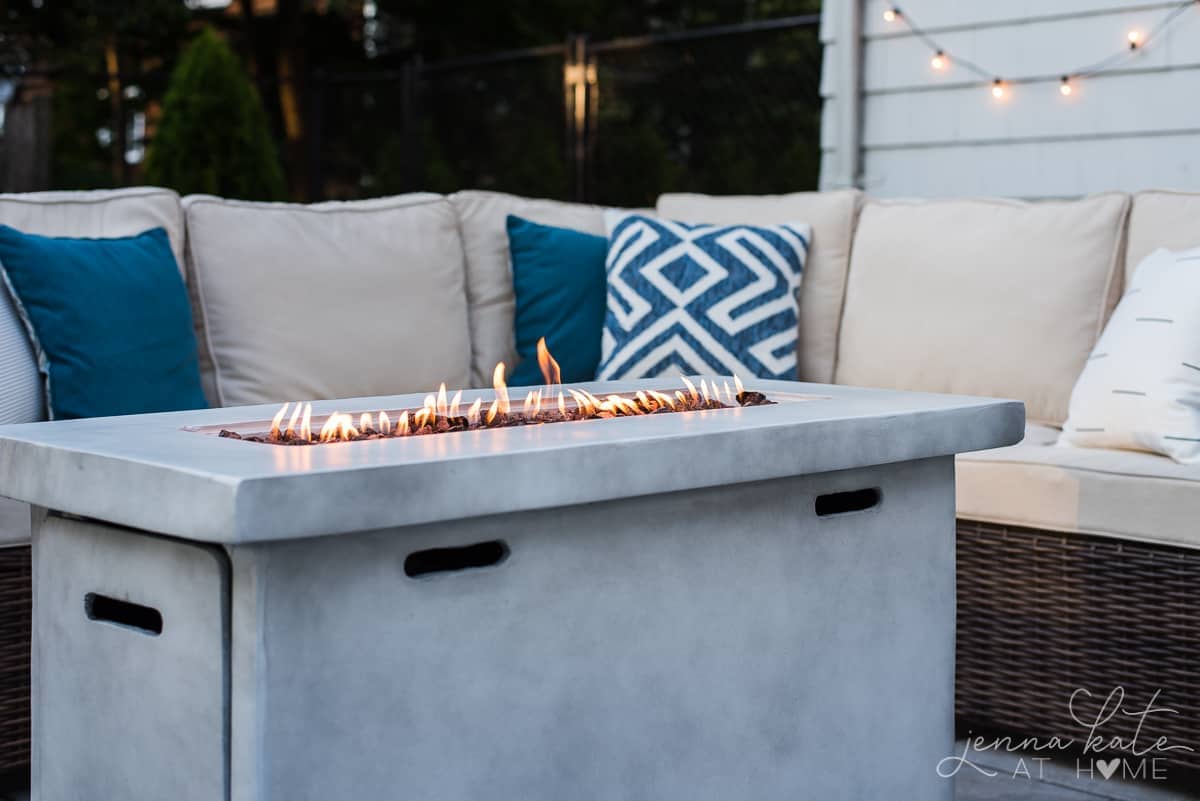 The fireplace is one of my favorite touches. Propane gas fireplaces work so well for the backyard—there's no fire smell or smoke to annoy the neighbors, but you can still cozy up in the evening and roast s'mores. The concrete backyard fireplace is easy to maintain and looks really elegant in the space, providing a natural gathering spot.
With Patio Decorating, It's All About the Little Touches
While the patio has technically been finished for a couple of months, it needed some final refining. We needed to complete little touches like painting our house's foundation to match the siding, adding the river rock border, and painting the bulkhead door for the patio to truly look finished.
RELATED: How to Clean Patio Cushions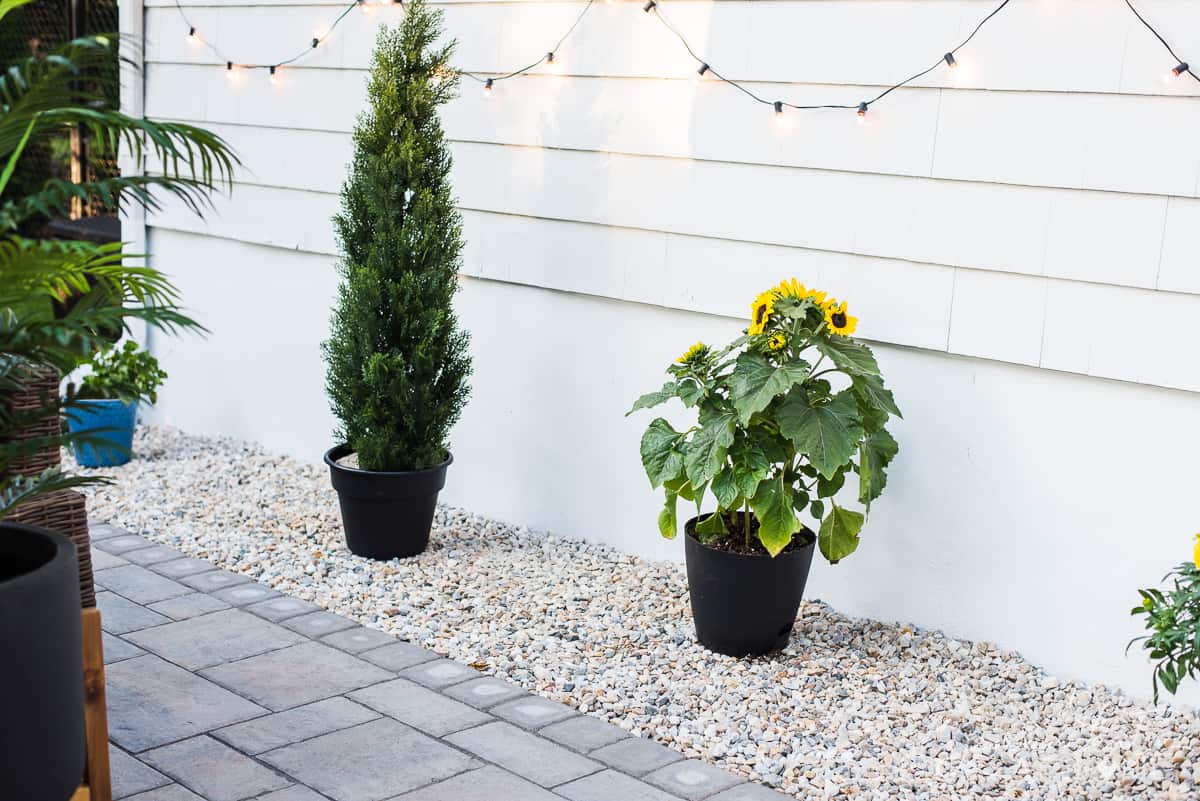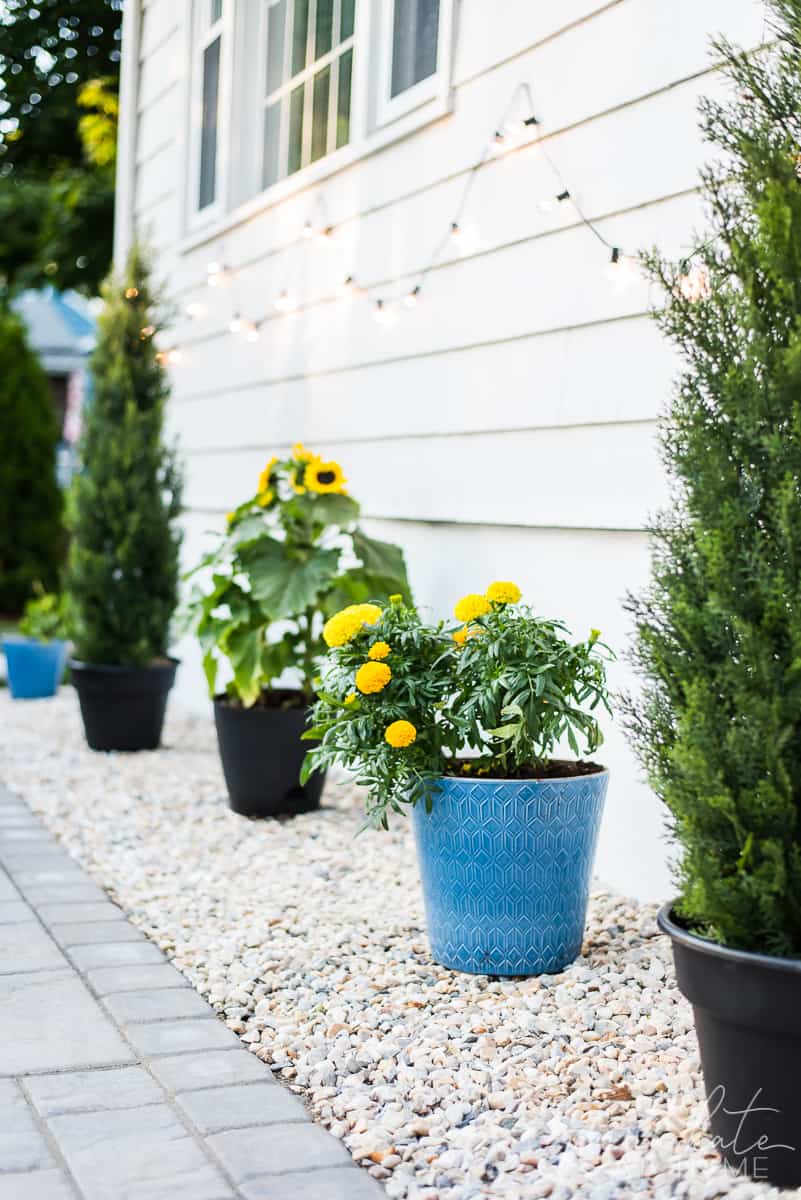 The painted foundation and stone border make the backyard path look so much cleaner! We couldn't run the patio right up against the house because of how our irrigation lines run. We came up with the solution of painting the foundation and adding stone, and I really love how it looks! I put some container plants in the space that repeat the coastal style blue color, and I think the cheery yellow flowers are bright and welcoming. With outdoor lighting, the path looks so inviting.
Painting the foundation to match the siding was a simple project that only took a couple of hours and completely transformed this side of the house. I also painted the ugly black bulkhead doors to blend in, and it's no longer a crazy eyesore. You can read all about that project and the paint sprayer and paint I used here.
The river rocks provide natural drainage for the gutters that run down the house too, so we don't have to worry about water rushing over the patio any time it rains. Plus, it creates a natural barrier to keep weeds and bugs at bay. Mostly, though, I just love how light and bright the path looks now that it's complete.
Patio Makeover for Outdoor Dining & Relaxing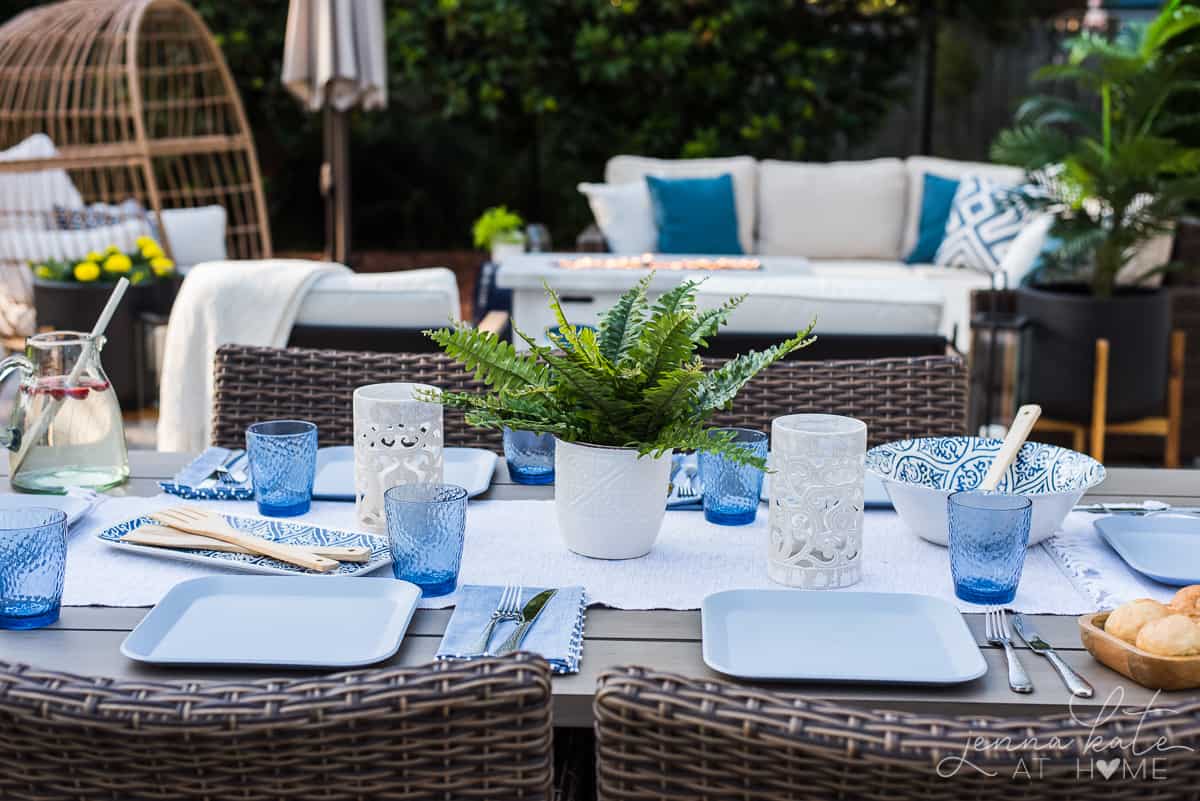 One patio must-have is a dining space. There's nothing quite like dining outdoors in the backyard during the summer. We've enjoyed many dinners at this table already, and the dining set is very comfortable. After we eat, we usually head back to the sectional, turn on the fire pit, and make s'mores.
I love all the memories we have already made out here!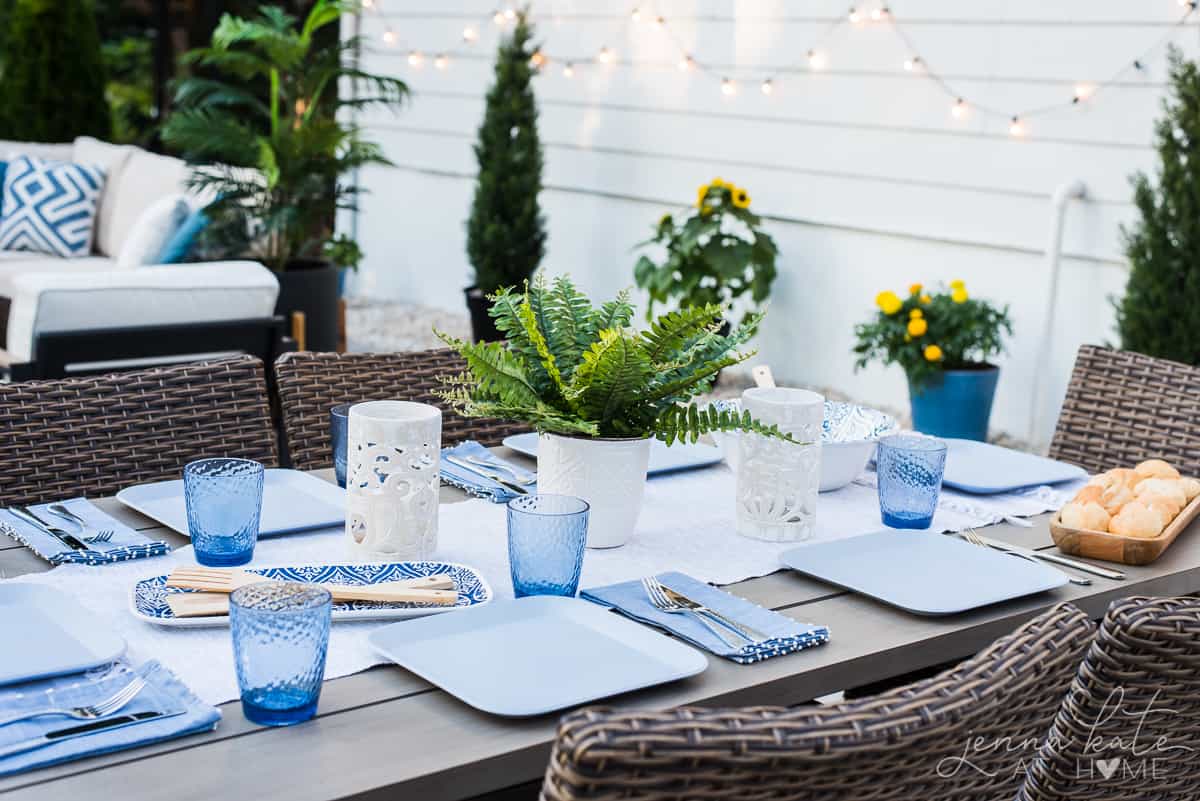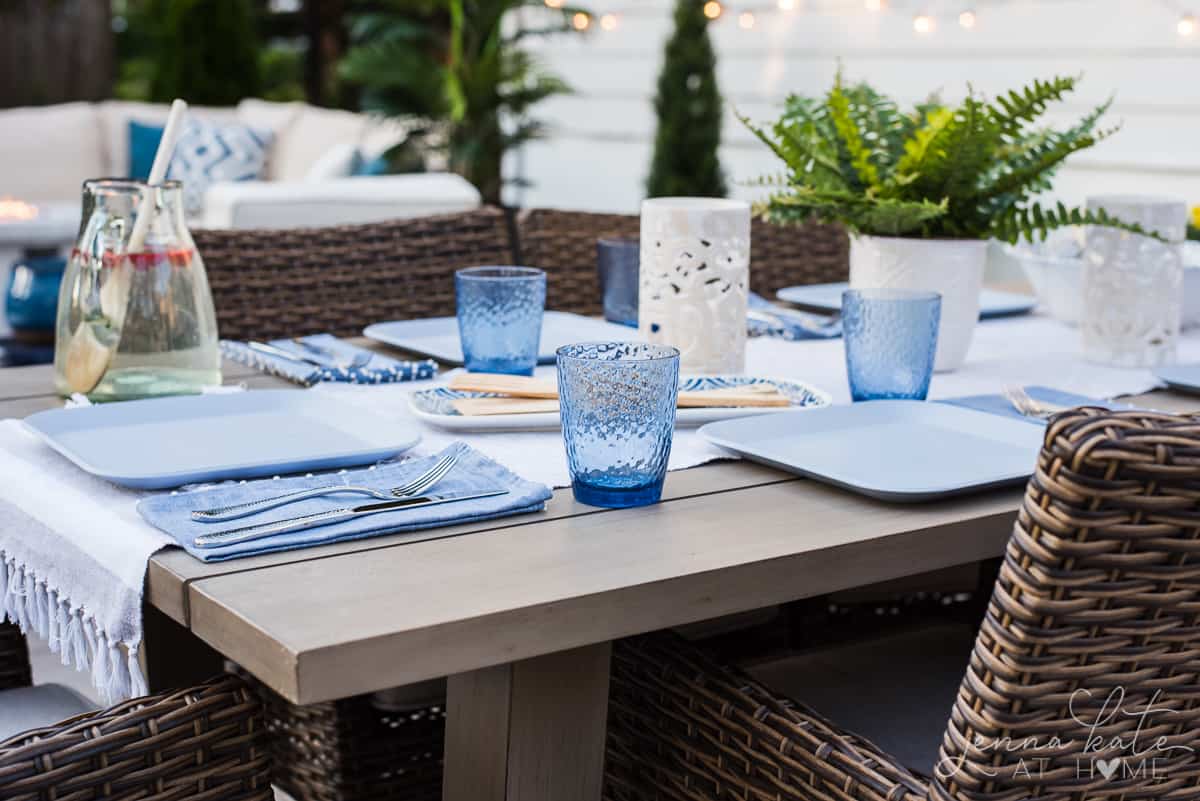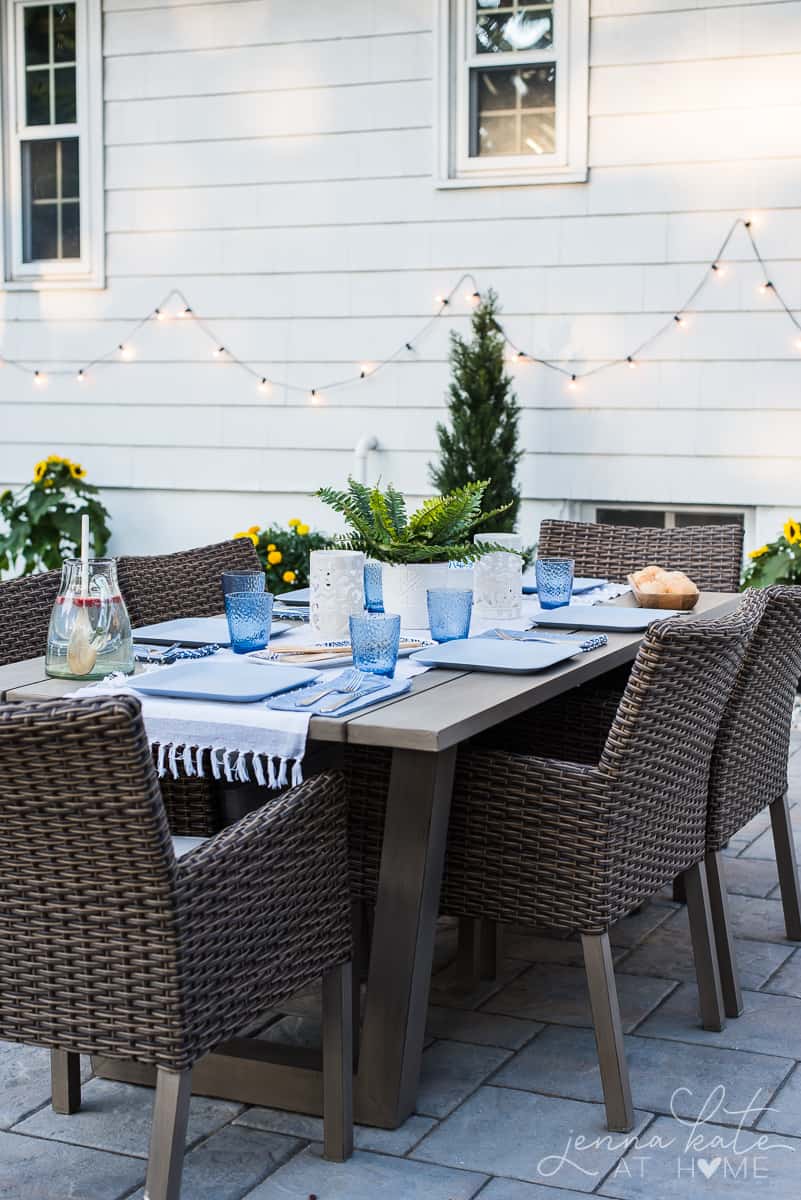 The back of our house gets the most beautiful sunsets. I'm so appreciative of the fact that we can now relax out here and enjoy them!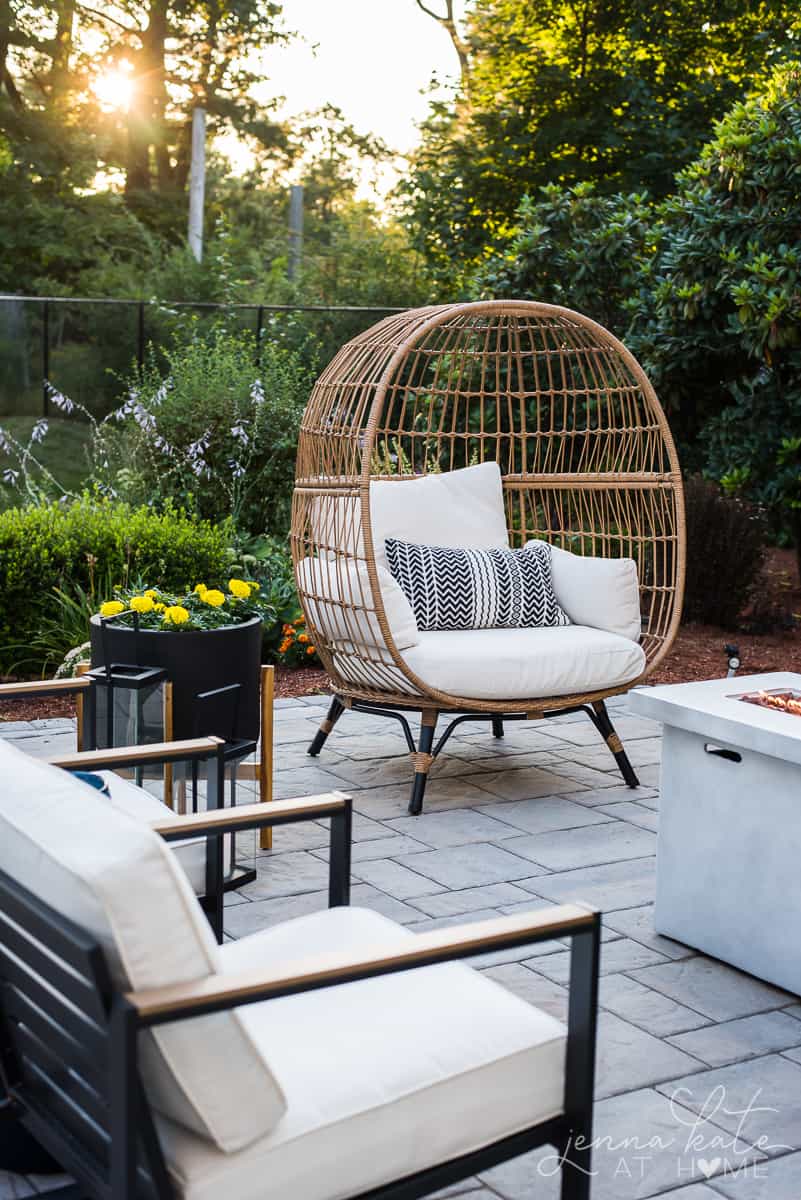 By the way, this egg chair is one of my favorite things that I purchased for the coastal style patio. My kids love to sit in it together, and I love to curl up in here with a book. It's so cozy!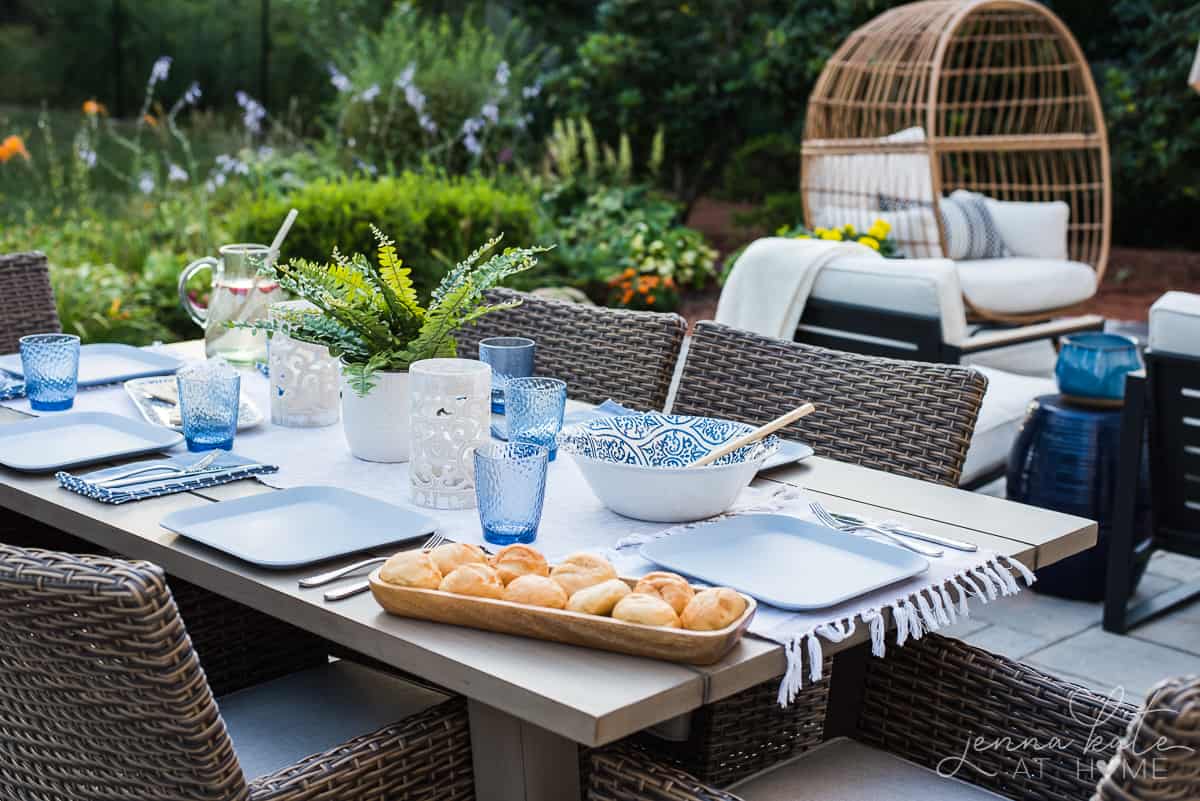 Outdoor dining is all about simplicity. We keep it casual when eating and either use the melamine dinnerware pictured or paper plates. All the melamine you see here is from Target and has been fantastic when we've wanted something a little prettier for guests. When we're just eating pizza out here on a Friday night, it's strictly paper plates!
For the table colors, I kept with the blue and white color scheme. I think the blue looks so lovely and fresh against the dark greenery of the yard. Additionally, blue and white help basic melamine look like high-end glassware and china. The colors of the table keep the coastal style patio theme consistent, and I repeated them in the pillows, pots, and other patio accessories.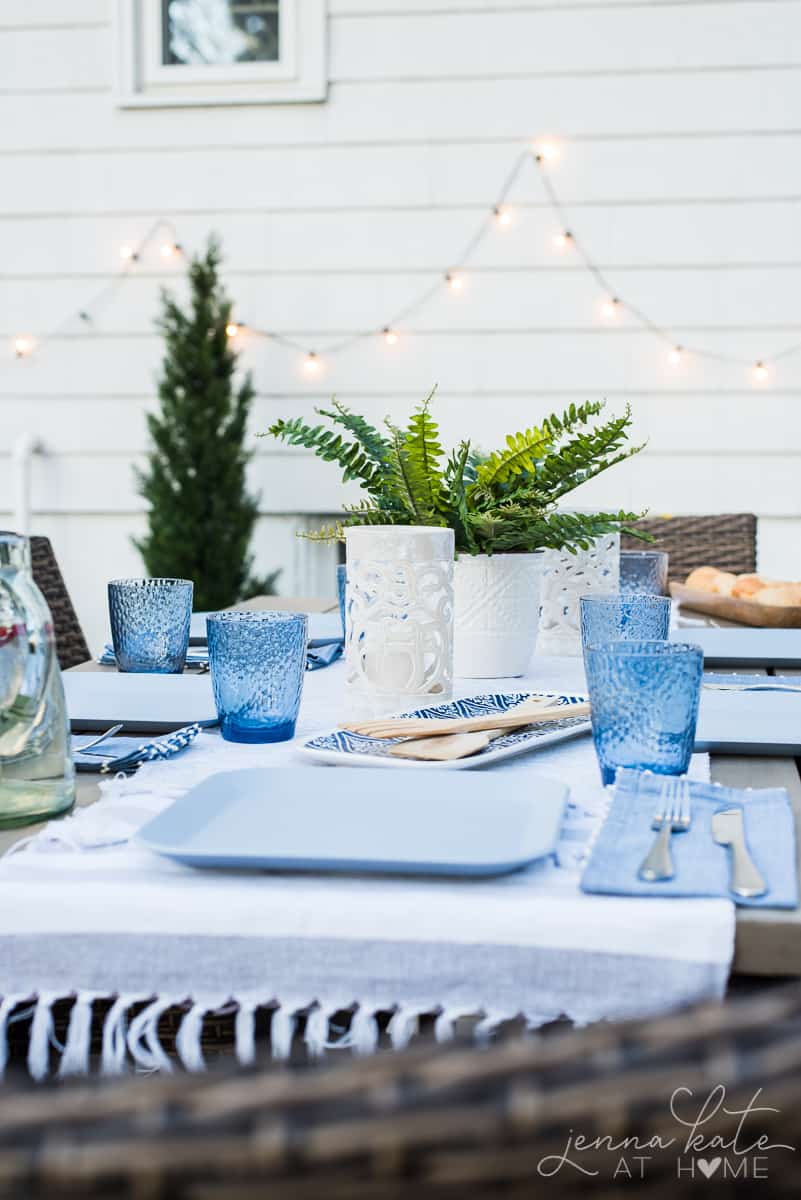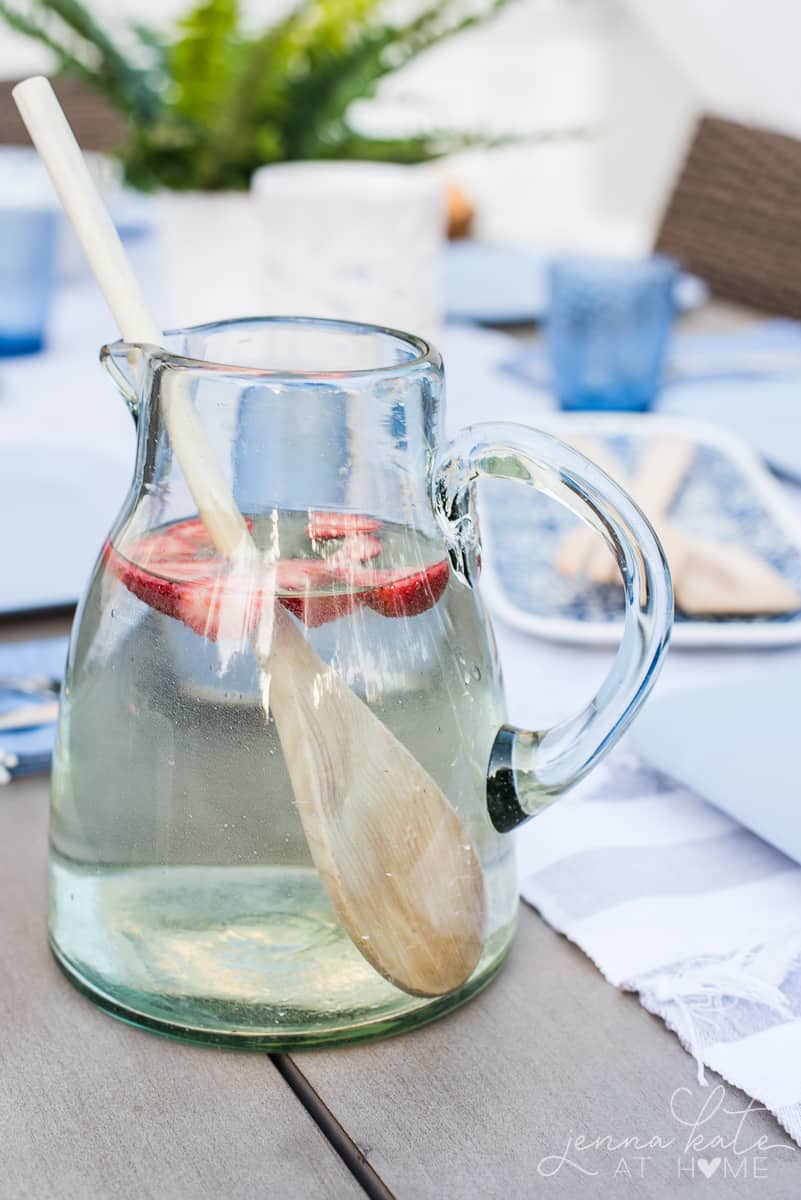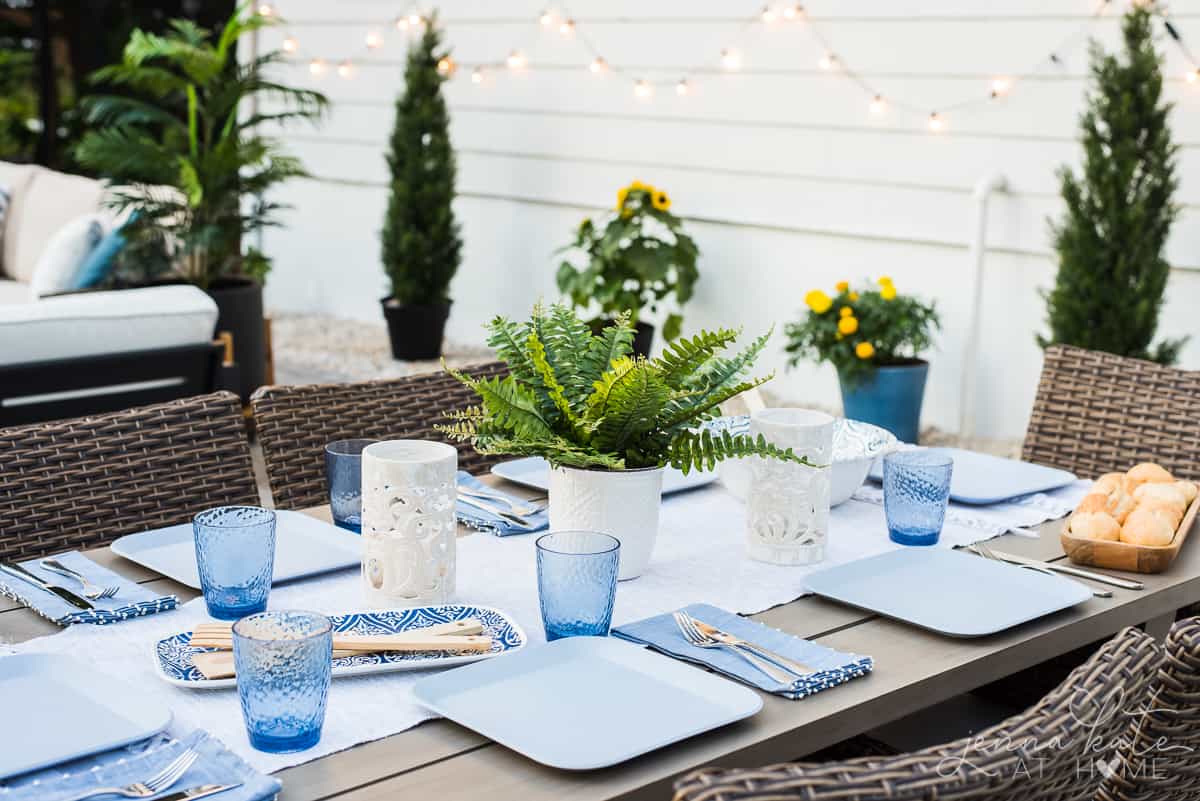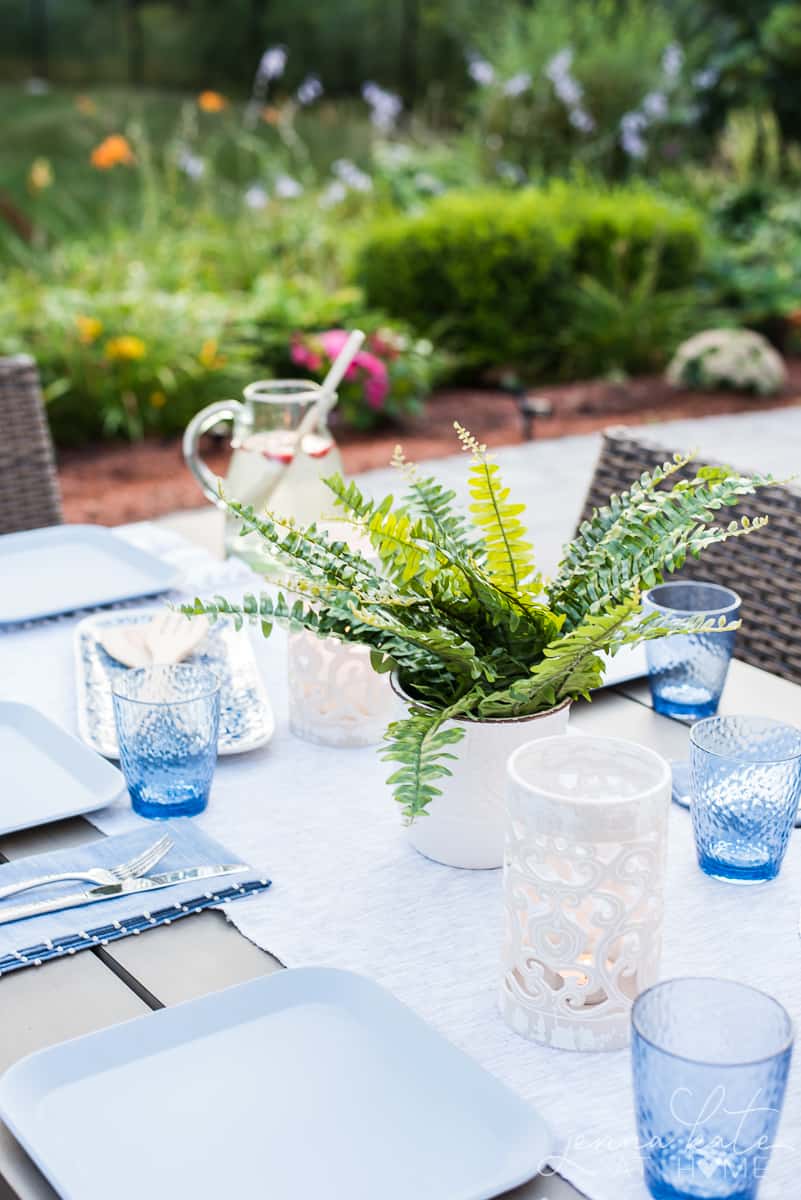 Our New Coastal Patio at Dusk
As beautiful as it is out here during the day when the sun starts to set, the magic really happens…as you can see, the new patio looks really amazing in the dusk. With candles and outdoor lighting, the patio sparkles.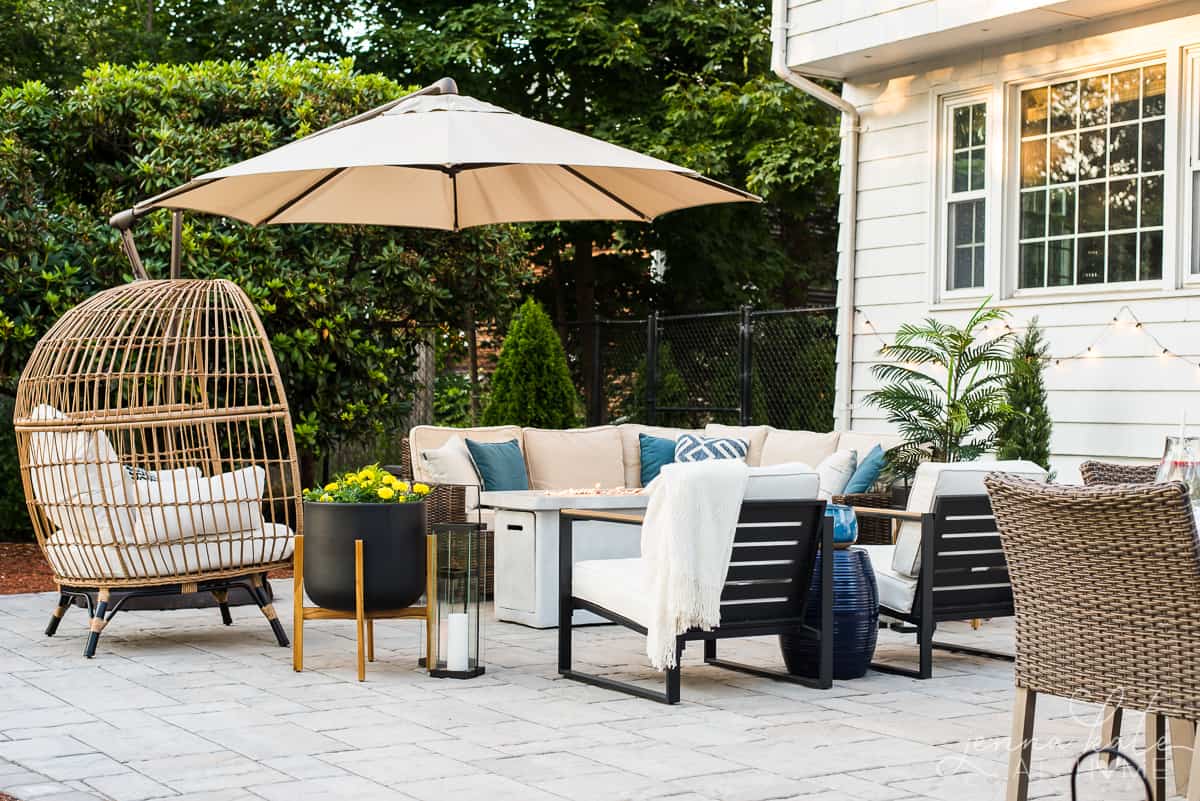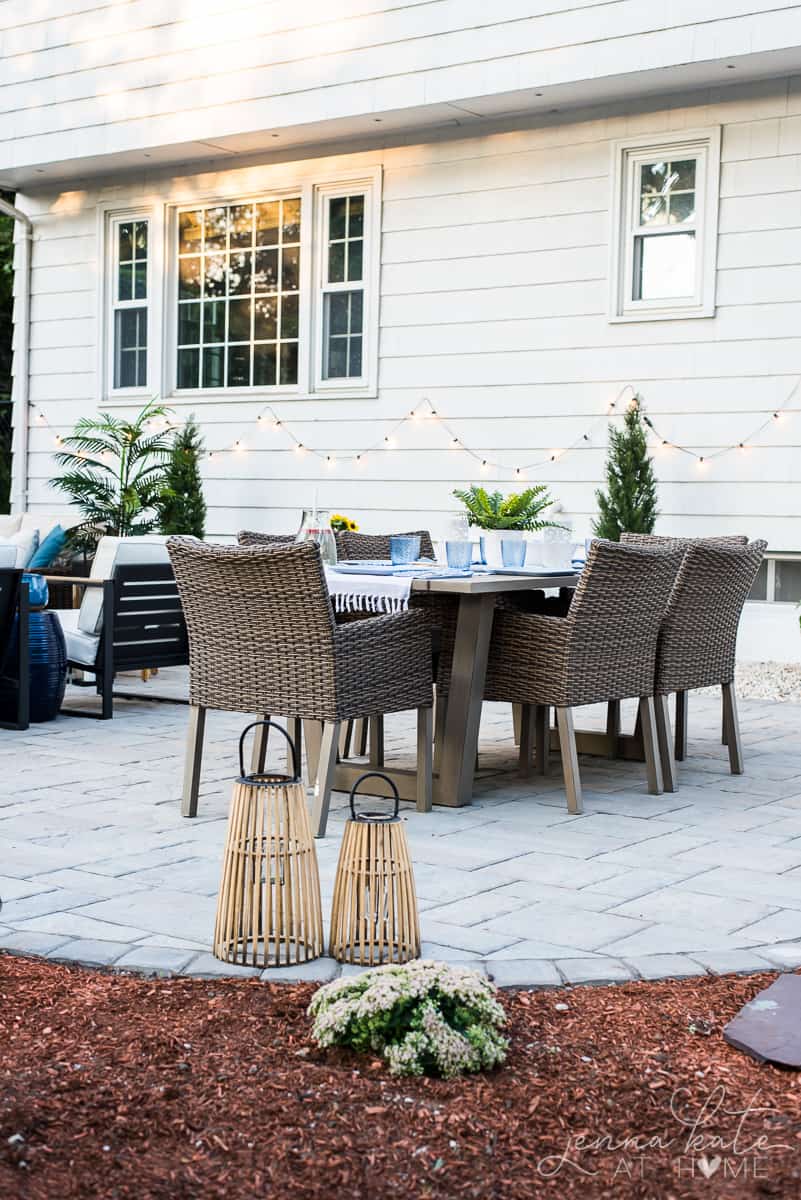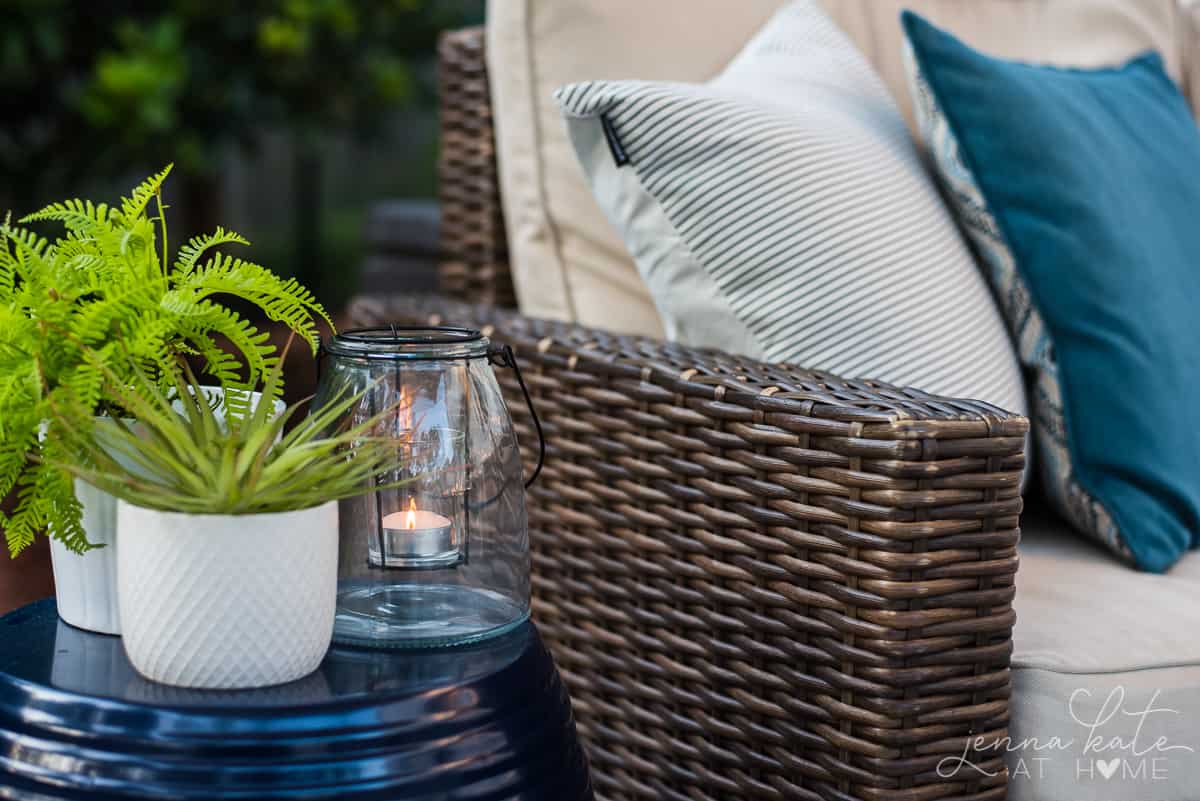 The sun sets right behind the trees, creating the most wonderful golden hue over everything. It makes the coastal style patio feel cozy and relaxing—you can practically hear the ocean waves.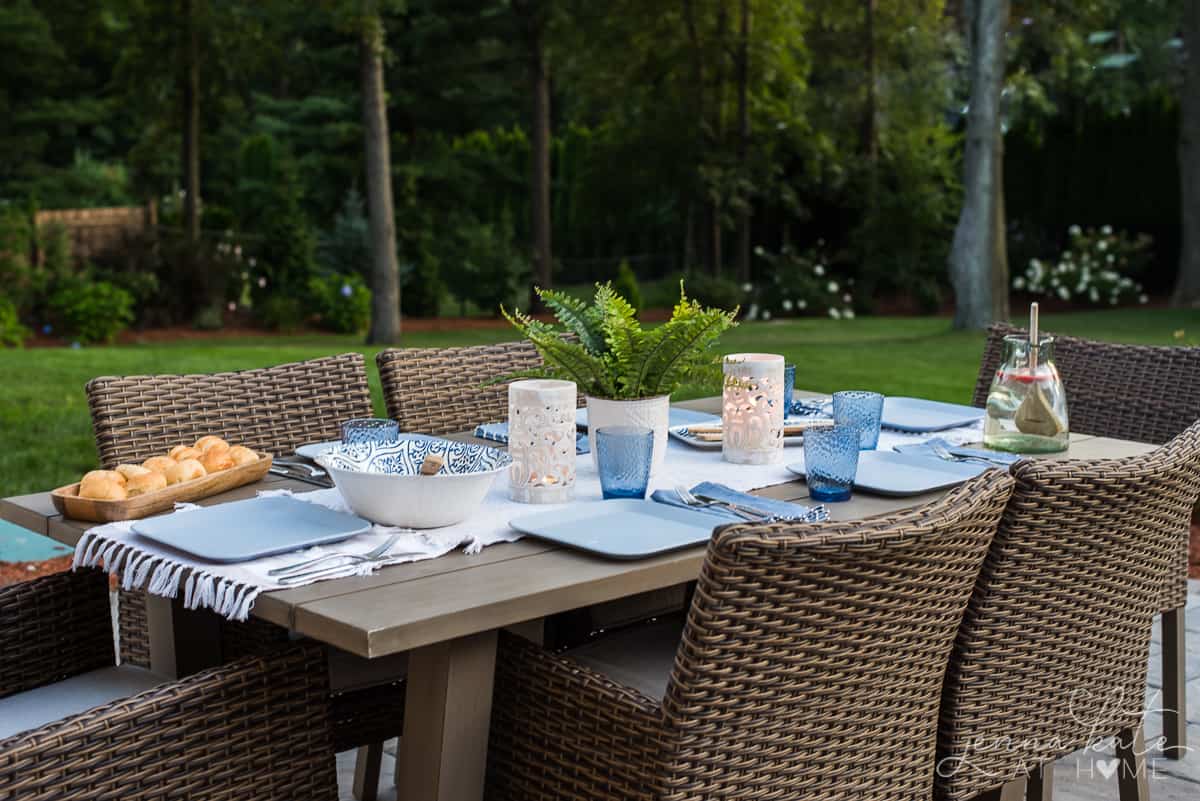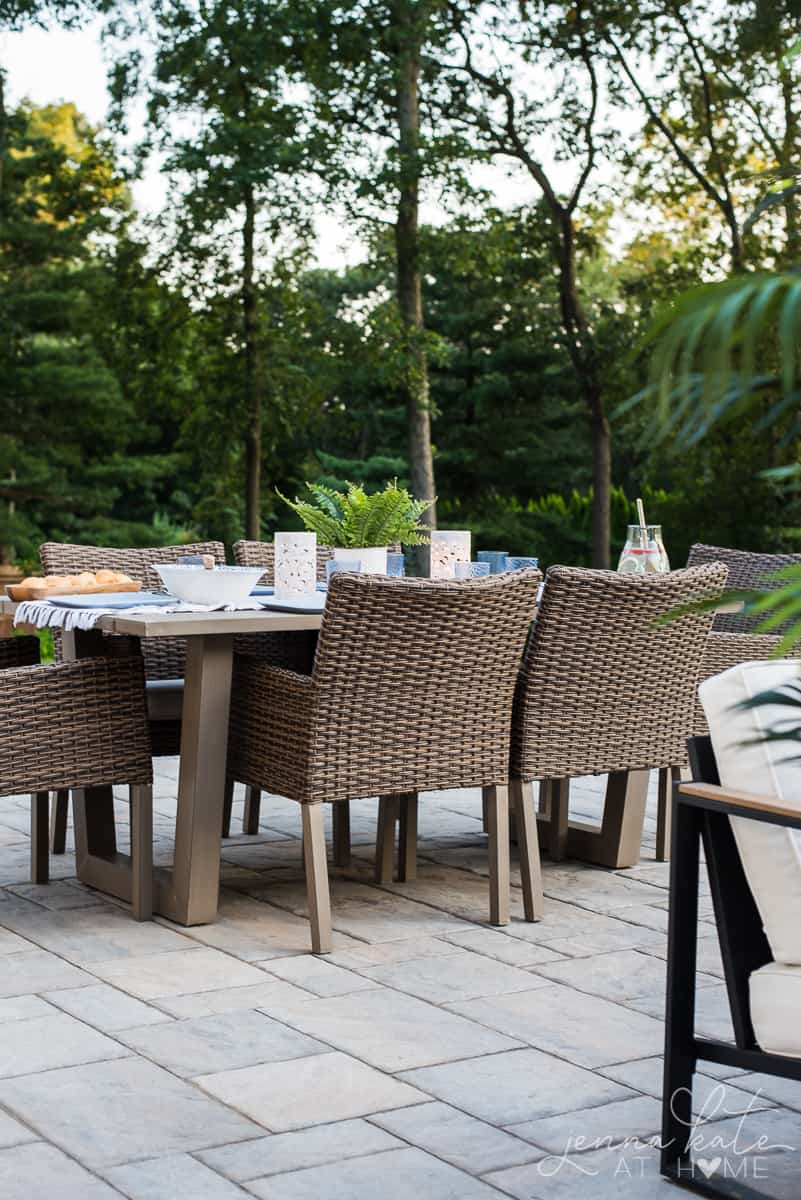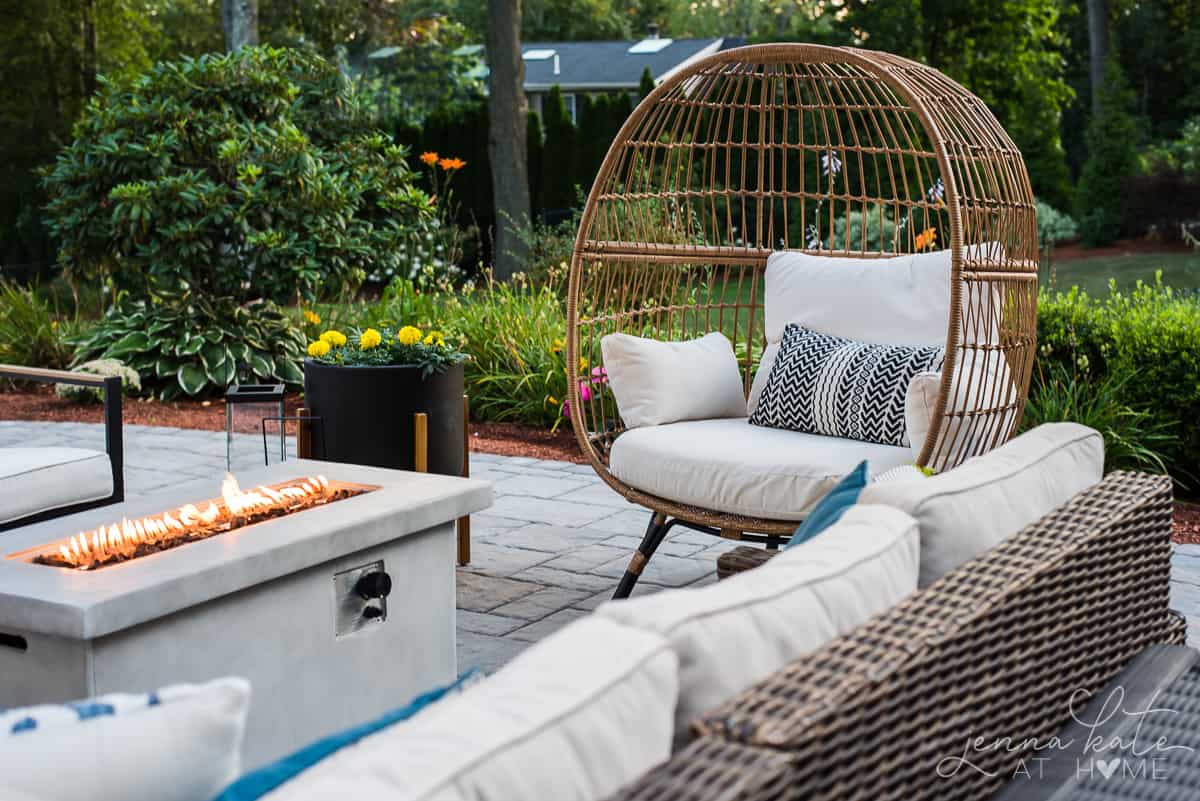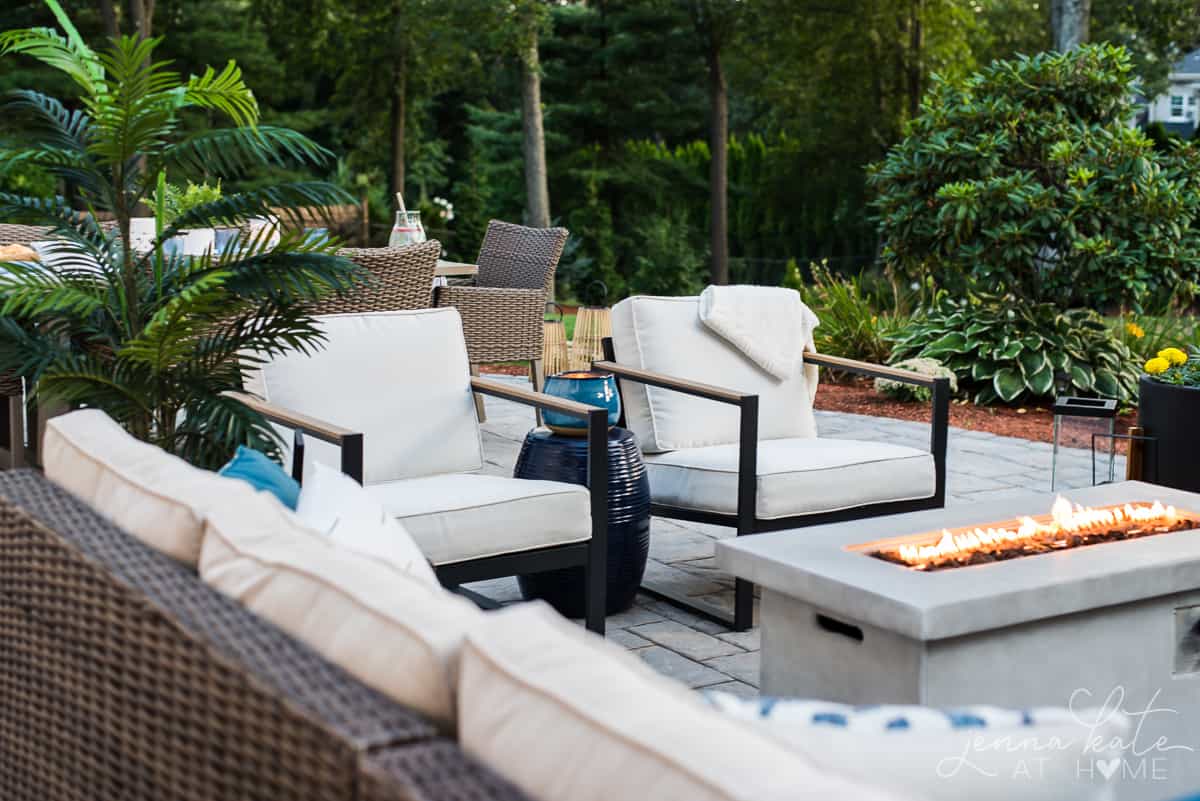 The glow of the lanterns, fire pit, and string lights transform this patio is something even more special. We sit out there all the time. Since the patio makeover, we've really increased our use of our backyard space. It's hard to resist the call of outdoors when our yard feels this inviting and peaceful.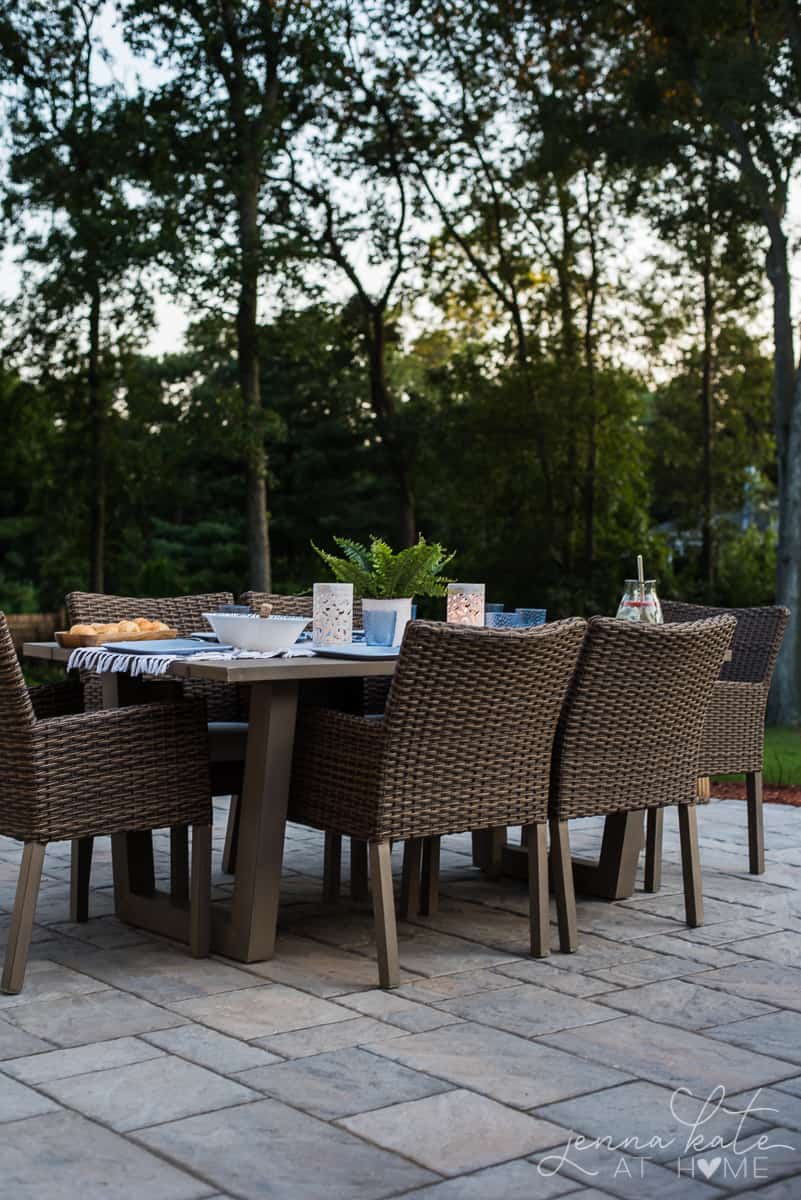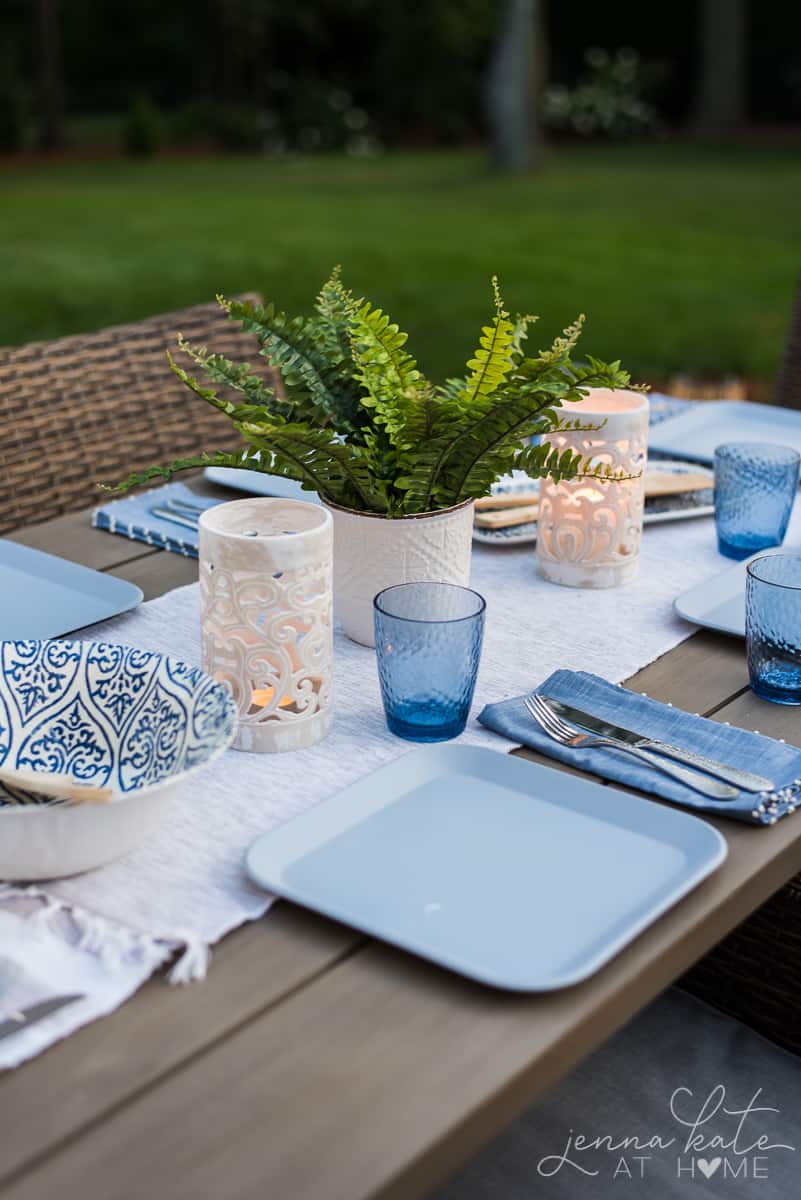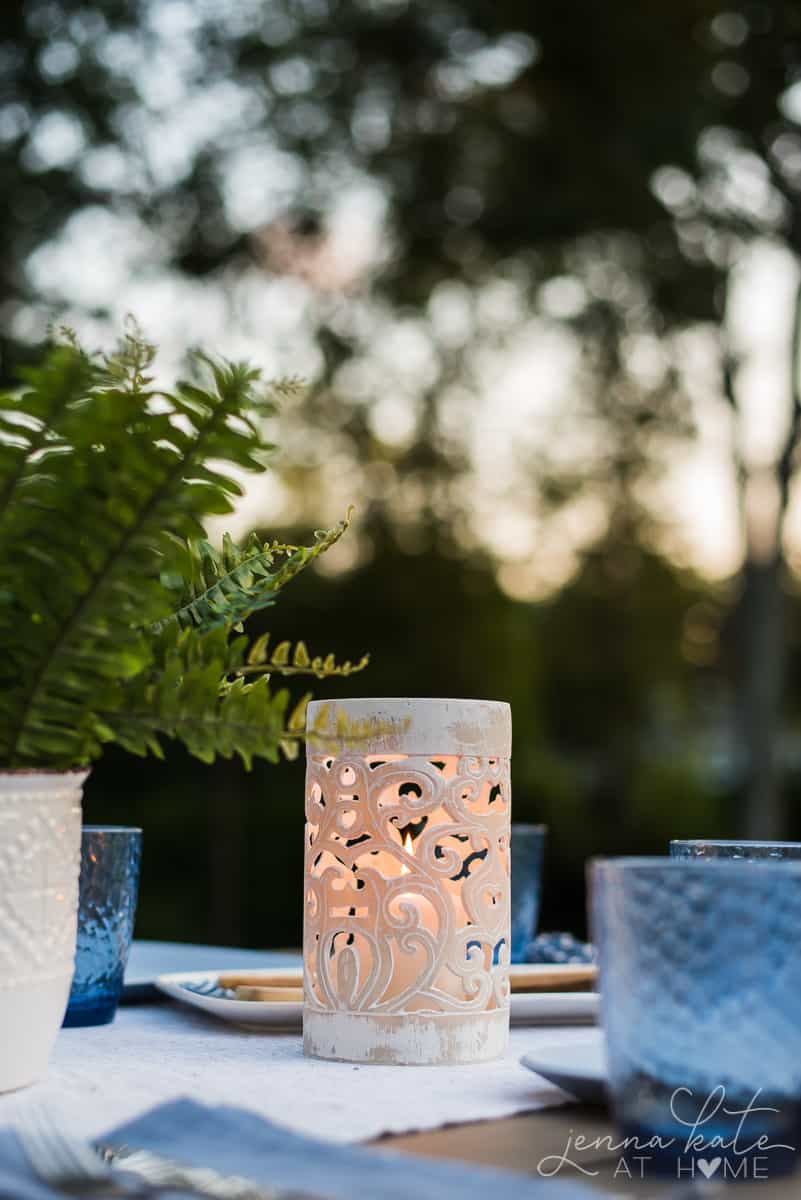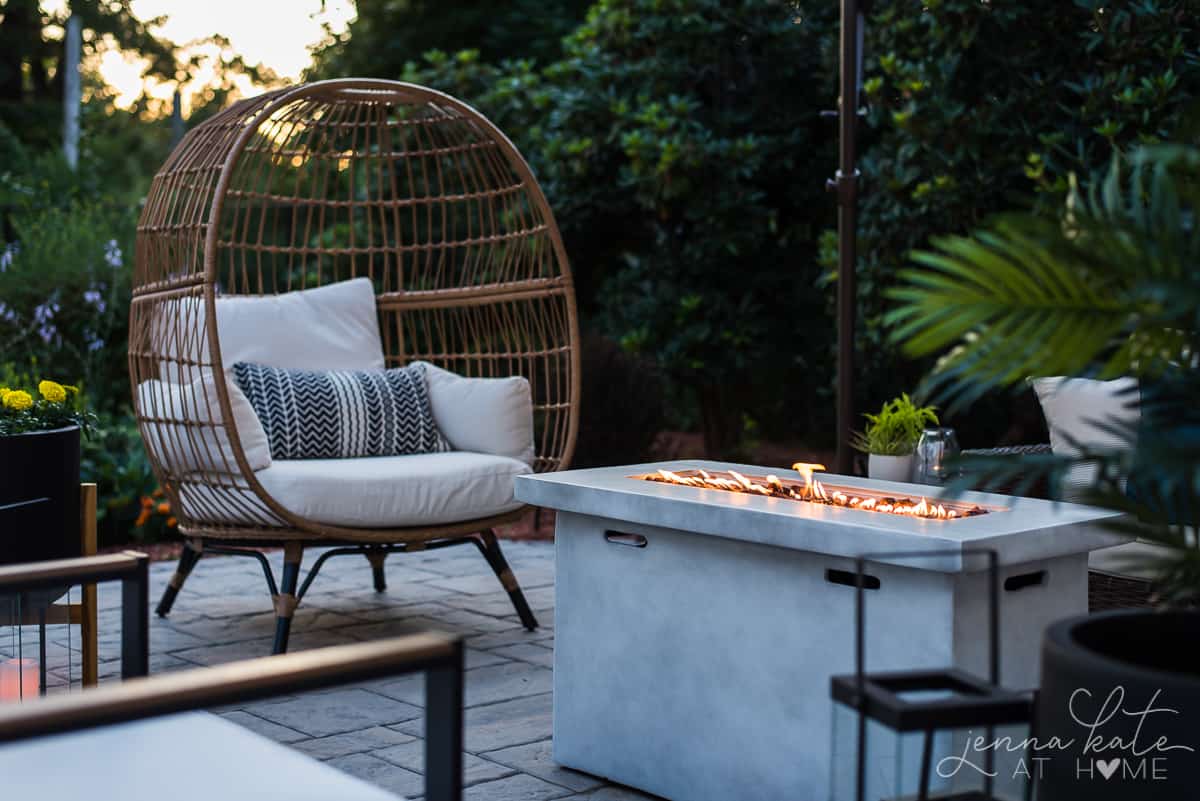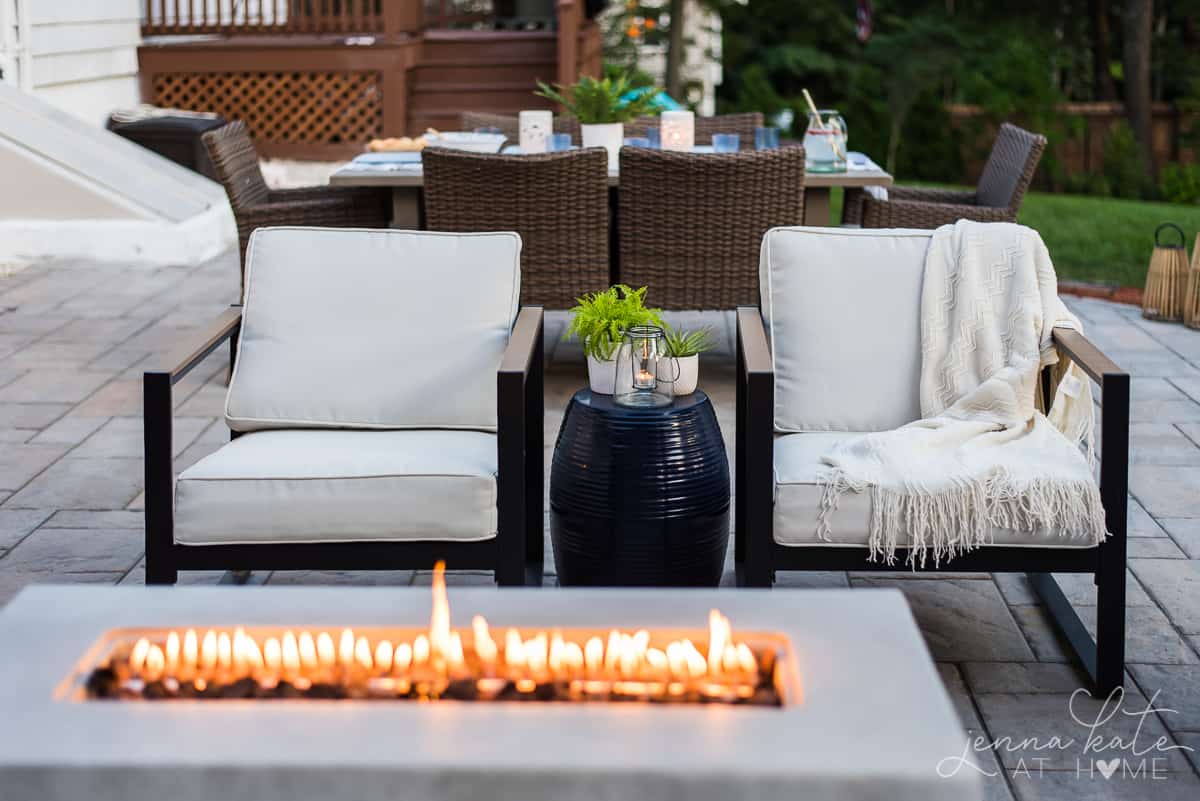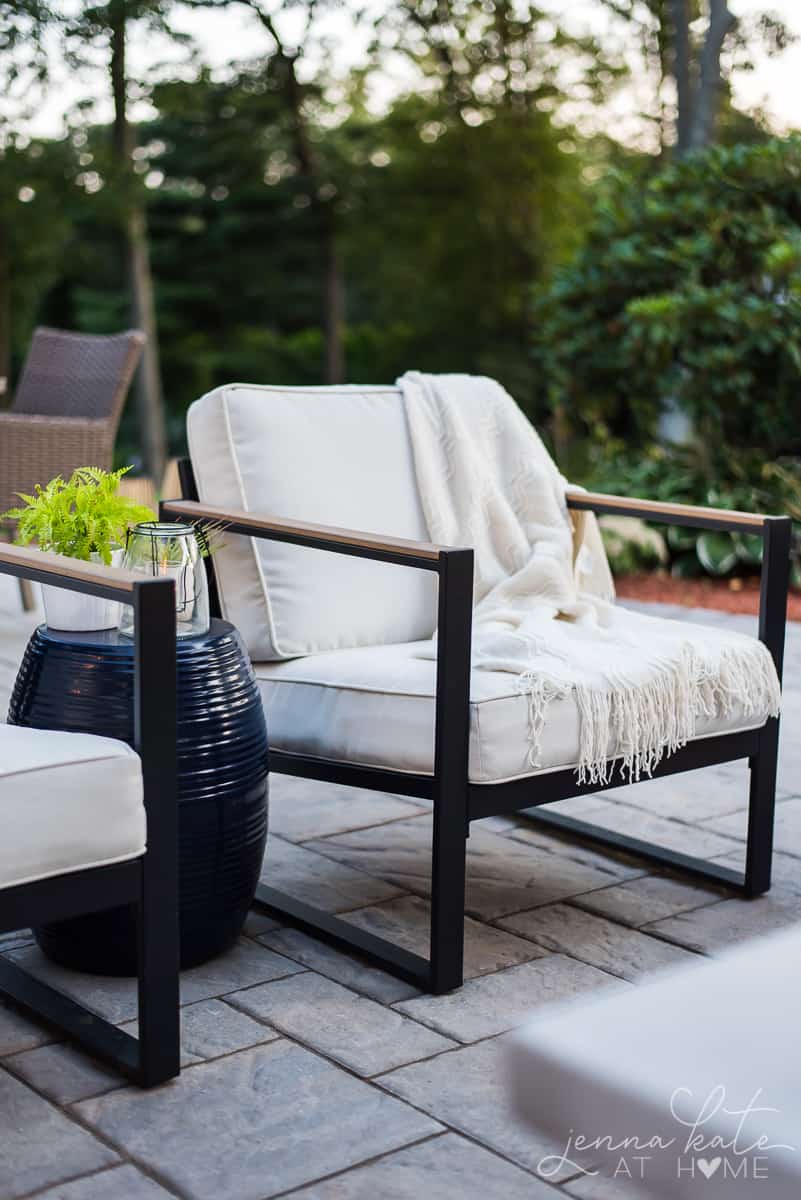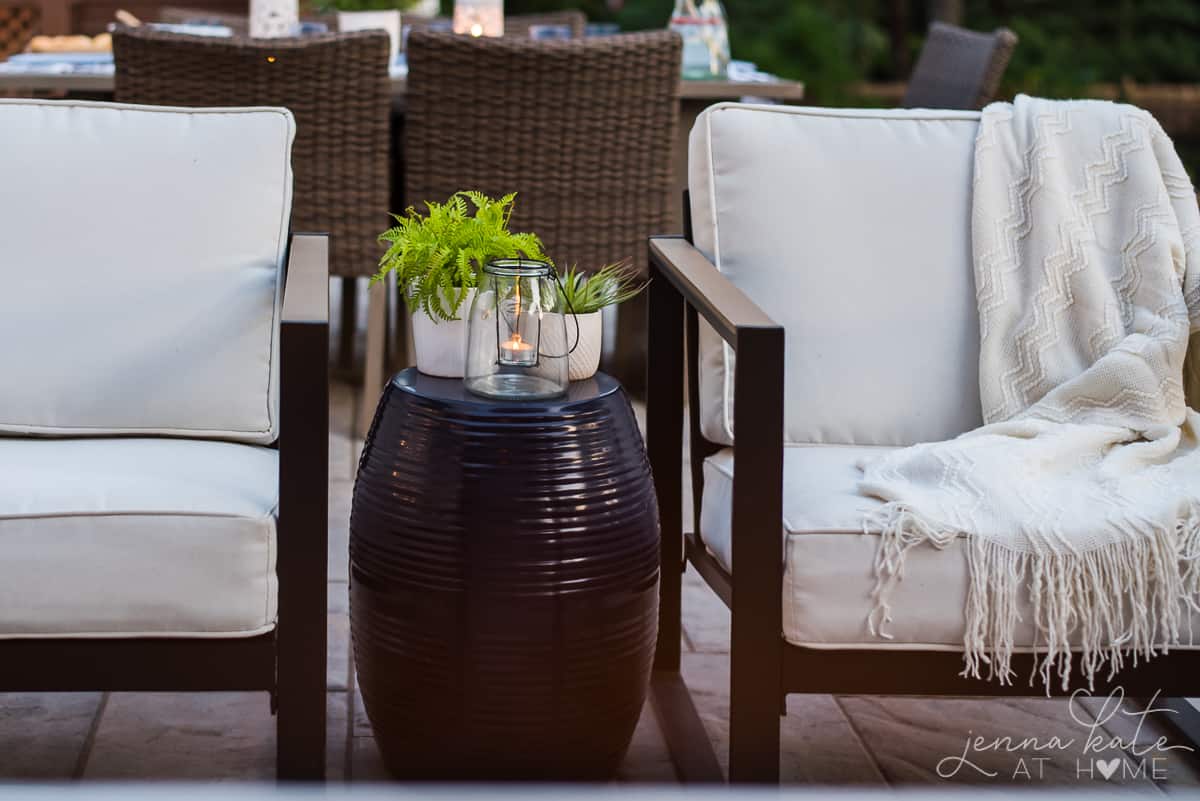 This patio makeover has been a dream come true. I feel truly blessed that this is our backyard.
Already this summer, we have spent much more time in the yard than in the past three summers combined. Our coastal style patio makeover really has been worth every single penny, and I can't wait to cozy up out here during the fall, too!
If you're planning on giving your patio a makeover, remember a few essential guidelines:
Plan carefully, putting thought into how you will use the space.
Create specific areas for lounging or dining.
Bring in "indoor" style accessories like planters, throw pillows, a rug, and even faux greenery or trees to give the space a homey feel.
Make the patio relaxing and inviting with throw blankets, lanterns, or a fire pit.
I hope you've found some patio ideas and inspiration to help you decorate your own backyard space this summer. Whether you decide on a coastal style patio or another theme, and whether your patio (and budget) is big or small, you can create a welcoming place to enjoy the outdoors.