Best Paint Colors For Kitchens With Dark Cabinets
Dark kitchen cabinets are a great way to bring drama and moodiness to your kitchen, and choosing the right paint color to complement them will be the cherry on top of a beautiful kitchen design.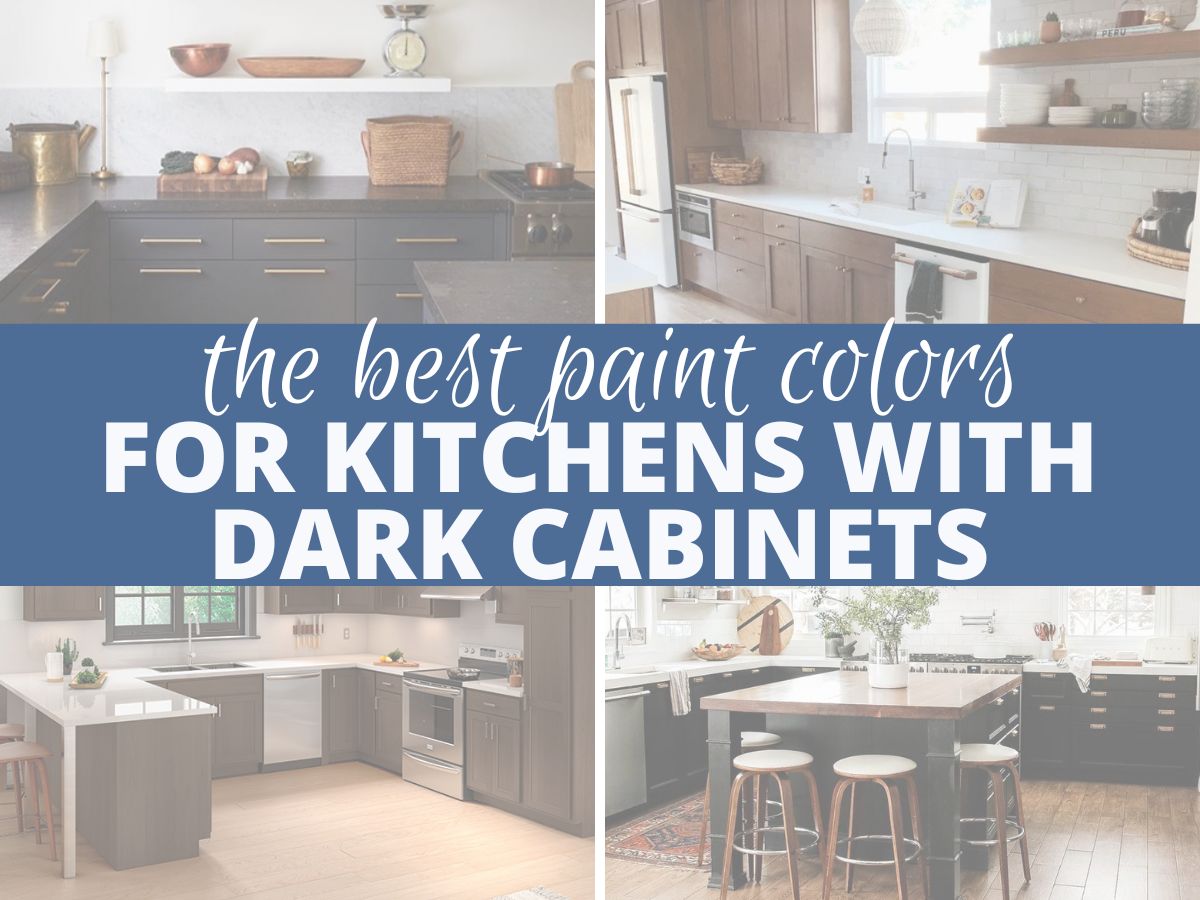 While white cabinets remain the most popular, darker cabinets were popular in older traditional style homes and have once again come full circle.
While the style of cabinet make look different to those in older homes, wooden or cabinets with dark paint colors now have a more modern style that lends itself to a beautiful contemporary kitchen.
Dark cabinets don't have to mean a dark and dingy kitchen, as long as you follow a few simple rules when it comes to picking a paint color for your kitchen walls.
What Color Cabinets Do You Have?
Before choosing a paint color for your kitchen walls, understanding the undertone of your dark cabinets is important.
Cabinets that are dark gray or navy blue will have a cool undertone.
Cabinets that are brown or dark green will have a warmer undertone.
Finally, black cabinets usually fall into neutral territory, or depending on the color, can swing slightly warm or cool.
Embrace Contrast
Dark cabinets are a statement, no matter what color they are. Embrace the design statement that this bold colors makes and amp up the contrast with a light paint color, such as white or a very light shade of gray, beige or greige.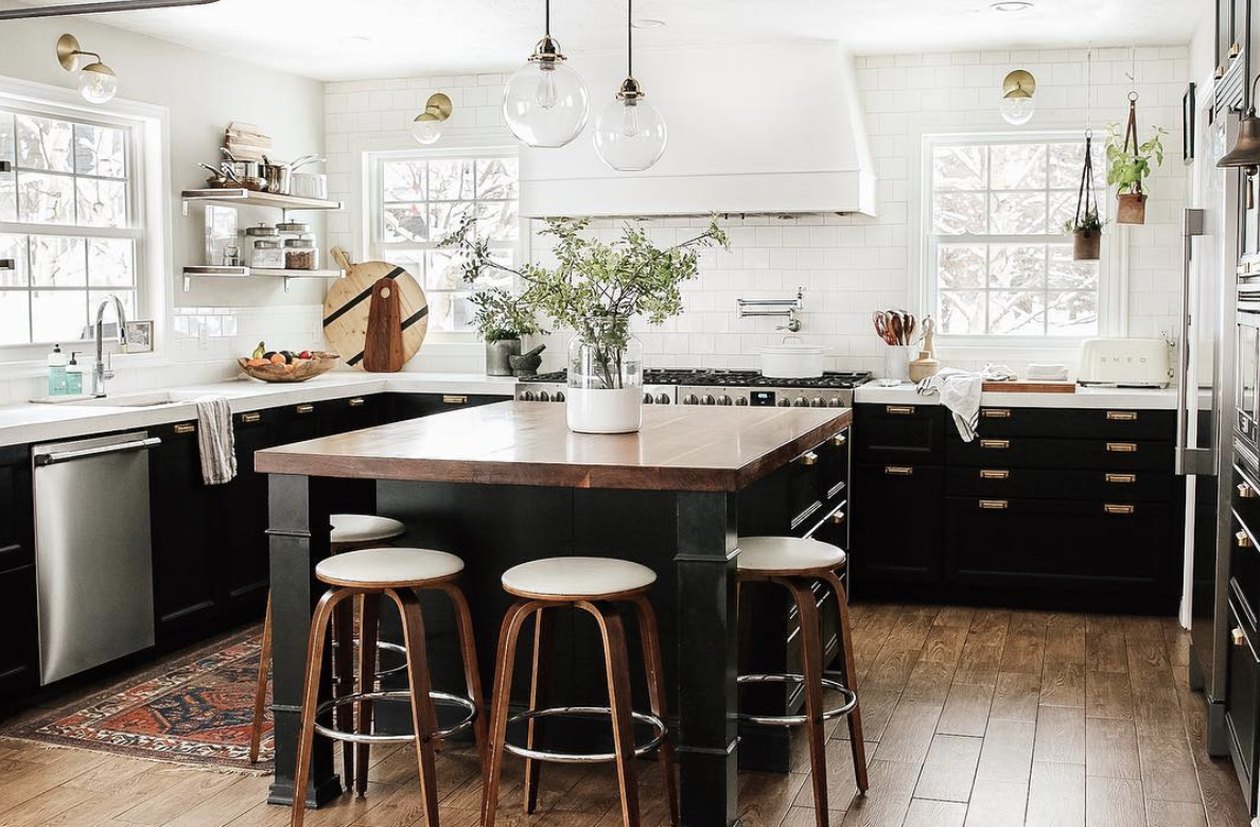 Including marble countertops or quartz in a light color also helps create that stunning sense of contrast.
Think About Your Natural Light
Dark cabinets can make a poorly lit space feel even darker. The amount of natural light you have will partially dictate the color you end up choosing for your walls.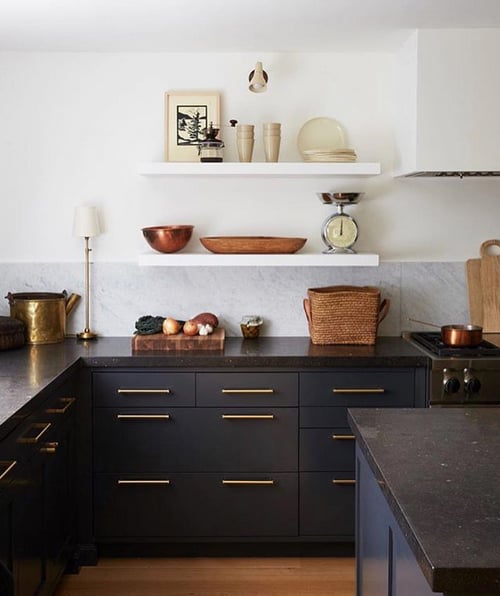 While white paint can bring more light into your space, it will help bounce around the light you have, thus creating a brighter looking room. Darker colors will absorb the light and not reflect it back into the room.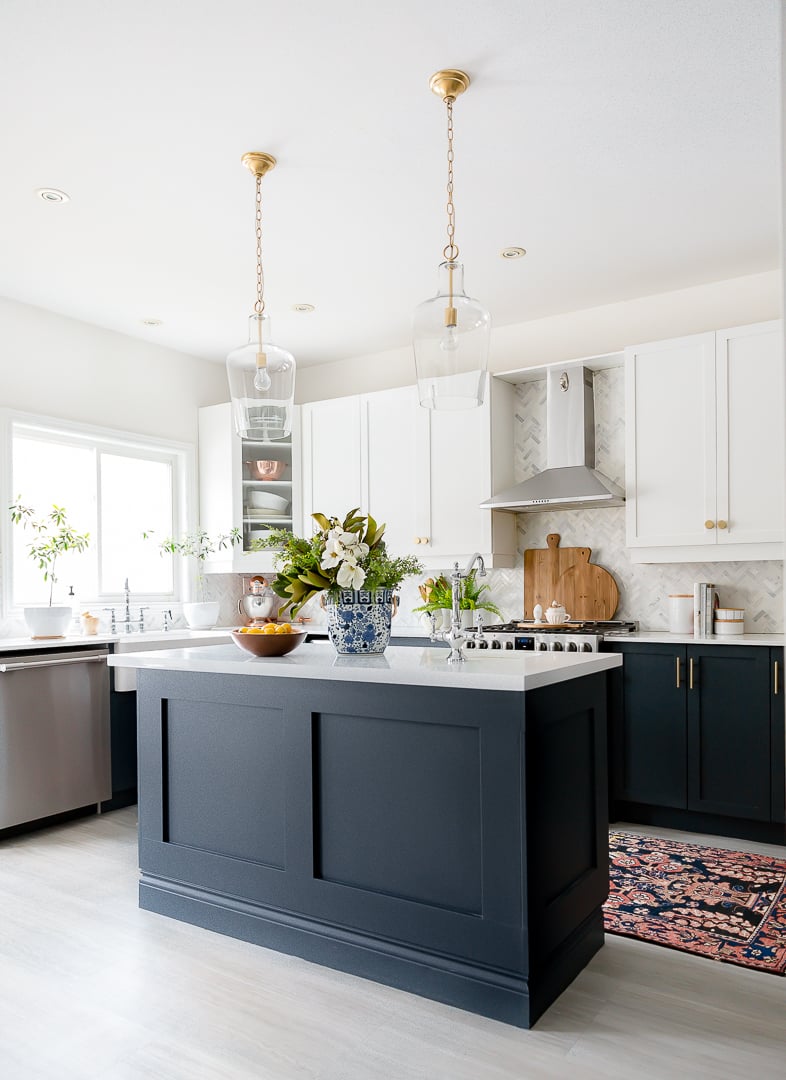 If you have a lot of cool northern light, you may want to steer clear of blue-toned paint colors that will make the room feel cold, and instead opt for a warmer white or at least more neutral undertoned color.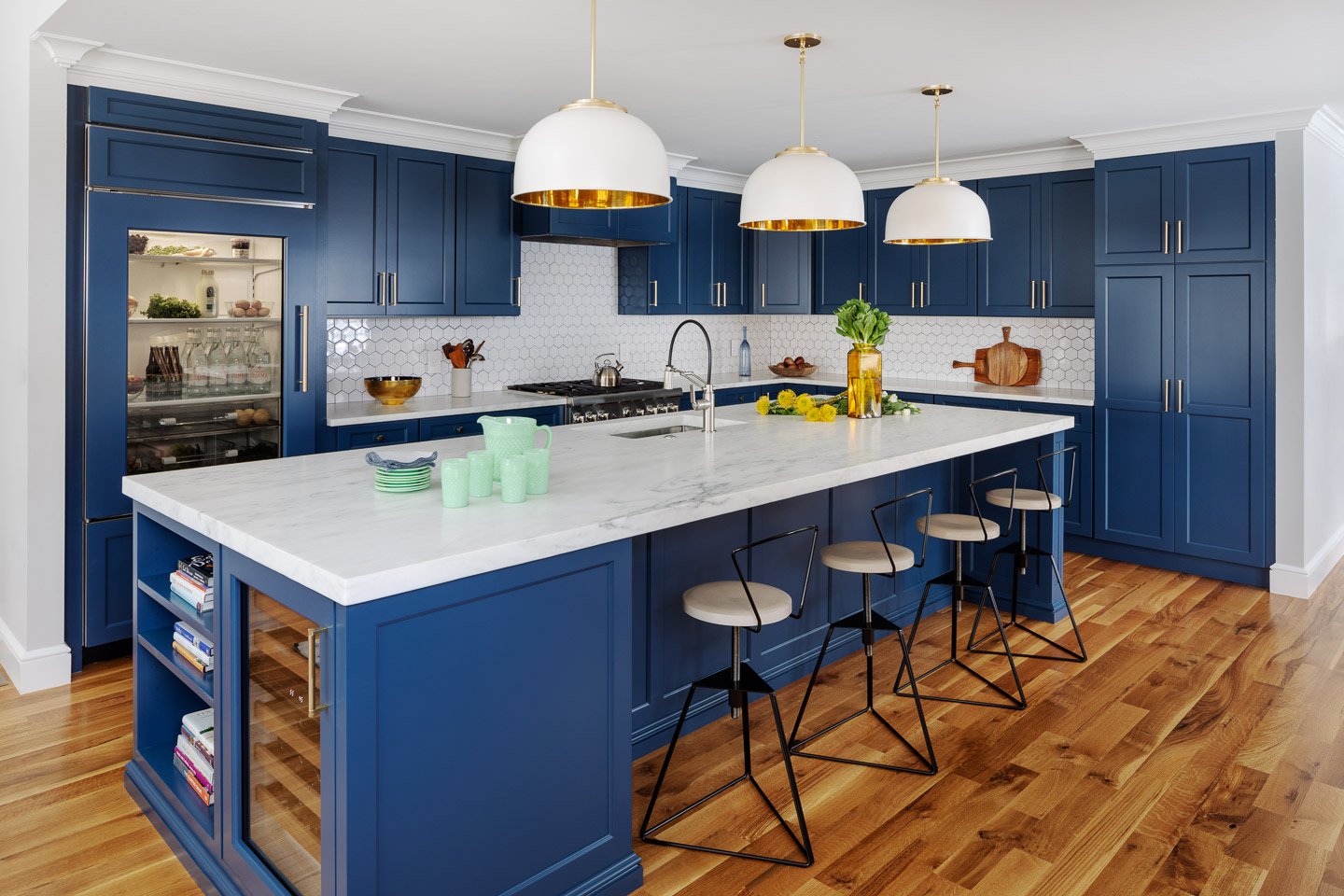 Considering the light is especially important when dealing with small spaces that can feel closed in very quickly.
If you have abundant light in your home, then you can get away with most colors!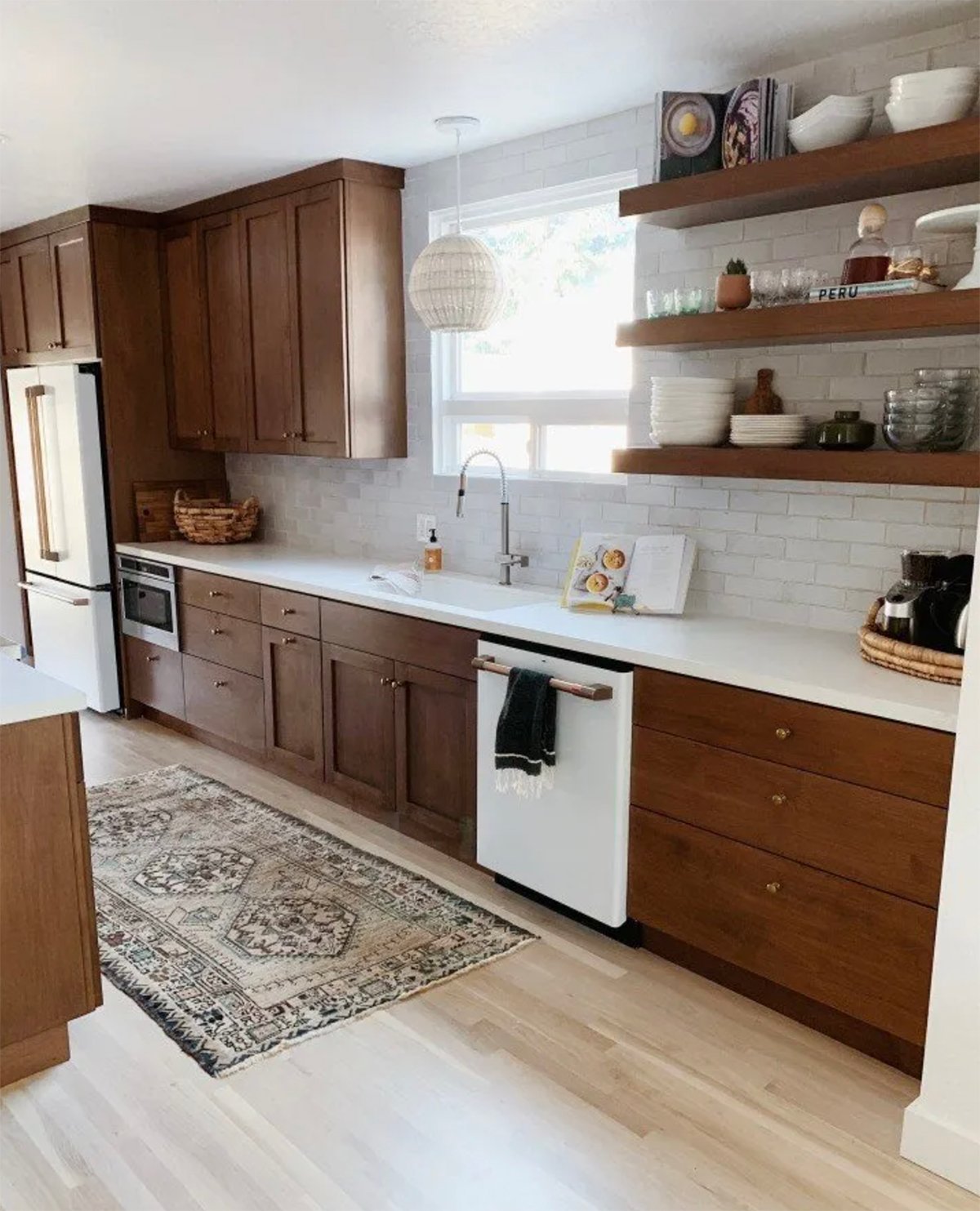 I personally think that this kitchen remodel from Arrows & Bow is the perfect blend of darker cabinets and light touches.
The bright white counters and appliances with the white backsplash and white walls stop the stained wood from feeling dark and heavy. The space still feels light and bright!
White Paint Colors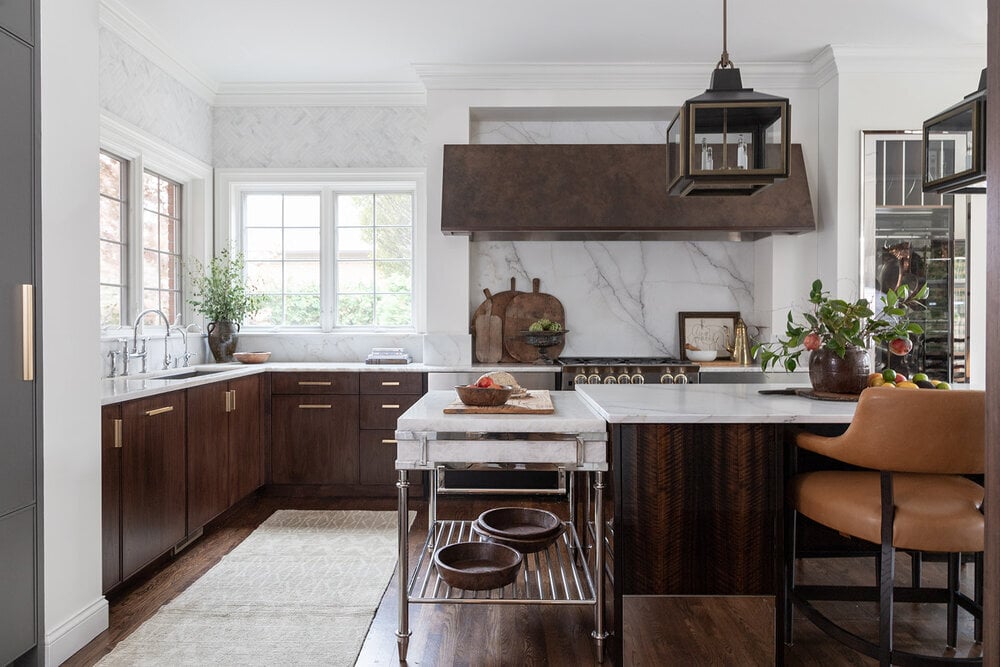 For really dark brown or black cabinets, accenting with bright white creates a modern vibe. It's a cool, high contrast look is great for modern spaces.
If you go with all white walls, or a white backsplash, brighten things up with small pops of color through accessories and appliances. It's a simple color palette that really stands out and makes a big visual impact.
White paint colors that are popular include:
Warm Neutral Paint Colors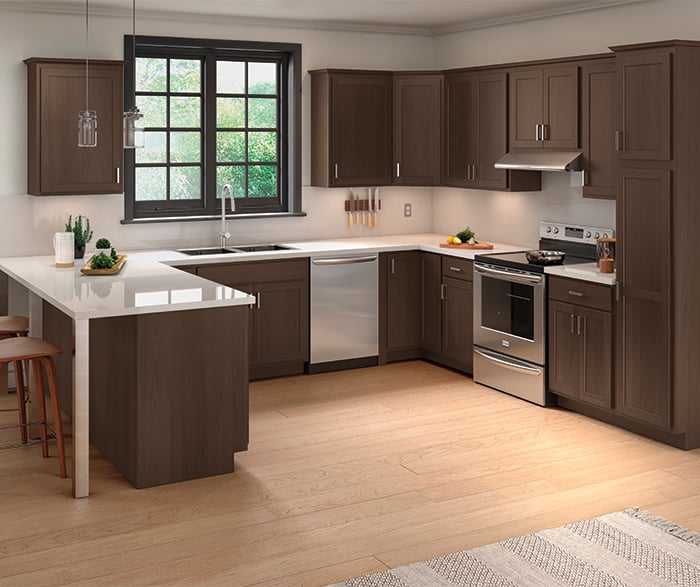 If you have dark or medium wood cabinets, try a color palette that brings out the warmth in the wood. Lighter neutrals with a warm undertone emphasize the warmth in the cabinet. Examples of popular paint colors in this family include:
Cool Neutral Paint Colors
For a darker wood cabinet color with cool undertones (like espresso or an
Light cool toned neutral paint colors that would fall into this category are:
Accessories and Accents
I always prefer to keep walls simple and neutral and bring in bright colors through accent pieces. Art, decorative objects and even appliances can add a pop of color to an otherwise neutral space.
Final Thoughts
The best paint color for your space is the one that works best with your particular shade of dark cabinets.
Whether you have a modern kitchen or a more traditional kitchen, you can't go wrong by keeping it light and bright with a shade of white or light neutral. Once you have determined the undertone of your cabinets, you'll know what paint colors will work in your space.
Don't Forget…
Don't forget – no matter what you've read or photos you've seen online, it's really important to sample paint colors in your home before committing!
Samplize provides real paint samples that are easy to move around your home, and cheaper than buying a gazillion paint pots! It's the only way I buy paint samples.