ORC Week 3 – Basement Reno
It's already Week 3 of the One Room Challenge! Yikes!!  Last week, I left you with the promise of finished walls and a tiled fireplace. I'm so excited to report that it was an amazingly productive week!
Psst! If you haven't seen Week 1(the design) or Week 2 (demo), do that first!
First, we have tile on the fireplace!! TA-DA!!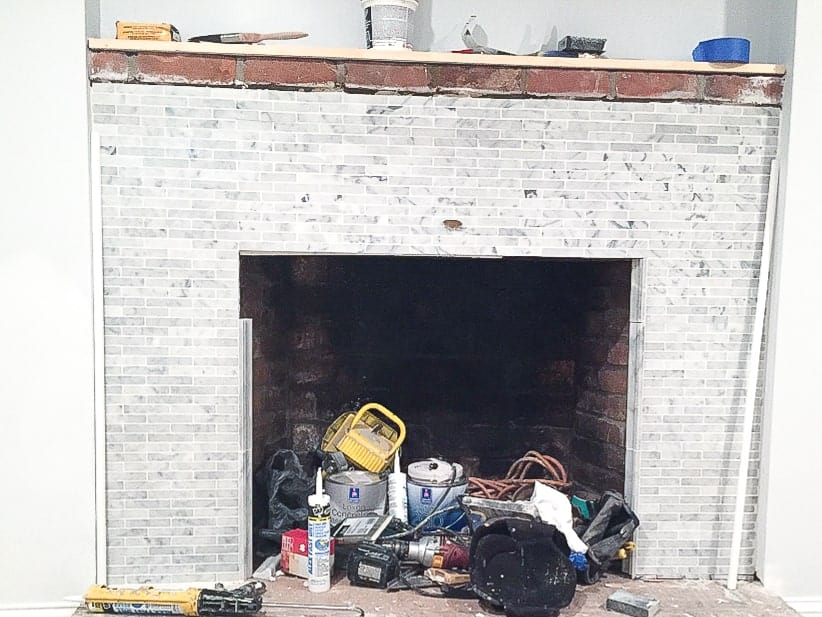 As you can see, I opted for the Brick Pattern Carrara Marble (sponsored by TileBar.com). I'm so glad I went with my gut and chose the simpler style of tile. It's elegant, classic and timeless.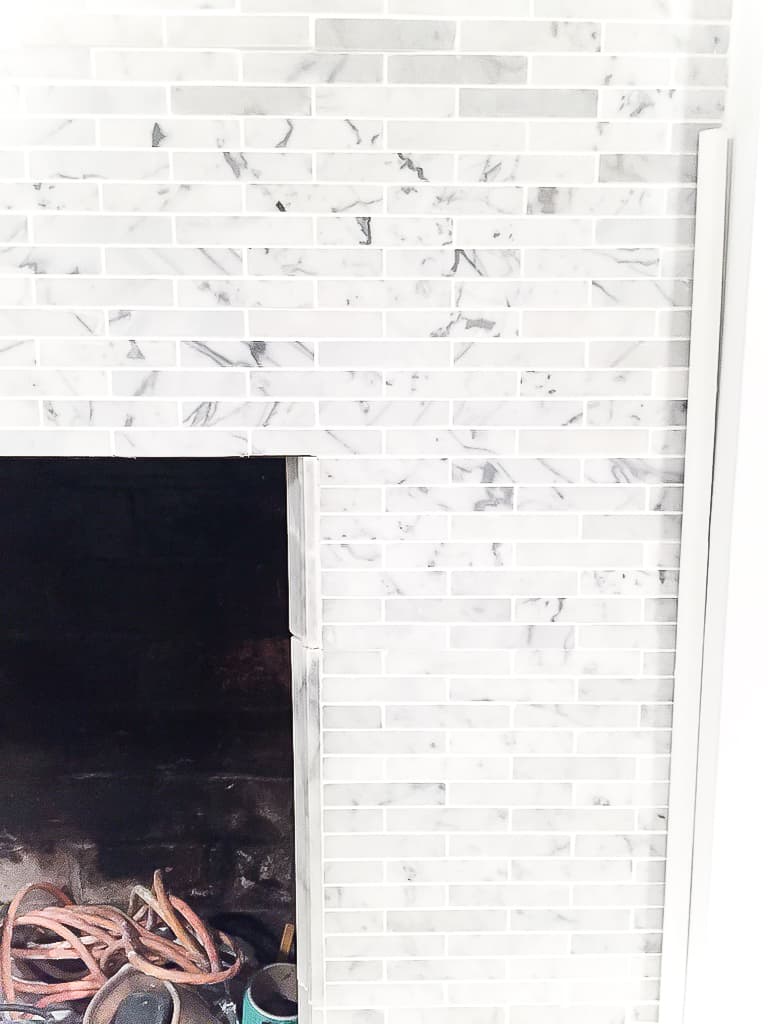 I'm also using carrara marble chair rail (from Lowe's) to give a finished edge to the inside edges. Unfortunately, because of the location of the firebox, we can't run the chair rail along the top edge. I think it will be fine though, since the tile gives a clean edge along the top anyway.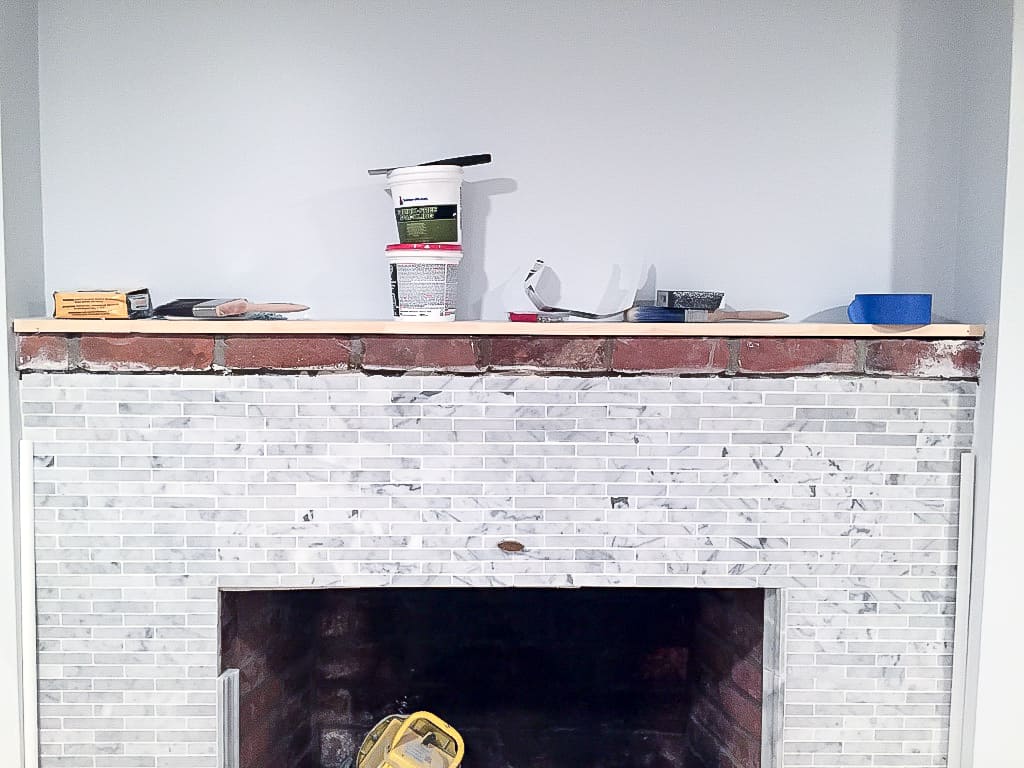 Aren't the flecks of gray amazing? I love this tile so much!
If you're wondering how to go about installing tile on a brick fireplace, it's surprisingly easy. The trickiest part is attaching the cement board to the brick but we had our contractor do that because it involved some heavy duty screws.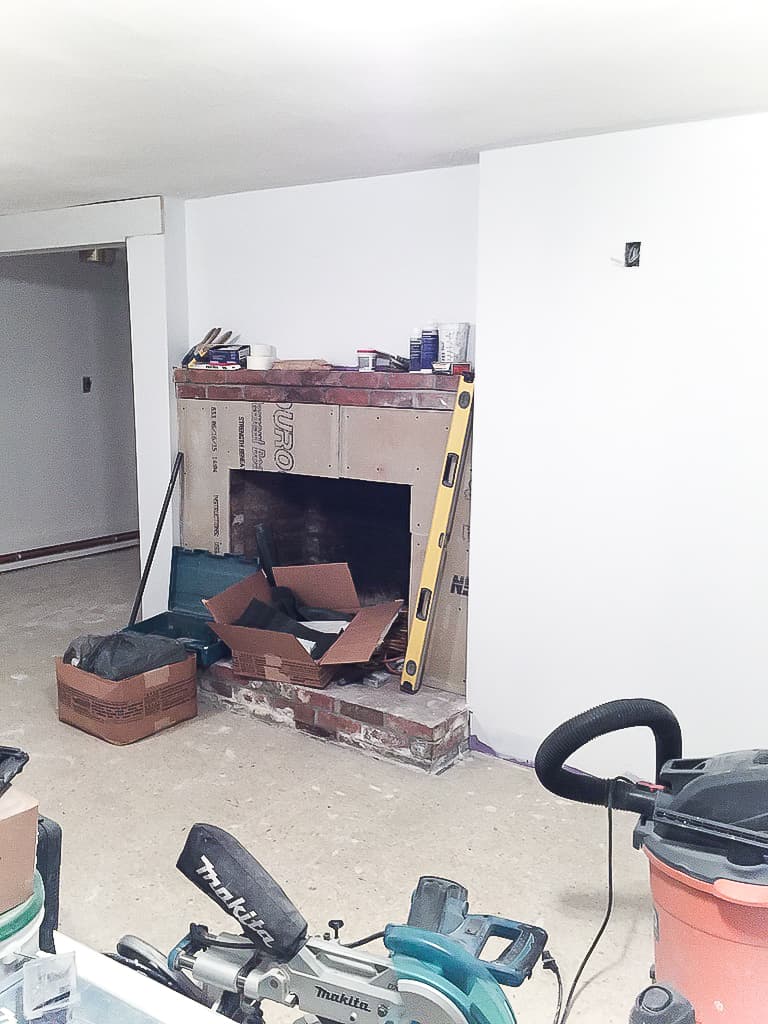 Then, once the cement board is up it's just a matter of buttering the tiles and placing them on. We already had a tile saw from previous tile projects too, which helped everything move along quickly.
Still to be done on the fireplace: Build a mantel, paint the inside of the fireplace black with a special high heat masonry paint and then prime and paint the hearth white.
In other news – the drywall is done! A coat of primer is on and two coats of paint are to follow today and tomorrow, hopefully!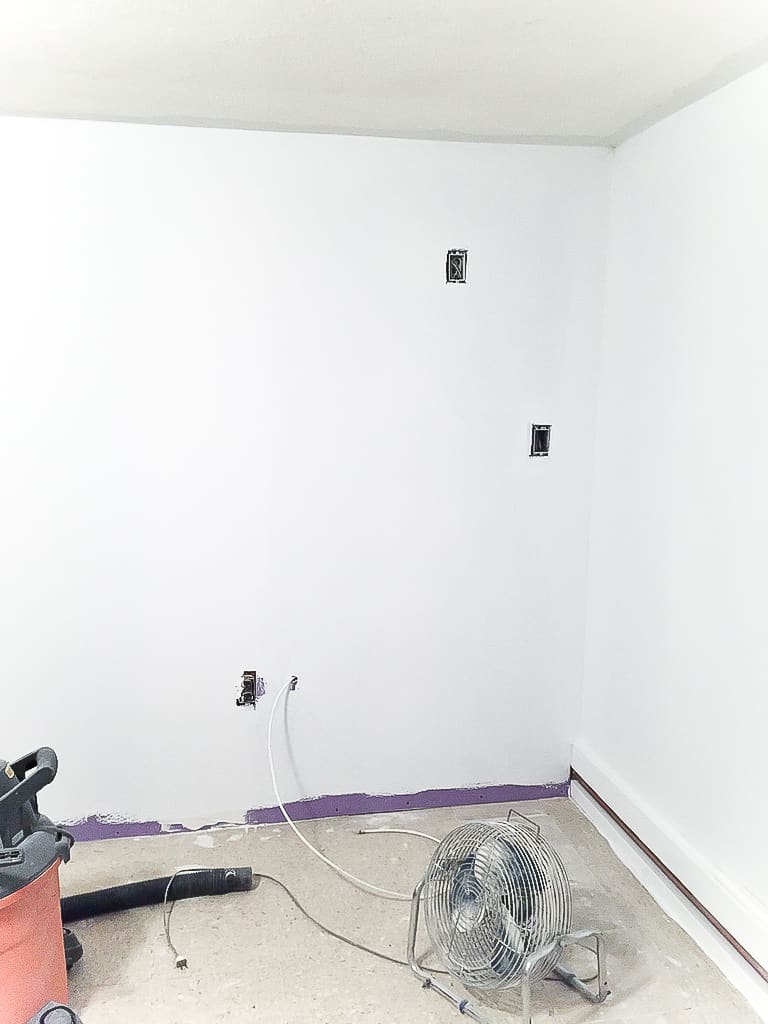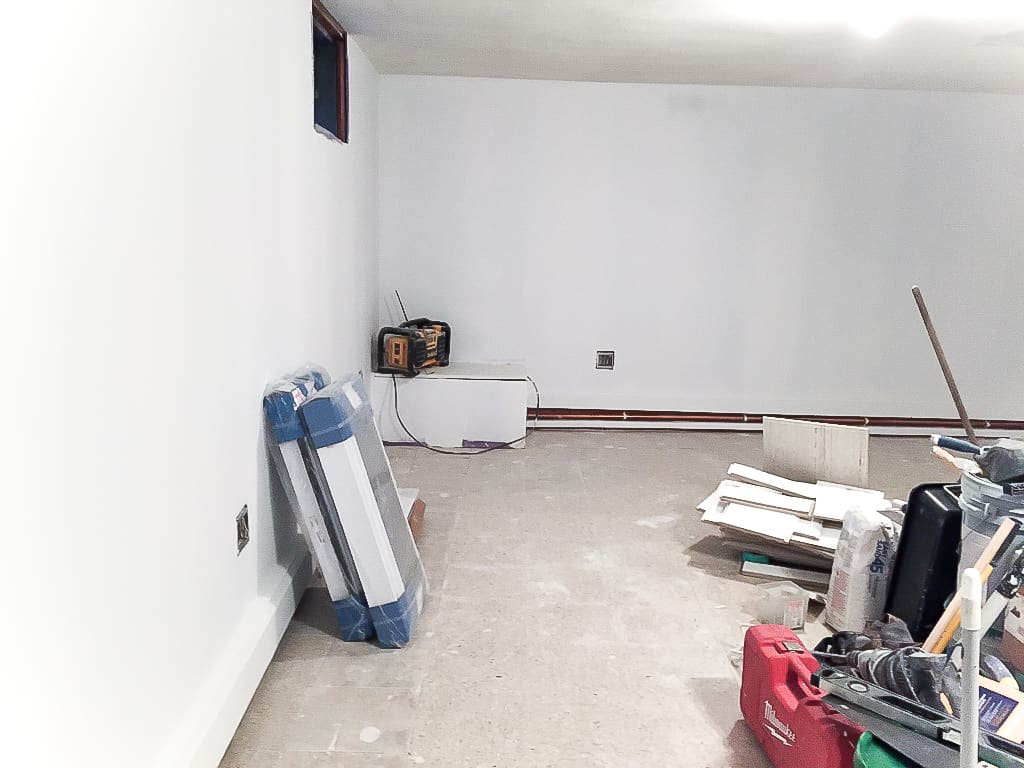 Do you see the copper pipe running along that back wall? Apparently the pipes in the basement were replaced at some point not so long ago. Instead of ripping open the paneling and recessing the pipes into the wall, they opted to run them along the bottom of the wall instead.
This was fine since we never used the basement but now that there will be kids running down here – and the pipes get really hot – we've opted to box them in and place a metal grate over the front to allow them to vent. I'm hoping it looks fine when it's done but time will tell.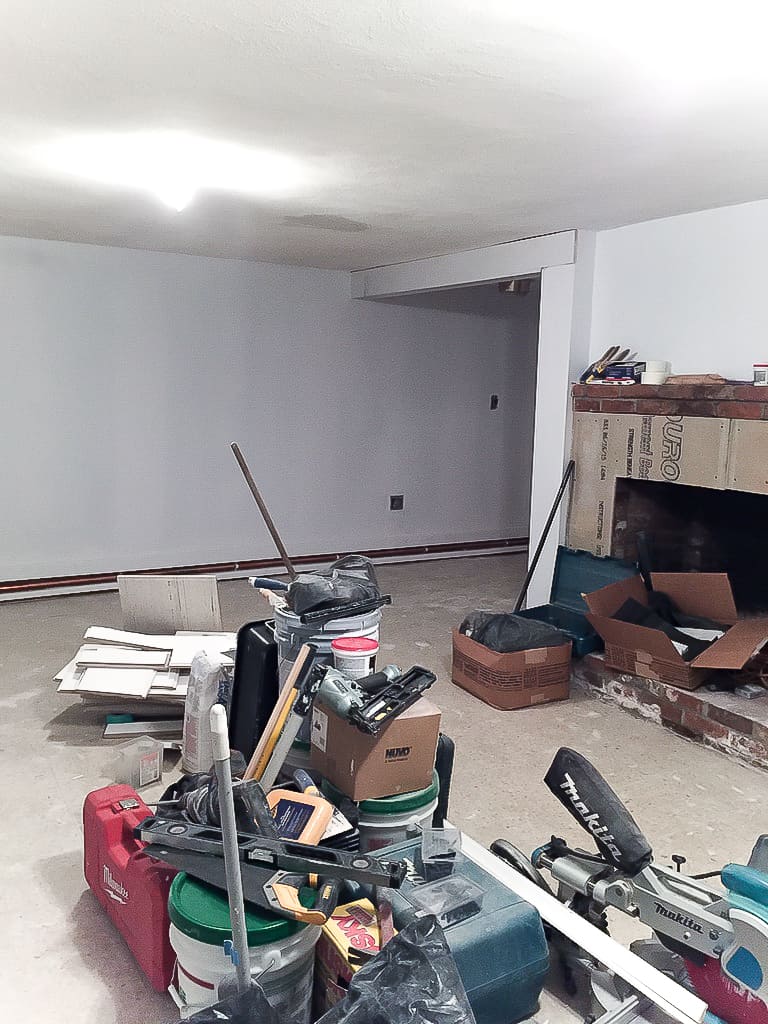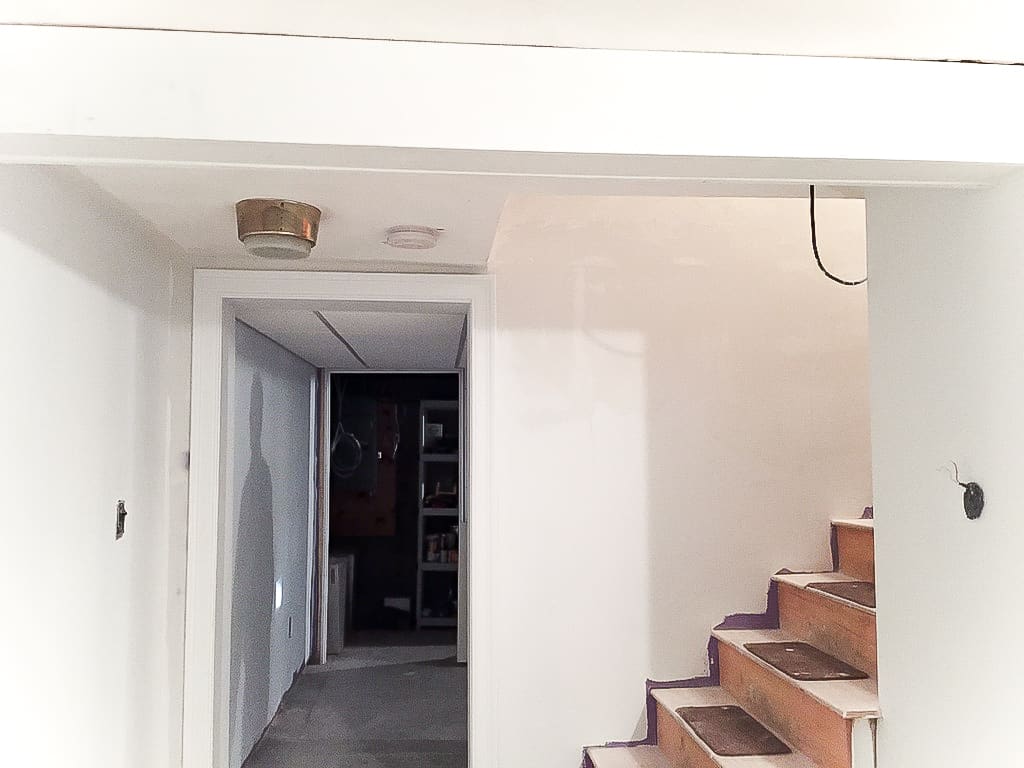 Over on the other side of the basement, the suspended ceiling work has begun. We opted to do a suspended ceiling on this side (as opposed to drywall) so continue to give us easy access to plumbing. We know our main bathroom's plumbing will need to be reconfigured when we remodel, so knowing that it made no sense to us to seal all the plumbing in.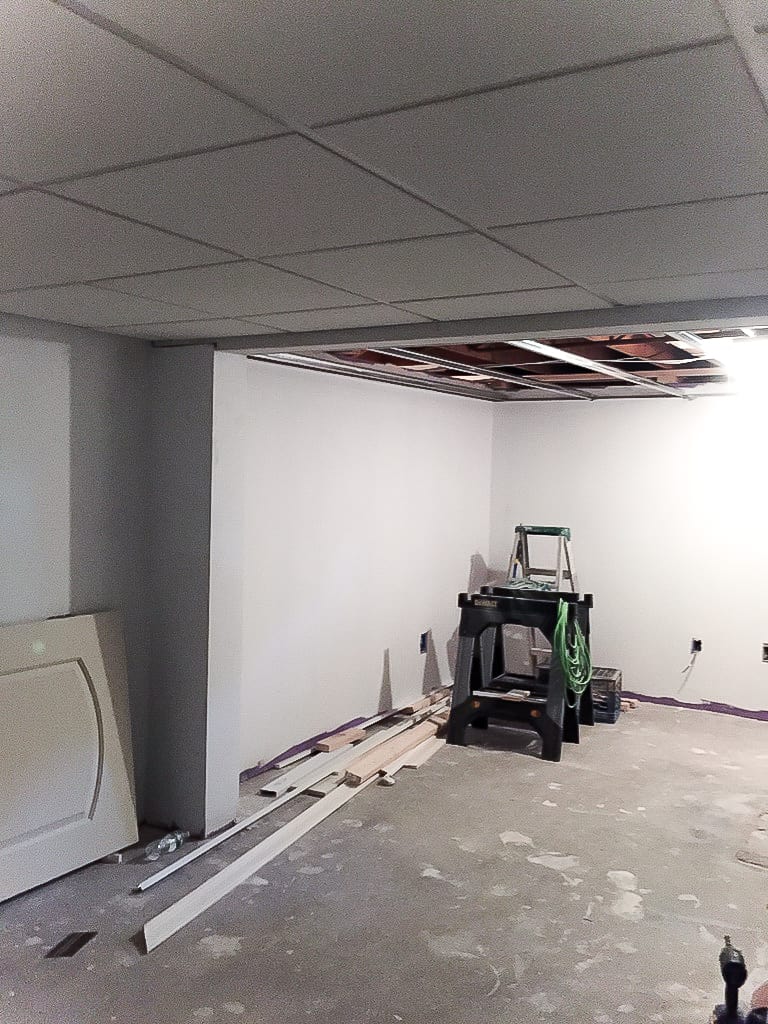 Our windows and doors arrived yesterday and should be installed in the coming week. No more metal bars, yay!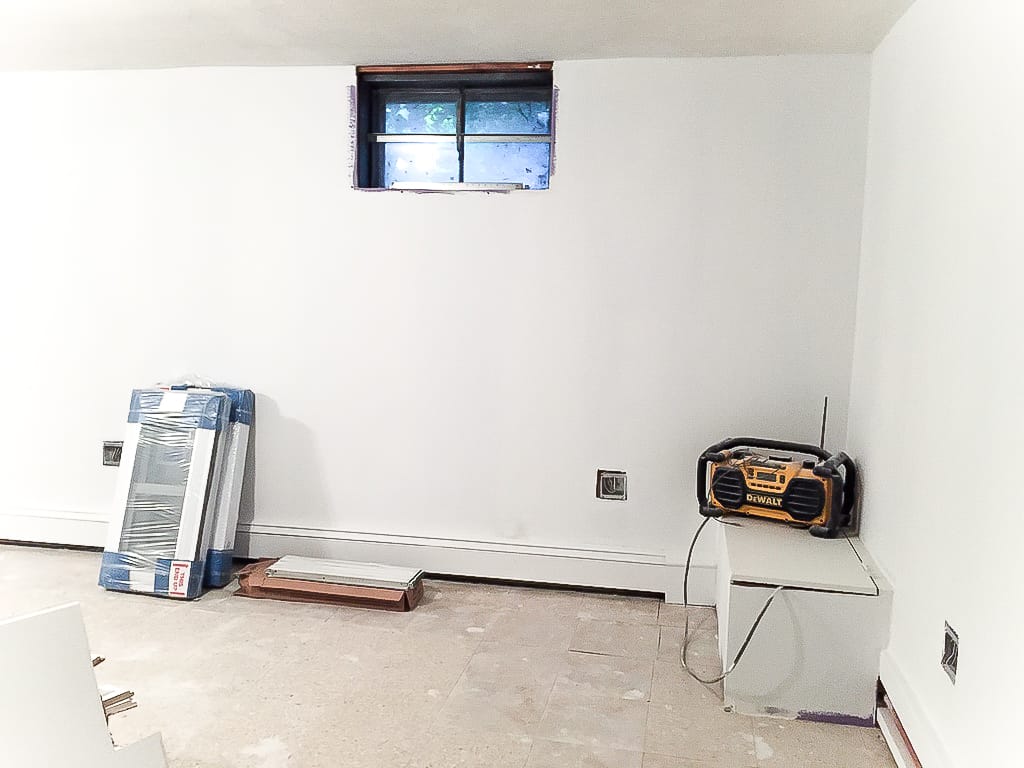 I also managed to choose a carpet color AND we decided to get the thickest carpet with extra plush padding. It's gonna be dreamy underfoot! You can see the carpet samples (below left) and to the right is a larger sample of the color I ultimately decided on. Nice and and light, I would call it a beige with gray undertones. I think it will be perfect in the finished space.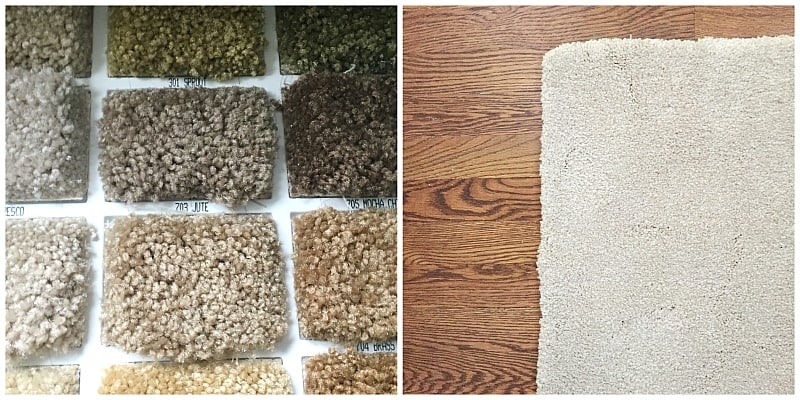 What's on tap for next week? Our sconces and recessed lights will be installed, the walls should all be painted and trim should hopefully be installed. My furniture is getting delivered mid next week (minus the couch) and I've started shopping for smaller decor items so keep an eye on Instagram for sneak peaks!
That's it for this week. I'm so excited with how everything is turning out. Hopefully by next week we will have an almost finished space!
Now, go see what the other Guest Participants are up to this week!