Sherwin Williams Pure White
Sherwin Williams Pure White is one of the best all-purpose shades of white paint for interiors. It's bright and clean without being stark and cold – a great white for walls, trim and cabinets.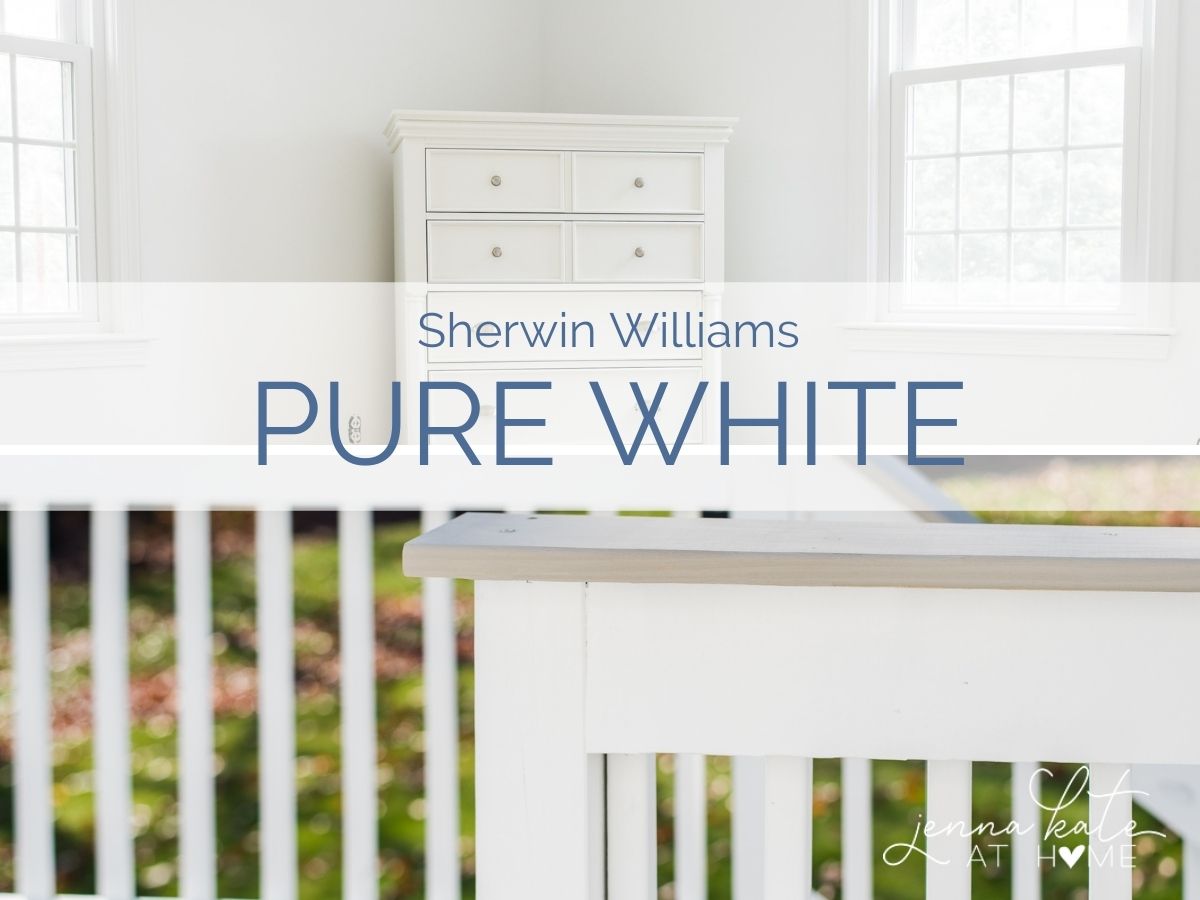 Unless you've been living under a rock, you'll know that white is majorly in when it comes to home painting trends. And while I'm not usually one to buy into most trends (almost our entire house is painted only 2 colors – Sherwin Williams Repose Gray and Benjamin Moore Stonington Gray!), I've been dying to try this one for several months.
White is classic. It won't work in every home due to lighting conditions or other limitations, but in the right space, it's amazing. And as an interior photographer, it is a joy to photograph!
The baby's nursery (the former guest room) was previously painted Stonington Gray. While I still love a gray wall, this medium toned gray has been decidedly looking a bit darker than what I'm drawn to these days.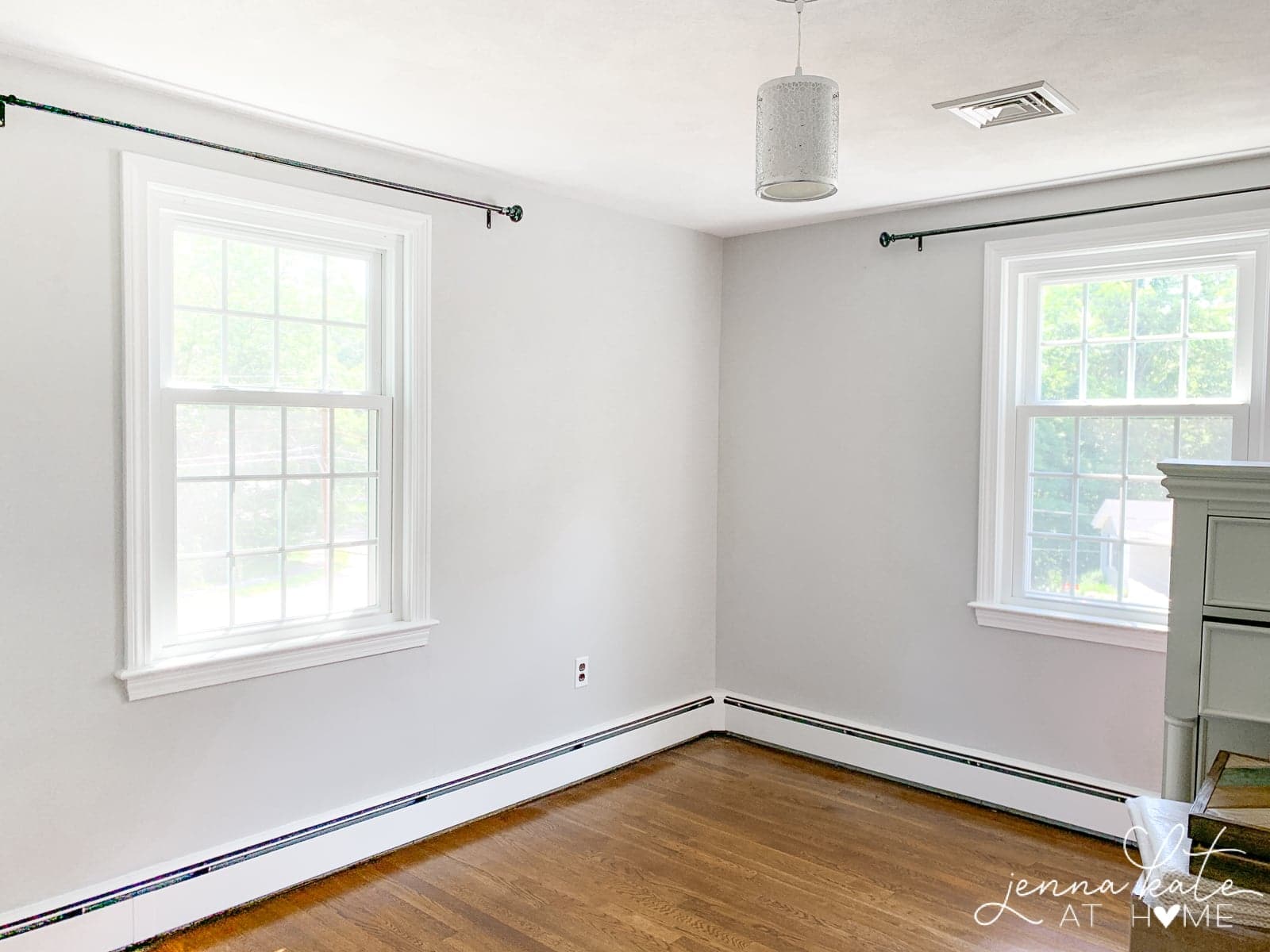 After much sample testing, Pinterest looking and Google researching, I decided on Sherwin Williams Pure White (SW 7005) for this room. It's the most popular Sherwin Williams White and a safe choice for any room.
What Color is Pure White?
While pure white is, as the name suggests, a pretty pure white it does not at all feel cold and stark and has barely any undertones.
It's considered the best white paint for interior doors, trim and mouldings and walls due to its neutral color.
What Are the Undertones of Pure White?
SW Pure White has the tiniest touch of gray to the undertone which stops it from being one of those really in-your-face whites as well as the slightest hint of warmth (yellow) to offset the cooler tone.
Where Does Pure White Work Best?
This reason this room in particular is a good choice for white walls is that it gets the most wonderful warm light all day long. This room never feels cold so I wasn't too worried about how the white would affect it. And I was right! In fact, with the gray walls gone it feels decidedly brighter and warmer in here!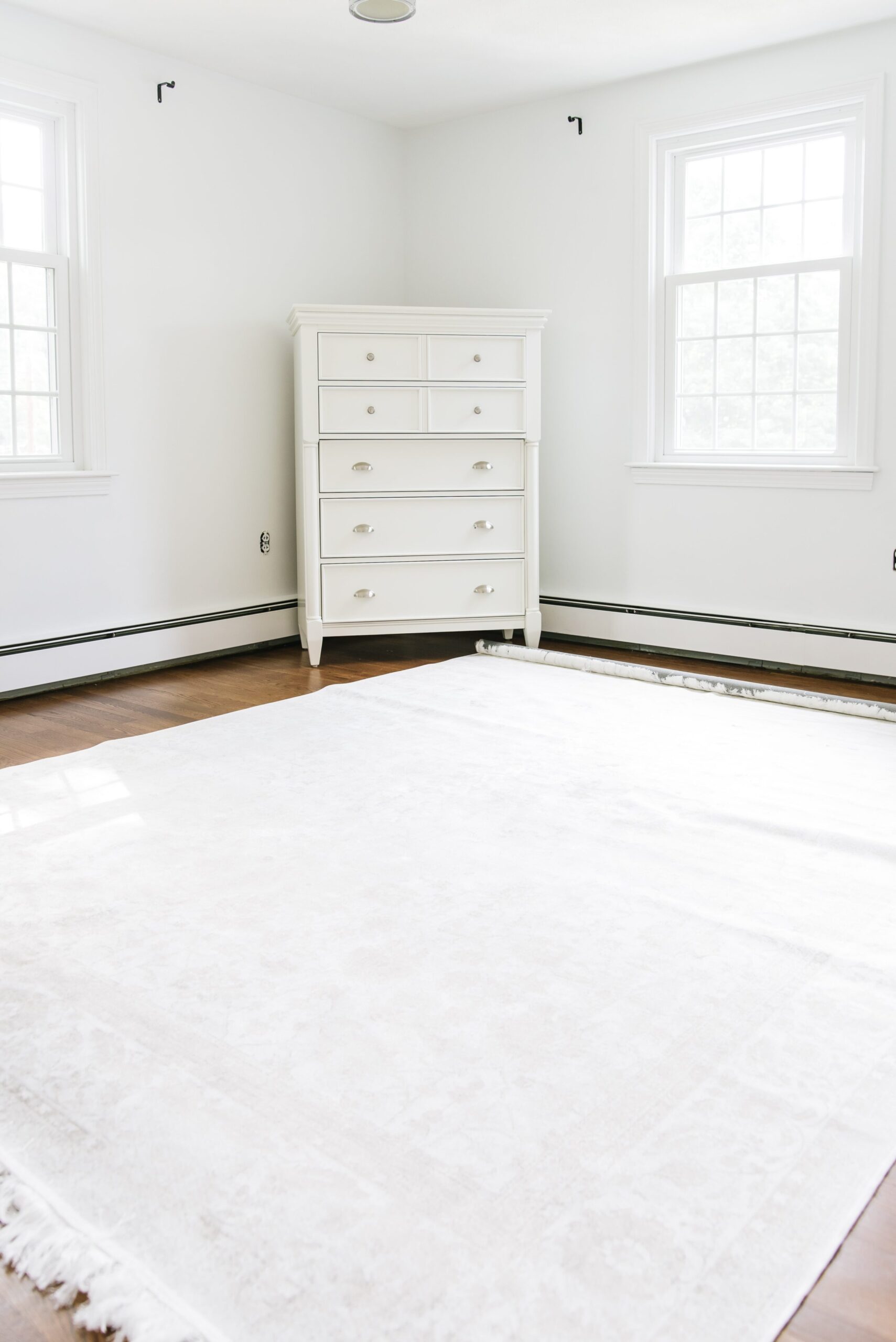 Pure White also makes for a great trim or ceiling paint. While I prefer to opt for a matte finish or eggshell on walls, I use it in a satin or semi-gloss finish on trim. The added sheen in these finishes reflects more light, and makes it look brighter than what's on the walls – so there's still a bit of contrast.
If you want to learn more, I've dedicated a whole post to paint sheens that you might find helpful.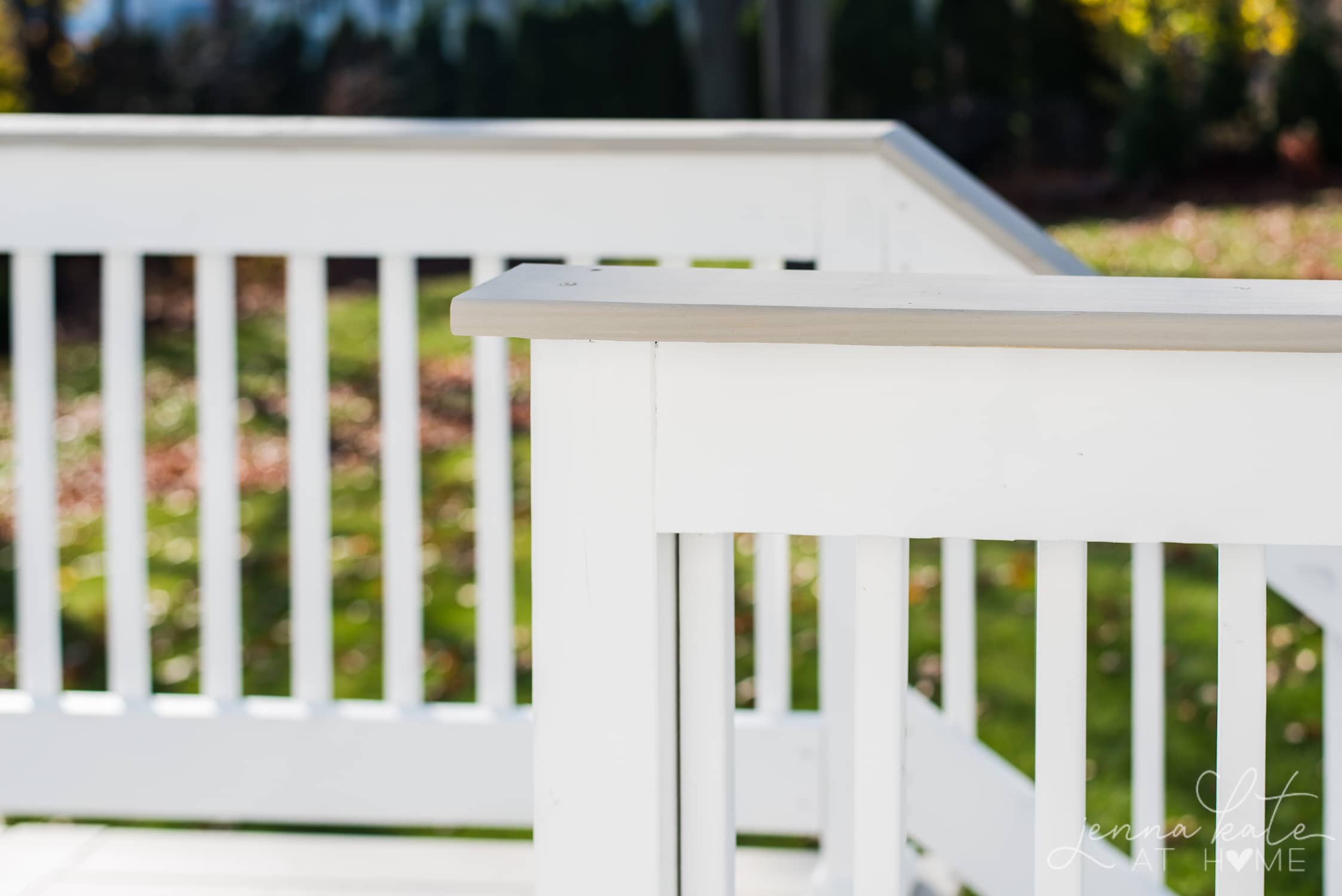 We also used Pure White to spray our deck. It ties in perfectly with our bright white siding, so I think it would also be a great shade of white if you were choosing to paint the exterior of your house.
Pure White versus Extra White
If you place Pure White alongside Extra White, it will immediately look a bit dirty, thanks to that little drop of black that gives it the gray undertone. Extra White is one of those really bright whites, that when placed next to another white, instantly makes them look dingy. I would not use these two whites together. If you are choosing between the two for doors and trim, Extra White is a really bright, crisp, almost stark white that can turn a teeny bit blue in cool light. Pure White is less bright and has barely any tendency to show its undertones.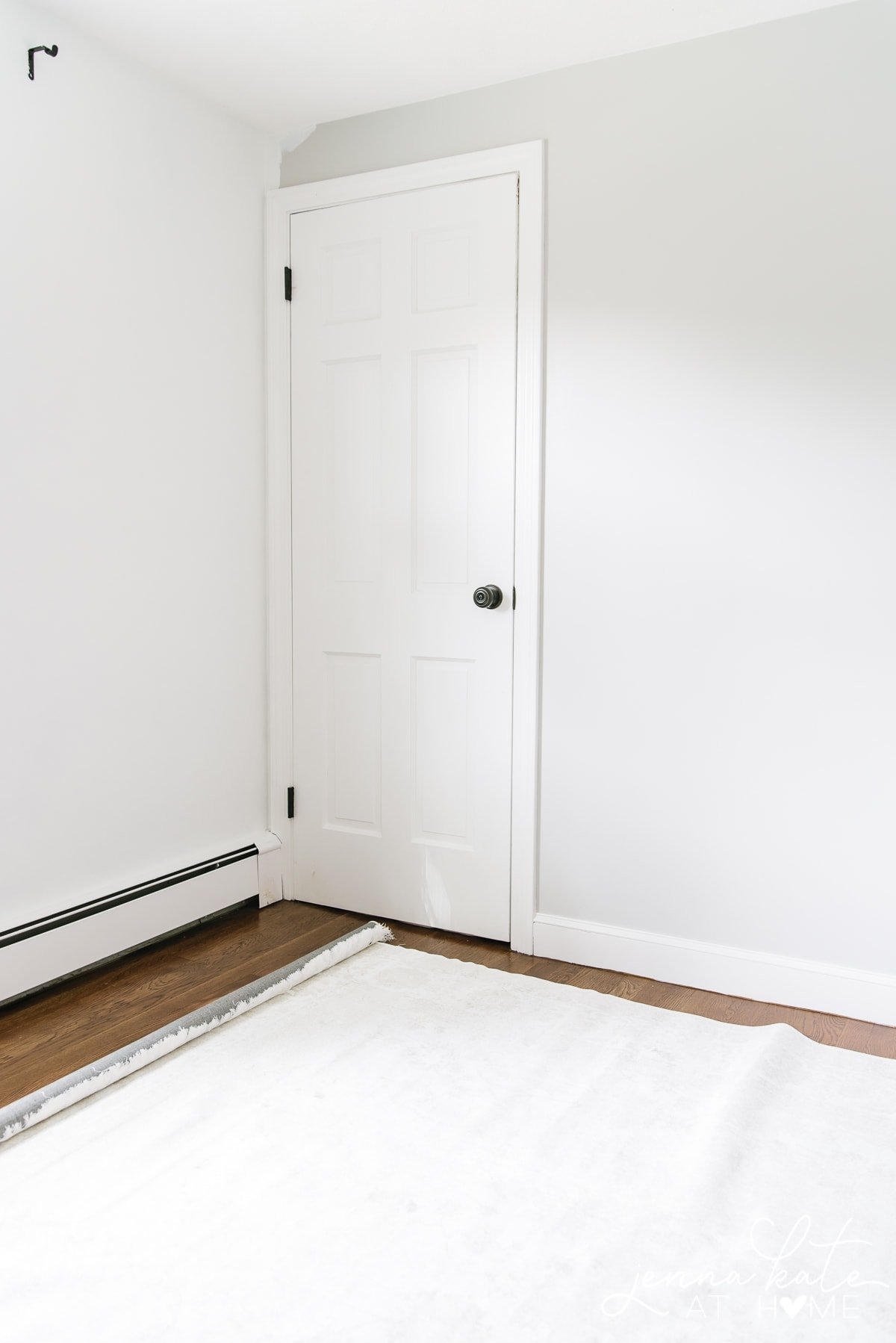 What Type of Paint to Use
I've spoken about my new favorite trim paint before (during our kitchen makeover) but if you missed my ode to it let me remind you why the Sherwin Williams Emerald Urethane Trim is amazing. I've already use it for painting my kitchen cabinets so I knew that it would also go on like a dream on the trim work in this room. For already painted trim, one coat was all I needed.There's no brush marks and it genuinely just looks so good.
The Emerald line of wall paint is one that I've used for years, too. It has great coverage and the second coat can be applied after an hour. Again, the finish is beautiful with no roller marks to be seen.
Don't Forget…
Don't forget – no matter what you've read or photos you've seen online, it's really important to sample paint colors in your home before committing!
Samplize provides real paint samples that are easy to move around your home, and cheaper than buying a gazillion paint pots! It's the only way I buy paint samples.