Modern Farmhouse Bathroom Makeover
A pink 1960s bathroom gets a modern farmhouse makeover. Featuring subway tile, honed granite and a reclaimed wood vanity with vessel sink, this updated bathroom is full of ideas for your own rustic and charming makeover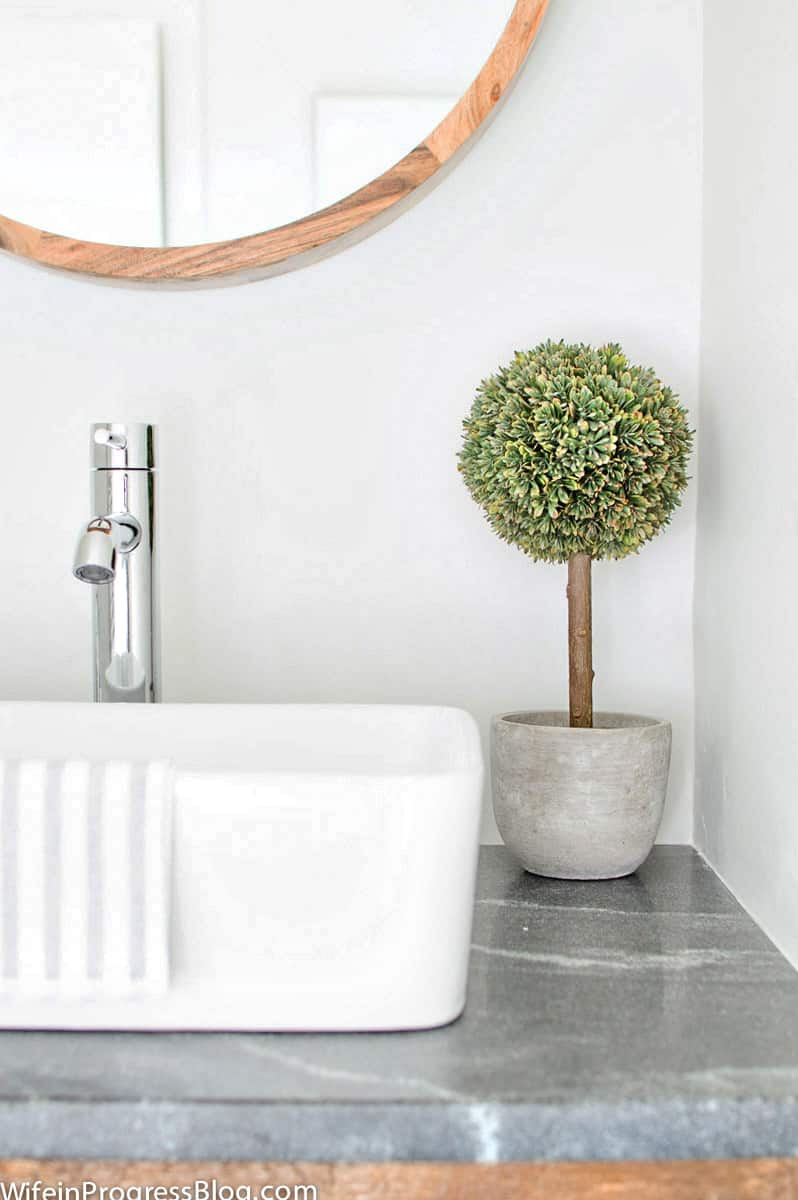 Pink was the quintessential color of any top-of-the-line 1960's bathroom. Also featured were wall-to-wall tiles (of the same dusty pink color), and matching bathtub.
Here is a classic example: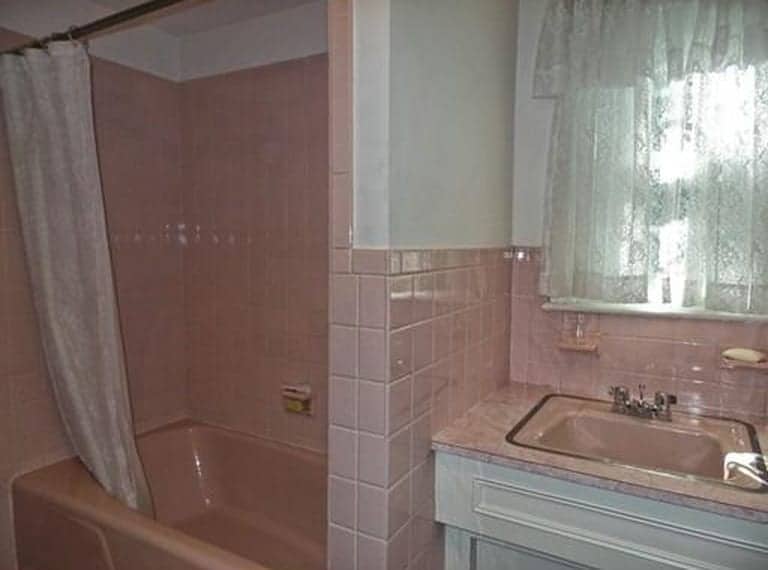 It was also the bathroom that I stared at everyday. At least, until I finally got around to renovating it!
And here's what it looks like now: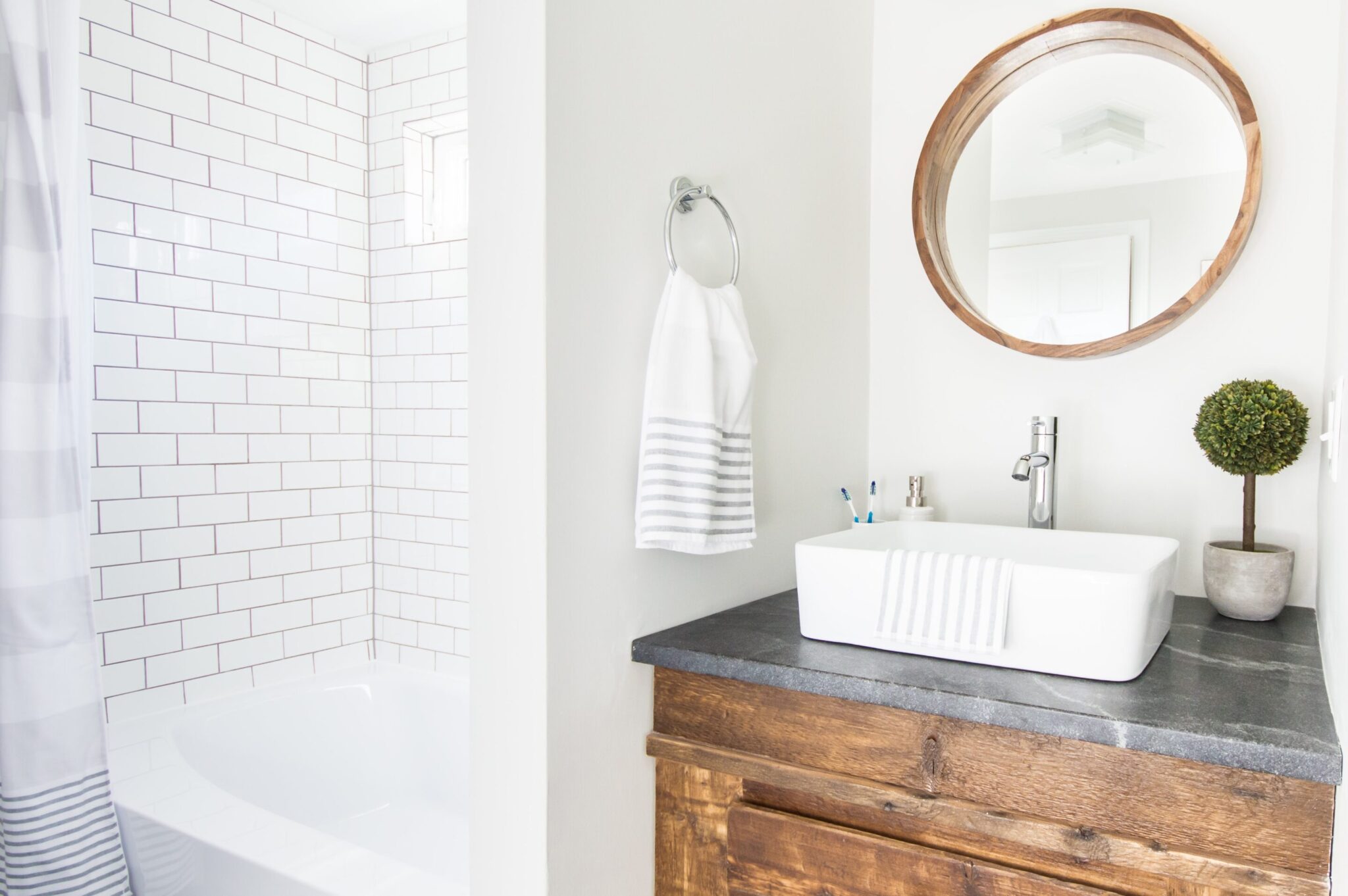 Hot to Achieve the Modern Farmhouse Style in Your Bathroom
I was originally going for a more contemporary look with white subway tile, white grout….everything white except for the rustic vanity. But that all changed with the tile was accidentally grouted the wrong color.
I firmly believe that everything happens for a reason, and so our modern farmhouse bathroom design was born. And I love it more than the original design!
If you are looking to get a similar look in your bathroom, there's a few key elements to consider including in your design.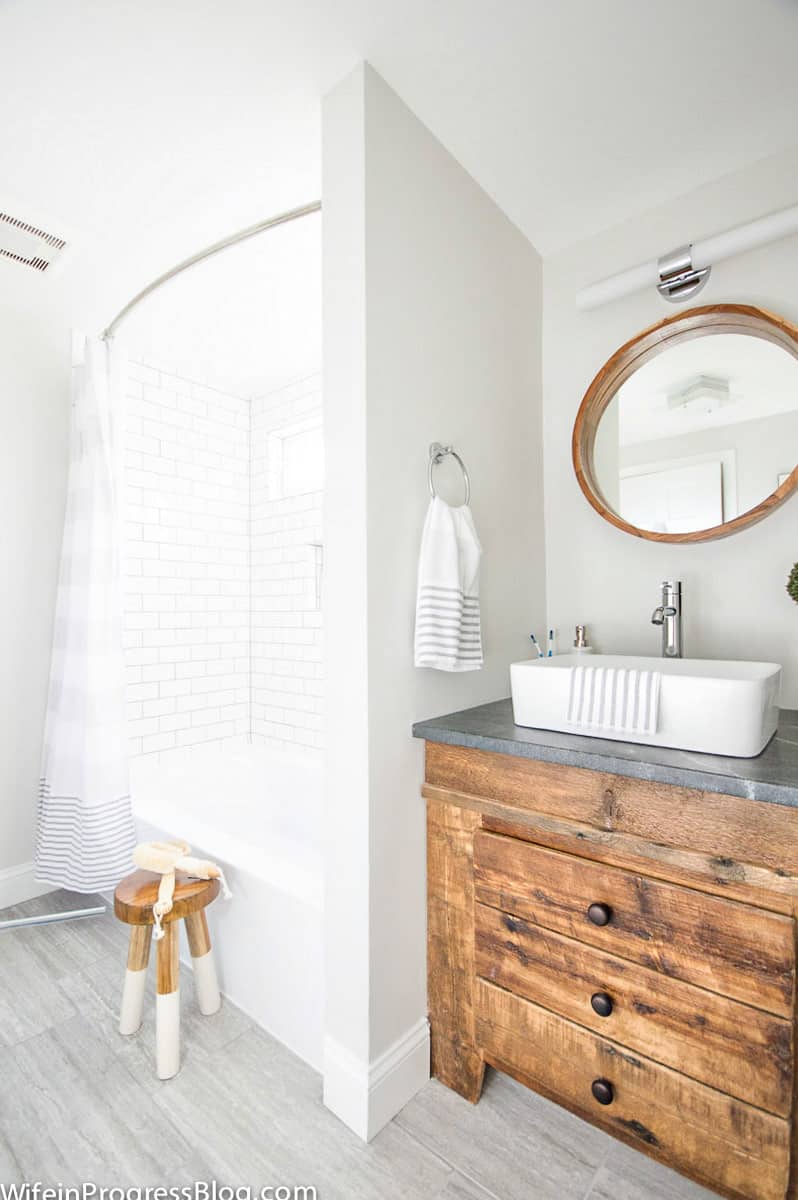 1. Start with a Neutral Color Scheme
I chose a fresh, light-gray color scheme for the walls and floor to offset the rustic details of my farmhouse decor. Starting with a neutral backdrop allows the other elements in the room (vanity, statement mirror, tile, etc.) really shine.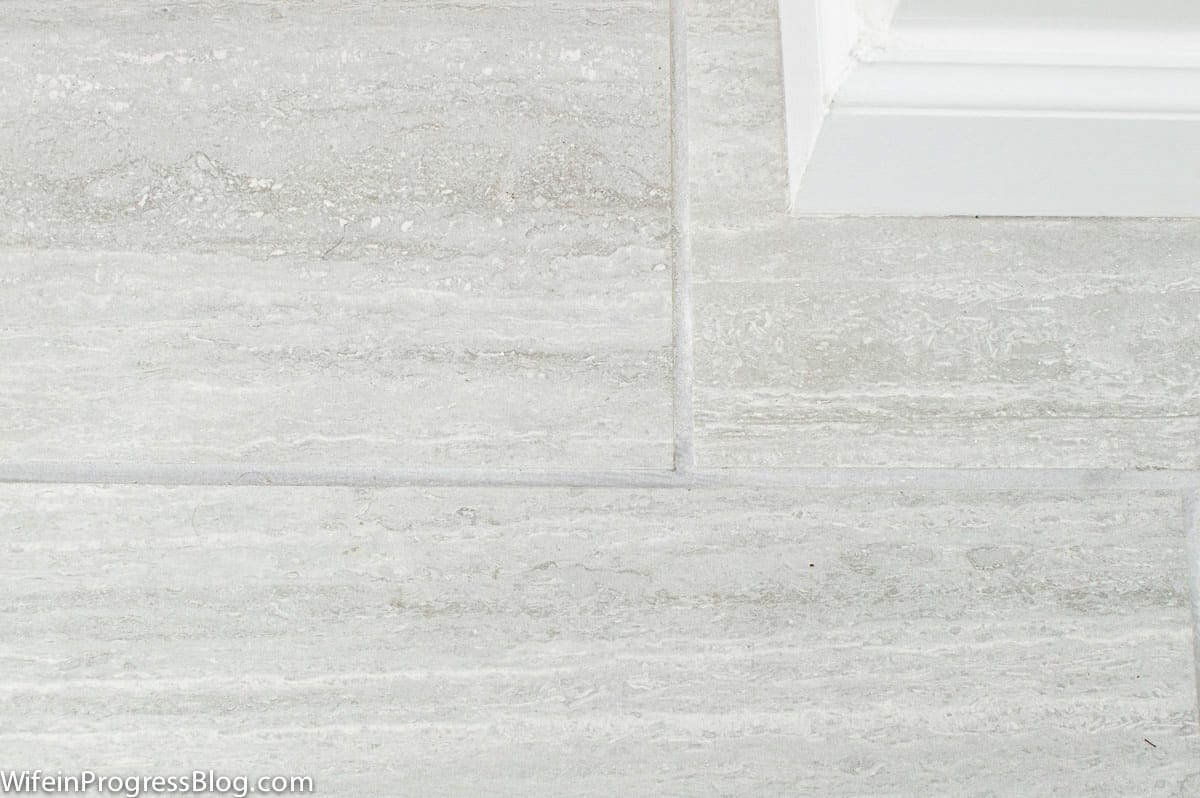 By toning down the wall color, you can even bring in a vibrant floor tile pattern like the cement tile we used in our powder room remodel.
2. Subway Tile is Always a Good Choice
White subway tiles are ideal for the shower area and withstand frequent splashes of soapy water from a happy toddler. Plus, they are one of the most inexpensive tiles you can buy so you can afford to tile a large space on a budget.
When using subway tiles, you can create an interesting contrast with light or darker gray grout. If you do choose a white grout, make sure you apply sealer to protect the grout or it will stain very easily.
Shiplap walls also add a modern farmhouse feel and are easy to install. However, because shiplap walls can warp in humid spaces, they will be more suited to a powder room. PVC shiplap panels can be purchased, which are more appropriate for damp environments where there's a shower or bath.
3. Bring in Natural Wood
Bringing in a rustic touch with natural wood really adds farmhouse charm to any space. For this bathroom, I had the vanity custom-built to fit our little alcove. The wood is actually reclaimed floor boards from a brownstone in Boston. Isn't that neat? The granite top was picked because it almost looks like soapstone. I love that is adds a more masculine or even industrial touch to the vanity.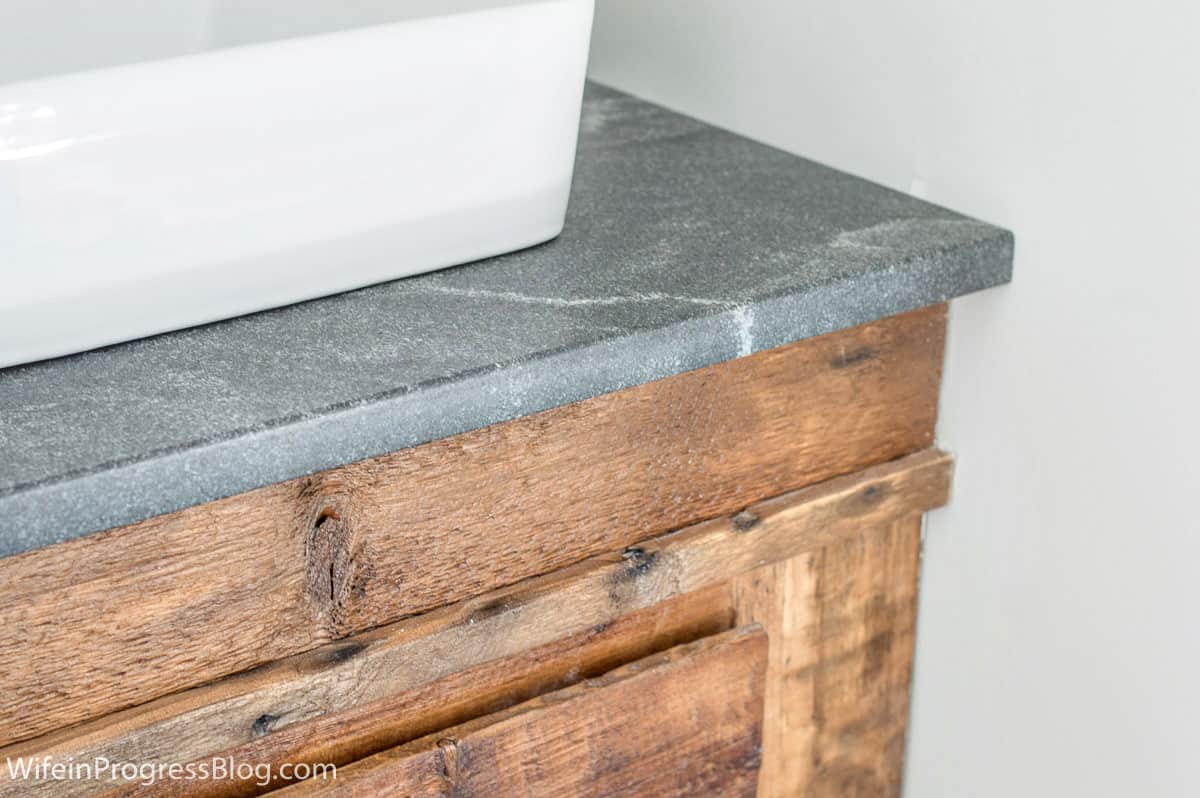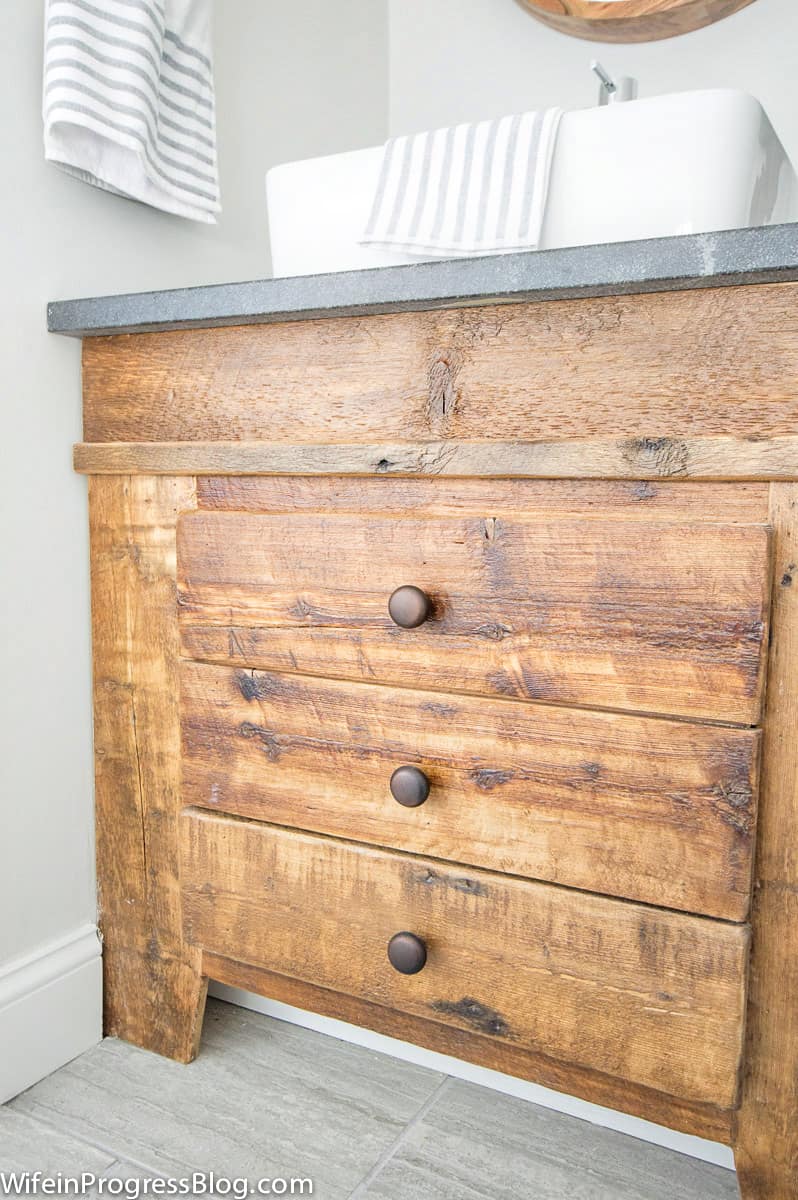 Another reason I went custom was because our plumbing comes in from the side. Every single vanity that I found had drawers on the left side that would prevent any plumbing. We can across this issue with our last vanity too and basically had to hack the inside to pieces to make it work.
Like I mentioned, the vanity was built to accommodate our plumbing….and you won't believe it – it doesn't have any drawers! I asked the carpenter to build the front so it looked like drawers but opened like a cabinet door. I'm so proud of my ingenuity!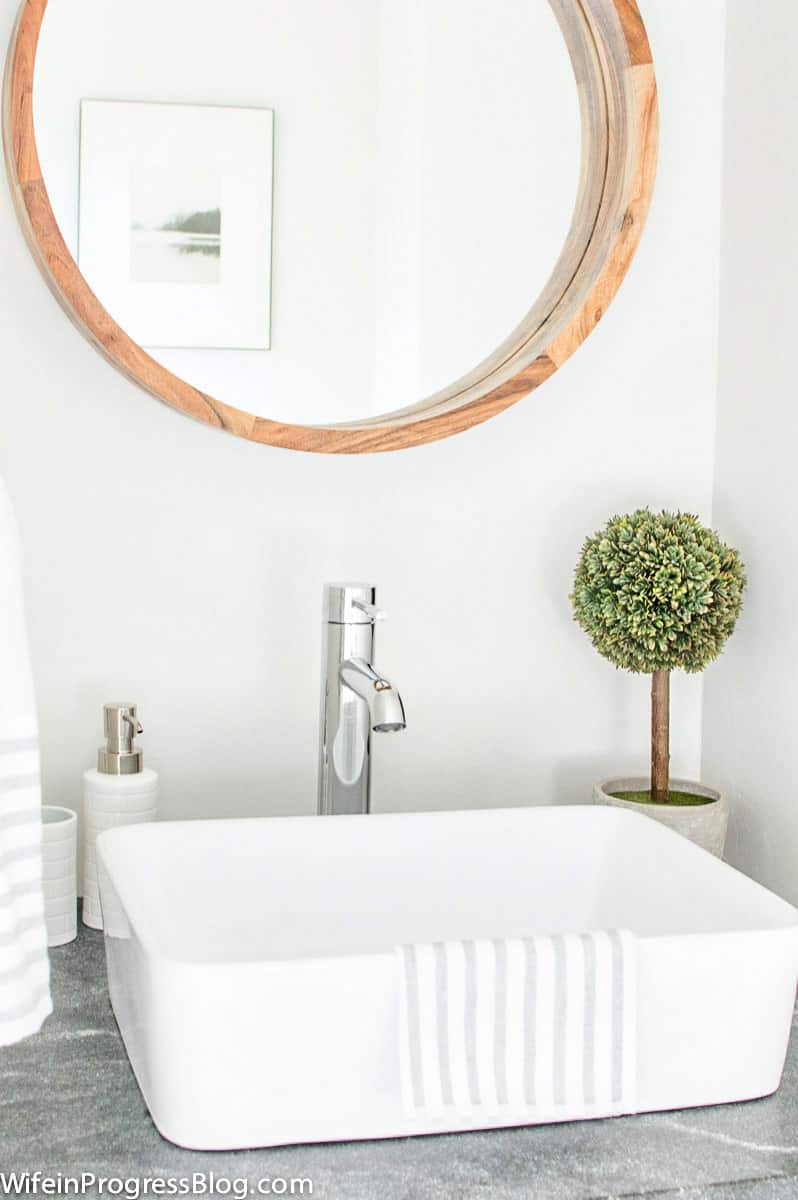 4. Choosing Fixtures
We chose chrome fixtures but brushed brass or matte black works well too. Also, don't be afraid to mix metals. In our powder room, we mixed oil rubbed bronze with antique brass and I love how it turned out. Just remember that they should appear 3 times in order for it to look intentional.
5. Elevate The Style with Statement Pieces
The vessel sink and faucet were bargains that I scored on Amazon. They are both solid and look amazing!
Don't underestimate the appeal of a stand-out mirror! I chose one with a round wood frame that accentuates my new sink and breaks up the straight lines of the tiles, vanity and light, but something with an arch and a contrasting metal would have worked equally well.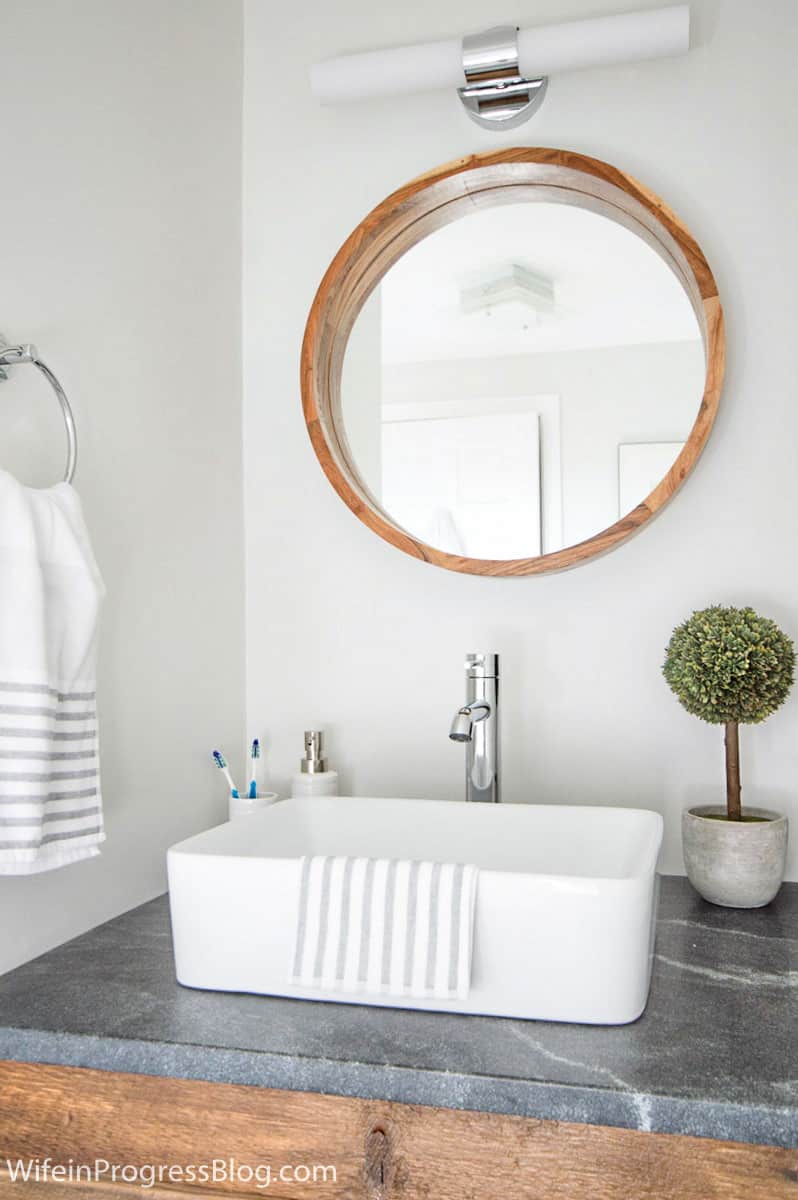 6. Explore New Lighting Options
This alcove previously had a window which meant we could not hang a mirror. We removed it, moved it to the bath alcove and added a new light here instead.
The light fixture illuminates the vanity area perfectly, allowing for shaving or makeup application. If your vanity area has more space, adding scones on either side of the mirror is preferential. Again, don't be afraid to mix metals!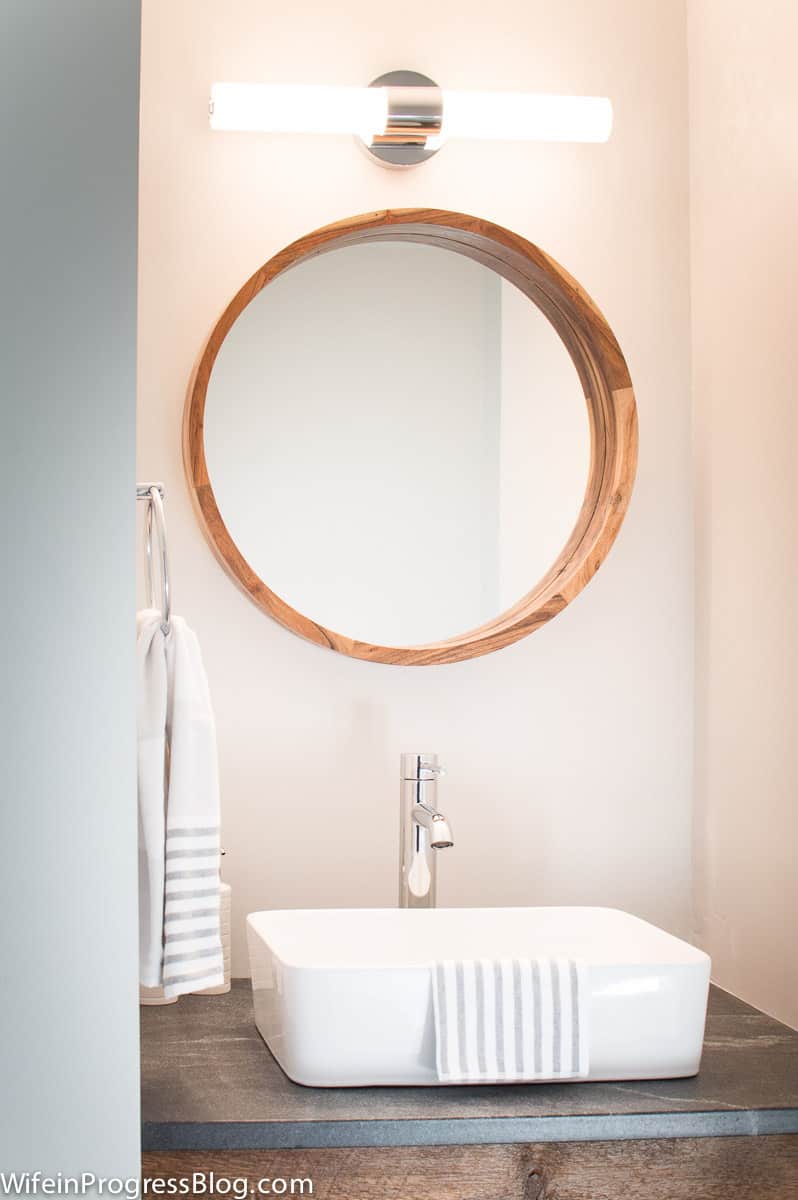 Our ceiling fixture is simple and understated, which is perfect for this small bathroom with low ceilings. If you really want to add the wow factor, or add an unexpected element to the design, consider a large statement fixture that will add softness to the industrial edge that the farmhouse look can sometimes have.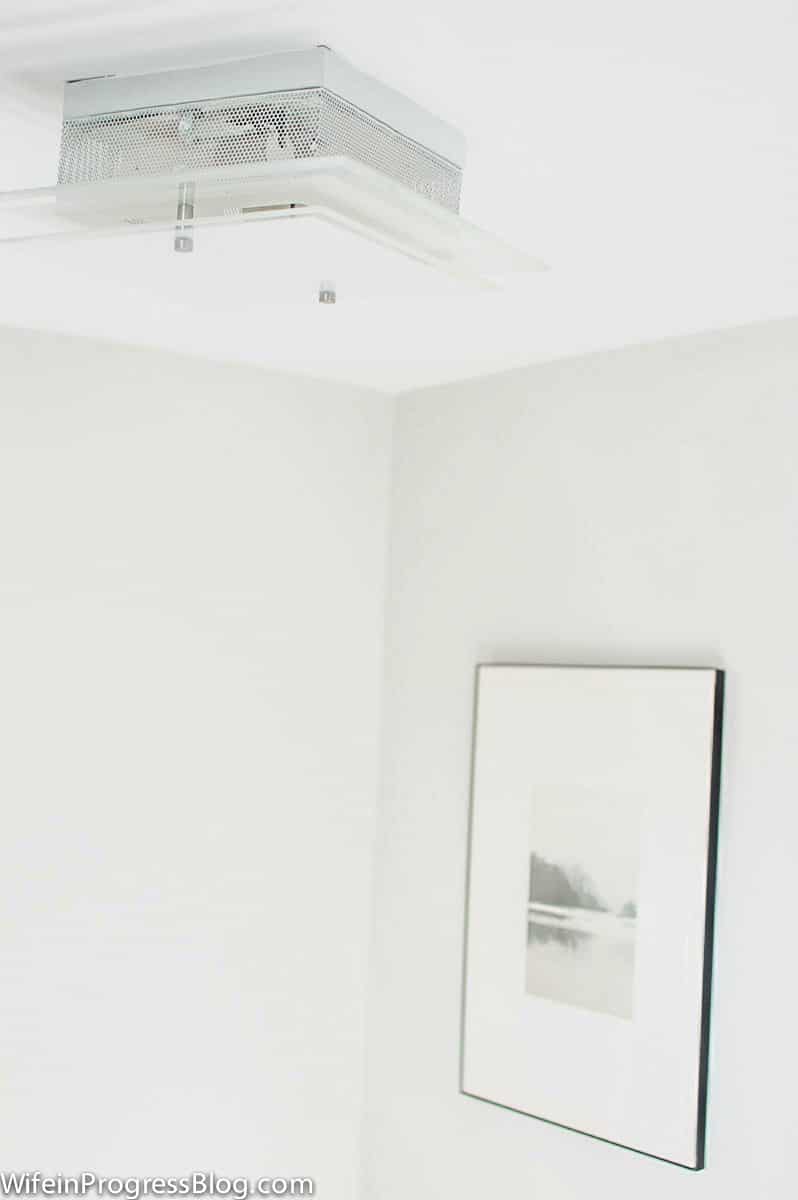 The view while showering in here is spectacular. Because our backyard has so many huge trees, you can see their canopies through this window. It makes for quite the beautiful picture out the bathroom window!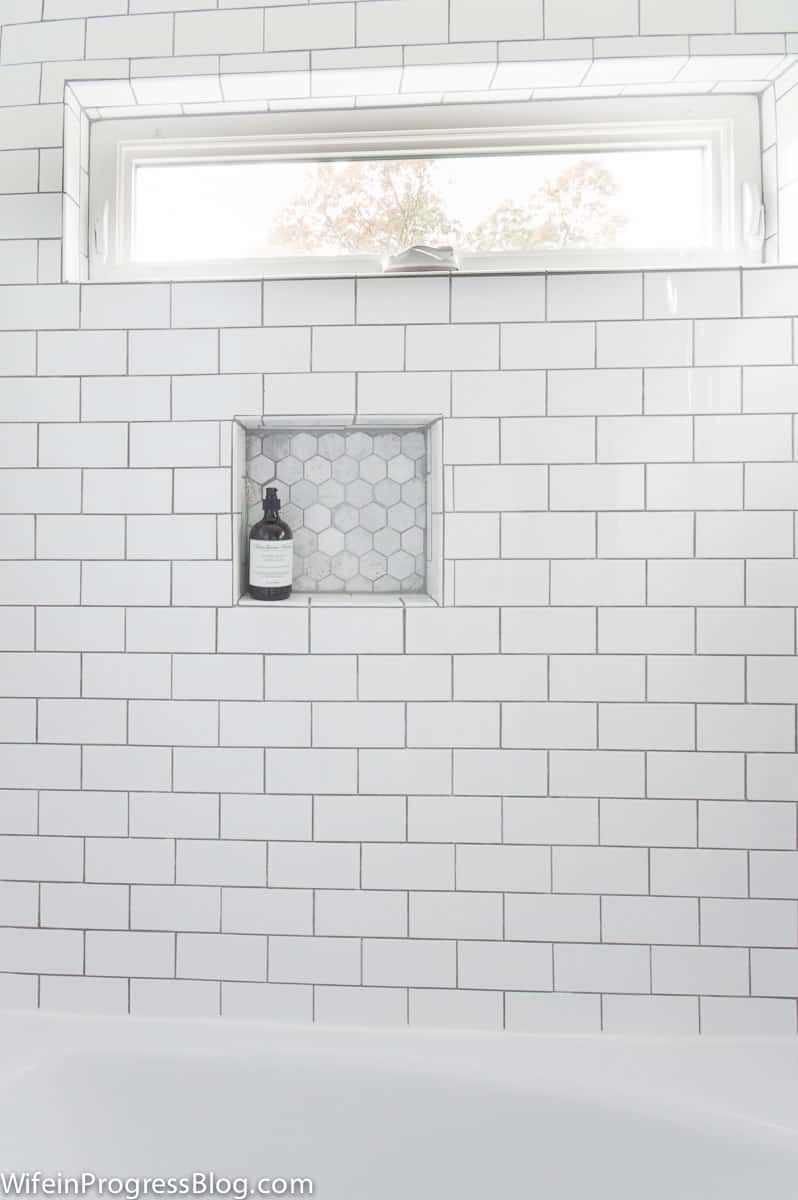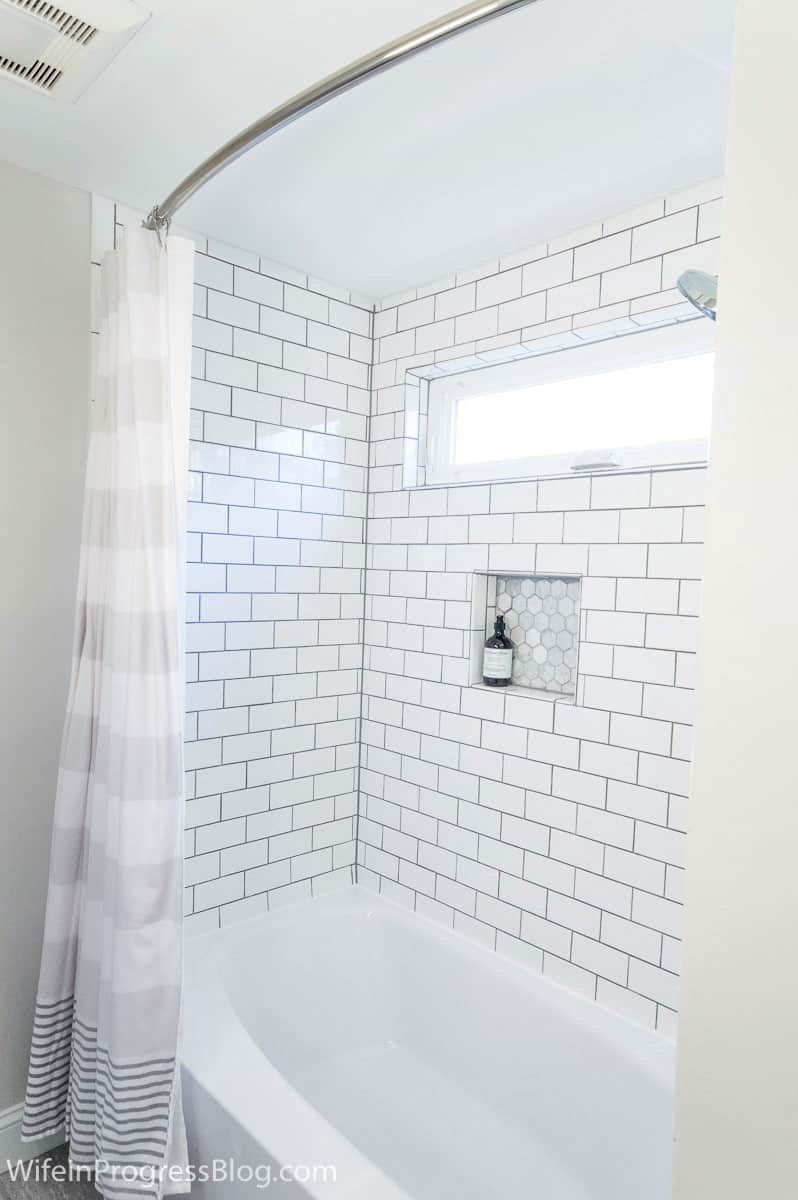 7. Save Your Tub – Use a Liner
Removing the cast iron tub was going to prove too costly and too much of a pain so our options were either to reglaze or put a liner on it. I was warned that if we went with reglazing, the smell of the epoxy would prevent us from being in the house for a few days. With a baby and a toddler, the idea of noxious fumes was completely off-putting, so we went with an acrylic liner instead. Doesn't the tub look brand new? It was custom made to fit our tub, manufactured within three weeks and installed in a couple of hours.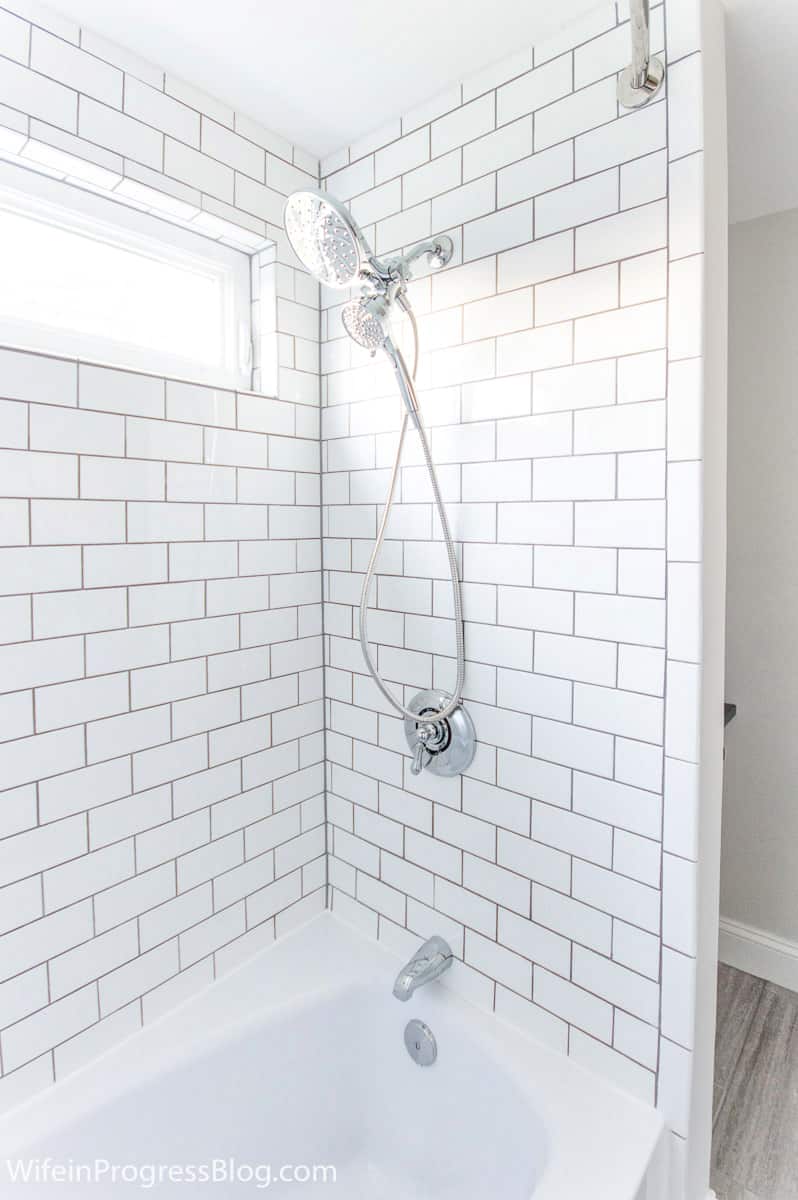 8. Keep Accessories at a Minimum
In an attempt to "start as you mean to go on", I've kept decorating in here to the absolute minimum. I don't want extra things that I need to clean or dust.
The vanity has plenty of storage underneath, so keeping all our bathroom items organized is a breeze. the soap and toothbrushes hang out on the counter and there's just one piece of art hanging above the toilet. It's a small bathroom and too much stuff will eliminate the bright and clean feel pretty quickly.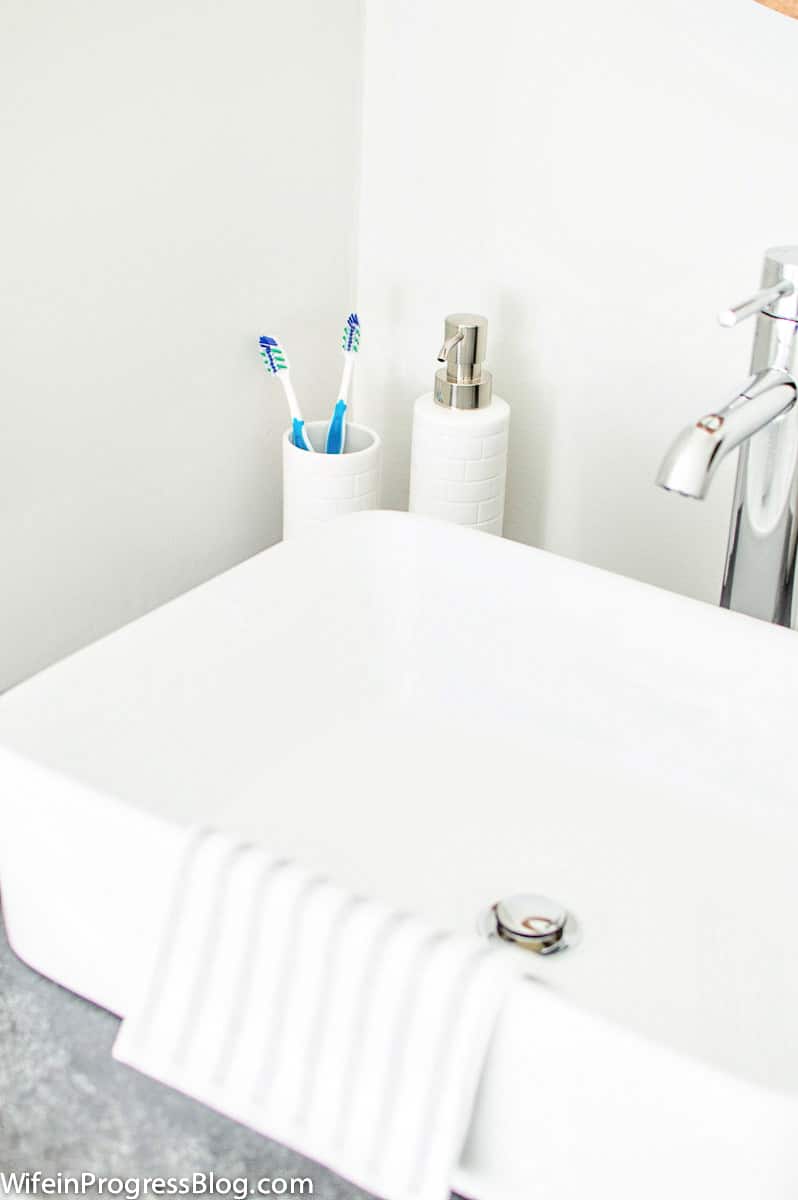 This little stool allows me to sit next to the kiddos while they take a bath, and adds in more of that warm, rustic charm – similar to the vanity.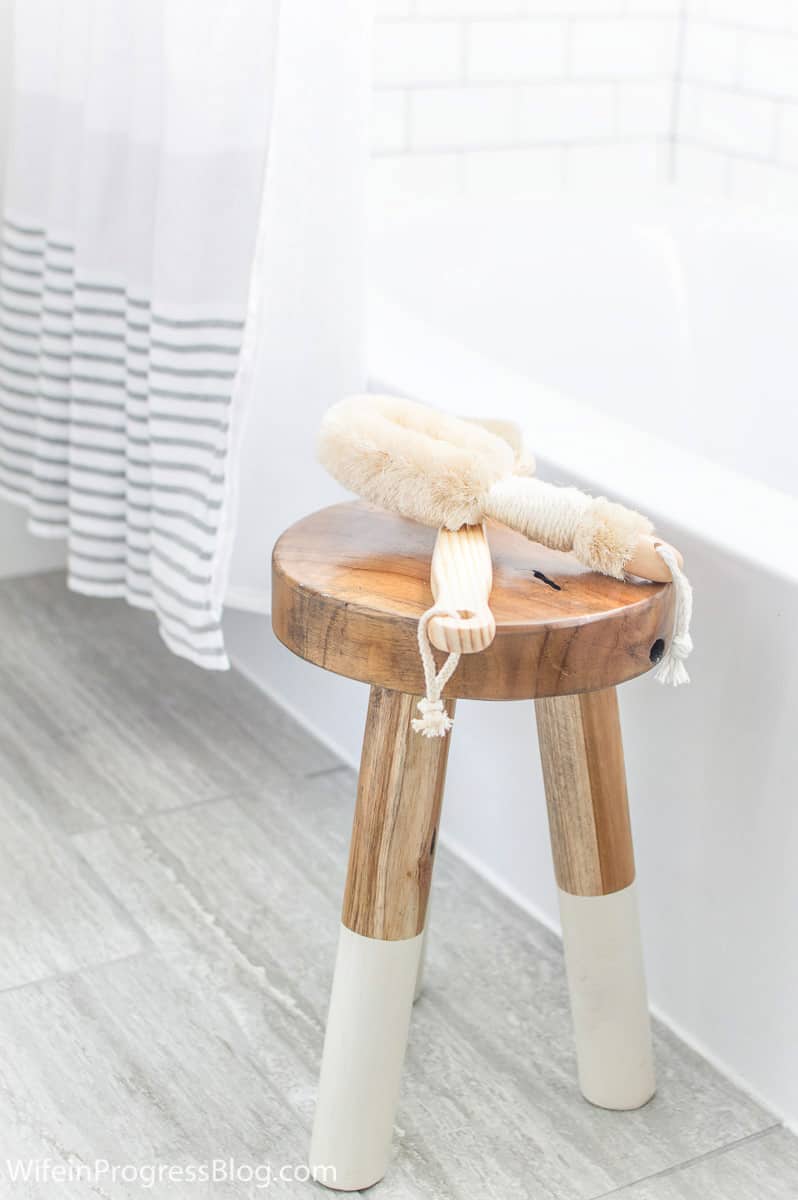 We kept the walls pretty bare in here, too. Maybe I'm a minimalist at heart? Who knows! Either way, it's a small space so I didn't want to busy it up. I added some beautiful artwork and popped it into a slim back frame over the toilet.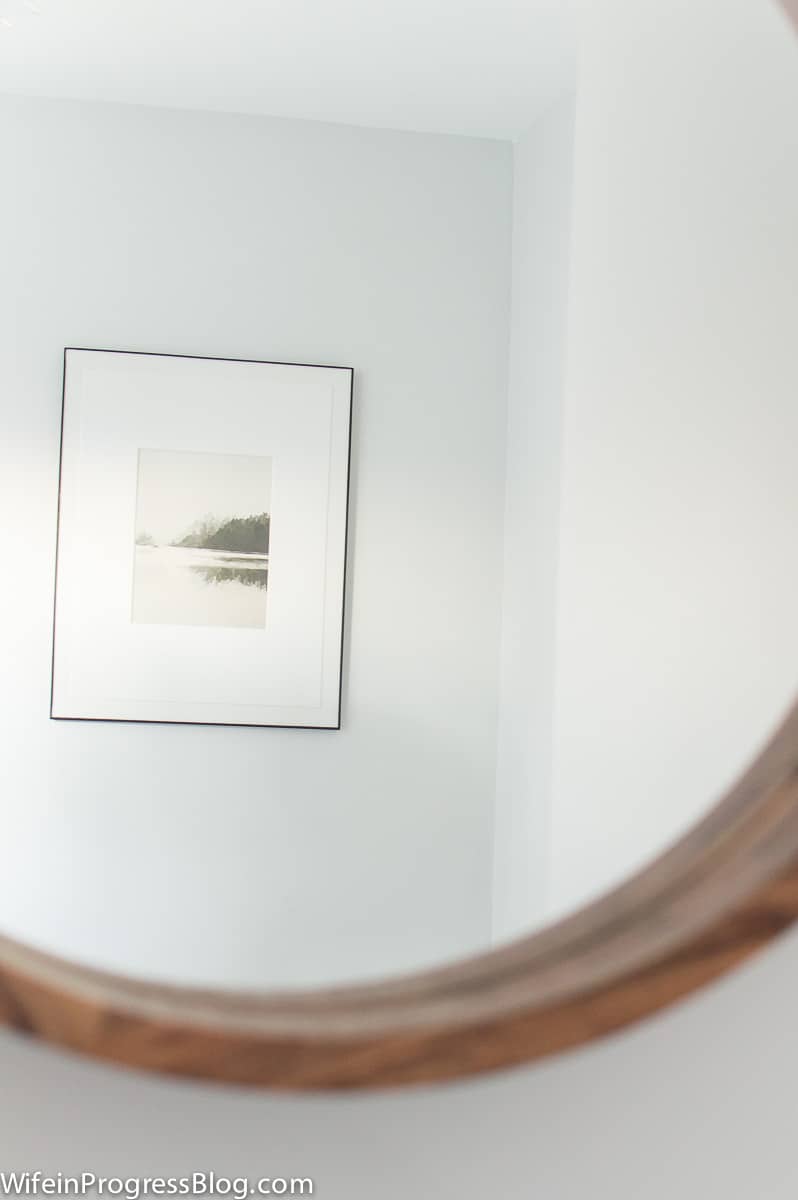 RELATED: DIY Bath Bombs
Apart from the mirror, towel rack, robe hook and toilet paper holder, nothing else got hung on the walls!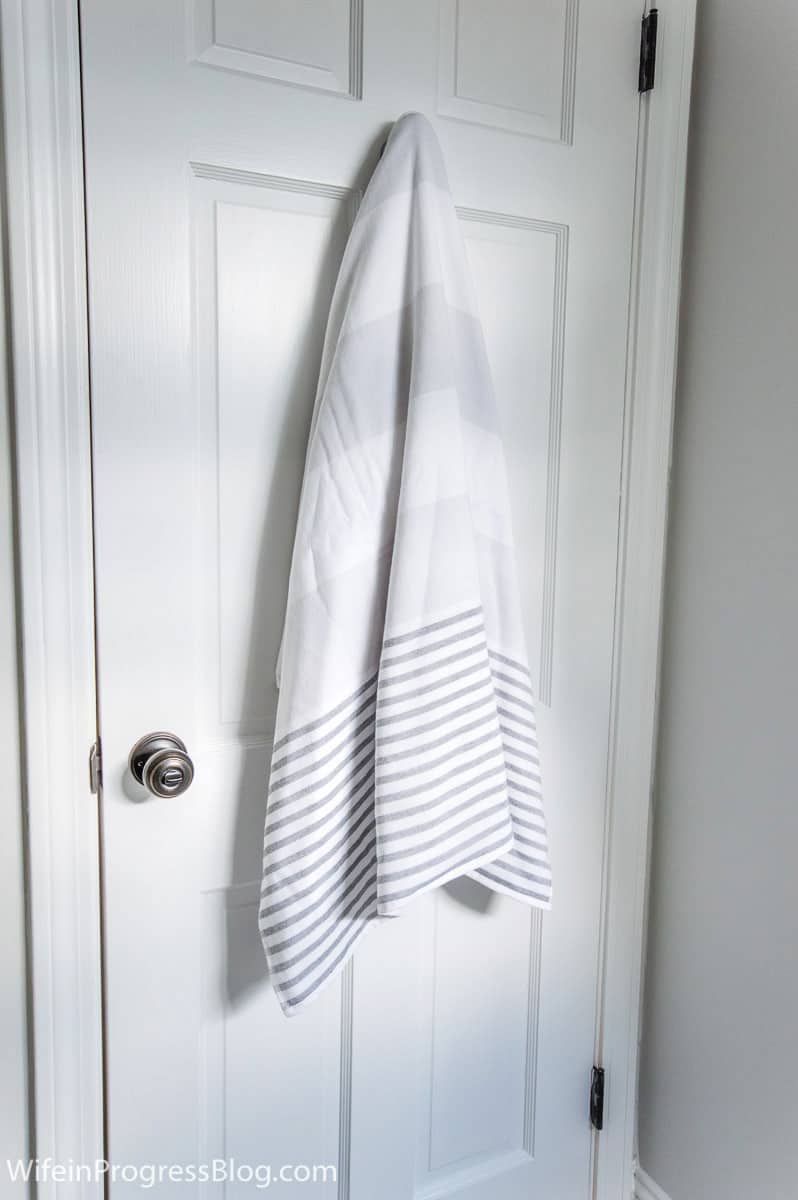 One final shot!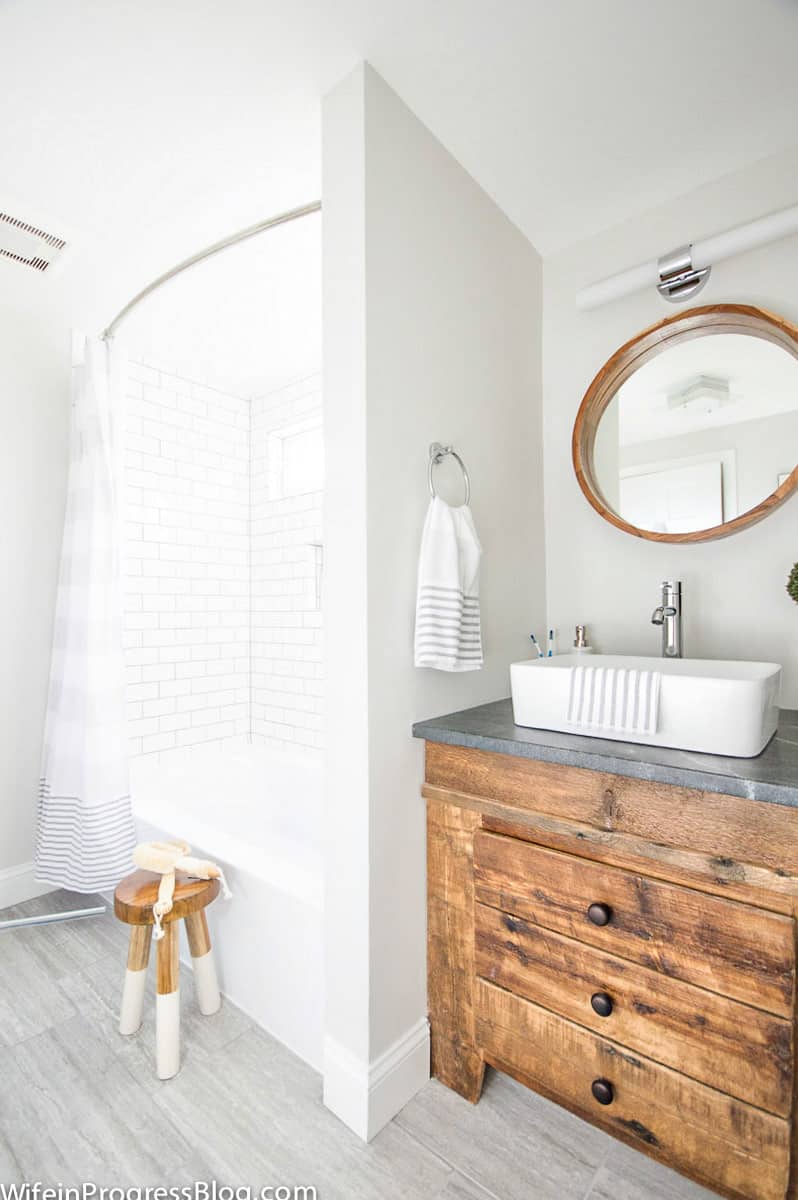 What do you think of the completed Modern Farmhouse Bathroom Makeover? I'd love for you to leave a comment and let you know what your favorite part is!

Source List
Wall color:
Paper White, Benjamin Moore
Trim color: Decorator's White, Benjamin Moore
Vessel sink
Chrome faucet
Granite:
"Jet Mist" a honed granite
Vanity: Custom (
similar here
and
here
)
Mirror: HomeGoods (
similar here
)
Vanity Light
Ceiling Light
Artwork
Subway Tile
Floor Tile
Marble Tile
Grout – Delorean Gray
Shower Curtain
Towels
Stool
Bath Brushes
Shower Head
Bath Trim Kit
Bath mat: Target
Bathroom accessories
(towel right, toilet paper holder, etc.)
Shower rod
Murchison-Hume Soap
See the full bathroom remodel from start to finish…
Week 1 | Week 2 | Week 3 | Week 4 | Week 5 | Week 6 | The Reveal