No Sew DIY Burlap Table Runner
This easy no sew DIY Burlap Table Runner is the perfect project to kick start your DIY decorating skills. Plus, this method in this tutorial works for any fabric so the possibilities are endless!
Burlap fabric is like a favorite T-shirt in your closet you love to wear all the time. It's classic and simple enough to complement any home decor but also looks elegant on its own.
I had bought some burlap once, intending to make a table runner out of it (because it's one of the easiest projects you'll ever do!). It remained in my office closet for months until I found a roll of the most darling burlap ribbon to add to it.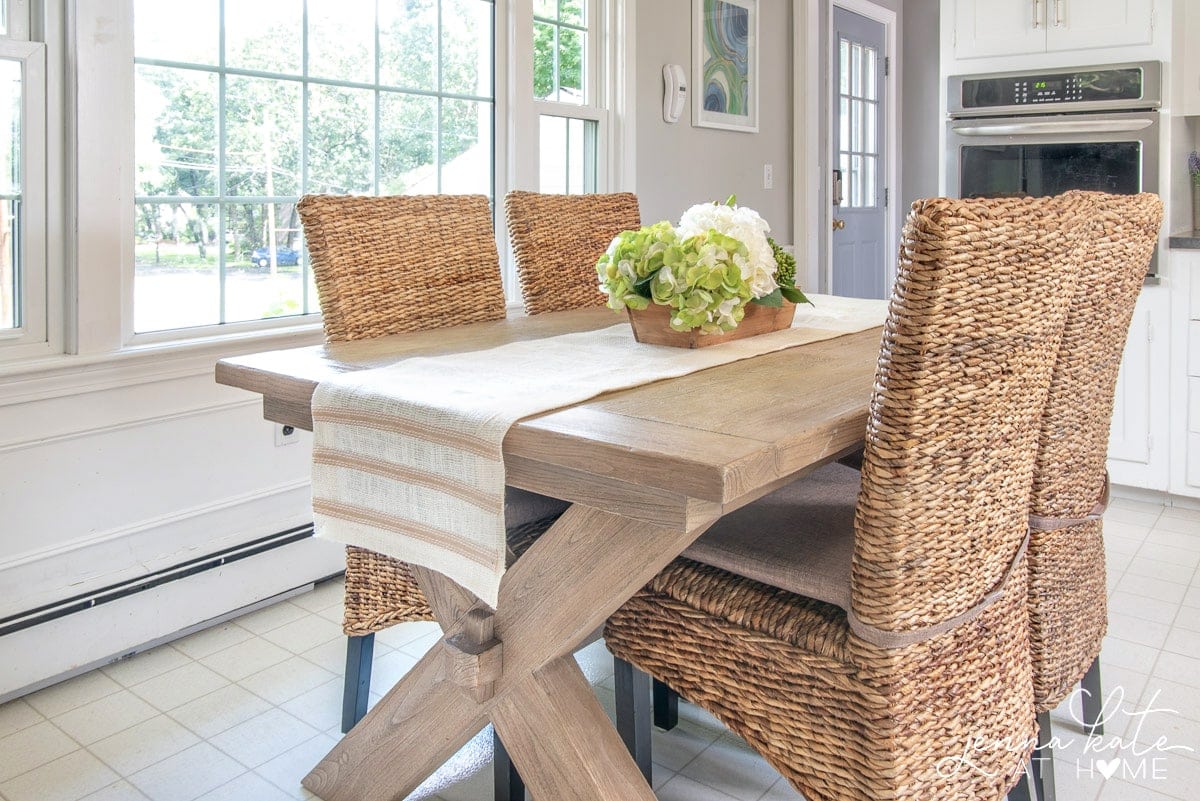 Don't worry if you have no sewing skills – this one is super simple. If you can cut a (relatively) straight line, you'll have a fabulous burlap runner ready for decorating in about 20 minutes!

What You'll Need
Burlap – measure the length of your table and add about 10 inches so that there's enough of the runner to hang over the side. If you don't want your runner to hang, the length of the table plus around 3 inches for the seams will be fine.
Measuring tape or ruler
Burlap ribbon or any other decorative touches you want to add
Iron
How to Make Your Burlap Table Runner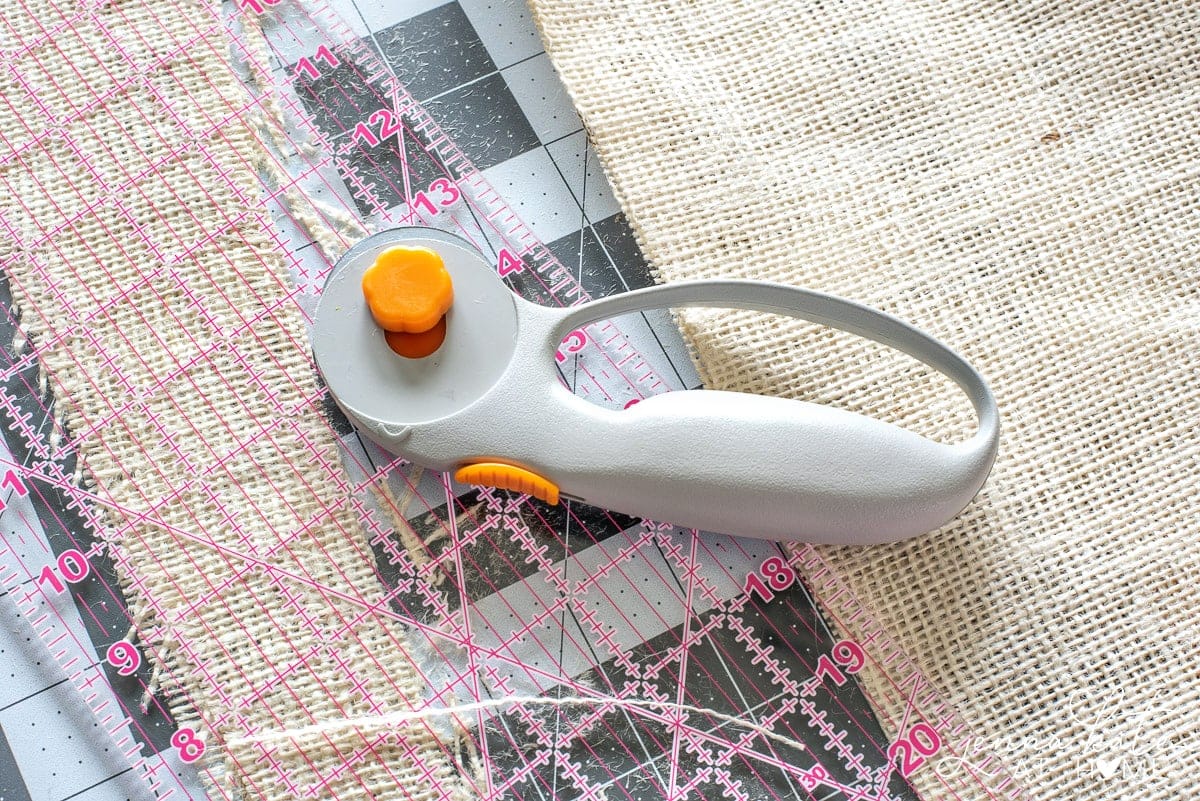 Calculate the Measurements
Determine what length and width you want the runner to be. I wanted my runner to sit centered on my kitchen table with enough space so that plates wouldn't touch it. I decided a 15 inch wide would be perfect and added on 2 inches on each side for the seams. So in total, I cut my fabric to a width of 19 inches.
My table is only 5 feet (60 inches) long and I wanted the fabric to hang over the edges so I added 8 inches to each end for the overhang plus an addition 2 for the seam allowance. So in total my runner was 60 + 8 + 8 + 2 +2 = 80 inches long. There's no wrong way to measure this, just do whatever works for you and your table!
Cut & Hem the Burlap Fabric
Cut the length and width of the fabric. I like to use a straight edge and a rotary cutter (I use this exact set) to get a really clean edge but a good sharp scissors works just as well.
Create a hemmed edge on the long sides of the fabric first. Simply fold over the fabric to create a hem approximately 1.5 to 2 inches wide.
Fuse & Iron the Edges
With a tea towel on top, iron down the crease. Cut your fusible tape to the length of the side. Tuck the fusible tape inside the hem.
With the tea towel over the fabric, press the iron down for about 8 – 10 seconds on each spot to adhere the hem.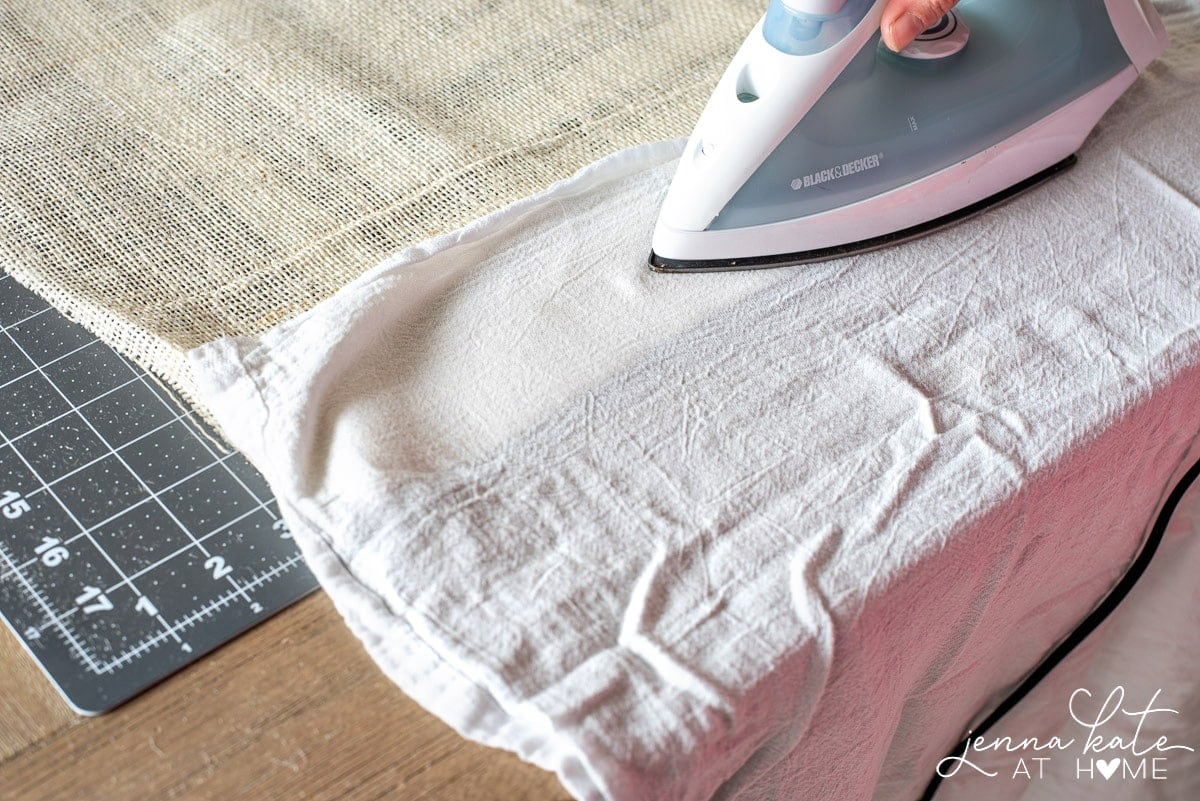 Repeat for the opposite side of the runner.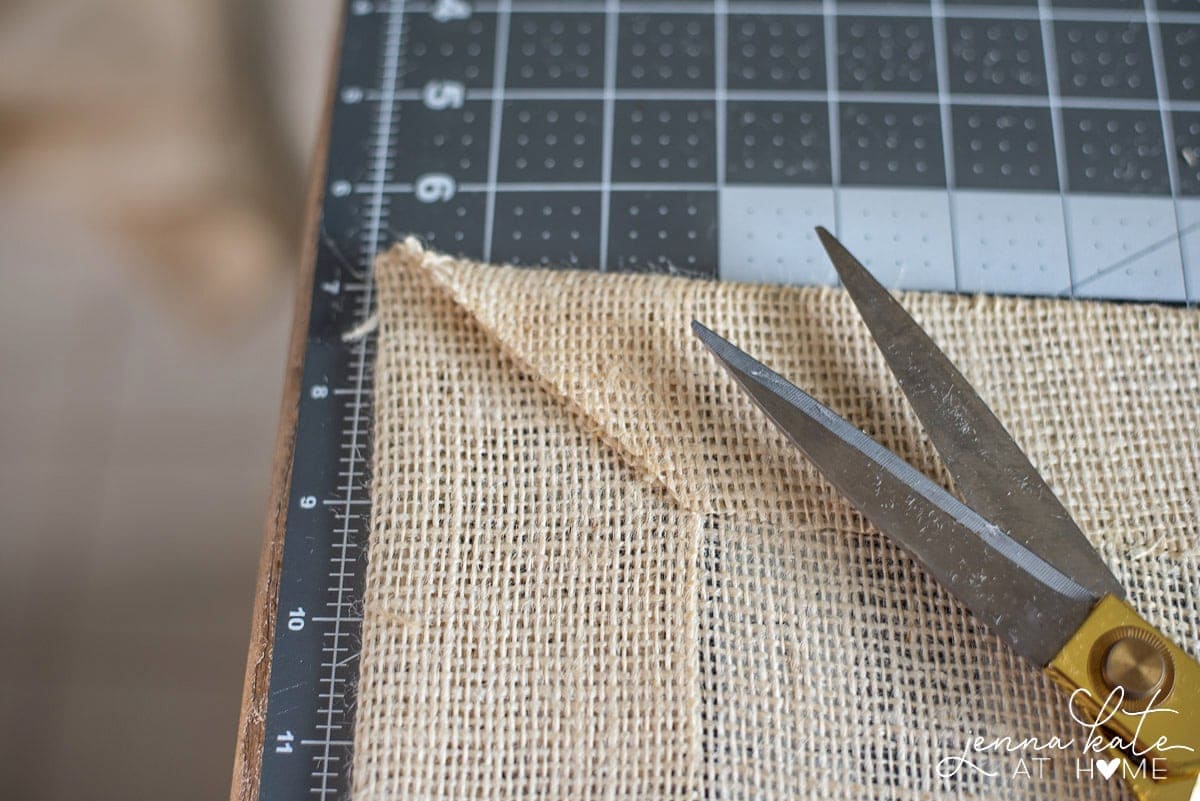 The process for the short sides is the same, except before you iron it down, cut the extra bit of corner fabric at a diagonal so that it's not all thick and bulky. This also gives you a nice clean edge that looks professional.
Add Embellishments to Your Table Runner
Finally, add the decorative touches to the end of the runner. I chose a burlap ribbon with white stitching. I cut each piece the same width as the runner, ran the fusing tape along the back and ironed it down.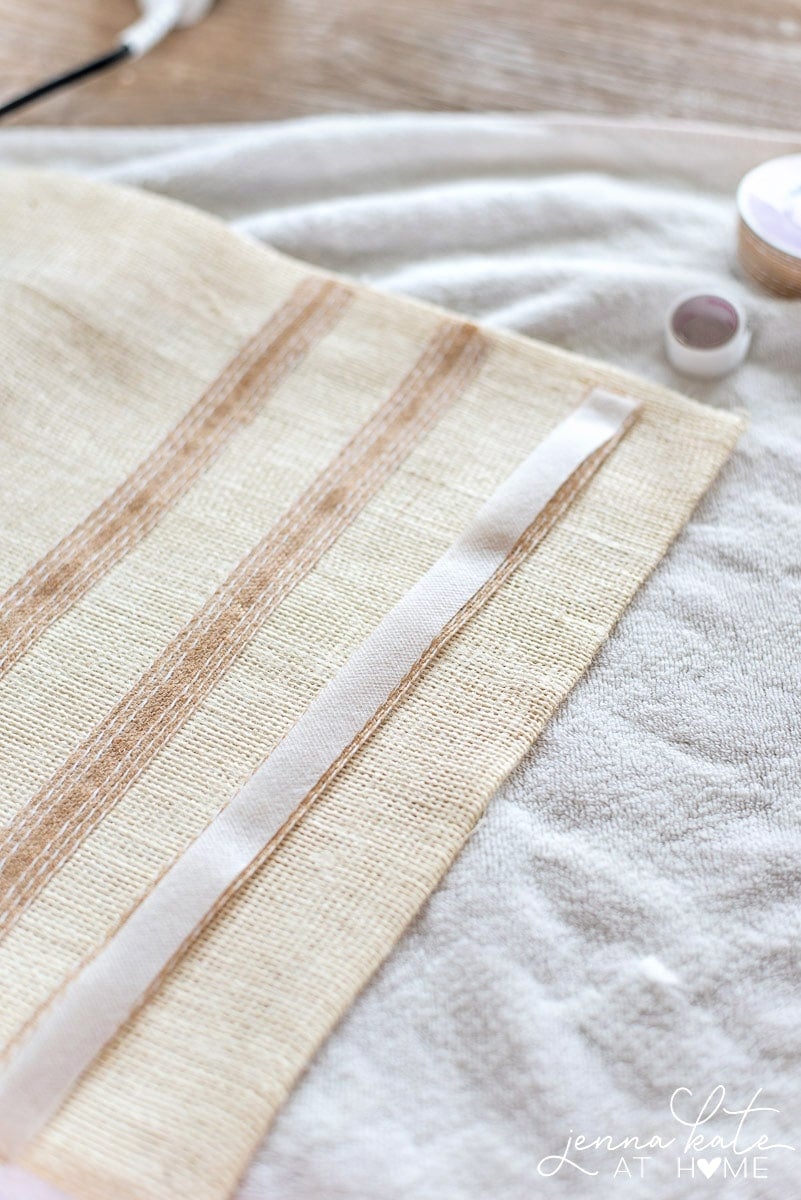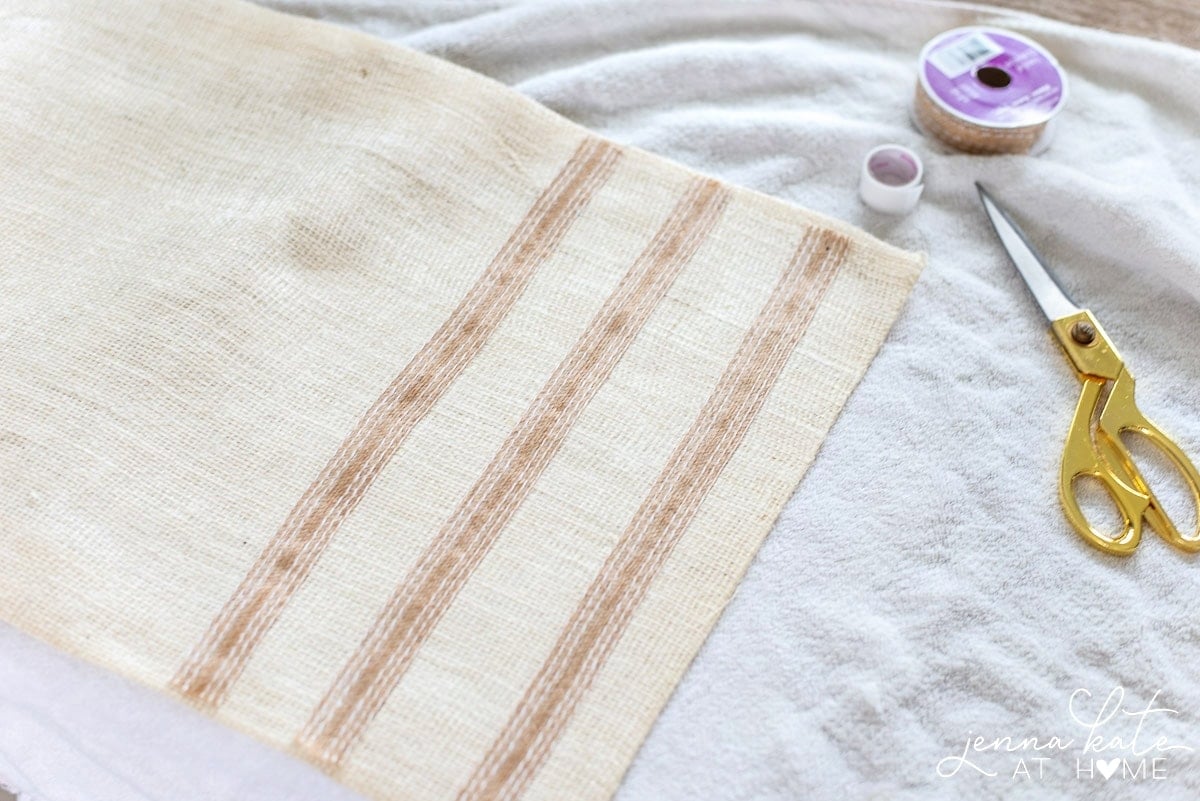 And that's it – a super easy DIY burlap table runner that required no sewing!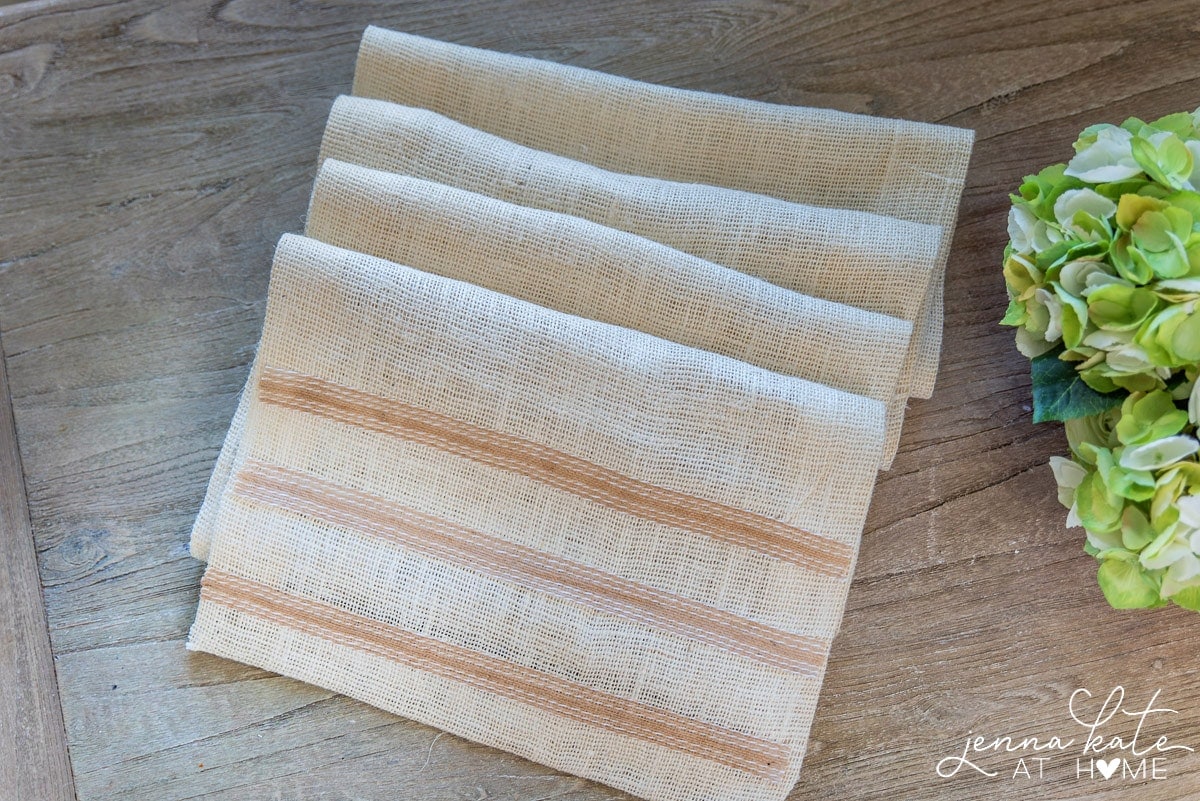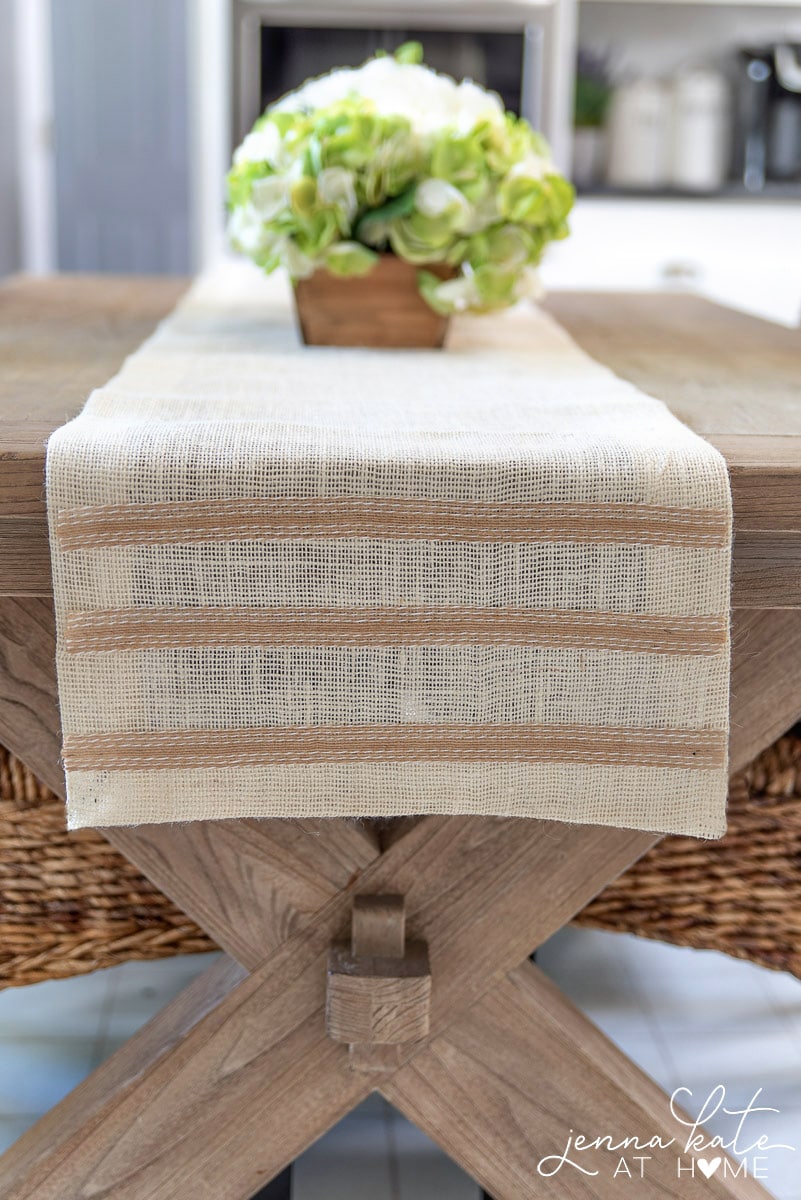 I like the simplicity of the runner on my farmhouse style kitchen table and chose to only place my favorite faux hydrangeas up there. Of course, you can feel free to adorn it with all your favorite fall decor – or just let the pretty runner speak for itself!
And if you have extra fabric left over, why not make a simple DIY burlap wreath as well?!
Other DIY Projects