Beautiful Front Door Colors
Inject color and personality into your curb appeal with these front door paint colors.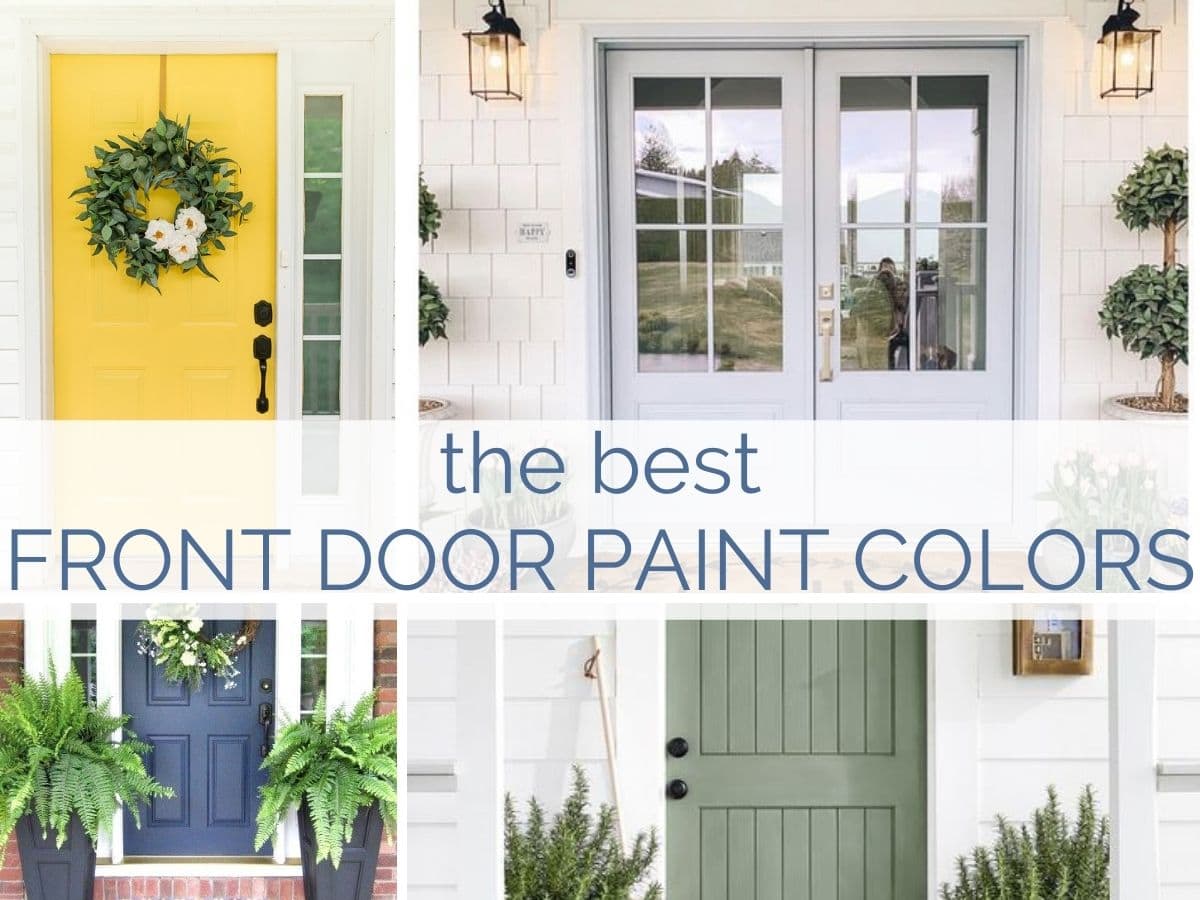 Painting your front door is the easiest way to add curb appeal and inject personality into your home.
A front door paint color is the one of the first impressions guests will have of your home. What does your door say about you? I think it should be a reflection of your personality as well as what's inside your home.
If the interior of your home is fun and colorful but your front door is white, it doesn't really match, does it? On the other hand, if you paint it a vibrant blue, pink or green it's a nod of what's to come.
A more traditional home might prefer a simple, yet classic black door.
Even if you play it safe indoors, the front door is a fun place to inject a color you may not otherwise be able to decorate with – hello sunny yellow!
What The Best Color For a Front Door?
There's no such thing as the "best" color. Color is subjective and what I love, you may entirely dislike. With that being said, the color of your home as well as the style will play a role in deciding what paint color will work best for your front door.
It's important to choose a color that you like and that make you happy every time you see it. Other than that, just make sure it works with your home's siding or brick, as well as other features like shutters.
Gorgeous Front Doors (With Pictures!)
Check out the following front doors, featuring my favorite shades of paint. Hopefully, seeing these front doors will help you figure out what you want for your home's exterior!
Black Front Doors
Sherwin Williams Tricorn Black
Sherwin William Iron Ore
Benjamin Moore Wrought Iron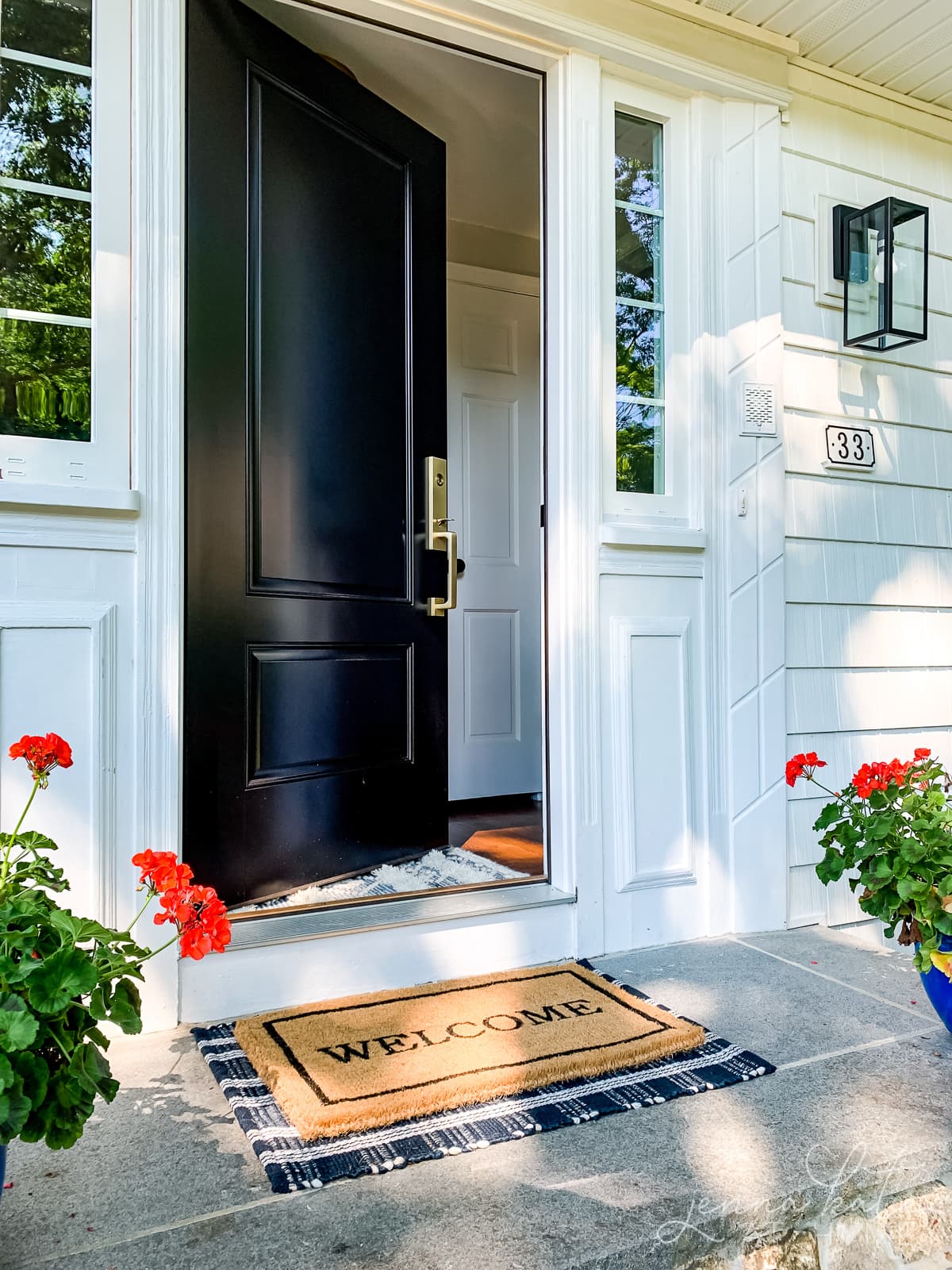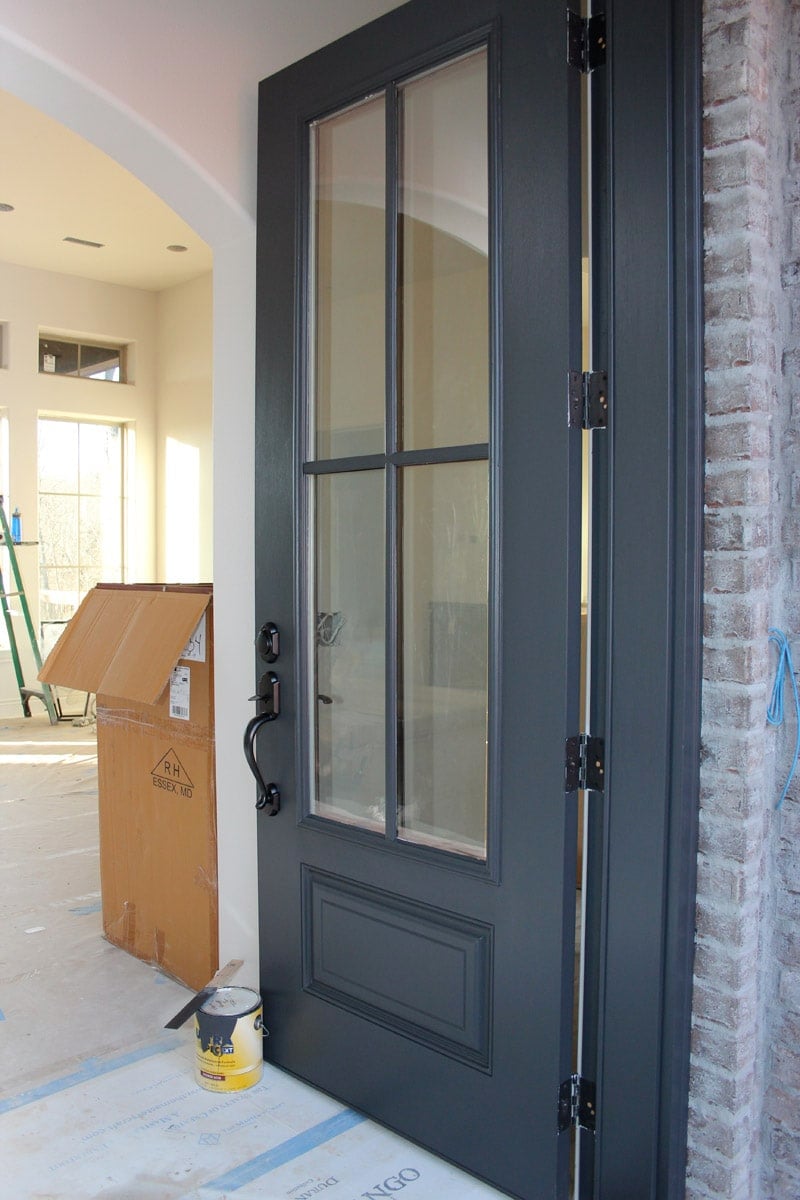 Sherwin Williams Naval
Benjamin Moore Hale Navy
Sherwin Williams Anchors Aweigh
Benjamin Moore Admiral Blue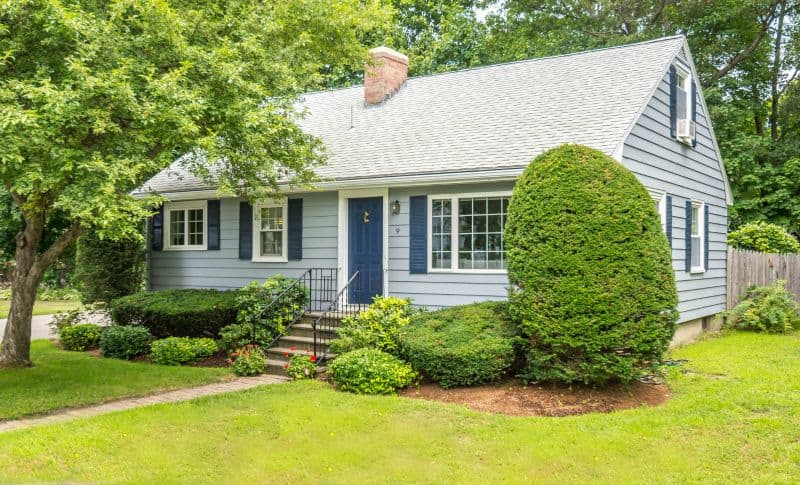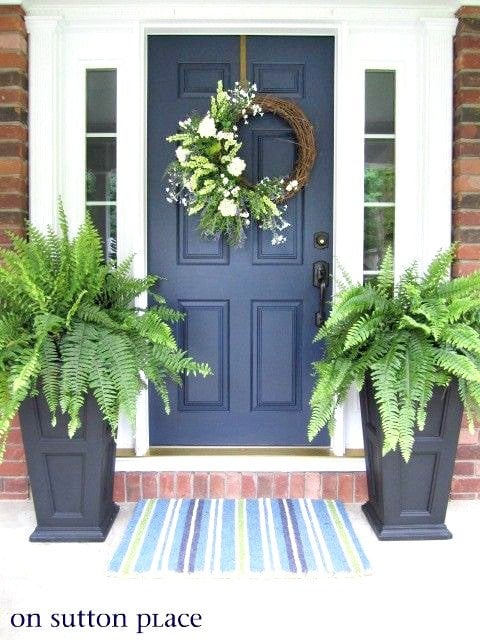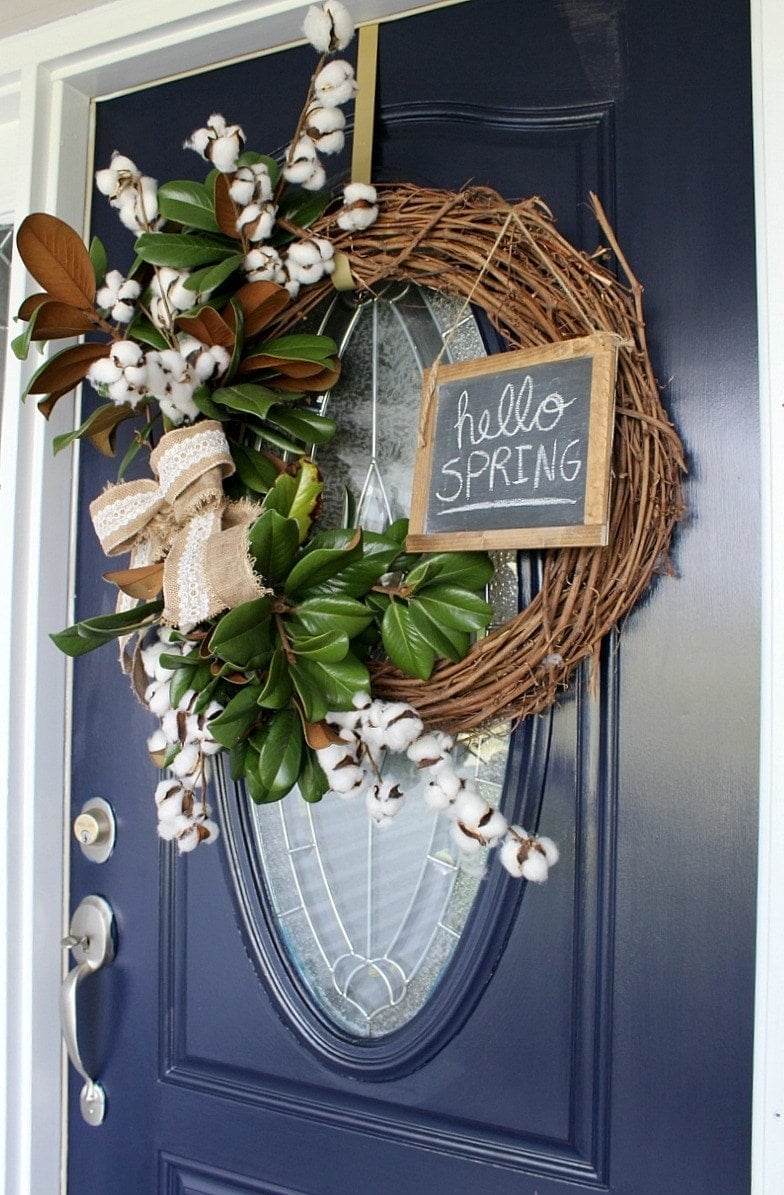 The Best Red Paint Colors For Front Doors
Benjamin Moore Sundried Tomato
Benjamin Moore Dinner Party
Sherwin Williams Antique Red
Sherwin Williams Heartthrob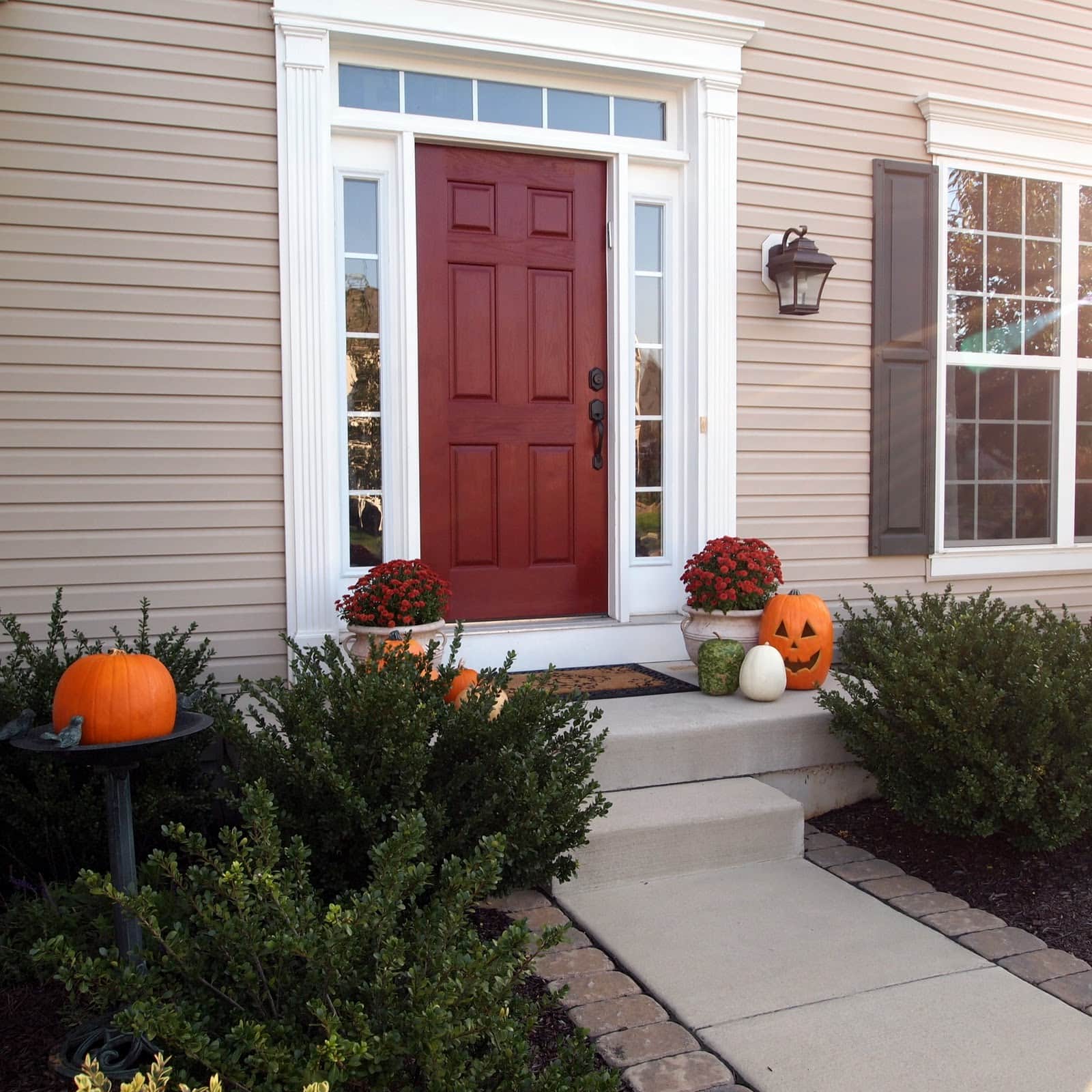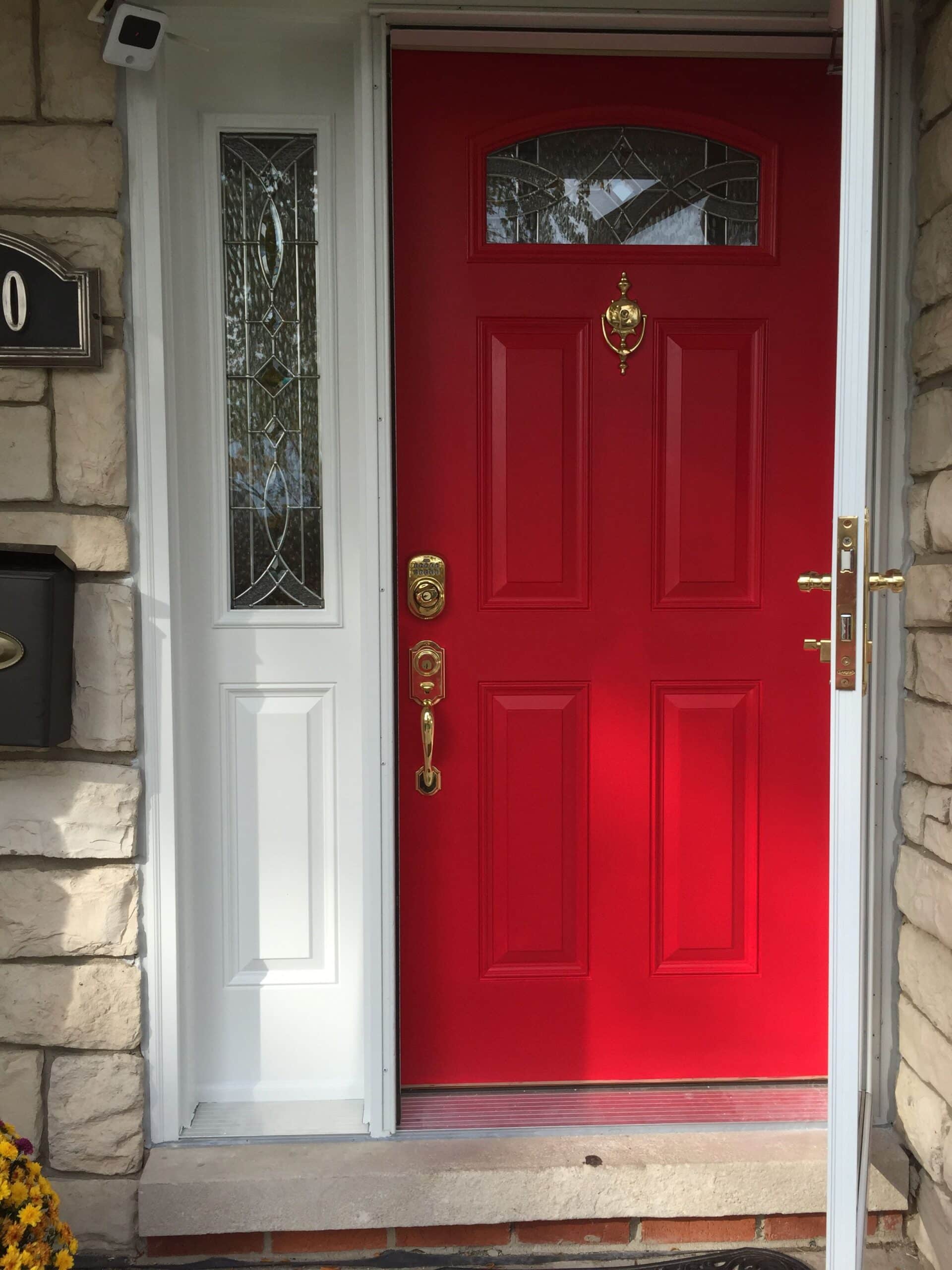 The Best Yellow Paint Colors For Front Doors
Benjamin Moore Viking Yellow
Benjamin Moore Sundance
Sherwin Williams Decisive Yellow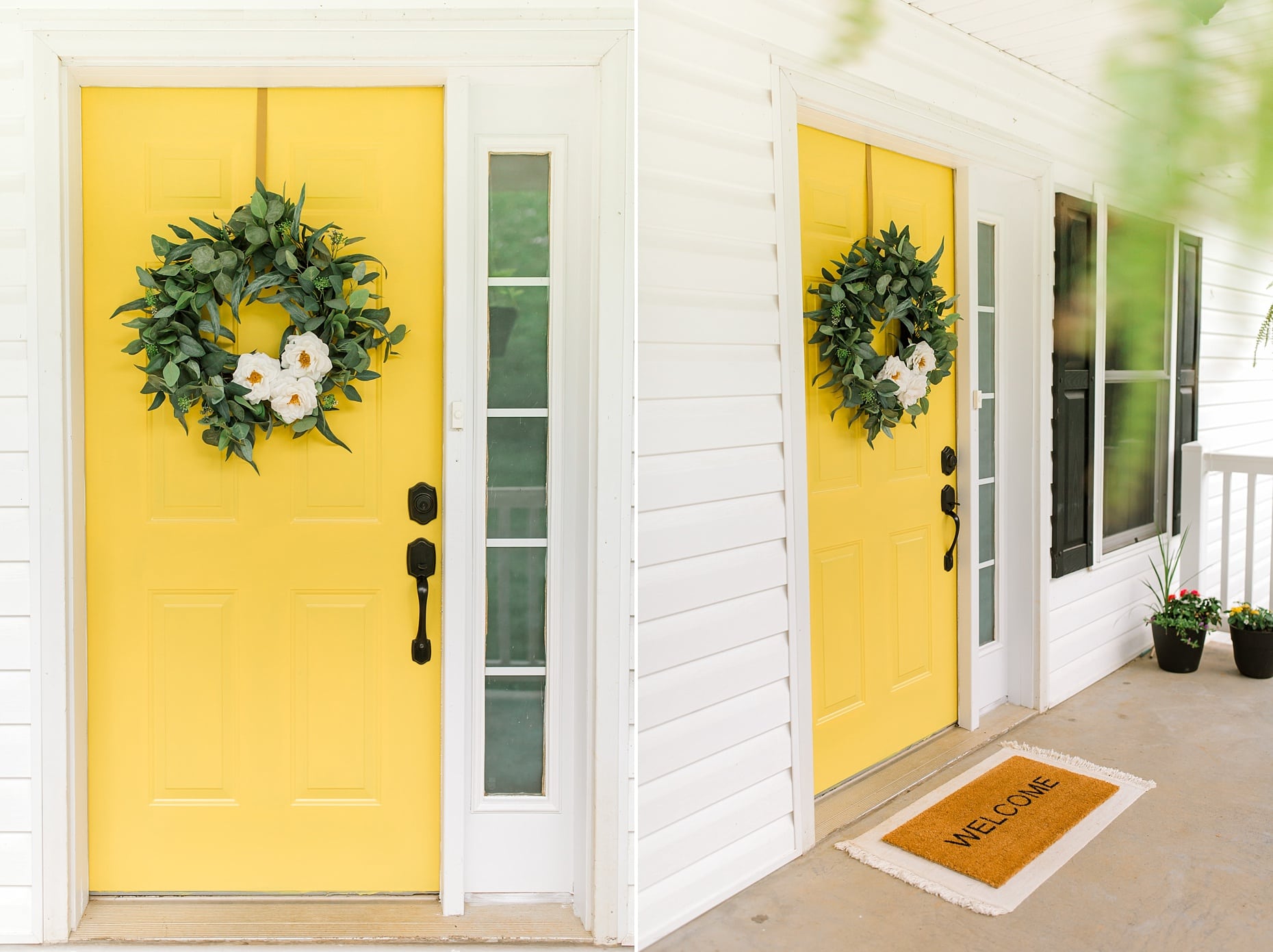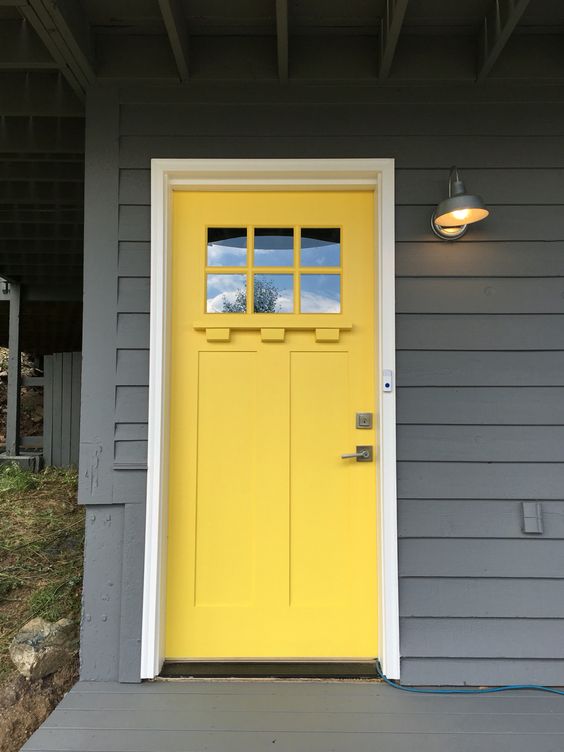 Pastel and Beachy Colors For Front Doors
Benjamin Moore Whyte Blue
Behr Oslo Blue
Sherwin Williams Aqua Tint
Benjamin Moore Athabasca
Sherwin Williams Coral Perfection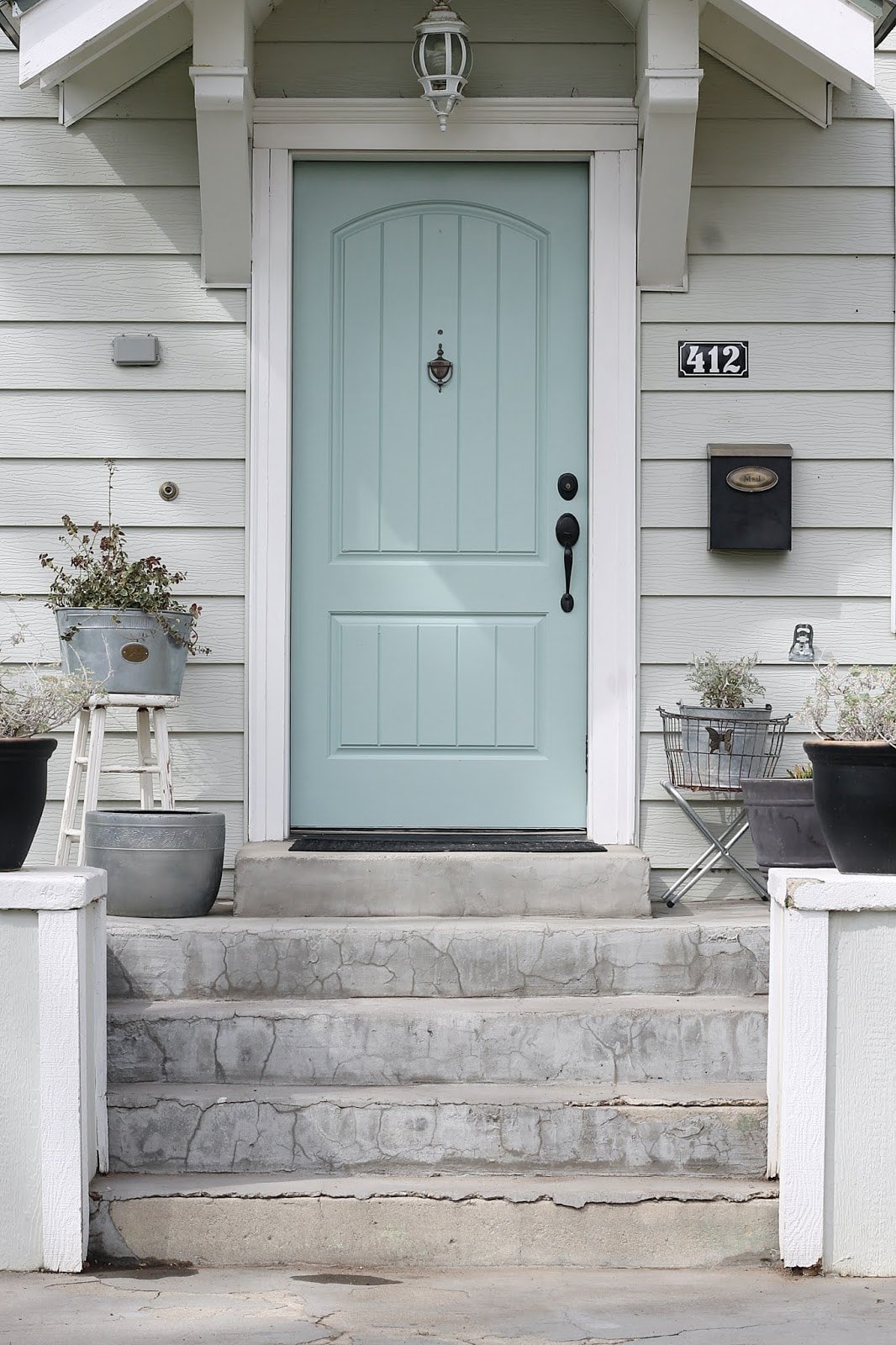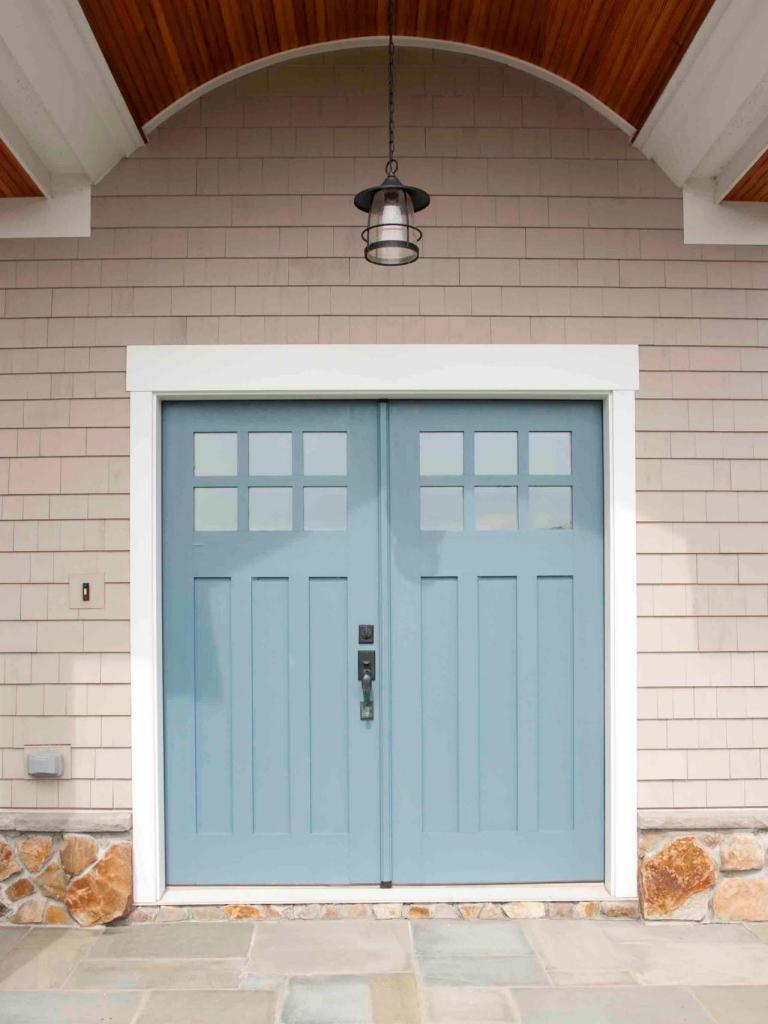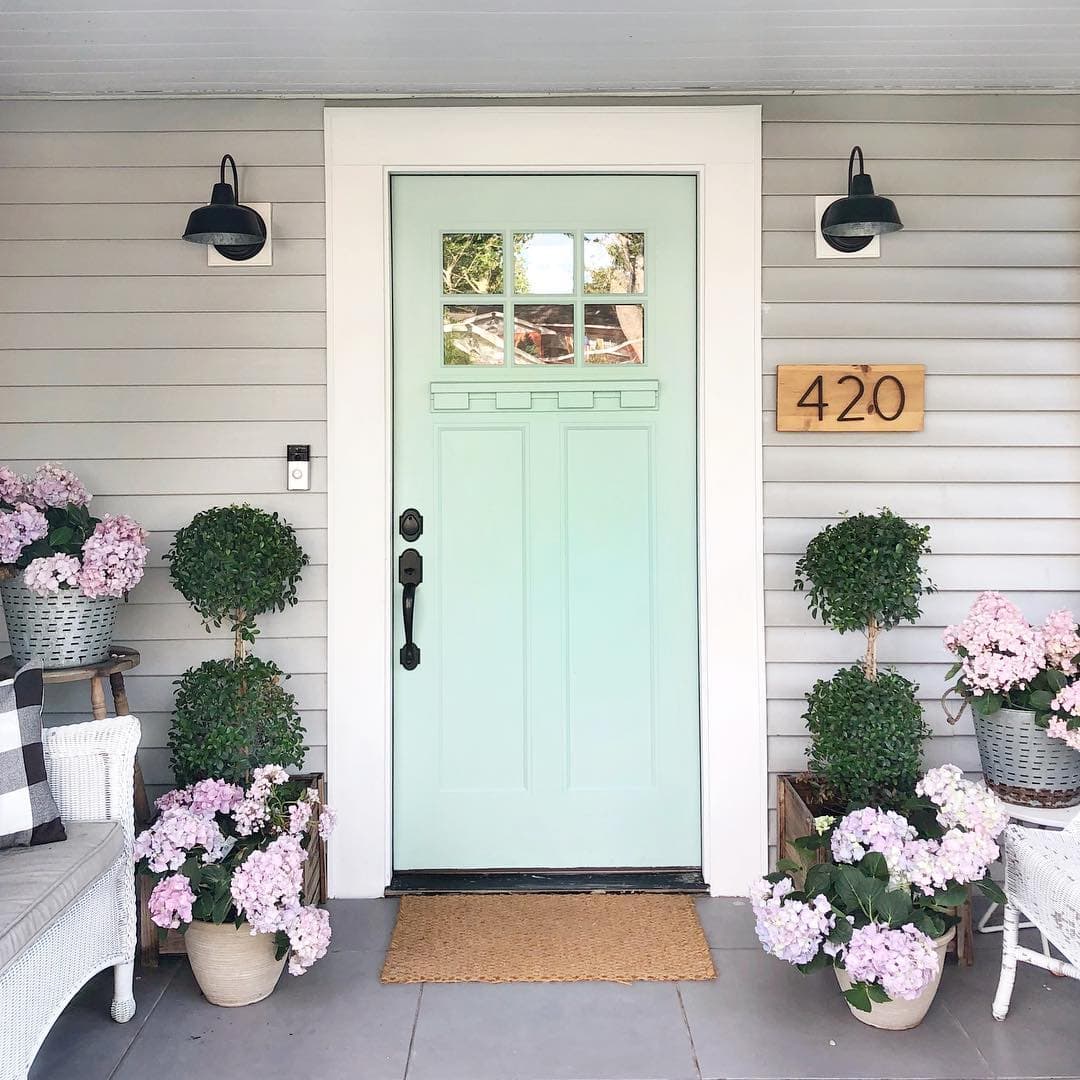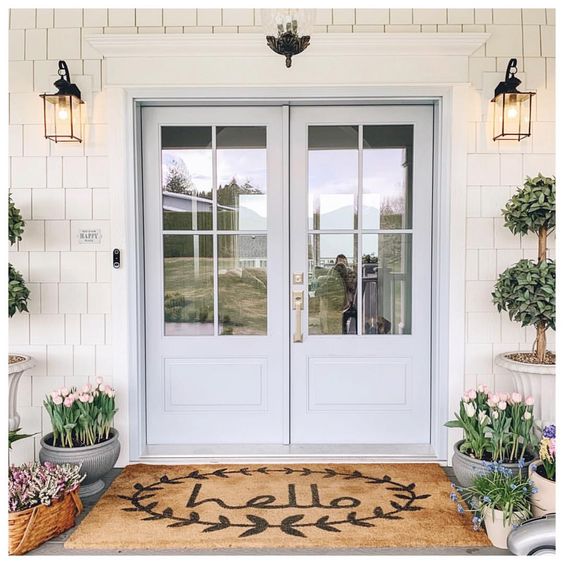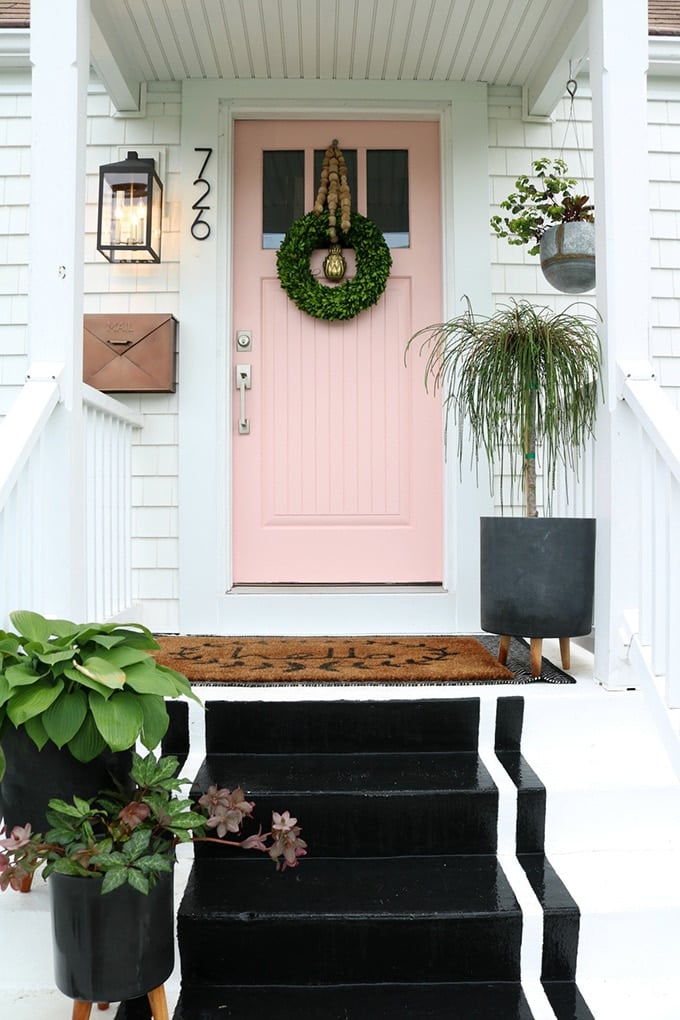 Front Door Colors That Work With Red Brick
Brick is a timeless architectural feature that will never go out of style. This classic facade can be found on a variety of styles of house. While choosing the colors of your home is largely a personal preference, colors that work well with red brick require a little more forethought, in order to not compete or clash with the brick, which remain the focal point.
For homes that have red brick exteriors, it's important to work with the colors that exist in the brick in order to achieve a pleasing look. Muted, instead of brighter colors also tend to work best.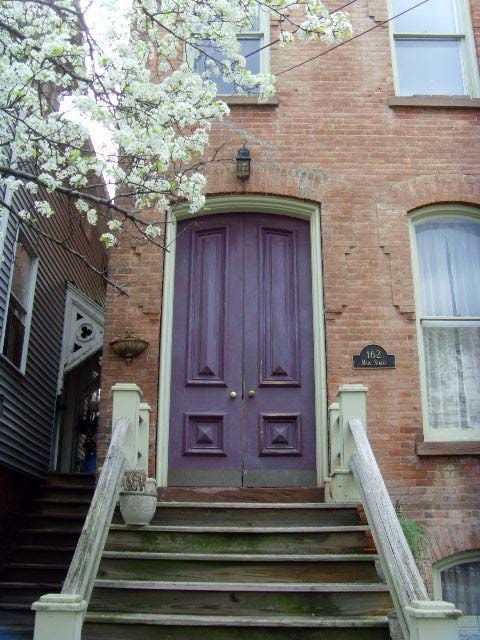 Paint Colors That Work
Analogous (or harmonious) colors on the color wheel are those that are next to each other. For instance, yellow/green/blue or green/blue/purple. Monotone colors are also considered analagous – for instance, three different shades of green.
If you are ever in doubt about choosing a color, choosing analagous colors is a no-fail way to ensure that your paint colors work. In this case, we're dealing with red brick. Of course, red brick is not just red – it has in fact got a lot of different colors within the brick. Red brick can have various shades of red, orange, brown, tan, cream, black, and gray. Pick one of the colors, and create an analagous color scheme from it.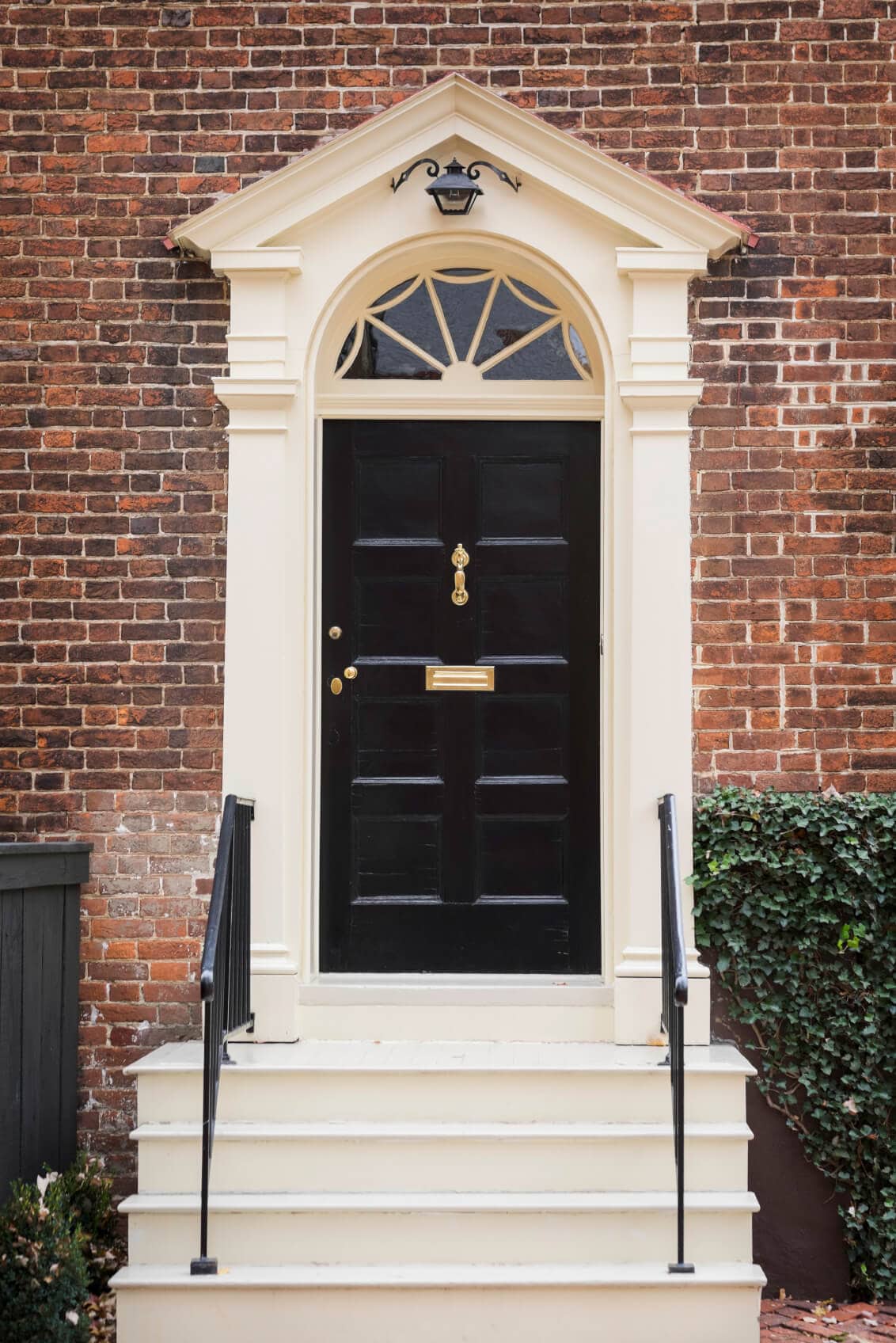 Black: You really can't go wrong with black. A black front door on a red brick home is classic and elegant. Even if your red brick doesn't have touches of black in it, it's a safe choice that will never go out of style.
Brown and tan: Neutral colors like brown and tan work with red brick because they are similar to the color of the grout lines between the brick. Earthy neutrals like these will keep your brick home understated and elegant, but won't provide that pop of color or personality that you may want.
Gray: Gray looks beautiful when paired with red brick and makes any home look fresh and modern. Try: Sherwin Williams Serious Gray SW 6256
Burgundy: Burgundy is a great choice for those looking for some interest without committing to the intensity of a really intense red. Try: Sherwin Williams Crabby Apple SW 7592
Purple and Plum: Shades of purple may not be the first color that comes to mind when choosing a front door color to match your red brick. Purple falls next to red on the color wheel, and many red bricks have a deep tone that resembles plum, so it's actually a great choice! Choosing a deep plum tone will give you a classic look, while brighter shades draw more attention.
Complementary Colors For Red Brick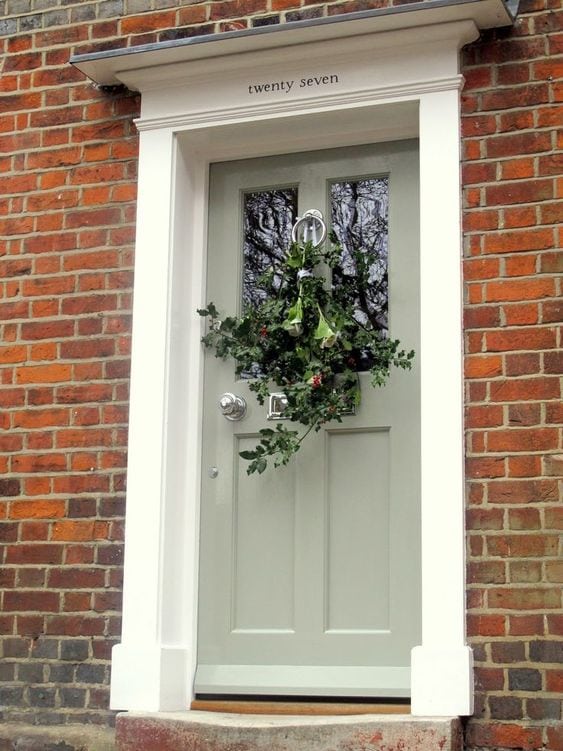 Green: Since green falls directly across the color wheel from red, it is a complementary (or opposite) color. Complementary colors work well together because they provide drama and high contrast but intrinsically work together. In order to stop your house looking like a permanent Christmas scene, it's important to choose a muted green and not a bright one. Sage green is the perfect complement to red brick and looks stunning as a front door color. Try: Sherwin Williams Clary Sage SW-6178
Blue: Blue isn't quite complementary to red brick on the color wheel, but they work wonderfully together. Understated navy blues and softer gray-blues work best.
Final Thoughts on Front Door Paint Colors
In the end, the color you choose to paint your front door is personal choice. Take into consideration the color of your siding or brick, and try to pick a color that works instead of clashes with it. If you have shutters on your house, you'll also want to choose a front door color that matches them, or paint everything one color, like navy or black.
Don't Forget To Always Use Real Paint Samples!
Don't forget – no matter what you've read or photos you've seen online, it's really important to sample paint colors in your home before committing!
Samplize provides real paint samples that are easy to move around your home, and cheaper than buying a gazillion paint pots! It's the only way I buy paint samples.
Other Posts You Might Like