Are you tired of finding wet towels being thrown on the bathroom floor? This adorable DIY towel hook rack is just what your bathroom needs! The fun thing about making your own bathroom towel hook rack is that you can customize it to whatever color and shape you want to match the decor of your home.
This towel rack is not only a great project for your own home but would make a cute housewarming gift too! This same method can also be used to create charming wooden signs to accessorize your home!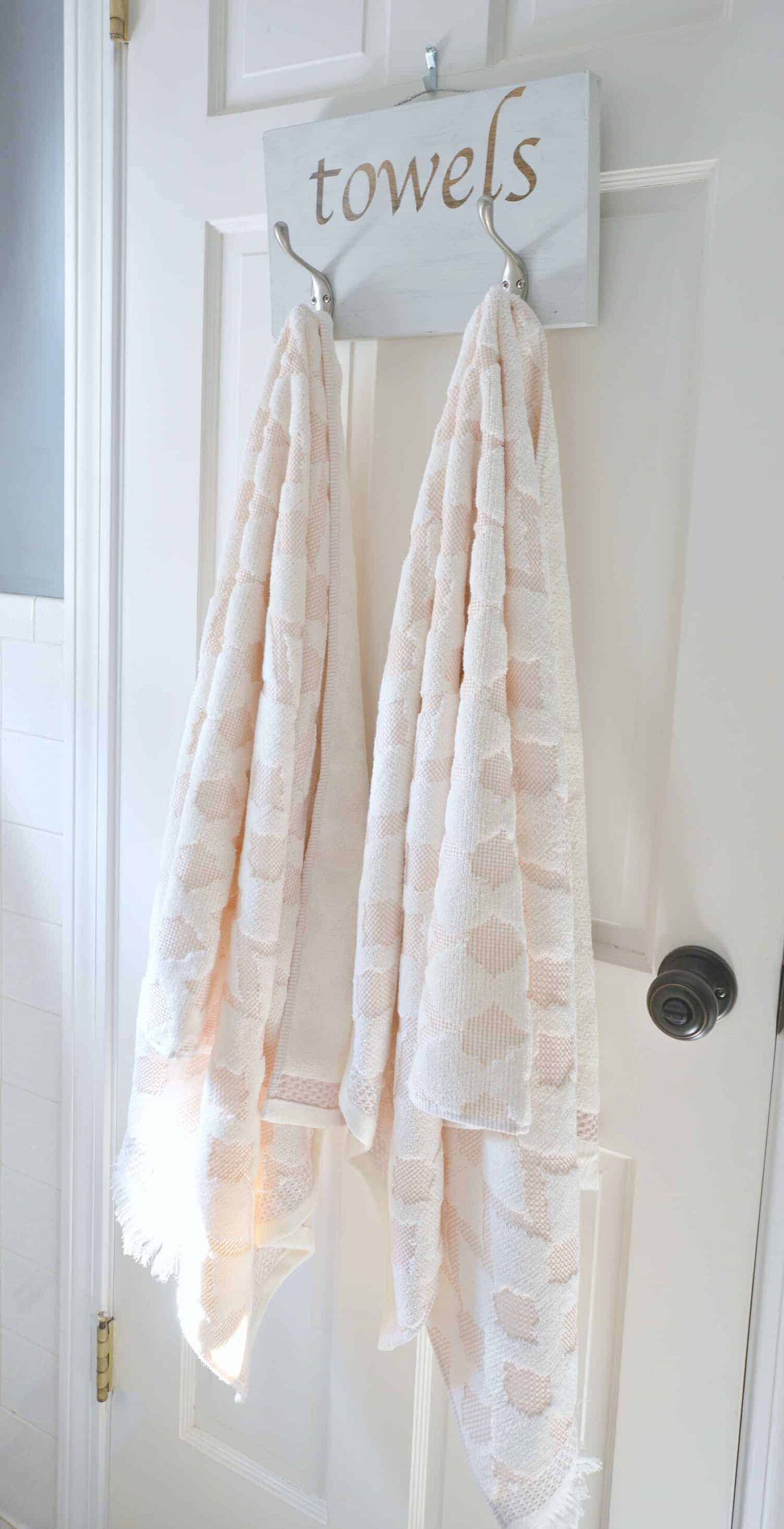 Materials You'll Need:
Directions for DIY Towel Hook Rack
Print our your word or phrase on vinyl. Remove the backing so that only the cut out of the word is left. If you don't have a Silhouette or Cricut, you can also use stencils.
2. Transfer to transfer paper: Remove the backing from the tranfer paper and place it sticky side up. Place the vinyl letters face down on to the sticky side of the transfer paper. Remove the backing from the vinyl letters.
3. Position vinyl on previously stained or painted piece of wood (make sure that stain has dried for at least 48 hours prior – paint needs at least 24 hours). Burnish the vinyl with a hard object or just rub really well with the side of your head to make sure it adheres.
4. Carefully peel back the transfer paper, leaving the vinyl adhered to the wood. If you don't want to paint over it, then you're done with the vinyl and can skip to step 8. Otherwise go to step 5.
5. Seal the edges of the vinyl with Mod Podge. This step helps give sharp edges when you later remove the vinyl.
6. Paint over the entire piece of wood. You can use a roller for a smooth coat or a paintbrush for a more rustic look. The paint color I'm using is a leftover sample pot of Benjamin Moore's Gray Owl.
7. Let the paint dry for about 15 minutes but don't let it fully cure. Carefully peel back the vinyl. You may need to use a pin or a weeding tool.
8. Screw on as many robe hooks as you need. I grabbed these ones from the hardware section at Target.
Finally, attach a sawtooth hanger or another hanging mechanism to the back and you're done with your DIY towel rack!
This DIY towel rack is both simple AND useful! This method can be used to create a variety of cute wooden signs for your home! Make sure you check out some of the other DIY projects I've done in our bathrooms, including our DIY bathroom beadboard and DIY shiplap walls from plywood.