Best Living Room Paint Colors 2023
Choosing the right paint color for your living room will set the tone and vibe for this much used space. While picking the right color can seem overwhelming, these living room paint color ideas and tips will get you in the right direction in no time!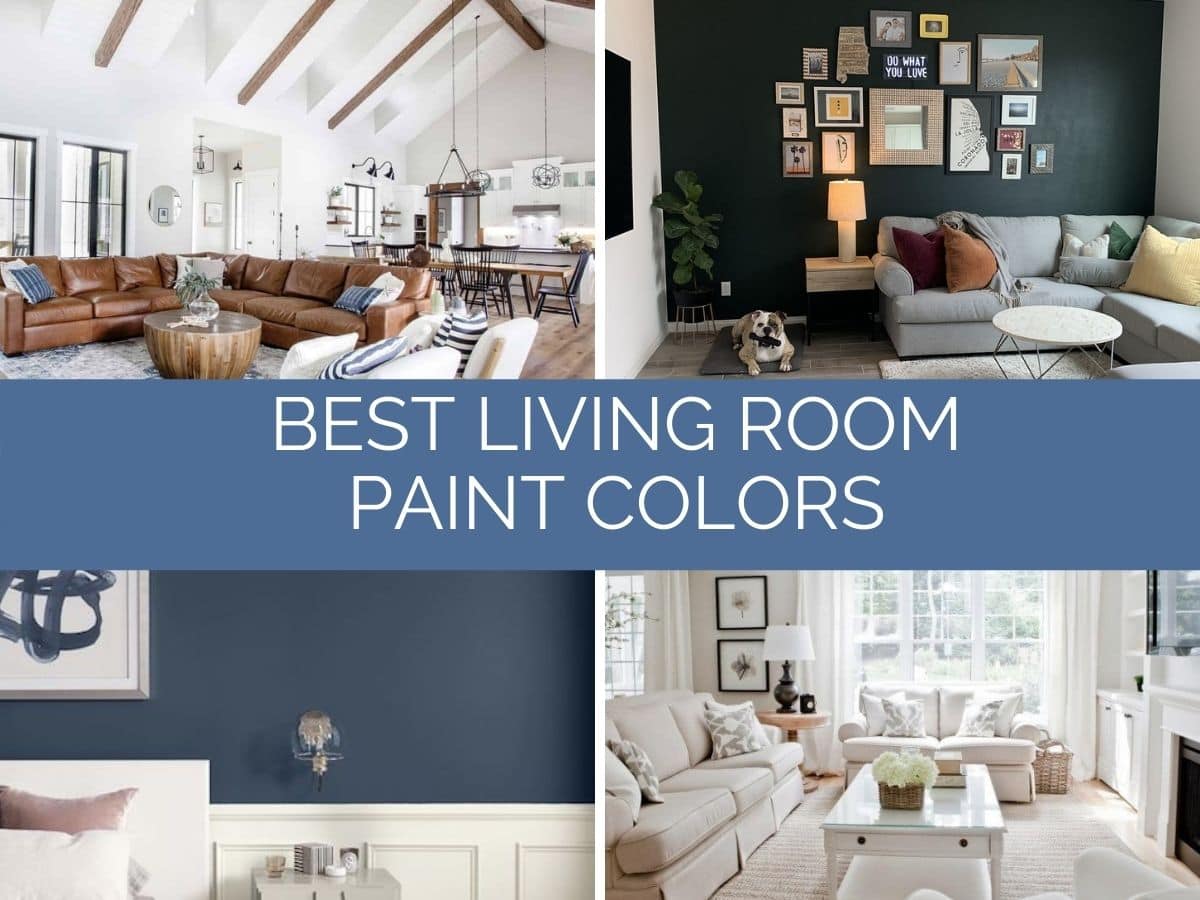 Picking the perfect living room paint color can seem like a daunting task, and one that you don't want to get wrong. After all, besides the kitchen, many of us spend a lot of time in this one room!
If you're starting from scratch decorating your living room, it's easy enough to pick a paint color and then work your furnishings around it.
But if you're repainting a room that's already furnished and decorated, it's important that you take into consideration the elements that will need to work with your new paint color.
Know Your Room Exposure and Understand Undertones
For any room, it's important to first understand how exposure can affect paint colors. If you have a north-facing room, the light can be grayish and cast a blue tint, potentially pulling unwanted undertones from the paint color you choose.
Southern exposure rooms are full of bright sunlight, so warmer paint colors may become too warm. Eastern exposure rooms have great morning light but poorer afternoon light, and vice versa for west-facing rooms.
Once you know what way your windows face, consider your furniture, flooring and other elements in the room that will be staying.
If you have a navy blue couch, for instance, you're not going to want sunny yellow walls. If your couch is a cool gray, you'll want a similarly toned paint color that will coordinate well.
Find Inspiration
One of my favorite ways to find some inspiration is by doing some research on Pinterest and saving the images that I love.
I usually take note of the paint color and whether it's a warm or cool color. I then narrow down my favorites and get some samples from Samplize to see how they look in my space.
Remember that paint colors will look different in difference spaces, depending on lighting and the color of the furnishings around it.
With that being said, here are some of my favorite and most popular living room paint colors for 2023.
Sherwin Williams Shoji White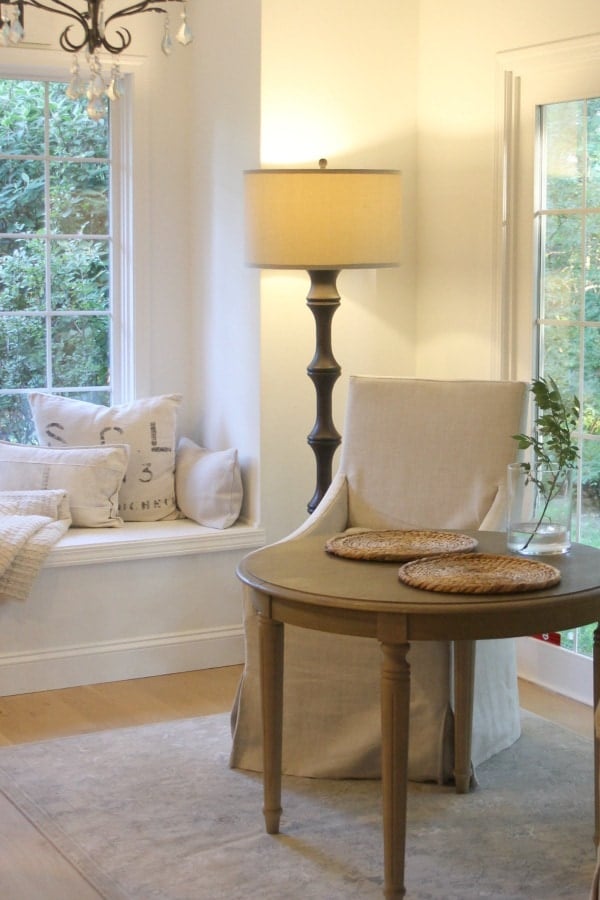 Let's face it – white paint is not all created equal and it makes finding a suitable white for your home a challenge to say the least.
Shoji White may be one of my favorite off-white paint colors – it is a warm, creamy white with a beautiful undertones of grey, beige and sometimes green.
Think your typical greige color only way lighter. This is a wonderful choice for a living room if you are looking to really add some light and brightness without taking away the warmth of the room.
Sherwin Williams Alabaster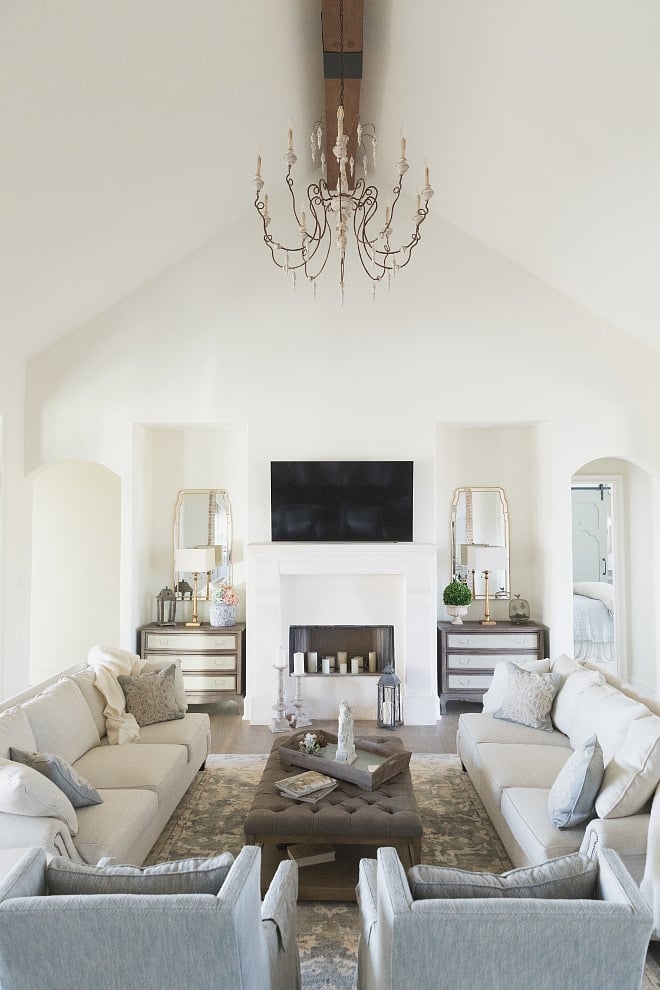 Not white, not yet cream, Sherwin William's Alabaster is a gorgeous choice for a living room seeking a light, bright color which is sophisticated and modern.
This is a wonderful choice of color for a living room which needs an injection of light – think especially north facing rooms.
However, be careful if you already have a well lit room – too much light may wash this beauty out just a little too much. Conversely, if you have a lot of bright white trim (like SW Pure White) pairing that with Alabaster walls may make your walls look a bit yellow.
Benjamin Moore Collingwood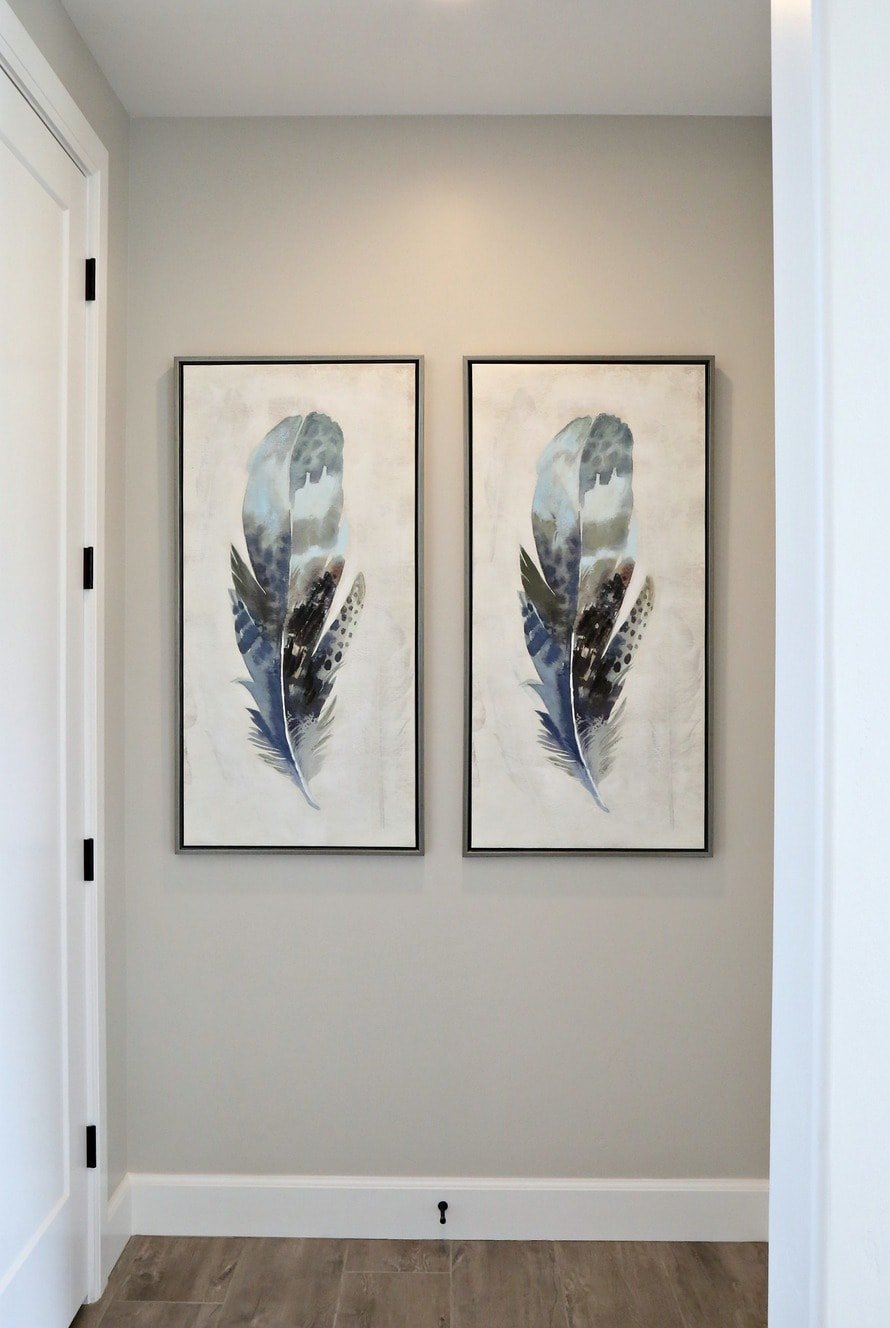 If you are in search of a dreamy soft warm gray then Collingwood may be right for you.
It's a seriously versatile paint color and with its slight violet undertone it won't appear blue or green. This is a great choice for keeping the mood light, airy and neutral.
Collingwood is just a touch warmer than Sherwin Williams Repose Gray, which is the number one paint color I've suggested over the years.
Sherwin Williams Repose Gray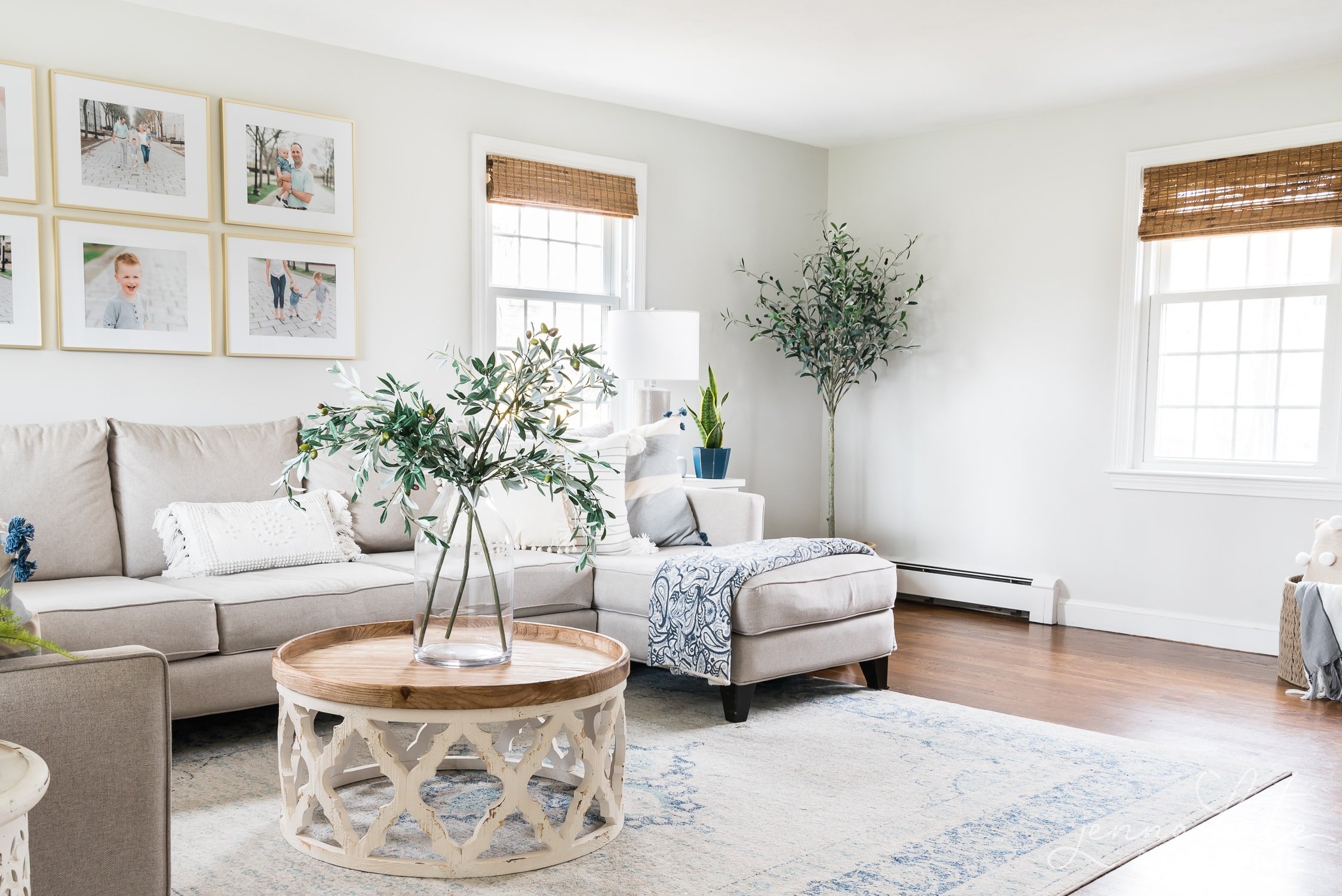 Repose Gray is a wonderfully versatile warm toned gray. It's a wonderful color that works well in any lighting condition, but will look grayer in cool light and warmer in sunnier rooms.
It's certainly one of my favorite greige paint colors and creates a wonderful modern aesthetic to any living room.
Sherwin Williams Agreeable Gray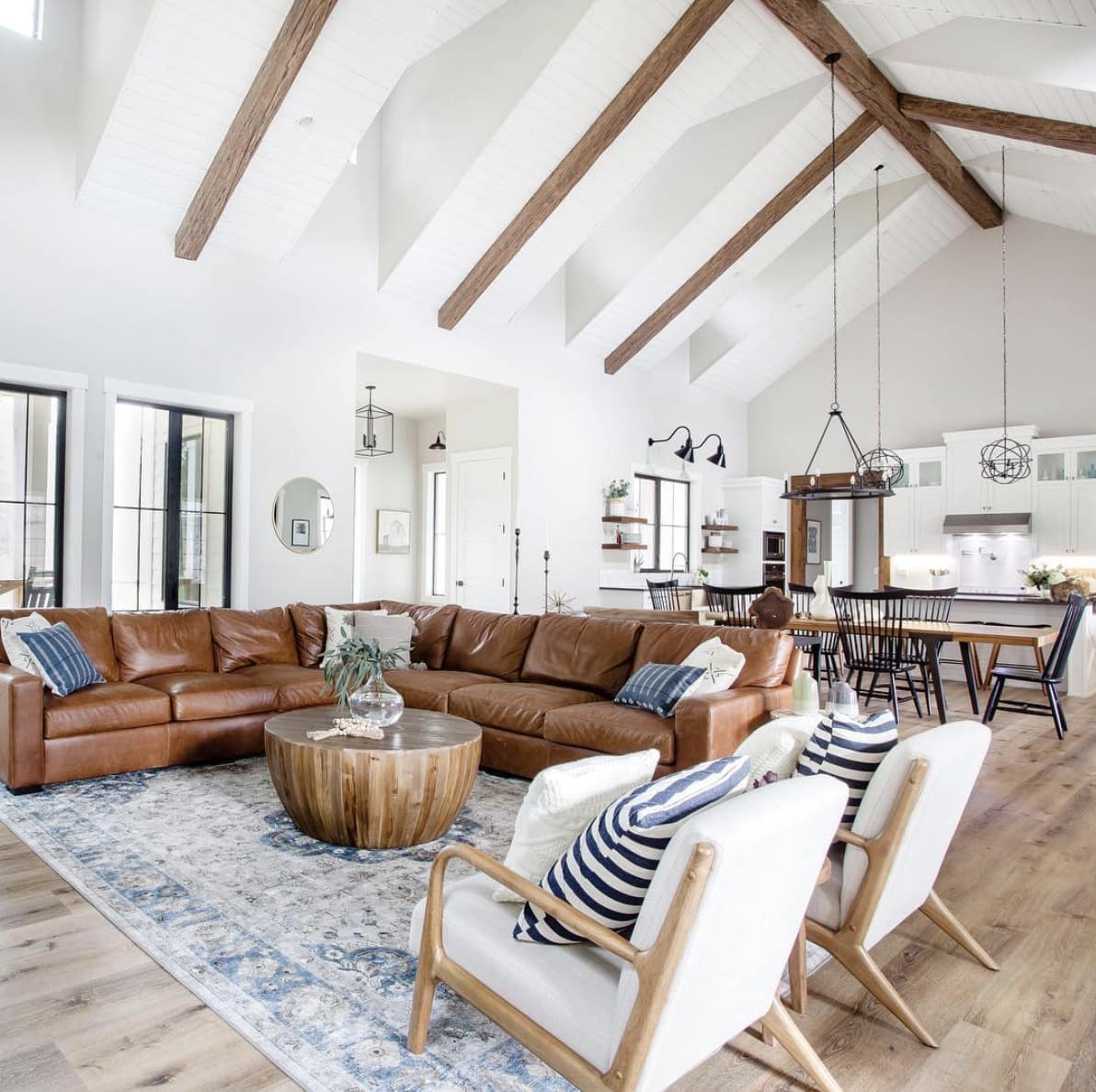 Agreeable Gray does as it says on the tin – it is one of the most popular Sherwin Williams colors for a reason – it is so versatile and looks great pretty much everywhere!
It is a beautiful warm stony color right in between beige and true grey and really brings a contemporary, timeless feel to a living room. It's one of the top greige paint colors used in American homes.
Benjamin Moore Revere Pewter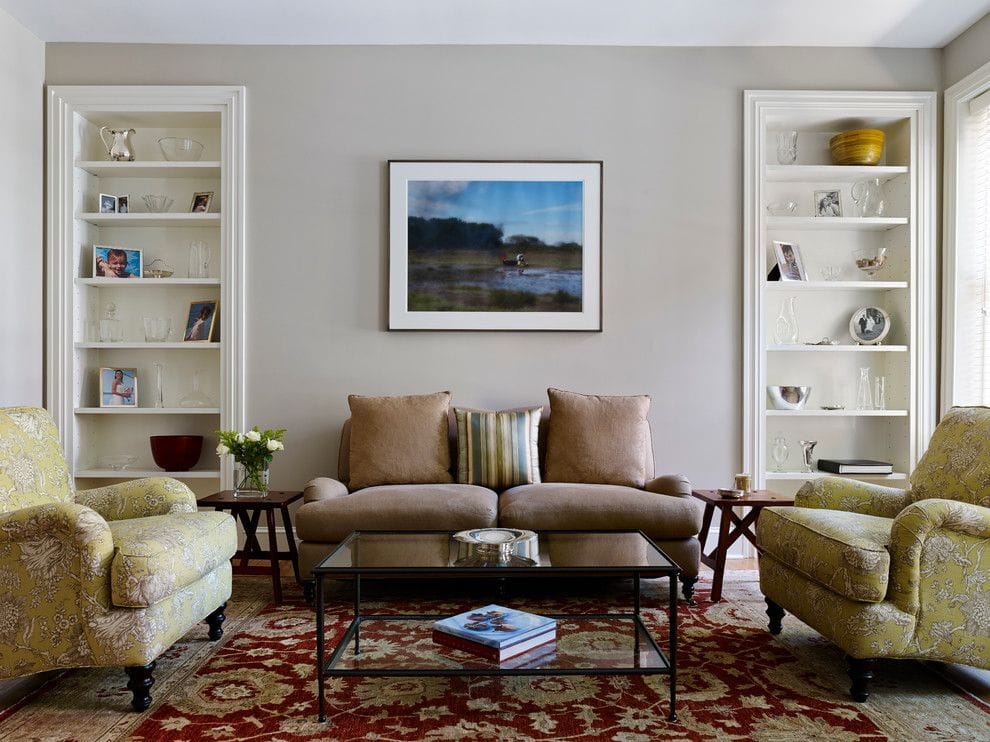 Arguably the most popular neutral paint color for living rooms over the past decade, Revere Pewter is a classic and timeless greige with a slight warm tone.
Revere Pewter will bring your living room up to date while keeping it fresh, modern and pleasing to the eye. You really cannot go wrong with such a perfect choice.
Benjamin Moore Edgecomb Gray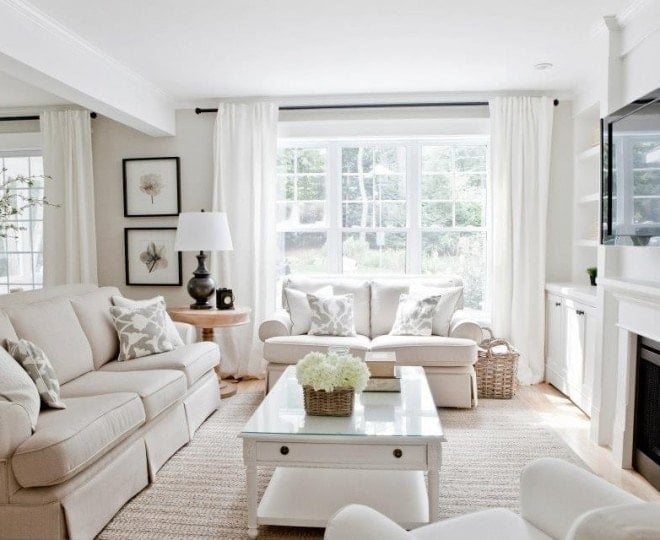 If you are on the search for a greige which is a tiny bit lighter than Revere Pewter then Edgecomb Gray may be the one for you!
It's perfectly balanced between beige and grey and has a warm tone which will add some cosiness to your living room.
In a south exposed room expect this to feel slightly warmer, while this greige will look slightly more gray in a north exposed room.
Benjamin Moore Moonshine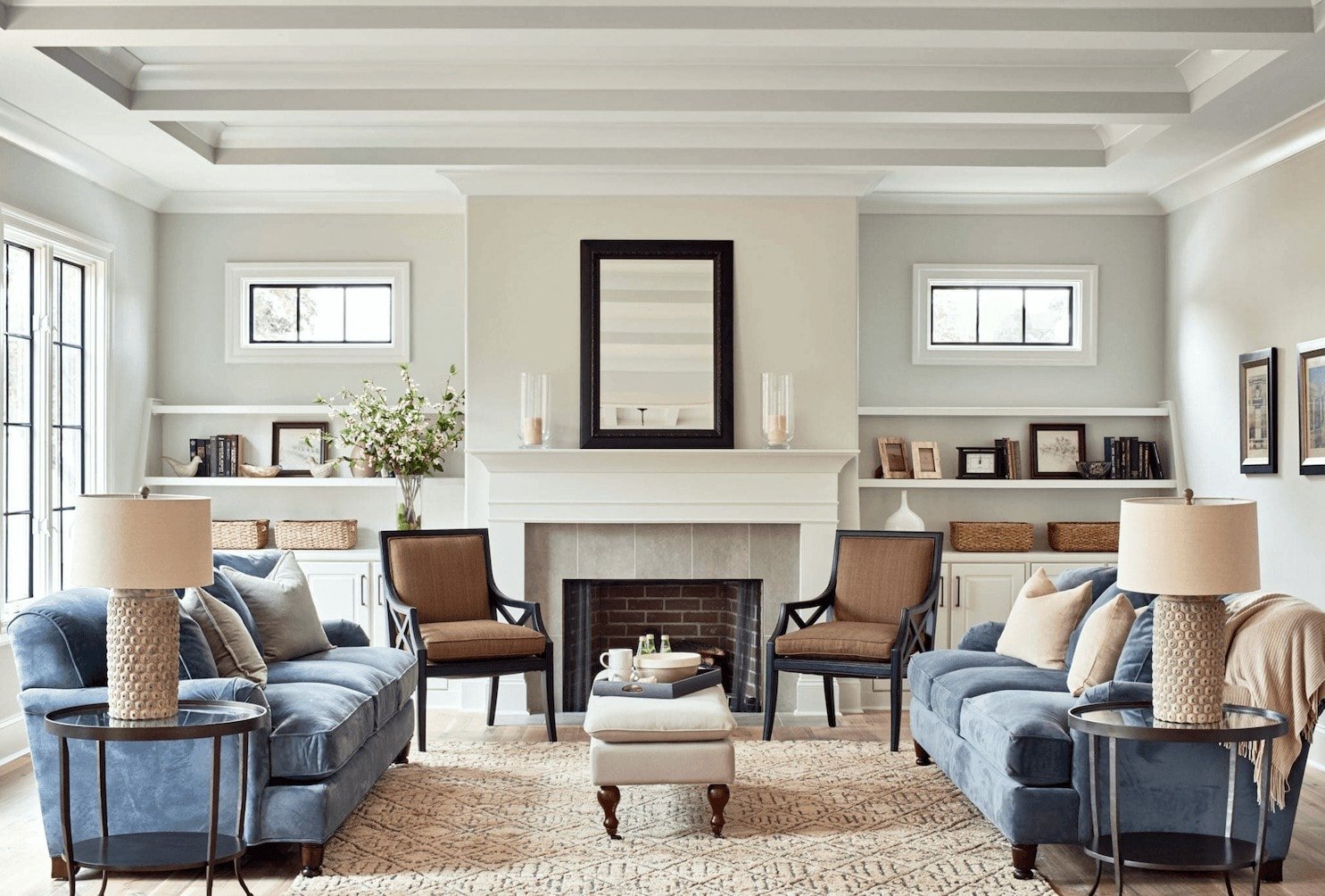 Can we talk about how beautiful and calming this green-gray shade is? What a wonderful color for a living room if you are looking to create an airy, serene yet neutral and warm space.
This is a wonderful shade if you are looking to dip your toe into a bit of color without having to commit too much.
Sherwin Williams Jasper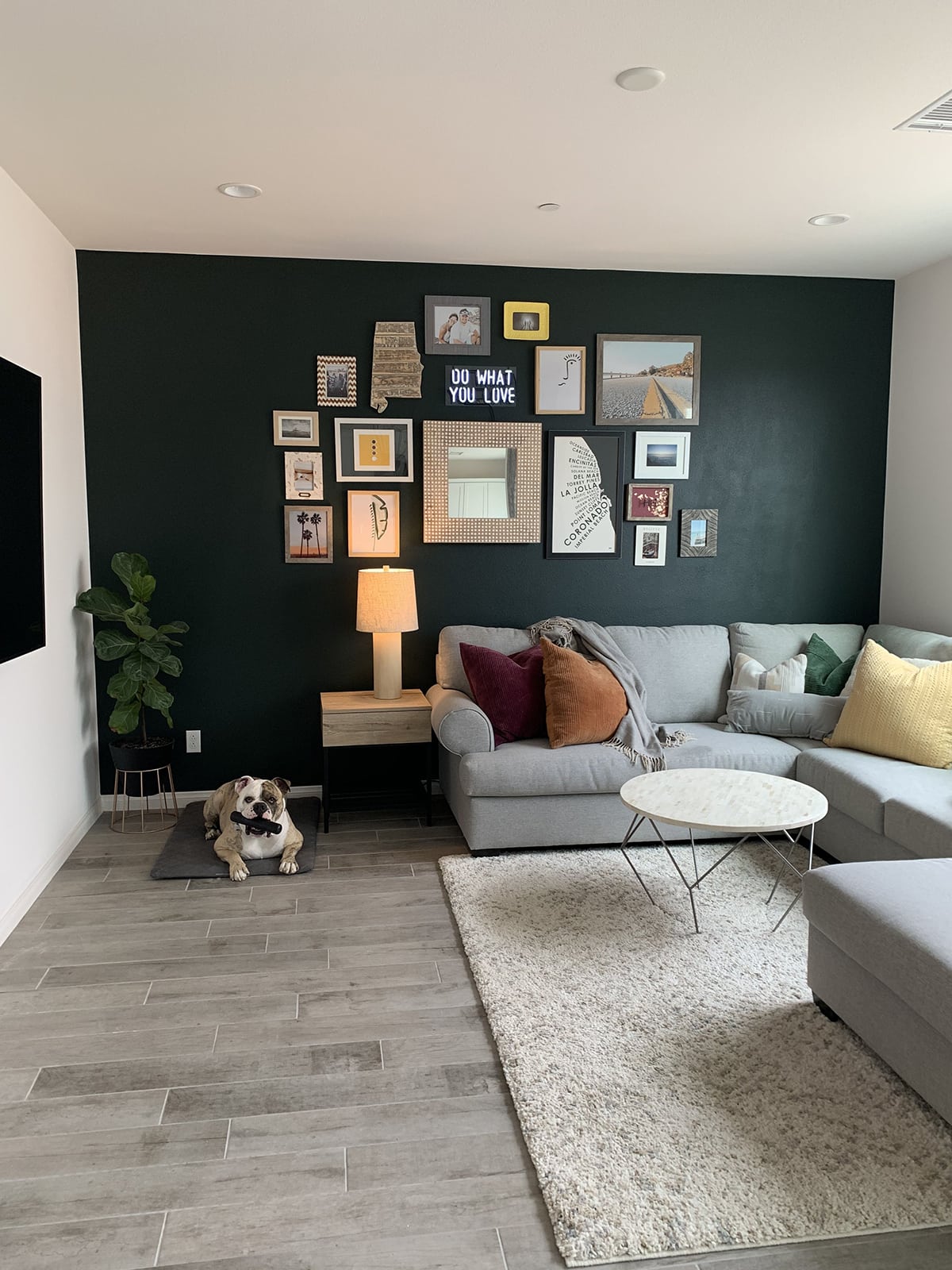 Green is set to be very trendy again for 2023 so what better way to modernize your space than to create an accent wall with a rich and intense color like Jasper?
This is the perfect choice is you are looking to bring nature into your living room and create an earthy, eco-inspired space.
This would look fantastic paired with a crisp white trim, or one with a slightly warm base like Benjamin Moore White Dove.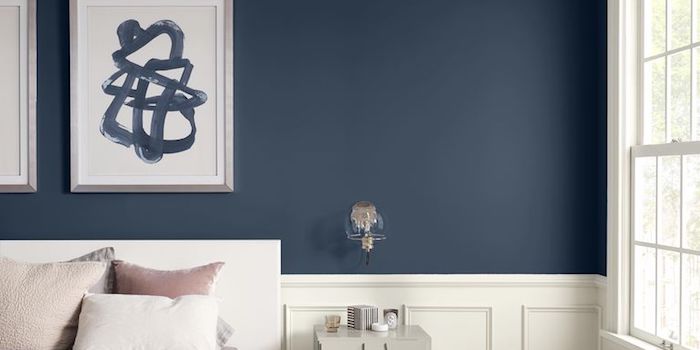 Sherwin Williams Naval is another wonderful choice if you are looking for a majestic color for an accent wall.
This navy gives me all sorts of nautical vibes and works fantastic with a white trim. It can be such a great vocal point as part of your living room and is such a timeless choice of color.
Don't Forget To Always Use Real Paint Samples!
Don't forget – no matter what you've read or photos you've seen online, it's really important to sample paint colors in your home before committing!
Samplize provides real paint samples that are easy to move around your home, and cheaper than buying a gazillion paint pots! It's the only way I buy paint samples.