Beautiful Backsplash Ideas For Kitchens With White Cabinets
White kitchen cabinets are classic, but they can be a little bit boring if thought is not put into the surrounding design. Choosing a stylish backsplash that works well with your white cabinetry will not only make your kitchen design gorgeous, but will highlight the classic beauty of your cabinets, too!
Determine Your Color Scheme and Style
Before choosing the perfect backsplash for your kitchen, there's a few factors that should first be considered.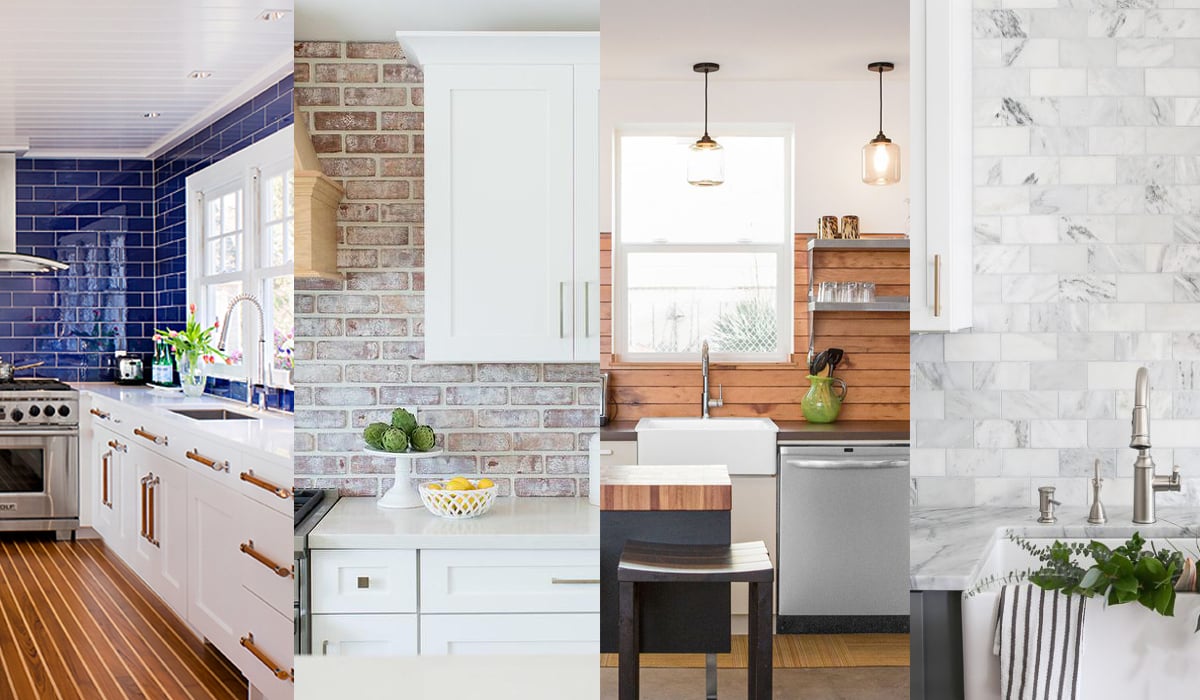 Are you looking for something modern and trendy? Or classic and refined? Are your white cabinets a stark bright white with cool undertones? Or are they a warmer, creamier white?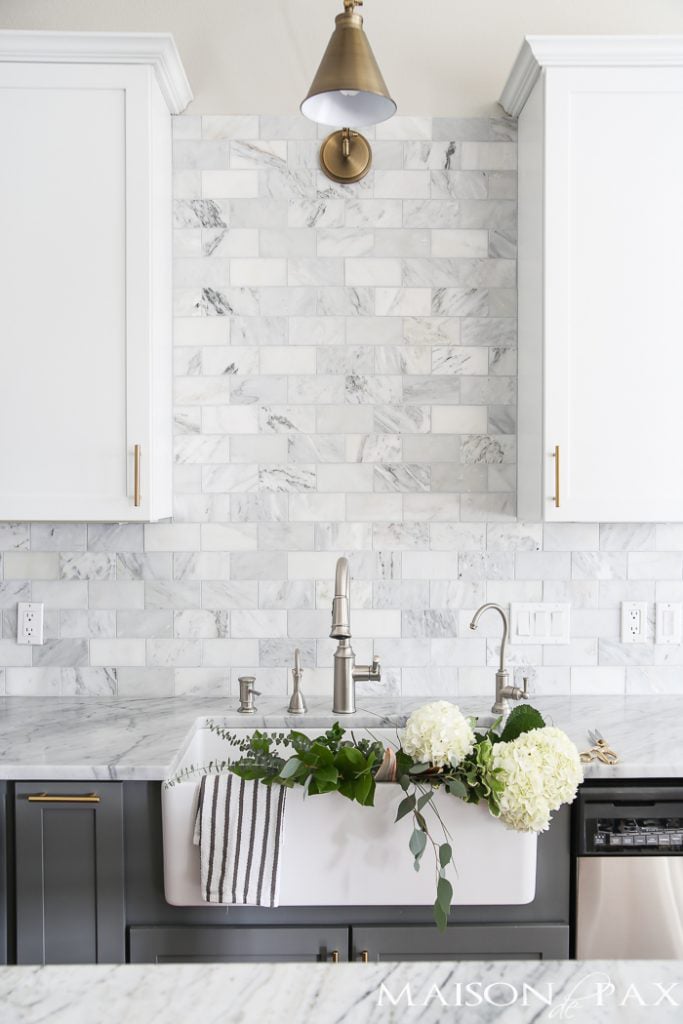 Taking these elements into account will help you narrow down the correct colors and backsplash materials. For instance marble will forever be classic and refined and its cool gray tones work really well with both cool and slightly warmer white cabinets.
The trendy Cloe tile that's everywhere right now has a classic feel but still looks modern and trendy. It's warmer tones work well with a slighter warmer white cabinet.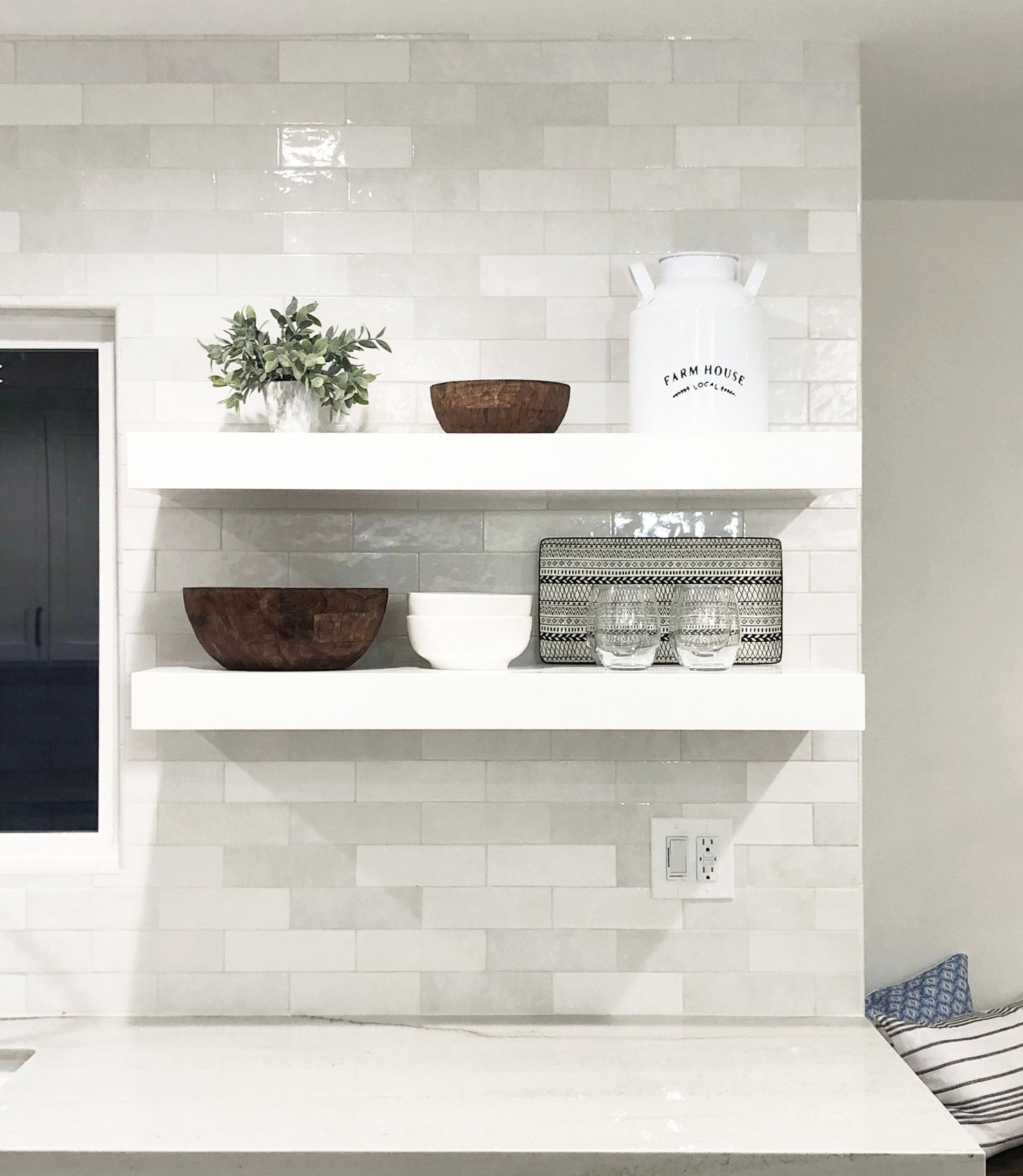 On the other hand, you can inject color into a very plain white kitchen with a vibrant patterned or colored tile.
If you're not quite sure which backsplash design to go with, maybe one of these kitchen backsplash ideas that go with white cabinets will inspire you!
Marble Backsplash Ideas
Embrace cooler tones in your kitchen by using marble for the backsplash. It provides a natural, sleek beauty no matter the design and helps your kitchen feel pristine and luxurious.
For my kitchen remodel, I chose to balance the cooler tones of the marble backsplash and white quartz with warmer tones from brass and wood. It provides the perfect compliment to to the white cabinets and stops the kitchen from feeling cold and sterile.
Take the backsplash right up to the ceiling, whether marble or any other tile, is also a great design feature that packs a serious punch and makes any kitchen look high end.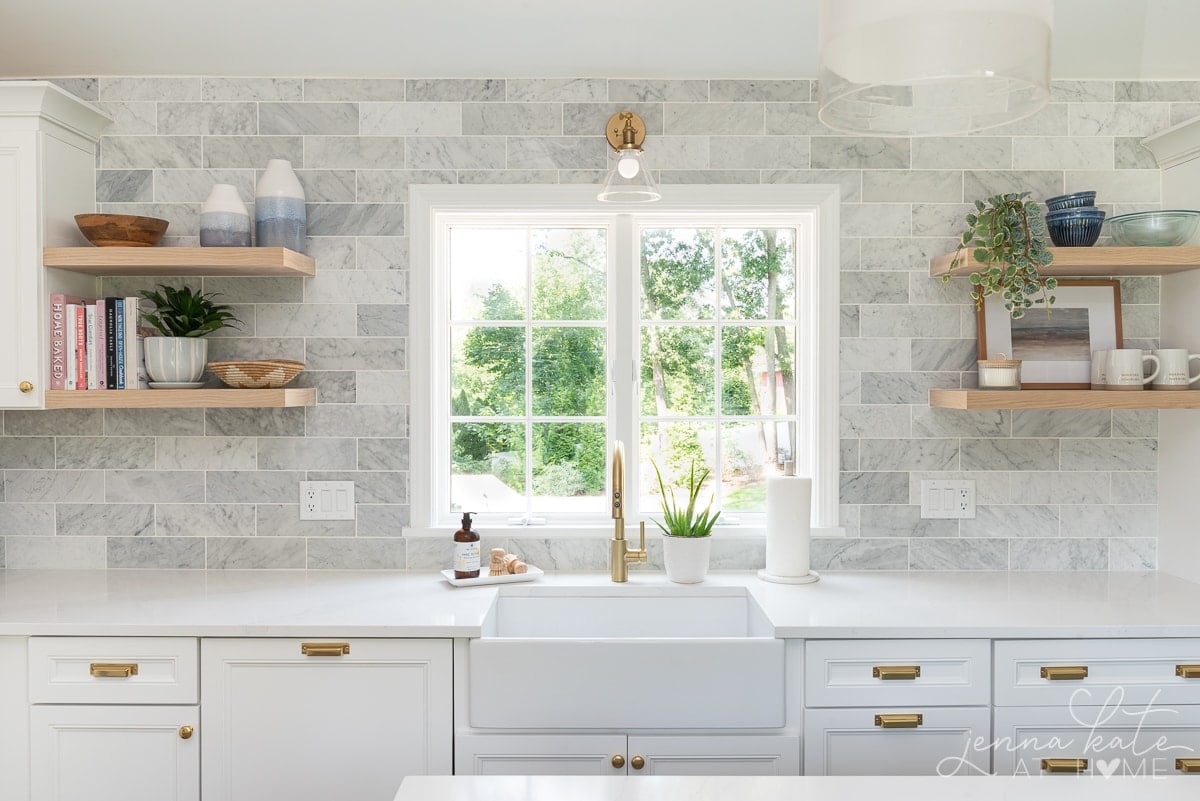 While marble is always a classic choice, but you're not limited to the standard brick pattern.
A slab of marble is striking, and makes for easier cleanup since there's no grout lines! I prefer to use the same material as the countertop, or keep the countertop a solid color similar to the lightest color in the marble and then do a statement marble up the backsplash.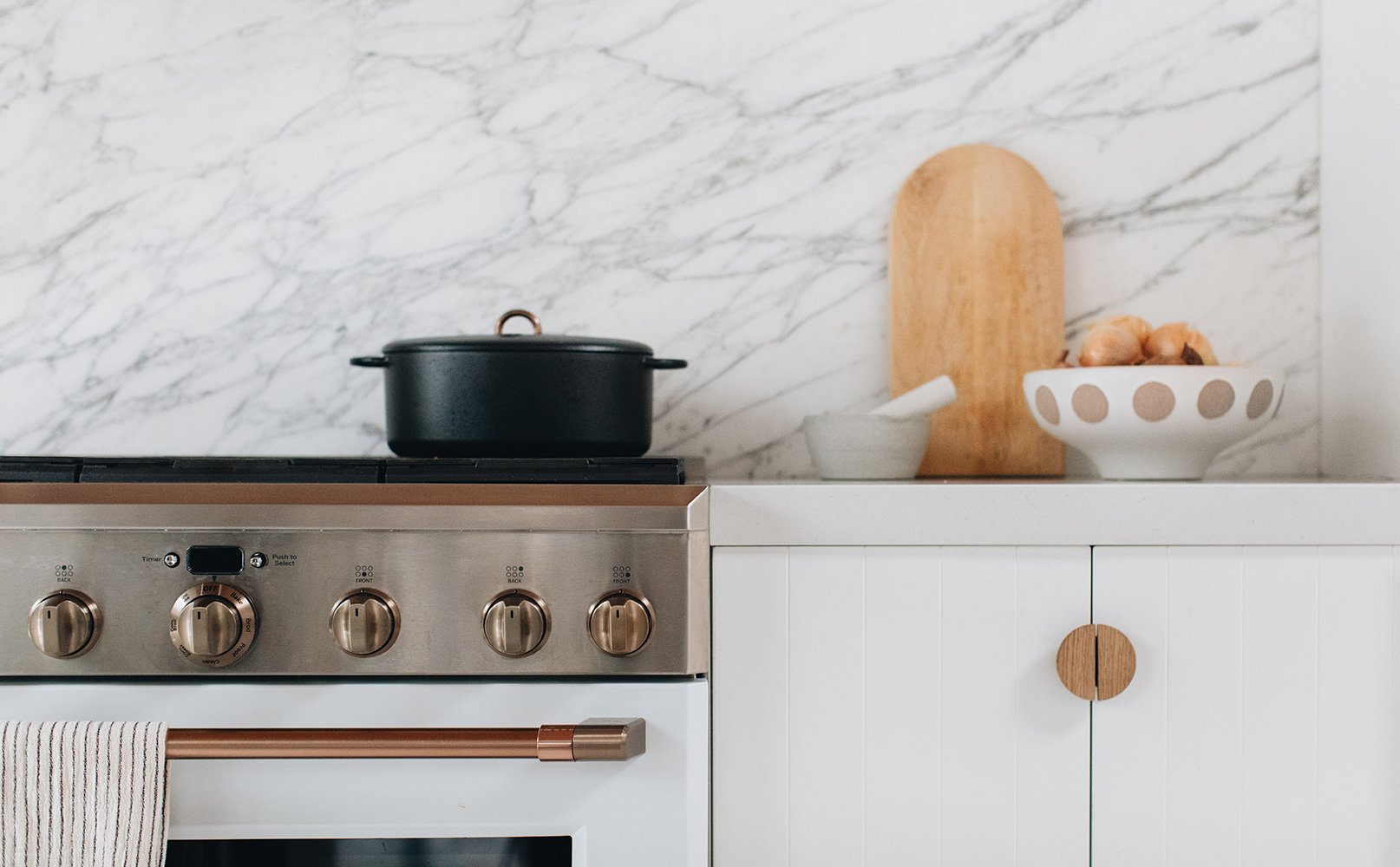 Alternatives to Traditional White Subway Tile
For a basic white subway tile look, it doesn't have to stay basic. Subway tile is an incredibly affordable option for a kitchen backsplash but it can look really beautiful when laid in a fun pattern or keeping the white feel with different tile shapes.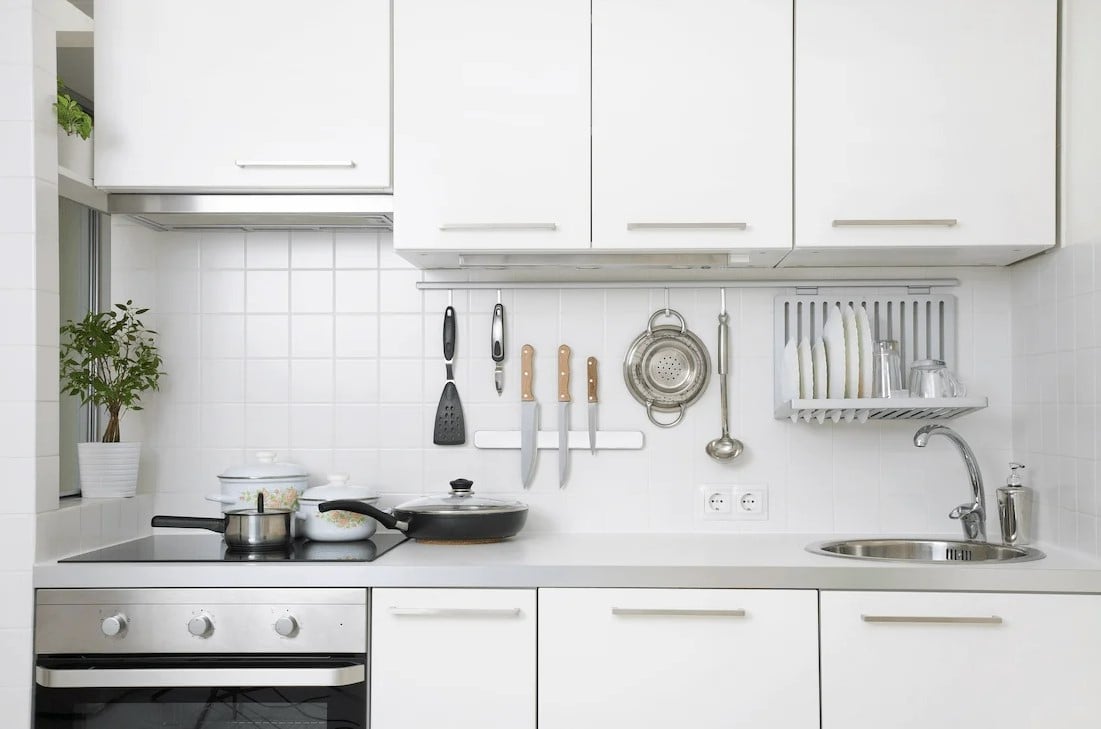 If choosing white, grout color choice is important. Bring tile sample with you when picking out grout colors to get the perfect match for your kitchen.
White grout ensures a uniform, clean appearance. Darker grout will accentuate the shape of your tile. For marble, many prefer a grout that blends the tiles and doesn't "frame" the tile. In the end, it's personal preference as well as the type of look you want to go for.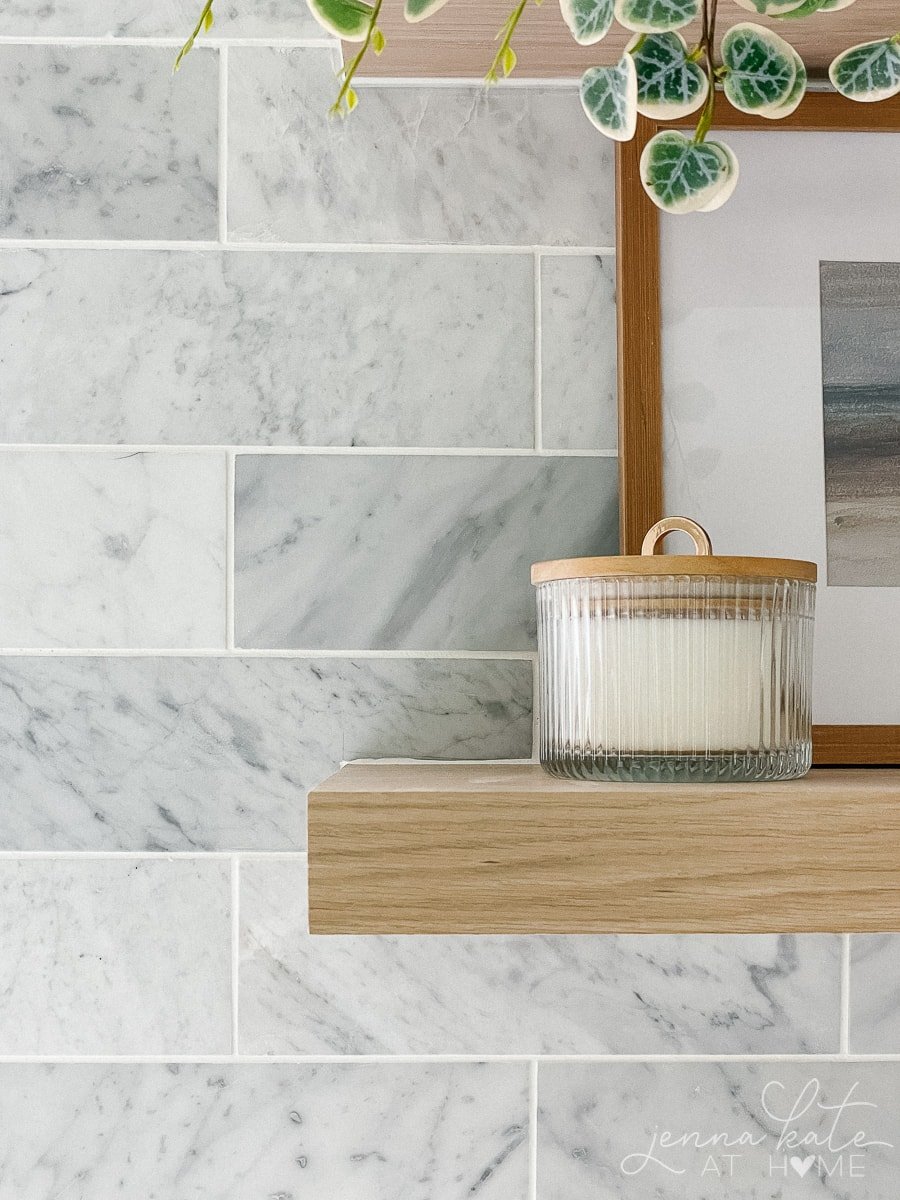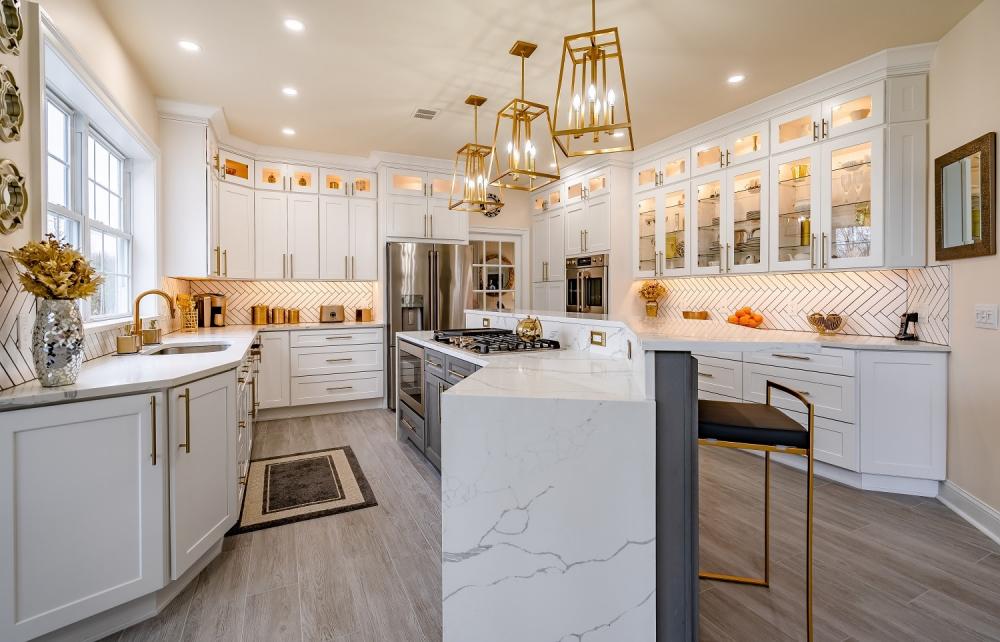 If you want to stick with plain subway tile for budget reasons, consider adding some decorative tile over your stove to break up the sea of white.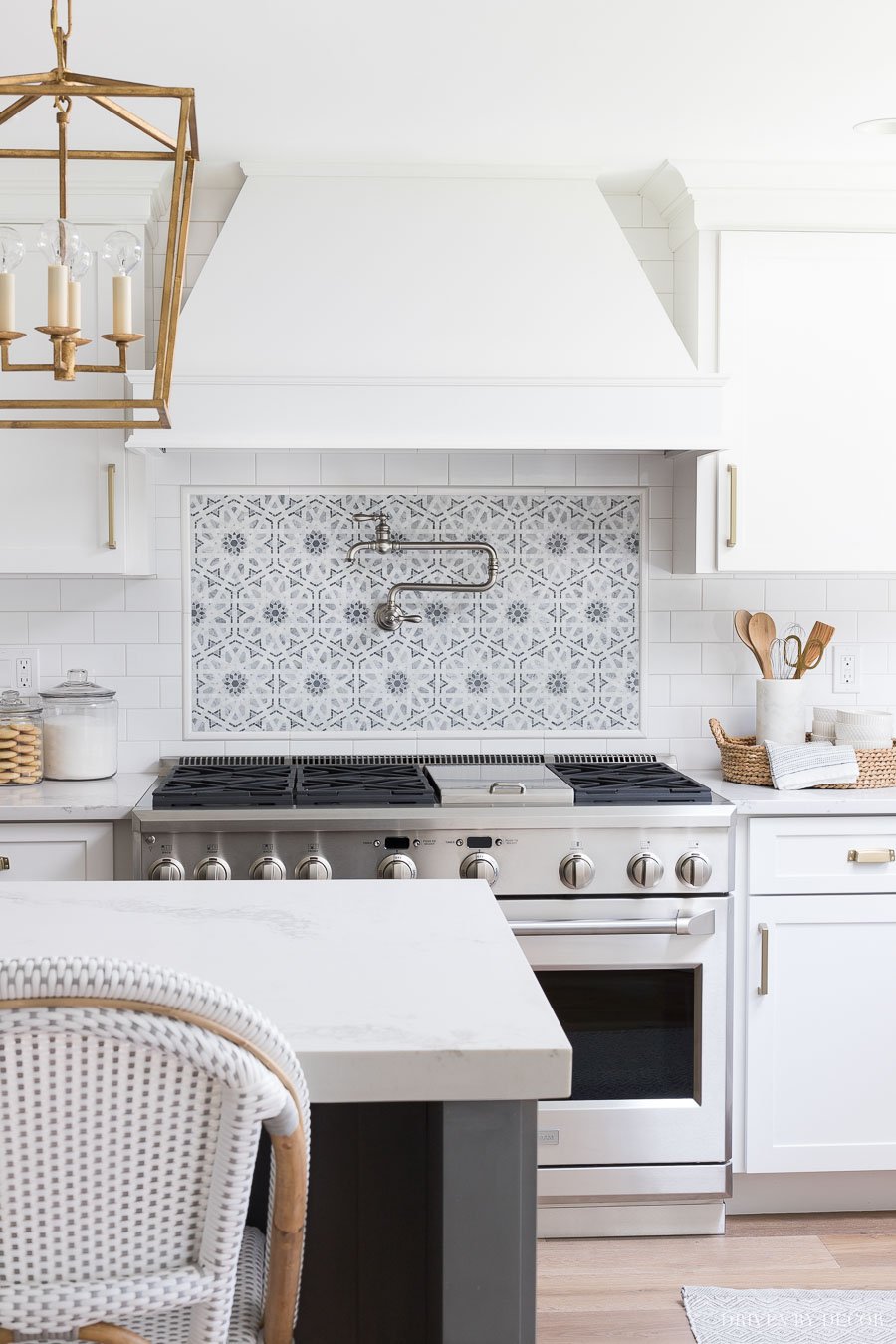 This patterned tile is a subtle blue/gray that looks stunning with white cabinets and white subway tile. Again, similar to my kitchen, note how how the warmer tones from the brass offset the cool tones of the stainless steel, white tile and white cabinets.
Colorful Backsplash Ideas
Concerned all white cabinets will be boring? Add a pop of color! Create a focal point with a bright backsplash of blue, green accent tiles of bright orange. The beauty of white cabinets is that they can go with any color.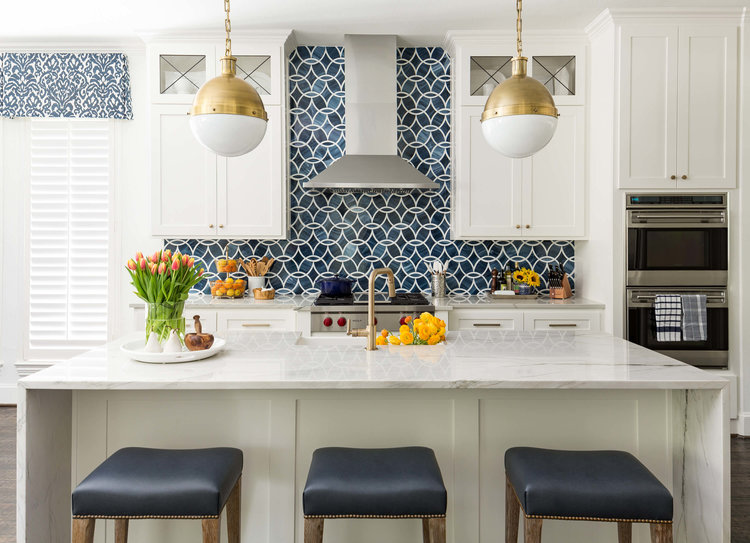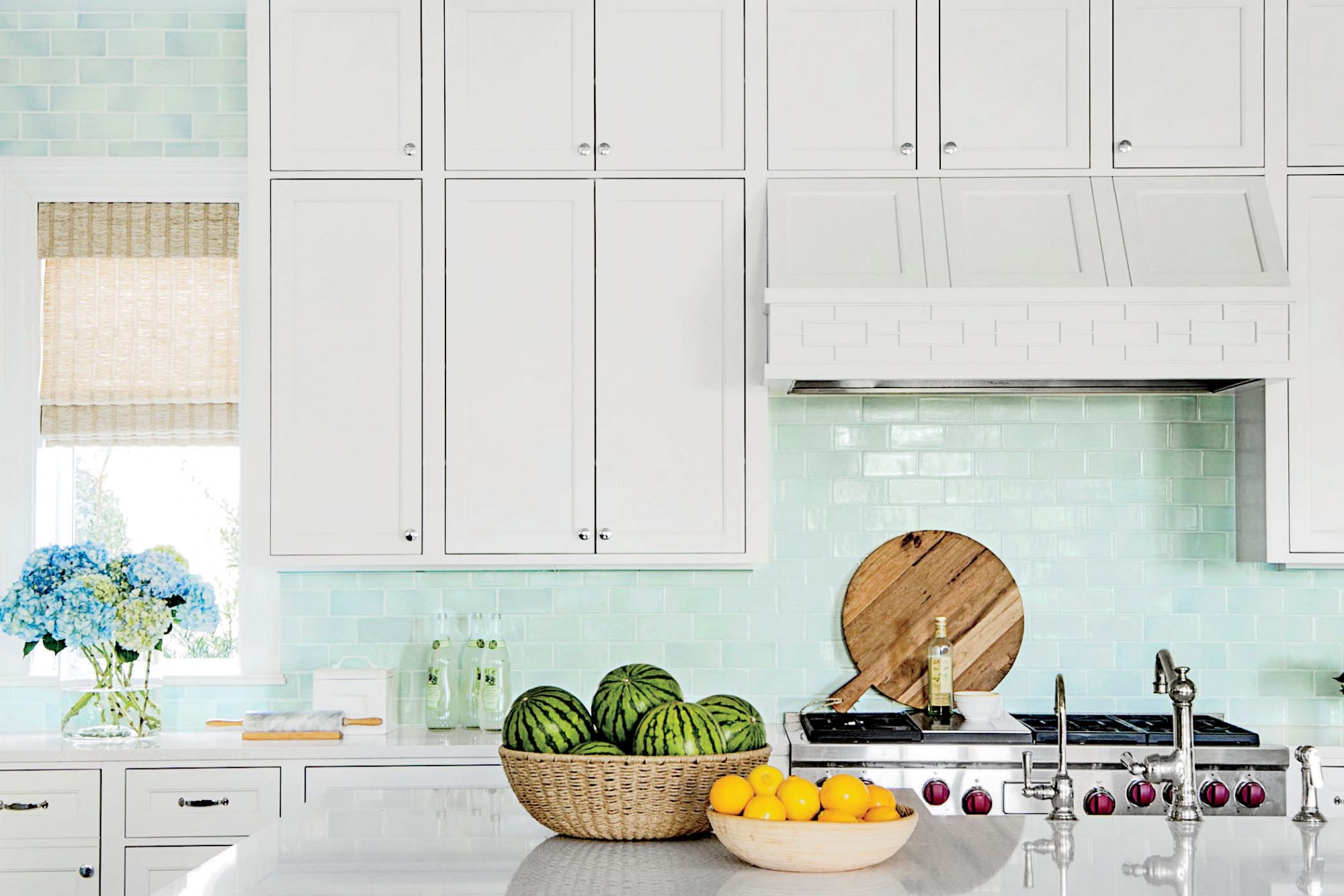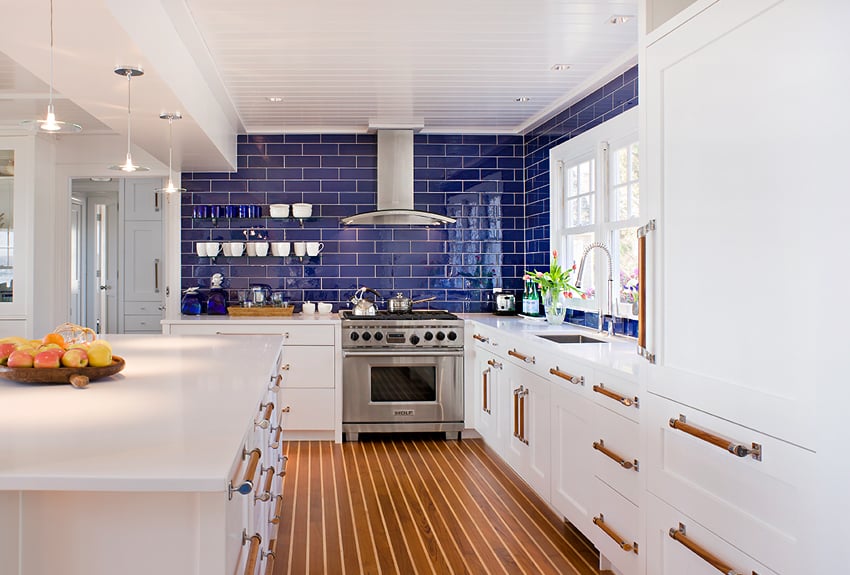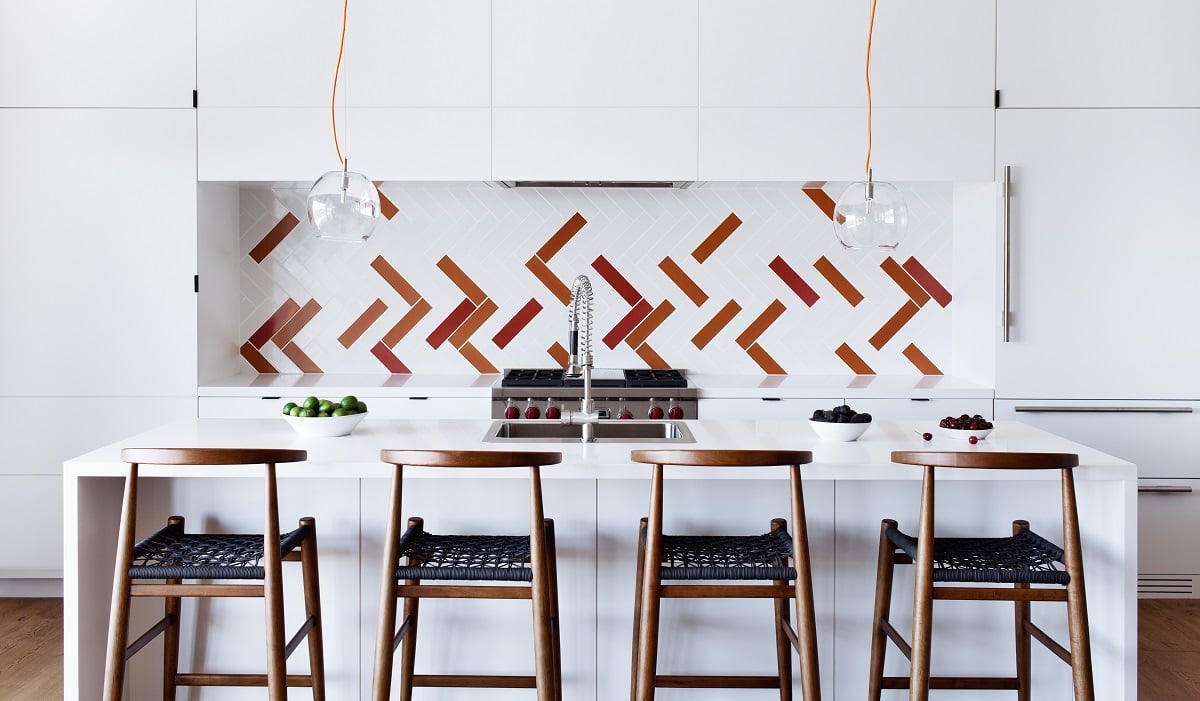 Mirrored Backsplash Ideas
Want to add intrigue while making your kitchen space feel larger? Mirrors do both! You can find mirrored tile, or simply have reflective glass custom designed for your mirrored backsplash.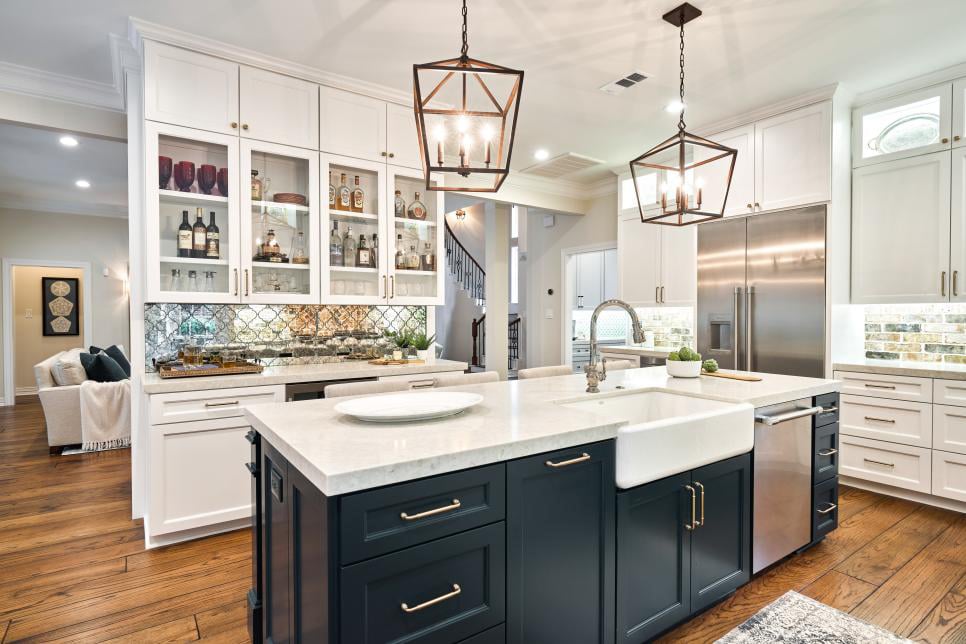 Brick and Stone Backsplash Ideas
Bringing outside inside is one of my favorite elements in decorating. Raw stone, stacked stone, layered brick are all rustic backsplash options that may fit your style perfectly.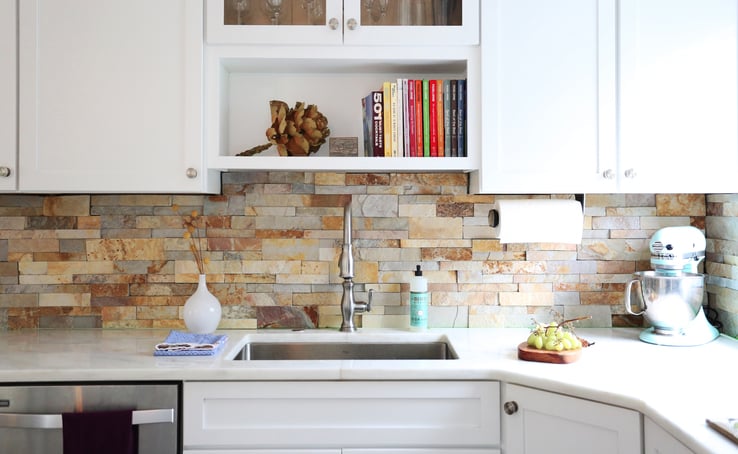 Backsplashes can be created with a variety of materials. Think outside the box and maybe you'll find a material no one else has thought of! Here are some backsplashes made of more unique materials.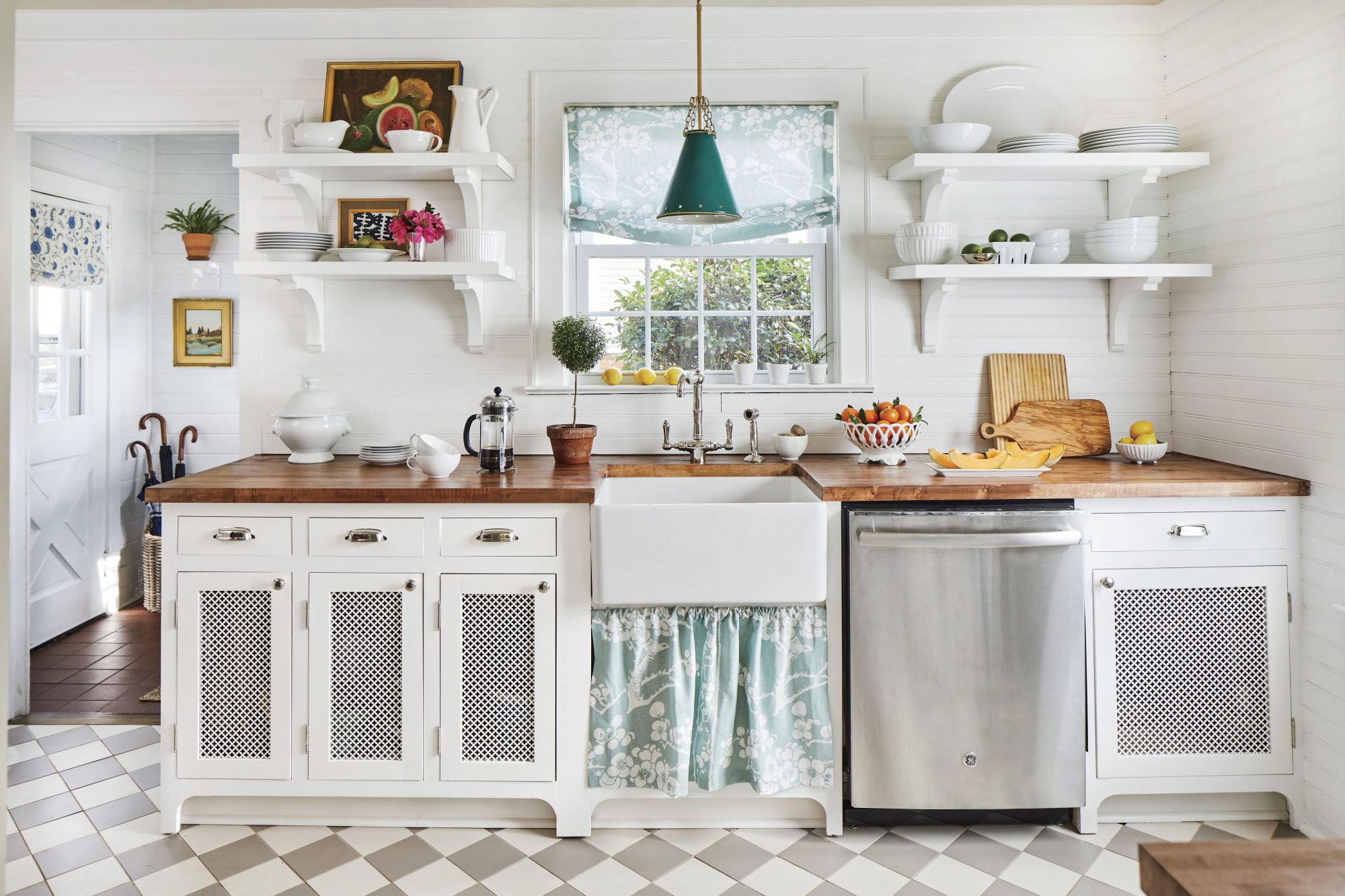 Final Thoughts
While choosing the perfect backsplash to work alongside your white kitchen cabinets can be as simple as picking up some cheap white subway tile, taking the time to really think through your vision will ensure your kitchen design really wows.
Whatever you decide, I highly recommend getting samples of everything and seeing how the colors work together. Most tile shops will sell a single piece of tile so don't be afraid to buy multiples of different colors and textures – you may surprise yourself with what you like the most!
More Kitchen Posts You'll Like…